Gluten-Free Vegan Chocolate Chip Peanut Butter Ice Cream
How about a healthy vegan ice cream recipe that you can make with or without an ice cream maker or frozen bananas?
Well, I found this Vegan Chocolate Chip Peanut Butter Ice Cream that's the perfect solution for a soft, creamy vegan ice cream and have fallen in love with it.
And, this awesome little treat only has 5 ingredients and can be prepared in a matter of minutes using a Vitamix.
After that, all that is required is a little patience while waiting for it to harden in the freezer.
I actually prefer mine in a soft-serve texture so I left it out a little longer before serving it and store it in the refrigerator instead of the freezer.
And believe it or not, I do have an ice-cream maker but was too lazy to use it for this recipe, so the other benefit is that you can still make this even if you don't have an ice cream maker.
Now we all know that ice cream is a dairy product that is full of milk, cream, and eggs, but some traditional ice creams can have other unwanted ingredients lurking in their lists.
Here's an ingredient list for Baskin Robbins "Peanut Butter N' Chocolate" Ice Cream:
S.A. D. (Standard American Diet) Baskin Robbins "Peanut Butter N' Chocolate Ice Cream Ingredients: CREAM, NONFAT MILK PEANUT BUTTER RIBBON (PEANUTS, COTTONSEED AND/OR PEANUT OIL, HIGH FRUCTOSE CORN SYRUP, SALT), SUGAR, CORN SYRUP, CHOCOLATE LIQUOR AND COCOA PROCESSED WITH ALKALI, WHEY POWDER, EMULSIFIER/STABILIZER BLEND (CELLULOSE GUM, MONO AND DIGLYCERIDES, GUAR GUM, CARRAGEENAN, POLYSORBATE 80).
It contains GMO dairy (cream, milk. whey), other GMO ingredients like high fructose corn syrup, corn syrup, refined salt and sugar and emulsifiers.
This healthier version is vegan, gluten-free, dairy-free, egg-free and contains no refined sugar.

Expert Tips + Ingredient Substitutions For Vegan Chocolate Chip Peanut Butter Ice Cream
Here are some expert tips to make this recipe perfectly:
Tip #1: When you remove the ice cream from the freezer, it will be frozen solid and hard as a rock and you won't be able to immediately scoop it out. Let it sit out on your counter just long enough to be able to scoop it out easily. If you prefer your ice cream to have a soft-serve texture, just leave it out a little longer until it gets softer or you could even store it in the refrigerator so it stays softer.
Tip #2: The first time I made this, I added the chocolate chips in right before I put it in the freezer and they all pretty much sank to the bottom of the dish. So I just sprinkle some extra ones on the top of the ice cream after I dished it up. The first time I make it I used regular chocolate chips, but every time since I have used mini chocolate chips and like that better – but either will work.
Tip #3: This recipe made enough to fill a 9 x 5 loaf pan about 1/2 full. Don't forget about a handy little ice cream scooper!
Tip #4: If you want to reduce the amount of sugar content in the recipe, you could use non-GMO xylitol for a reduced-sugar option.
Tip #5: I used 100% organic peanut butter with no additives, sweeteners or salt…I'm not sure how it would taste if you used peanut butter with salt and/or added oils, sugar, etc.
Want More Healthy Plant-Based Ice Cream Recipes?
Check out these:
or my CLEAN DESSERT Cookbook with 72 plant-based vegan + gluten-free no-bake desserts made with clean, real food ingredients just like this one that you will love!
Chocolate Chip Peanut Butter Ice Cream (Vegan, Gluten-Free, Dairy-Free, Egg-Free, No Refined Sugar)
Print recipe
Ingredients
2 cans organic coconut milk - full fat (13.5 ounce cans)
2/3 cups organic raw coconut crystals (or other granulated sugar)
1 cup organic peanut butter
2 teaspoons organic vanilla extract
1/2 - 1 cup vegan/gf mini chocolate chips (Enjoy Life brand)
Directions
Step 1
Put coconut milk, sugar, peanut butter and vanilla into a Vitamix, or other blender, and blend until smooth and creamy.

Pour into a glass bread pan (optional: stir in chocolate chips not or wait and sprinkle them on top before serving).

Cover with plastic wrap and put in the freezer for approximately 2 - 4 hours or until hard and firm.

Store in the freezer or in the refrigerator if you prefer a soft-serve texture.

Sprinkle with chocolate chips before serving.

Enjoy!
Note
This recipe will make approximately 2 large servings or 4 small servings.
Recipe lightly adapted from:  https://glutenfreegoddess.blogspot.com/2012/08/peanut-butter-ice-cream-vegan.html


The photographs for "Vegan Chocolate Chip Peanut Butter Ice Cream" by Karielyn Tillman of The Healthy Family and Home are licensed under a Creative Commons Attribution-NonCommercial 4.0 International License and cannot be used without my written permission.
Want to make it with an ice cream maker?
UPDATE: I tried it later with an ice cream maker!
Even though the consistency was pretty much the same (soft-serve), it was a little more fluffy and airy than without the ice cream machine.
Time-wise, it actually took less time to make it in the machine than waiting for it to harden in the freezer.
The machine I have is a Cuisinart Frozen Yogurt, Sorbet and Ice Cream Maker and I've had it about 5 – 6 years. I think they have upgraded it and there is a newer model out that looks different from mine, but it would be the one I would buy if I needed to get another one.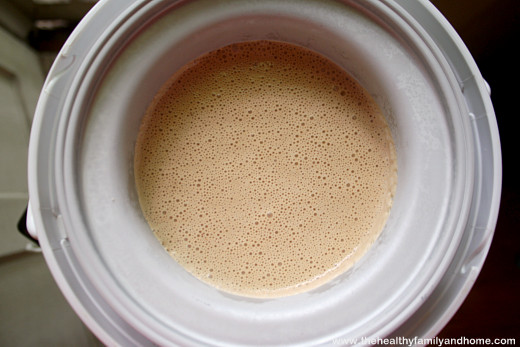 If you make the ice cream with an ice cream maker, just follow the same ingredients and directions listed above, except instead of pouring the mixture into the glass dish, pour it into your ice cream maker and follow the directions specific to your machine, including the appropriate time to add the "add-ins" such as the chocolate chips.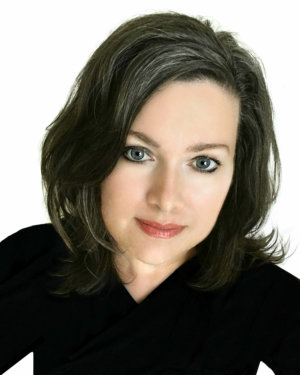 Hi, I'm Karielyn! I'm a cookbook author and creator of The Healthy Family and Home website. I specialize in creating easy, healthy plant-based recipes that are gluten-free + vegan and made with clean, real food ingredients that you can feel good about eating.