This Vegan Black Forest Ice Cream is my recipe creation for the May 2015 Recipe ReDux theme which is:
"DIY Kitchen Essentials - What favorite kitchen staples do you now make from scratch – but in the past you purchased? Show us your best DIY recipe for keeping cupboards, fridge or freezer stocked with healthy basics. Think homemade frozen waffles, salad dressing, broth or other kitchen essentials."
I had many things come to mind...homemade peanut butter, how to make flax eggs, how to make almond milk, how to make whipped coconut cream topping, how to make tahini.
But I had already posted all these. And, I have an entire chapter of 20 healthy, clean eating staple recipes in my CLEAN EATING Cookbook.
So I decided to feature something that I do make from scratch and isn't necessarily a kitchen staple...but it could be!
If you ~love~ homemade ice cream and think ice cream should be a kitchen staple like me, then we are going to officially call homemade ice cream a kitchen staple!
Store-bought ice cream can contain many, many unhealthy ingredients and if it's not organic, it can contain GMO's.
Even the organic brands have a somewhat long list of ingredients and it's not vegan.
So what do you do if you want clean, unprocessed vegan ice cream?
You make your own and it's so easy.
This recipe uses only 3 basic ingredients for the ice cream and a shortlist of clean ingredients for the vegan, gluten-free brownies that are added in.
It's vegan, dairy-free ice cream with fudgy brownie pieces and dark sweet cherries mixed in and it's also egg-free, paleo-friendly and contains no refined sugar.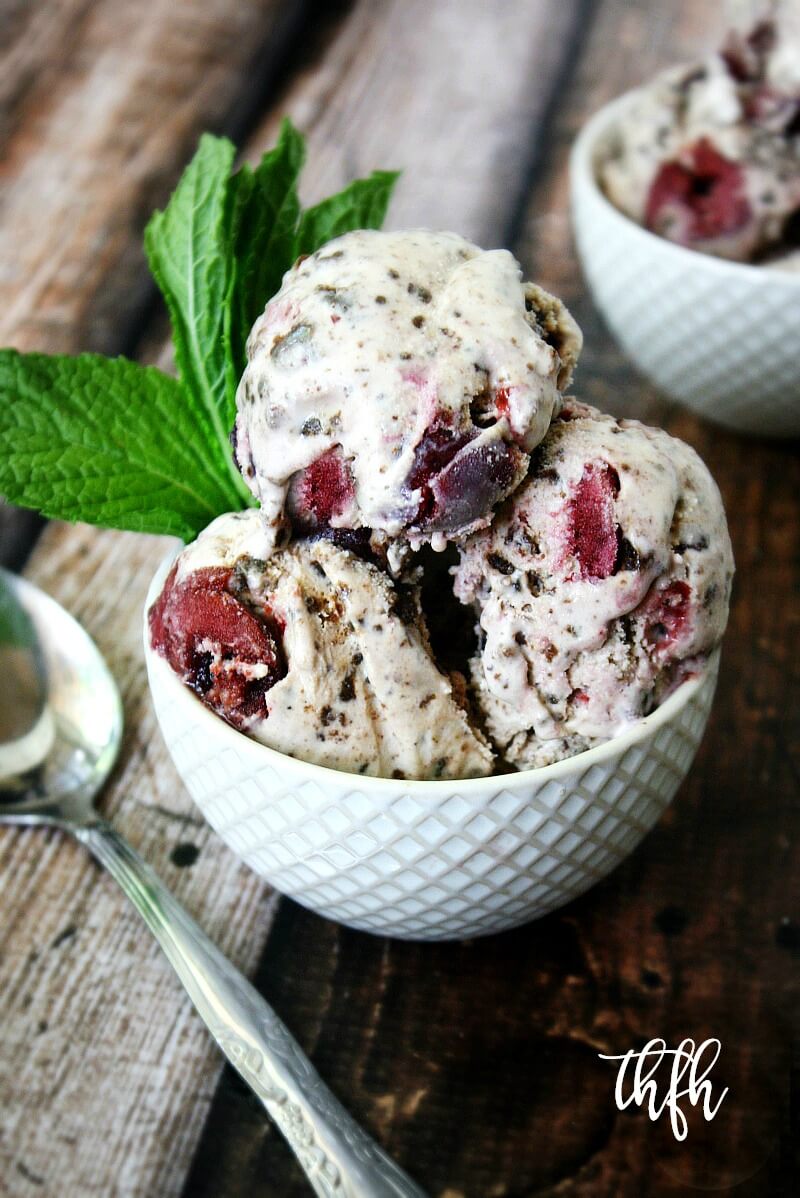 Expert Tips + Ingredient Substitutions For Gluten-Free Vegan Black Forest Ice Cream
Here are some expert tips to make this recipe perfectly:
Tip #1: I used the frozen 365 Brand Dark Sweet Cherries and they were so good. You can use any type of cherries, but ~please please please~ don't use the bright red, jarred kind.
Here's the ingredient list for a common store-bought "cherries in a jar" brand: Water, Corn Syrup, Corn Syrup High Fructose, Citric Acid, Flavors Natural and Artificial, Potassium Sorbate, Sodium Benzoate, Preservative, Red 40, Sulfer Dioxide, Preservative
And if you can, try to get organic because non-organic cherries can contain up to 42 different pesticides.
Want More Healthy Plant-Based Vegan Homemade Staple Recipes?
Check out these:
Print
Vegan Black Forest Ice Cream
Yield 2 servings
Vegan / Gluten-Free / Dairy-Free / Egg-Free / Paleo-Friendly / No Refined Sugar
Ingredients
For the ice cream:
For the brownies:
For the add-ins:
1 cup organic cherries (chopped)
Instructions
Preheat oven to 350 degrees.
Prepare the brownies:
Prepare the flax egg by adding the ground flax seeds and water to a small bowl and whisking together.  Set aside.
All all the remaining ingredients for the brownies to a medium sized bowl and stir until combined.
Re-whisk the flax egg, then add it to the brownie mixture and stir until well combined.
Transfer the mixture to an 8 x 8 baking dish and bake at 350 for approximately 10-12 minutes.  They will be fudgy/gooey on the inside, but let them cool completely before using.  You will only need 1/2 of the brownies for this recipe.
Prepare the ice cream:
Add all the ingredients for the ice cream to a Vitamix and blend until well combined.
Pour the mixture into your ice cream maker and make the ice cream according to your machines instructions.
While waiting for the ice cream to finish, prepare the add-ins:  Take 1/2 the brownies from the baking pan and break them into small pieces or large crumbles.  Set aside.  Take the cherries and chop them into 1/4 size pieces.  Set aside.
When the ice cream is finished, turn off the machine and gently stir in the chopped cherries and brownie pieces.
Option 1:  Serve immediately as a "soft-serve" type ice cream.
Option 2:  Cover the ice cream container and place it in the freezer for 1-2 hours, or until it hardens to  your your preference.
Enjoy!
Notes
Get all your organic ingredients delivered straight to your door at up to 25 - 50% off retail by cutting out the middleman and retail markups with a Thrive Market Membership and save 15% off on your first order.
The recipe and photographs for "Gluten-Free Vegan Black Forest Ice Cream" by Karielyn Tillman of The Healthy Family and Home website are licensed under a Creative Commons Attribution Non-Commercial No Derivatives 4.0 International License and cannot be used without my written permission.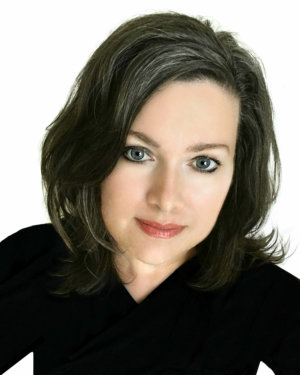 Hi, I'm Karielyn! I'm the published cookbook author of CLEAN DESSERTS and content creator of The Healthy Family and Home™ website since 2012. I specialize in creating easy, healthy plant-based and Medical Medium® compliant recipes that are gluten-free + vegan and made with clean, real food ingredients that you can feel good about eating.