I'm so happy to share with you this super easy Vegan No-Churn Chocolate Peanut Butter Swirl Ice Cream that can be made without an ice cream maker.
Yes, you read that right!
A vegan ice cream recipe with only 5 healthy, clean ingredients and you don't need an ice cream maker to make it…only a little patience for it to harden in the freezer.
I based it off my Clean Eating Chocolate Fudgesicles recipe which is just a basic plain chocolate ice cream made with my Vitamix, but I added a creamy peanut butter swirl for this recipe.
I remember back in the day when we used to get ice cream from one of the popular ice cream chains, my husbands favorite flavor to get was the chocolate peanut butter swirl.
I won't lie to you…it tasted good and looked good, but at what expense?
It wasn't vegan, wasn't made with clean ingredients and had 99.99% ingredients that weren't good for the human body. Actually, I'm looking over the ingredient list again and I don't even see the 0.01% that would be good for the body.
S.A.D. (Standard American Diet) Baskin Robbins Chocolate N' Peanut Butter Ice Cream 
Ingredients: Cream, Nonfat Milk, Peanut Butter Ribbon (Peanuts, Cottonseed and/or Peanut Oil, High Fructose Corn Syrup, Salt), Sugar, Corn Syrup, Chocolate Liquor and Cocoa processed with alkali, Whey Powder, Emulsifier/Stabilizer Blend (Cellulose Gum, Mono and Diglycerides, Guar Gum, Carrageenan, Polysorbate 80).
 S.A.D. (Standard American Diet) Ben & Jerry's Peanut Butter Chocolate Ice Cream
Ingredients:  Cream, Water, Sugar, Sugar Liquid, Milk Nonfat Condensed, Peanuts, Wheat Flour, Corn Syrup, Milk Condensed Sweetened Nonfat, Cocoa Processed with Alkali, Coconut Oil, Eggs Yolks, Soybeans Oil, Eggs, Rice Brown Syrup, Chocolate Liquor, Corn Oil, Cocoa, Peanuts Oil, Butter, Egg Whites, Salt, Soy Lecithin, Guar Gum, Xanthan Gum, Vanilla Extract, Sodium Bicarbonate, Carrageenan, Flavors Natural
Their ingredients include GMO's (milk, butter, eggs, soybean oil, soy lecithin, high fructose corn syrup, corn syrup, corn oil), pesticides (peanuts), refined sugar and salt, stabilizers and preservatives and unknown flavorings.
Our taste buds have been trained to seek out, enjoy and crave these chemically concocted, processed foods when the S.A.D. diet (Standard American Diet) is followed.
This healthier and clean version has only 5 ingredients and it's vegan, gluten-free, dairy-free, egg-free, soy-free and contains no refined sugar and can be made with a Vitamix.
Want more healthy, clean eating dessert recipes?  Check out Vegan No-Bake Peanut Butter Cheesecake, Pomegranate and Dried Blueberry Chocolate Bark, Clean Eating Chocolate Crunch Bars or my Clean Eating Cookbook with an entire chapter of 20 healthy, clean eating dessert recipes just like this one that you will love!

5 Fast Facts About Cashews:*
packed with dietary fiber
rich in "heart friendly" mono-saturated fatty acids
rich source of minerals
high in magnesium and copper
excellent source of antioxidants
5 Fast Facts About Coconut Milk (Coconut Flakes):*
2 tablespoons contain 4.6 g RDA of dietary fiber
healthy source of medium-chain fatty acids
can help to decrease cholesterol
high in lauric acid
excellent source of manganese at 60% RDA and iron at 11% RDA
5 Fast Facts About Raw Cacao Powder:*
super high in anti-oxidants
promotes cardiovascular health
contains essential fats
can help to decrease blood pressure
contains over 300 compounds including protein, calcium, copper, zinc and iron
5 Fast Facts About Raw Coconut Crystals:*
low glycemic (GI of 35)
raw, vegan and gluten-free
unrefined and unbleached
contains 17 amino acids
is an abundant source of minerals and broad spectrum B vitamins
5 Fast Facts About Peanuts (Peanut Butter):*
excellent source of vitamin E
high in folate
contains tryptophan which helps fight depression
good source of fiber
excellent source of vegan protein
*These statements have not been evaluated by the Food and Drug Administration.  This information is not intended to diagnose, treat, cure or prevent any disease.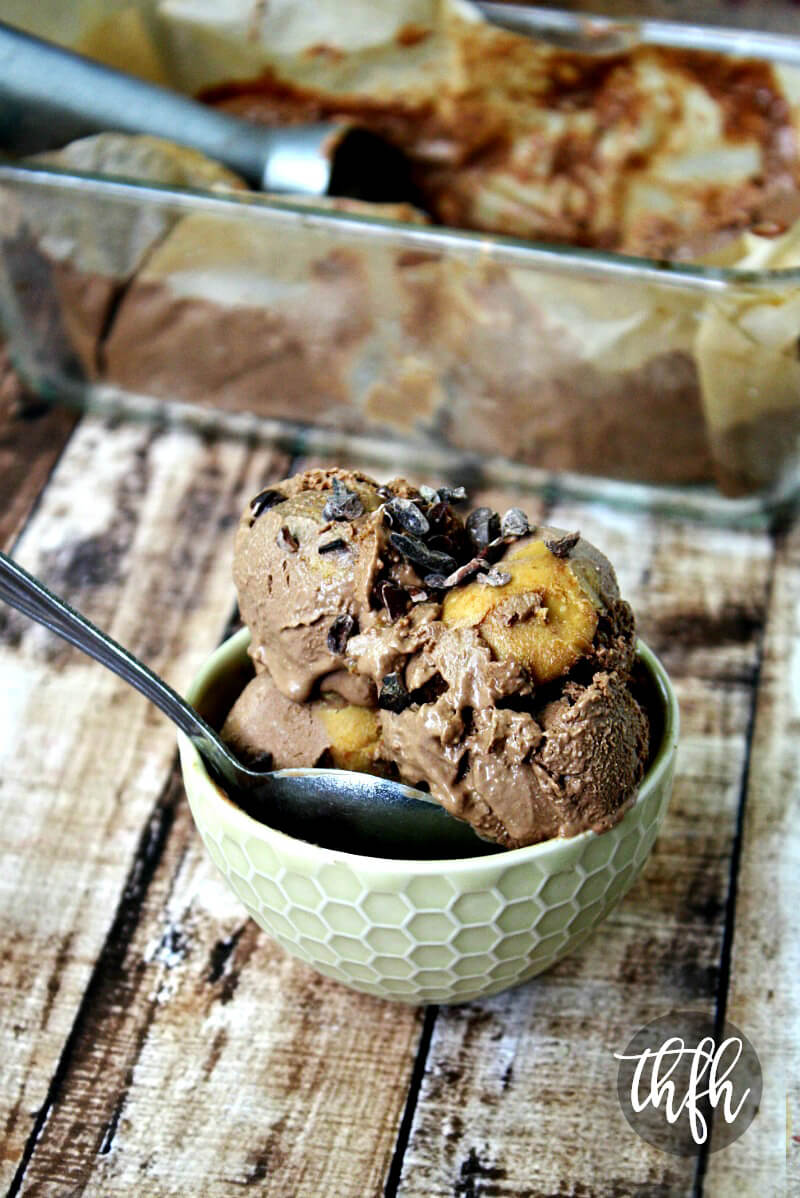 Tip #1:  You don't have to soak the cashews ahead of time if you don't want to.  I've made it both ways (with and without soaking) but they blend easier and the mixture is creamier when they are soaked.
Tip #2:  You don't have to put the canned coconut milk in the refrigerator the night before, but I find the mixture is a little creamier when the hardened fat from the coconut milk is used.  I always keep a can in the back of my refrigerator to have ready when I need it, but if you don't have a can ready or don't want to wait you can just use a non-refrigerated can.
Tip #3:  I've lined my baking dish with and without parchment paper and I actually prefer to not use it.  Once the ice cream gets soft and you start scooping it out, the paper gets soggy and starts to tear and it makes a big mess.  So I have the parchment paper in the photos, but it's not necessary to use it so I didn't put it in the instructions.
Tip #4:  I like to use the raw coconut crystals because it's raw and low glycemic and sometimes use non-GMO xylitol, but feel free to use your favorite granular sweetener.  Also, I don't like my desserts overly sweet, so I only used 1/4 cup of the raw coconut crystals.  If you find you want it a little sweeter, just increase the amount of sweetener you use.
Tip #5:  I use homemade peanut butter which is very thin and creamy and can almost drip from the spoon.  I was able to just drizzle it on top of the chocolate mixture then swirl it in.  If you use a different kind of peanut butter or a thicker kind, you may want to add a tablespoon of coconut oil or liquid sweetener (maple syrup) to thin it out a little so it will be easier to swirl in. Just make sure you use an organic peanut butter because non-organic peanut butter contain up to 8 different pesticides.
Print
Vegan No-Churn Chocolate Peanut Butter Swirl Ice Cream
Yield 2 - 4 servings
Vegan / Gluten-Free / Dairy-Free / Egg-Free / Soy-Free / No-Churn / No Refined Sugar
Ingredients
For the ice cream:
For the peanut butter swirl:
Instructions
Prepare the ice cream:
Optional:  Soak the cashews for 30-60 minutes in filtered/purified water, then drain.  This step is optional, but soaking the cashews will make them softer and will make the ice cream mixture creamier.
Add all ingredients for the ice cream to a Vitamix and blend until the mixture is creamy and smooth.
Pour the mixture evenly into 9 x 5 bread loaf baking pan.
Drizzle the peanut butter over the top of the mixture.  Using the tip of a knife, swirl it around evenly in circular motion. The peanut butter will sink to the bottom but it's ok because it will all be there when you scoop it out.
Cover the baking dish and put it in the freezer for approximately 2-3 hours, or until it gets to the firmness you prefer.
When ready to serve, remove the baking dish from the freezer and let it sit on the counter at room temperature to slightly thaw before serving.  
Enjoy! 
Notes
Get all your organic ingredients delivered straight to your door at up to 25 - 50% off retail by cutting out the middleman and retail markups with a Thrive Market Membership and save 15% off on your first order.
  The recipe and photographs for "Vegan Chocolate Peanut Butter Swirl Ice Cream" by Karielyn Tillman of The Healthy Family and Home website are licensed under a Creative Commons Attribution Non-Commercial No Derivatives 4.0 International License and cannot be used without my written permission.

Affiliate Disclosure: This post contains affiliate links. This means that if you were to make a purchase through one of these links, "The Healthy Family and Home" website would receive a small commission at no additional cost to you.
Thank you for your support of this website!