Make your own homemade cut-out cookies with my easy and healthy Gluten-Free Vegan Flourless Iced Cut-Out Cookies recipe that's made with clean ingredients and no butter, eggs or white flour!
A long time ago, like a really long time ago, I used to be a loyal patron to a local cookie shop called "The Cookie Bouquet" where they had decorated iced sugar cookies the size of your hand.
And I ate A LOT of those cookies.
I could never pass up those pastel colored cookies because they were just so beautiful.
I'm still drawn to cut-out cookies that are decorated pretty, so I came up with my own version that I could enjoy with my healthier Gluten-Free Vegan Flourless Iced Cut-Out Cookie recipe.
I really wouldn't call these "sugar" cookies because they are naturally sweetened with maple syrup and aren't near as sweet as "sugar" cookies, but they are iced cut-out cookies.
They're based off my Gluten-Free Vegan Thyme and Garlic Crackers recipe, but instead of making a savory dough, I altered the recipe a little bit to make it a sweet, dessert-type dough.
Are These Gluten-Free Vegan Iced Cut-Out Cookies Healthy?
In my opinion, yes!
Let's look at the ingredient list for store-bought cookies as a comparison.
I'm sure the official "Cookie Bouquet" recipe is proprietary information and can't be found online, so we'll use a store-bought cookie ingredient list instead:
S.A.D. (Standard American Diet) Walmart Frosted Sugar Cookies:
Ingredients: Sugar, Enriched Bleached Flour (Wheat Flour, Niacin, Reduced Iron, Thiamine Mononitrate, Riboflavin, Folic Acid), Margarine (Palm Oil, Water, Soybean Oil, Salt, Mono And Diglycerides, Calcium Disodium EDTA [Preservative], Artificial Flavor, Annatto Extract [Color], Vitamin A Palmitate), Eggs, Water, Contains 2% Or Less Of: Cornstarch, Palm Kernel Oil, Palm Oil, Leavening (Baking Soda, Sodium Aluminum Sulfate, Monocalcium Phosphate), Modified Food Starch, Polysorbate 60, Soy Lecithin (Emulsifier), Nonfat Milk, Confectioner's Glaze, Natural And Artificial Flavors, Sodium Propionate (Preservative), Blue 1 Lake, Carnauba Wax, Red 3, Yellow 5 Lake, Yellow 6 Lake.
A store-bought version contains white sugar, bleached white flour, margarine?!, preservatives, multiple food colorings and GMO ingredients (soy lecithin, soybean oil, cornstarch).
And they are not vegan (eggs, non-fat milk) or gluten-free (bleached wheat flour).
My healthier version is both vegan and gluten-free, is naturally sweetened with maple syrup, and uses an organic, natural food coloring (organic pitaya powder).
Do these Gluten-Free Vegan Flourless Iced Cut-Out Cookies Contain "Vegan Butter"?
No – no vegan butter or any type of butter at all, just a tablespoon of 100% pure avocado oil!
You may already know this, but most vegan cut-out or sugar cookies contain "vegan butter" as an ingredient.
One great thing about this recipe is you don't need "vegan butter" to make them!
While vegan butter is a good transition food for a new vegan, it's not a "real food" and is highly processed.
Most contain soy and/or canola oil, so if you are looking to avoid either of those, just make sure you look at the ingredient label.
Are These Iced Cut-Out Cookies Gluten-Free?
Yes! My recipe is 100% gluten-free!
However, most vegan cut-out cookie or sugar cookie recipes use white flour as an ingredient, making them not gluten-free.
My cookies are perfect if you need a vegan and gluten-free recipe.
What Ingredients Do I Need To Make This Recipe?
5 Fast Facts About Almonds (Almond Flour):*
helps to regulate cholesterol and blood pressure
energy booster
loaded with calcium and fiber
1/4 cup contains 8 grams of vegan protein
high in anti-oxidants
5 Fast Facts About Avocado Oil:*
healthier cooking with a smoke point of 500 degrees
may help reduce the risk of metabolic syndrome
helps maintain healthy blood sugar levels
provides protection from cardiovascular disease
good source of vitamin E
5 Fast Facts About Maple Syrup:*
contains manganese and zinc
super high in anti-oxidants
helps with inflammation
1/4 cup contains more calcium than the same amount of milk
1/4 cup contains more potassium than a banana
5 Fast Facts About Pitaya:*
high in antioxidants
3 grams fiber in one smoothie pack
10% DV magnesium in one smoothie pack
aids in liver regeneration
helps slow liver aging
5 Fast Facts About Flax Seeds (Ground):*
high in omega-3 essential fatty acids
contains soluble and insoluble fiber
super high in lignans
provides anti-oxidant and anti-inflammatory benefits
provides cardiovascular benefits
5 Fast Facts About Himalayan Pink Salt:*
contains 84 minerals
unrefined, unprocessed, raw
promotes stable pH balance in cells
controls water levels in the body
aids digestion and facilitates better nutrient absorption
*These statements have not been evaluated by the Food and Drug Administration. This information is not intended to diagnose, treat, cure or prevent any disease.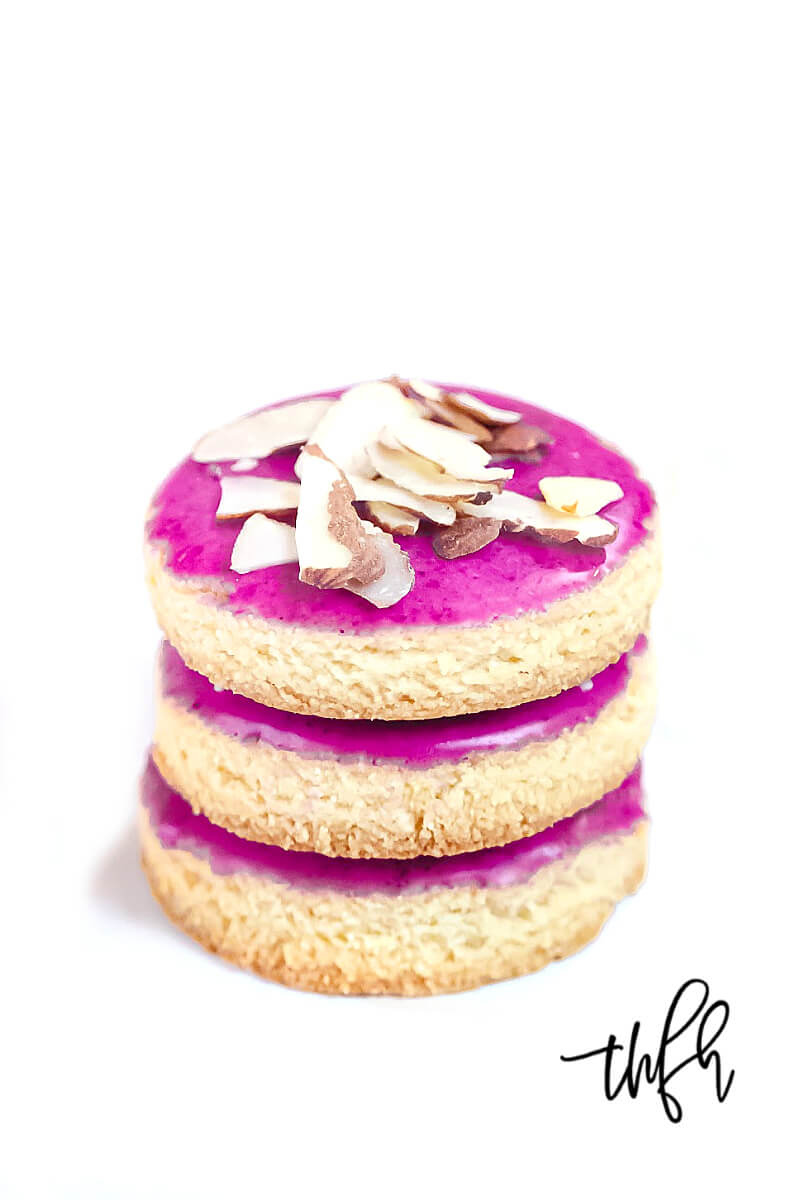 Do I Need A Special Cookie Cutter To Make These Ice Cut-Out Cookies?
Not at all!
You can use whatever cookie cutter you have on hand, one for a special occasion or holiday or even a basic circle one like I used.
In fact, you can even make these cut-out cookies without a cookie cutter.
You can use the top of a cup or glass or even the outer ring of a mason jar lid.
Just keep in mind the size of your cookie cutter will determine how many cookies you can make with a single recipe batch.
For example, I used a 2-inch round cookie cutter and was able to make 14 small cookies.
I've also used this recipe to make a little larger tulip cookies and it only made about 6, because the cookie cutter was larger.
What Kind of Healthy Toppings Can I Use On My Cookies?
Powdered Sugar: I'm not a big fan of powdered sugar and you can probably count on one hand how many recipes I have on my website using it because I prefer natural sweeteners like maple syrup and Medjool dates. But for a special occasion or treat, I will use organic vegan powdered sugar and only this brand because it's made vegan sugar (meaning it's made without animal bone char to whiten it).
Icing Coloring: I looked and looked and couldn't find a "natural" food coloring I was happy with, even the ones that are "naturally" colored because they all contained other ingredients I prefer not to use or recommend. So I colored my icing with 100% organic pitaya powder – nothing else – to get the beautiful fuchsia color.
Toppings: Same thing with the icing coloring – I tried to find "natural" sprinkles but I couldn't find any I was happy with or felt good about recommending, so I topped my cookies with real food like sliced almonds, hemp seeds, chia seeds, shredded coconut, etc. And here's some great news – they taste delicious even without a topping so don't worry if you don't want to use a topping!
Want More Healthy Vegan and Gluten-Free Flourless Cookie Recipes?
Check out these:
Did You Make My Gluten-Free Vegan Flourless Iced Cut-Out Cookies Recipe?
I'd love to hear about it! Please give it a rating and leave a comment below…it would make my day! 🙂