This healthy plant-based Gluten-Free Vegan No-Bake Cranberry Lemon Bliss Ball Truffles recipe is so easy to make with only 8 clean, real food ingredients, are ready to enjoy in less than 20 minutes and are Medical Medium compliant.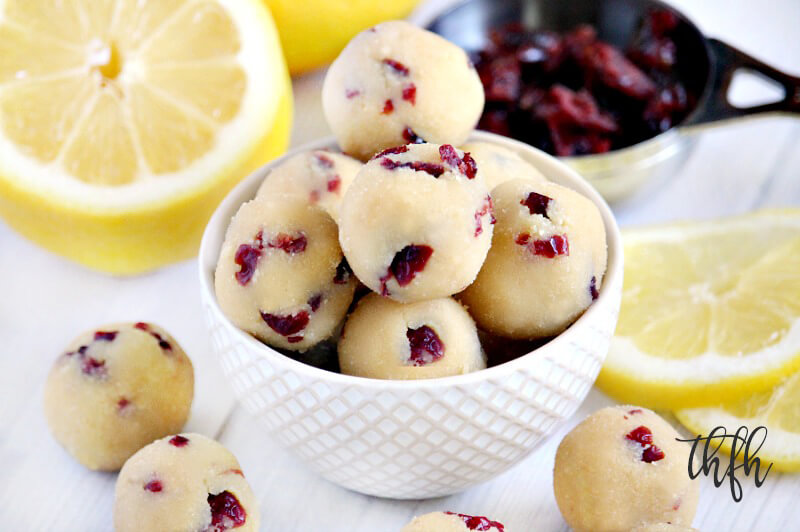 These plant-based Gluten-Free Vegan No-Bake Cranberry Lemon Energy Balls are an upgrade from the Raw Vegan Lemon Meltaway Balls recipe on my website – which has been a reader favorite here at The Healthy Family and Home for a long time.
How long?
It's been almost 5 years to the day that the original lemon meltaway balls recipe appeared on my website (5-9-13) if you can believe that!
Since Spring is here, I decided to make a "deluxe" upgraded version of that vegan lemon recipe for you and what pairs best with lemons?
Cranberries! 🙂
So I added organic dried cranberries to the original recipe to give the classic balls a tangy and colorful twist.
If you haven't already made the Raw Vegan Lemon Meltaway Balls recipe (do so right away!), it's really simple to make.
It's the same exact recipe as this one, except without the added cranberries.
And if you don't care for cranberries…no worries! Just follow the original lemon meltaway balls recipe.
How Do I Make Cranberry Lemon Balls?
These are so easy to make and the only equipment you need is a food processor.
Then, follow these easy steps:
Add all the ingredients to a food processor
Process the mixture until it has a smooth and thick consistency
Stir in the chopped cranberries by hand
Then roll the mixture into bite-sized balls
Transfer them to the refrigerator to firm for about 15 minutes and you're ready to go!
How Do I Store My Cranberry Lemon Balls?
You'll want to make sure you store these in an air-tight BPA-free container in the refrigerator.
They're perfect to make ahead for a quick breakfast treat or an afternoon snack.

What Ingredients Do I Need To Make Cranberry Lemon Balls?
This healthy dessert recipe is made with real, clean food ingredients and is raw, vegan, gluten-free, dairy-free, soy-free, egg-free, no-bake, paleo-friendly, lectin-free*, contains no refined sugar and is Medical Medium compliant.
5 Fast Facts About Lemons:*
extremely alkaline to the body
excellent blood purifier
good for detoxification
balances blood sugar levels
contains powerful antibacterial properties
5 Fast Facts About Cranberries:*
1/2 cup contains 10% vitamin C
1 cup contains 18% DV of manganese
1 cup contains 18% DV of fiber
provides anti-inflammatory benefits
ORAC score of 9584 per 100 g
5 Fast Facts About Coconut Oil:*
super high in lauric acid
rich in antioxidants
contains natural microbial and antibacterial agents
helps to improve metabolism and prevent fatigue
can help to improve cholesterol
5 Fast Facts About Almonds (Almond Flour):*
regulates cholesterol and blood pressure
energy booster
loaded with protein, calcium, and fiber
high in antioxidants
can help reduce the risk of heart disease
5 Fast Facts About Coconut Flour:*
highest dietary fiber found in any flour at 58% DV
14% coconut oil
19% vegan protein
gluten-free
helps promote blood sugar health
5 Fast Facts About Himalayan Pink Salt:*
contains 84 minerals
unrefined, unprocessed, raw
promotes stable pH balance in cells
controls water levels in the body
aids digestion and facilitates better nutrient absorption
*These statements have not been evaluated by the Food and Drug Administration. This information is not intended to diagnose, treat, cure or prevent any disease.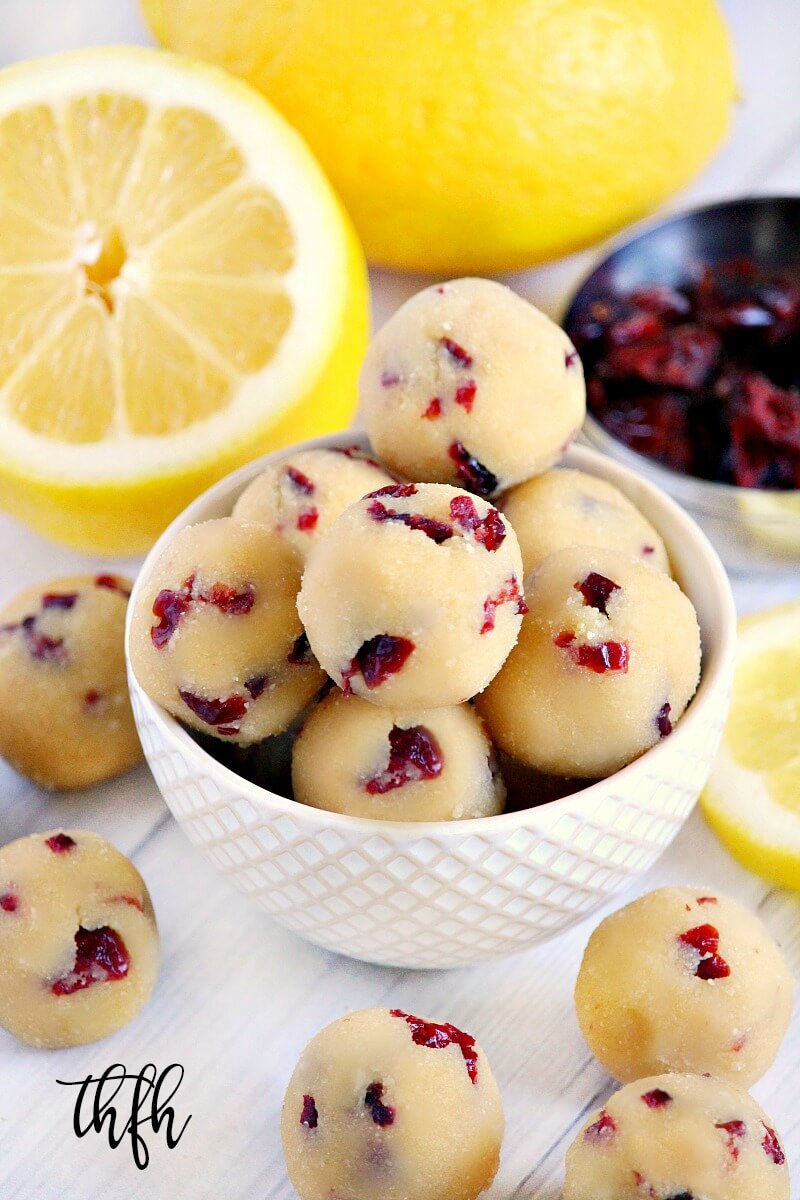 Tips + Ingredient Substitutions for Making Cranberry Lemon Bliss Balls Recipe:
Coconut Oil. If you don't like the smell or taste of coconut oil, you can use "refined" organic coconut oil, which has no coconut smell or taste.
Maple Syrup. Feel free to use the liquid sweetener of your choice.
Lemon Zest. You can use either lemon zest or Lemon Essential Oil. My preference is to use Lemon Essential Oil because I can't be 100% sure what's on the skins of the lemons (waxes, pesticides, bacteria, etc.) even if the lemons are organic. Even some organic produce has a food-grade wax on the exterior. And, just a few drops of Lemon Essential Oil will give it such an intense lemon flavor without the mess of grating a lemon.
Vanilla Extract. Make sure you use 100% pure organic vanilla extract.
Dietary Substitutions:
Medical Medium – Make sure you use an alcohol-free vanilla extract.
Lectin-Free – Substitute the maple syrup with organic date nectar.
Vegan + Gluten-Free – This recipe is 100% vegan + gluten-free.
Want More Healthy Plant-Based No-Bake Ball Recipes?
Check out these:
Did You Make This Recipe?
If so, please leave a rating and comment below to let me know…it would make my day! 🙂