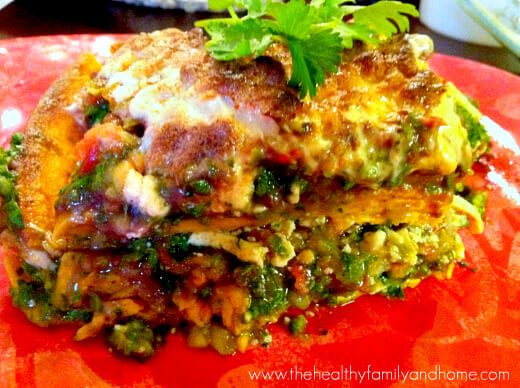 I adapted this Martha Stewart recipe for Mexican Lasagna to make it vegan, as well as to use the ingredients I had on hand.    Her recipe called for "corn tortillas" and I used "sun-dried tomato tortillas".  The original recipe also called for "pinto beans" and I used vegan/vegetarian "refried beans", and I made my own salsa.  And, of course, the biggest change was I used vegan Daiya Shredded Pepperjack Cheese instead of cow cheese.
So now, I introduce to you, Vegan Mexican Lasagna!  What an unbelievable vegan meal to make that is also budget friendly.  This is the first time I've "cooked" the vegan cheese and was pleasantly surprised that it was stringy and melted just like cow cheese.  The spinach pesto type mixture was tangy and the spicy salsa was just the perfect combination of flavors.   My husband said his favorite part was the crunchy tortillas.  They are actually soft tortillas but after they bake in the oven they become crispy.
The oven I use is a little sketchy, so the cheese on the top of one half  looks a little "burned", but it was baking  at 425 degrees per the original recipe.  Although the top was getting brown, the inside wasn't super hot, so I don't know if it was just my oven or if I should have reduced the temperature down some.
Another thing I did differently (which probably affected the cheese "burning" described above), is the original recipe says to cover it in aluminum foil and bake for 25-30 minutes, then remove the foil and bake for another 15-20 minutes, which I did not do and did not list in my adapted recipe below.  The reason I skipped this step is because I do not use aluminum foil (for health reasons) so I just baked mine uncovered for about 20 minutes.  You may want to follow the baking instructions for the original recipe, but I was happy with how mine turned out even with the adjustments.
From a cost perspective, the only additional items you would need to purchase (if you are already buying spinach, cilantro, tomatoes, garlic, etc to juice or for other raw food recipes) is a pack of tortillas ($1.79), a can of organic refried black beans ($1.57) and a bag of Daiya vegan pepperjack shreds ($4.49).  It made enough for 4 adult servings or 2 adult and 4 child servings.
Whole Foods Sun-Dried Tomato Tortilla Ingredients List ($2.49):  Untreated, Unbleached Wheat Flour, Water, Clear Canola Oil, Salt, Aluminum-Free Baking Powder, Sun Dried Tomato and Sugar
** Update** – I stopped using the "Whole Foods" brand tortillas because they contain non-organic canola oil (GMO ingredient) and was told by a Whole Foods employee that although their "365 Brands" do not contain GMO's, they could not guarantee that the "Whole Foods" brand didn't.  I was lucky to find their 365 Brand Organic Tortillas below which I now use and they actually cost less.
365 Brand Organic Whole Wheat Tortillas Ingredient List ($1.79):  Organic Whole Wheat Flour, Water, Organic Expeller Pressed Soybean Oil, Sea Salt, Baking Powder (Calcium Acid Phosphate, Sodium Bicarbonate, Cornstarch)
365 Brand Organic Refried Black Bean Ingredients List ($1.57):  Prepared Organic Black Beans, Water, Sea Salt
Daiya Pepperjack Style Shreds Ingredients List ($4.49):  Filtered Water, Tapioca and/or Arrowroot Flours, Non-GMO Expeller Pressed Canola and/or Non-GMO Expeller Pressed Safflower Oil, Coconut Oil, Pea Protein, Salt, Inactive Yeast, Vegetable Glycerin, Xanthan Gum, Vegan Natural Flavors, Lactic Acid (Vegan, For Flavor), Spices, Garlic, Titanium Dioxide (A Naturally Occurring Mineral)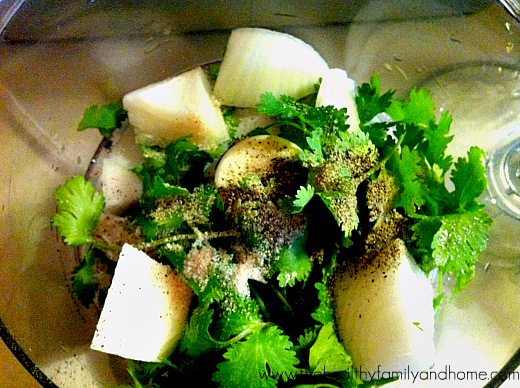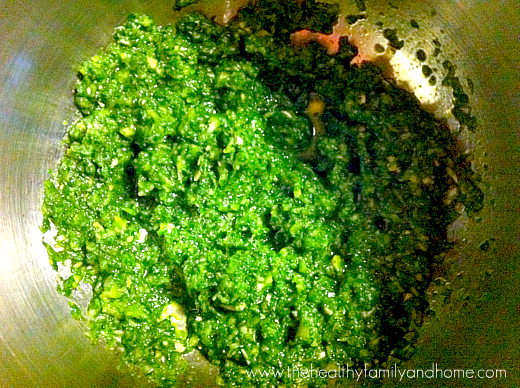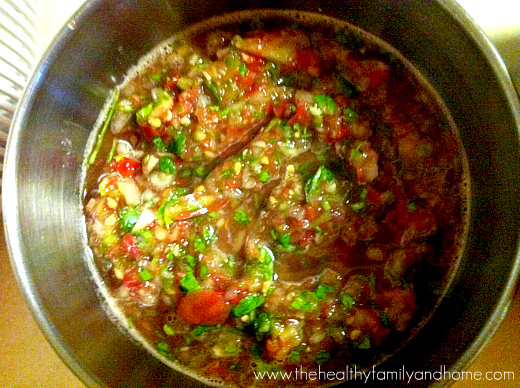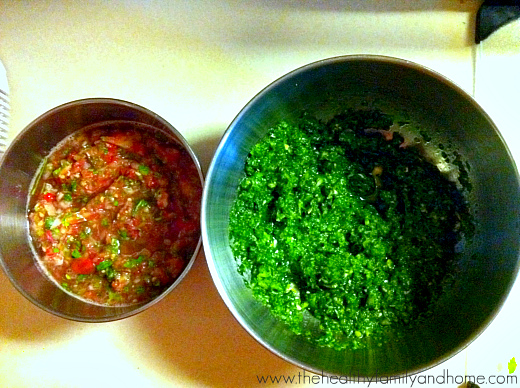 Vegan Mexican Lasagna
Print recipe
| | |
| --- | --- |
| www.thehealthyfamilyandhome.com | The Healthy Family and Home |
Ingredients
1 cup organic cilantro
1/4 cup organic onions
1 cup organic baby spinach
8 6-inch organic tortillas (or homemade)
1 can organic refried black beans
1 cup salsa (homemade/organic)
1 bag vegan pepperjack shreds (Daiya brand)
1 teaspoon pink himalayan salt
1/4 teaspoon pepper
Directions
Prepare the spinach mixture
Step 1
Combine spinach, cilantro, onions, pink himalayan salt and pepper in a food processor and process until coarsely chopped then set aside.
Prepare the salsa
Step 2
Combine (1) tomato, (1/4) onion, (1/2 tsp) pink himalayan salt, (1) jalapeno, juice of (1) lime, (1) garlic clove, (1/2 cup) cilantro into a food processor and process unil blended then set aside.
Prepare the layers
Step 3
Preheat oven to 425 degrees.

Coat an 8 x 8 inch square glass baking dish with cooking spray.

Lay (4) tortillas in the bottom of the dish (they will overlap slightly).

Spread 1/2 can of refried black bean onto the tortillas.

Spread 1/2 spinach mixture on top of the refried beans.

Spread 1/2 salsa on top of the spinach mixture.

Spinkle 1/2 of the vegan cheese on top of the salsa.

Lay the other (4) tortillas on top of the vegan cheese.

Repeat the layers in the same order as above using the remaining 1/2 of the refried black beans, spinach mixture, salsa and cheese.

Bake for approximately 20 -25 mintues or until cheese is golden and bubbling.

Enjoy!

Note
Recipe adapted from: https://www.marthastewart.com/315670/mexican-style-lasagna