This plant-based Gluten-Free Vegan Spicy Mexican "Spanish" Cauliflower Rice recipe is an easy, healthy one-pot meal that's ready in about 15 minutes and is Medical Medium compliant. Enjoy it as a side dish or wrapped in a burrito for a quick and easy meal!
If you're ready for an easy, healthy one-pot recipe that's ready in under 30 minutes, this one is for you!
The first time I threw this together, I made it for myself for a quick lunch.
I loved it so much that I made it again for my family – who happens to not be too fond of cauliflower rice.
But guess what?
They had no idea it was cauliflower rice and not regular white rice and even asked me to make it again.
I served it to them in burritos made with gluten-free tortillas and they probably didn't notice the switch because there is so much flavor going on to even notice the cauliflower rice!
It's seasoned with onions, jalapenos, tomatoes, garlic, cilantro and a few other seasonings that you probably already have on hand.
You'll love how easy it is to pull this versatile dish together to use as a side dish, to make burritos, or even in quesadillas.
Is This Mexican Cauliflower Rice Recipe Healthy?
In my opinion, yes!
It's made with fresh, organic veggies and is vegan, gluten-free, dairy-free, soy-free, nut-free, paleo-friendly, keto-friendly (approximately 11 net carbs) and is made with Medical Medium healing foods.
Is Cauliflower Rice Good For You?
Yes! Here's why according to the Medical Medium "Liver Rescue" book:
"Cruciferous vegetables (cauliflower) are always great for your liver; they provide an abundance of vitamins, minerals, antioxidants, and rich phytochemical sulfur compounds that help the liver restore its nutrient storage banks. Cruciferous vegetables (cauliflower) also help the liver convert nutrients, makeing them more bioavailable as they're released into the bloodstream to be delivered to other organs in your body." – Anthony Williams | Medical Medium, "Liver Rescue"
Is This Recipe "Medical Medium" Friendly?
Yes! Yes! and Yes!
I created this recipe because I wanted to incorporate as many of the Medical Medium healing foods into a meal as possible, and this recipe does not fall short!
Here's a list of the Medical Medium healing foods that are in this recipe:
Cauliflower
Tomatoes
Onions
Jalapenos
Garlic
Cilantro
Make sure you grab a copy of either "Medical Medium – Life Changing Foods" or "Medical Medium – Liver Rescue" to read more about the benefits of each of these foods in healing the body.
Should I Use Fresh Cauliflower or Frozen Cauliflower Rice?
You can use either.
I use frozen organic cauliflower rice, primarily because I'm lazy and I always have at least 5 or more bags in my freezer at all times!
But you could also use cauliflower rice that you make with a food processor with a head of fresh cauliflower.
If you use fresh, just make sure you let it simmer long enough for it to get soft.
What Ingredients Are Needed To Make Gluten-Free Vegan Spicy Mexican / Spanish Cauliflower Rice?
5 Fast Facts About Cauliflower:*
1 cup contains 9.1% DV of potassium
1 cup contains 85.9% of vitamin C
1 cup contains 8.5% DV of fiber
excellent anti-oxidant
contains anti-inflammatory benefits
5 Fast Facts About Tomatoes:*
contains lycopene which is a cancer-fighting agent
high in beta-carotene
excellent anti-oxidant
high in vitamin A and K
high in chromium which helps control blood sugar levels
5 Fast Facts About Onions:*
rich source of sulfur compounds
excellent for cardiovascular health
inhibits bone loss in women
reduced blood pressure
lowers blood cholesterol levels
5 Fast Facts About Jalapenos:*
excellent antioxidant
thermogenic food
anti-inflammatory agent
high in vitamins A and C
contains anti-bacterial properties
5 Fast Facts About Garlic:*
regulates blood sugar levels
lowers high blood pressure
contains anti-bacterial and analgesic properties
anti-viral
helps to lower cholesterol levels
5 Fast Facts About Avocado Oil:*
healthier cooking with a smoke point of 500 degrees
may help reduce the risk of metabolic syndrome
helps maintain healthy blood sugar levels
provides protection from cardiovascular disease
good source of vitamin E
*These statements have not been evaluated by the Food and Drug Administration. This information is not intended to diagnose, treat, cure or prevent any disease.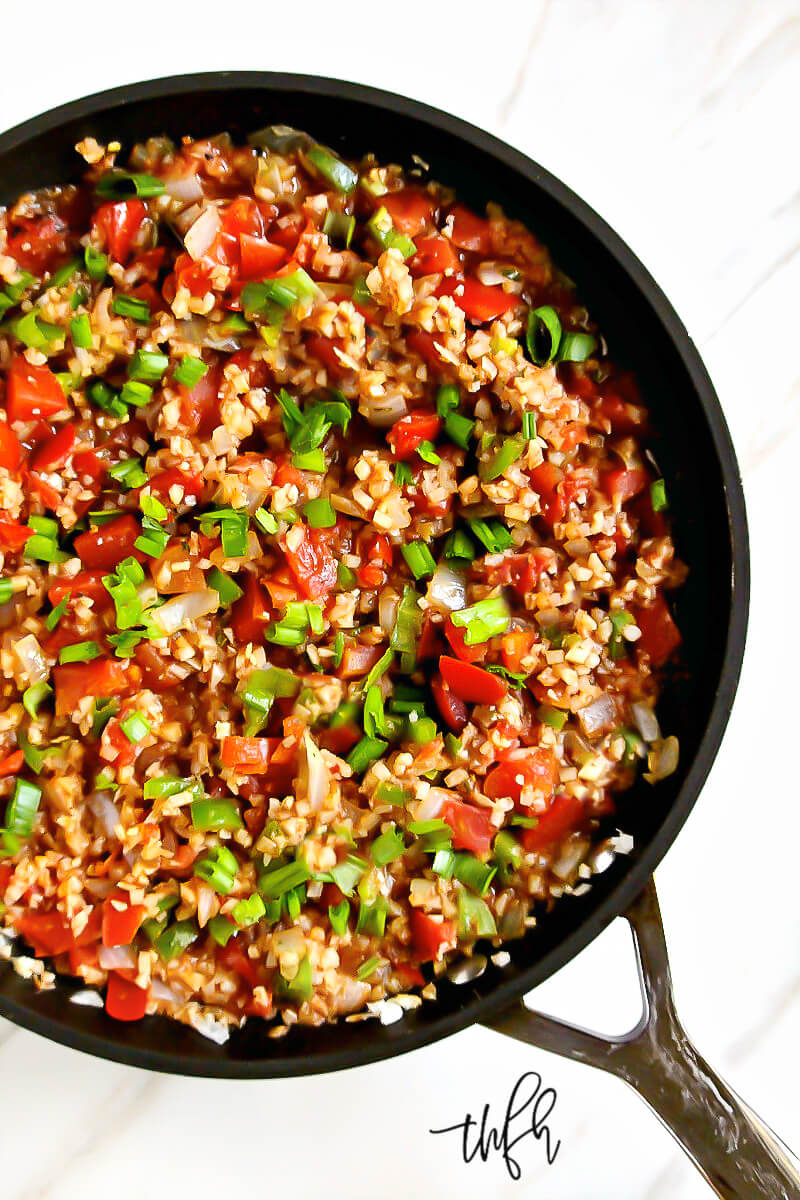 What Equipment Is Needed To Make Gluten-Free Vegan Spicy Mexican / Spanish Cauliflower Rice?
You'll be glad to know that this is a one-pot meal meaning the entire recipe is cooked in only one-pot/skillet. Yay!
Here's what you'll need to make this recipe:
Cutting Board: Not mandatory, but helpful for cutting up the veggies in this recipe
Food Processor: You'll only need this if you are making your cauliflower rice from scratch
Skillet: Any type of skillet will work, just make sure you use one that does not have a toxic non-stick coating on it.
How Do You Make The Best Gluten-Free Vegan Spicy Mexican / Spanish Cauliflower Rice?
This Spicy Gluten-Free Vegan Mexican / Spanish Cauliflower Rice recipe is super easy to make!
Step 1: Prepare the veggies – Simply dice your veggies into small pieces. I like mine as small as possible, but you can cut them into the size that you prefer.
Step 2: Prepare the cauliflower rice – If you will be using fresh cauliflower, you will need to cut it into bite-size florets, add them to a food processor and process until it becomes a "rice" consistency. After you've processed the "rice", you'll need to squeeze it to remove any excess water. I just take a handful at a time from the food processor and squeeze it in my fist and drain the excess water into a small bowl to discard.
Step 3: Saute' – Here is where you will saute' the onions, garlic, and cauliflower to get them soft before adding the remaining ingredients.
Step 4: Add remaining ingredients + simmer – Once the onions and cauliflower are soft from sautéing, you will add the remaining ingredients and spices and stir everything together. Adjust the seasonings to your preference.
That's it!
Substitutions for Gluten-Free Vegan Spicy Mexican / Spanish Cauliflower Rice Recipe:
Cauliflower Rice: Fresh or frozen cauliflower will work. If you don't like cauliflower rice and still want to make "Mexican Rice", you can substitute cauliflower rice with regular organic white rice in the same amount.
Tomatoes: Fresh organic diced tomatoes are best, but you could always use jarred organic diced tomatoes if you don't have fresh tomatoes or are short on time. Just make sure you use a brand that does not have added citric acid or that comes in a can lined with BPA. My favorite to use is the Jovial brand which comes in a glass jar and the only ingredients are organic tomatoes + organic tomato puree. No BPA or additives to worry about!
Onions, Garlic, Spices: You can omit or adjust the amounts of these to your preference.
Jalapeno: I ~have~ to add a jalapeno in whenever I can but if you don't like spicy or will be serving this to young children, you may want to reduce or omit the jalapeno.
Want More Healthy Plant-Based Cauliflower Rice Recipes?
Check out these:
Did You Enjoy This Recipe?
If so, please leave a rating and comment below to let me know…it would make my day! 🙂