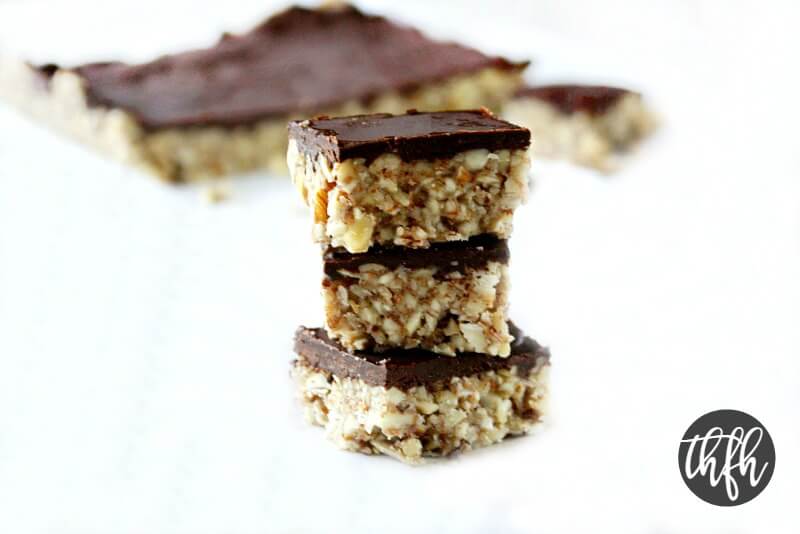 These clean eating, energy packed Gluten-Free Vegan Almond Power Bars with Chocolate Topping are not only a nutrient-dense snack, but are made even more irresistible with a thick, healthy chocolate topping.
It's a simple recipe made with a nut combination of almonds, sunflower seeds and hazelnuts and can be ready in less than 10 minutes.
Most store-bough granola bars are highly processed and can contain lots of unhealthy ingredients like these:
S.A.D. (Standard American Diet) Planter's Big Nut Bars, Chewy Triple Nuts Ingredients:
Ingredients:  Peanuts, Corn Syrup, Crisped Rice [Rice Flour, Sugar, Malt Extract, Salt, Caramel Color, Mixed Tocopherols (To Help Protect Flavor)], Peanut Butter (Roasted Ground Peanuts), Evaporated Cane Juice Invert Syrup, Sugar, Whole Grain Rolled Oats, Almonds, Cashews, Contains Less than 1.5% of Whey (from milk), Soy Lecithin, Honey, Vegetable Oil (Peanut and/or Cottonseed Oil), Resistant Corn Dextrins, Granola (Whole Grain Rolled Oats, Brown Sugar, Whole Grain Rolled Wheat, Coconut, Canola Oil, Wheat Bran), Xanthan Gum, TBHQ (Preserves Freshness) (source)
FoodFacts.com Rating:  "F"
Many are not vegan and are full of GMO ingredients (corn syrup, soy lecithin, canola oil), artificial coloring, preservatives and refined salt and sugar.
This healthier version is made with clean, real food ingredients and is raw, vegan, gluten-free, grain-free, dairy-free, no-bake, paleo-friend and contains no refined sugar.
Want more healthy dessert recipes?  Check out Gluten-Free Vegan Chocolate Peanut Butter Oatmeal No-Bake Cookies, Gluten-Free Gingerbread Cookies, Flourless Chocolate Fudge Mint Cookies or my Clean Eating Cookbook with an entire chapter of 20 healthy, clean eating dessert recipes just like this one that you will love!
5 Fast Facts About Almonds:*
helps to regulate cholesterol and blood pressure
energy booster
loaded with calcium and fiber
1/4 cup contains 8 grams of vegan protein
high in anti-oxidants
5 Fast Facts About Hazelnuts:*
one cup contains 86% RDA of vitamin E
rich in heart healthy unsaturated fats
super high in B-vitamins: B1, B3, B5, B6 and B9
one ounce has 2.7 g of dietary fiber
one serving contains 90% RDA of manganese and 65% RDA of copper
5 Fast Facts About Sunflower Seeds:*
rich source of vitamin E
finest source of B complex group vitamins
incredible source of folic acid
rich in magnesium
provides anti-inflammatory benefits
5 Fast Facts About Coconut Oil:*
super high in lauric acid
rich in antioxidants
contains natural microbial and anti-bacterial agents
helps to improve metabolism
improves cholesterol levels
5 Fast Facts About Maple Syrup:*
contains manganese and zinc
super high in anti-oxidants
helps with inflammation
1/4 cup contains more calcium than the same amount of milk
1/4 cup contains more potassium than a banana
5 Fast Facts About Raw Cacao Powder:*
contains over 300 compounds including protein, calcium, copper, zinc and iron
super high in anti-oxidants
promotes cardiovascular health
contains essential fats
can help to decrease blood pressure
*These statements have not been evaluated by the Food and Drug Administration.  This information is not intended to diagnose, treat, cure or prevent any disease.
Tip #1:  This would be an excellent recipe to use homemade almond butter with made with your Vitamix!
Tip #2:  You can use many different variations with this recipe…use your favorite sweetener, change up the nuts and even use peanut butter instead of almond butter.
 Tip #3:  If you want to reduce the amount of sweetener in the recipe, just use 2 tablespoons of sweetener for the nut mixture instead of 3.  I only used 2 tablespoons but if you want a sweeter bar, just increase it to 3 tablespoons.
Gluten-Free Vegan Almond Power Bars with Chocolate Topping (Raw, Vegan, Gluten-Free, Grain-Free, Dairy-Free, Paleo-Friendly, No-Bake, No Refined Sugar)
Print recipe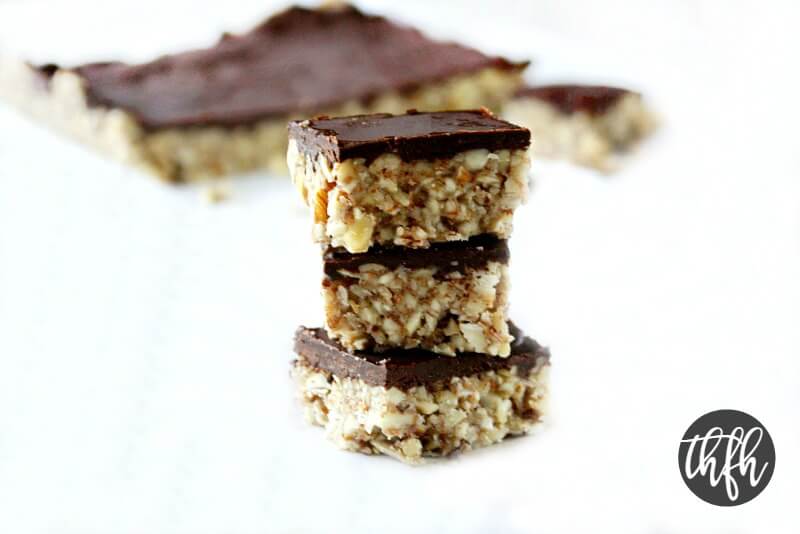 | | |
| --- | --- |
| Serves | 8 - 16 |
| Prep time | 15 minutes |
| Cook time | 1 hour |
| Total time | 1 hour, 15 minutes |
| www.thehealthyfamilyandhome.com | The Healthy Family and Home |
Ingredients
For the bar
2 cups organic raw almonds
1/2 cup organic sunflower seeds
1/2 cup organic hazelnuts
1/2 cup organic almond butter
1/2 cup organic coconut oil (melted / liquid)
2 - 3 tablespoons organic maple syrup
1 teaspoon organic vanilla bean powder
For the topping
1/2 cup organic raw cacao powder
6 tablespoons organic coconut oil (melted / liquid)
1 tablespoon organic maple syrup
Directions
For the bar
Step 1
Add the following: almonds, sunflower seeds, hazelnuts and almond butter to a food processor and process for approximately 10 seconds for a chunkier nut texture or approximately 20 seconds for a finer nut texture.

In a small bowl, mix the coconut oil, maple syrup and vanilla bean powder and mix together until well blended.

In a large bowl, add the nut mixture and coconut oil/maple syrup mixture together and mix together until well blended.

Put the mixture in an 8 x 8 glass baking dish (lined with parchment paper if you prefer), and put in the freezer for approximately 30 minutes or until firm.

For the topping
Step 2
Mix the coconut oil (melted/liquid), cacao and maple syrup and stir until smooth and well combined.
Assembly
Step 3
Remove the bars from the freezer.

Pour the chocolate topping over the bars and VERY QUICKLY spread in a thin layer (it will start to harden once it touches the frozen bars and will be difficult to spread).

Return the bars back to the freezer for approximately 15 - 30 minutes to allow the chocolate topping to completely harden.

Transfer them to the refrigerator for about 15 - 30 minutes prior to cutting and serving to soften them slightly.

Store in the refrigerator or freezer because they will get very soft and lose their shape if left out at room temperature.

Enjoy!
Note
Recipe adapted from:  https://elanaspantry.com/power-bars/
This recipe will make approximately (8) large bars or (16) small bars.

The recipe and photographs for "Gluten-Free Vegan Almond Power Bars with Chocolate Topping" by Karielyn Tillman of The Healthy Family and Home are licensed under a Creative Commons Attribution Non-Commercial 4.0 International License and cannot be used without my written permission.

Affiliate Disclosure: This post contains affiliate links. This means that if you were to make a purchase through one of these links, "The Healthy Family and Home" website would receive a small commission.