This healthy Chocolate Covered Watermelon Slices with Sea Salt is a fun and easy summertime treat that both adults and kids will enjoy and you only need 4 clean ingredients to make them!
You just have to make these healthy Chocolate Covered Watermelon Slice with Sea Salt at least once before summer is over!
With only 4 ingredients and 5 minutes of your time, there's no reason not too...especially if you love anything covered in chocolate like me 🙂
Last week, Whole Foods had a "buy one get one free" sale on organic baby watermelon, so of course, I grabbed two.
I made two recipes with them - this one and this Spicy Watermelon Salsa recipe.
As simple as this treat was to make, I had a lot of fun doing it.
Just cutting the watermelon into small pizza-like slices wasn't enough, I had to get out my melon ball gadget and cookie cutters to make watermelon cut outs too!
There's only a few ingredients you need but two important things to remember:
Make sure you pour/spread the chocolate on top of the watermelon slices and not dip them, because it will make the chocolate runny.
You will need to eat these right upon making them (or at least the same day) because although the chocolate will stay hard, the watermelon will get mushy overnight.
But eating them right away shouldn't be a problem as I may or may not have eaten all the slices the same day I made them!
You can use Himalayan pink salt or sea salt to sprinkle on top (or leave off all together), but I L.O.V.E. to use the Primal Palate Grey Sea Salt for garnishing because it has a thick and flaky texture.
This is a fun, clean eating recipe that even the kids will love and it's vegan, gluten-free, dairy-free, nut-free, paleo-friendly and contains no refined sugar.
Want more healthy dessert recipes? Check out Healthy Peanut Butter Cups, Gluten-Free Vegan Pistachio and Cranberry Chocolate Bark, Gluten-Free Vegan Chocolate Banana Sushi with Pistachios or my Clean Eating Cookbook with an entire chapter of 20 healthy, clean eating desserts just like this one that you will love!
5 Fast Facts About Watermelon:*
1 cup contains 16.4% vitamin C
provides anti-inflammatory benefits
excellent anti-oxidant
excellent source of potassium
natural diuretic
*These statements have not been evaluated by the Food and Drug Administration. This information is not intended to diagnose, treat, cure or prevent any disease.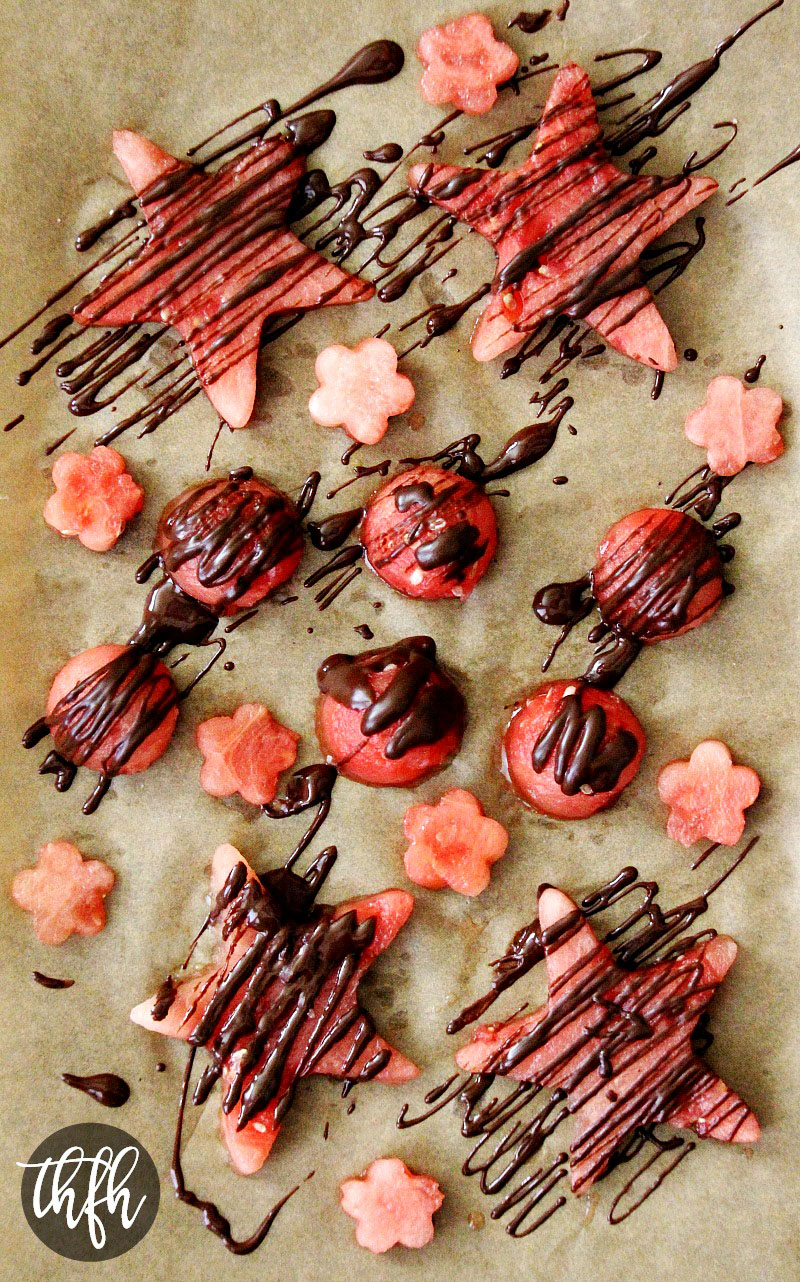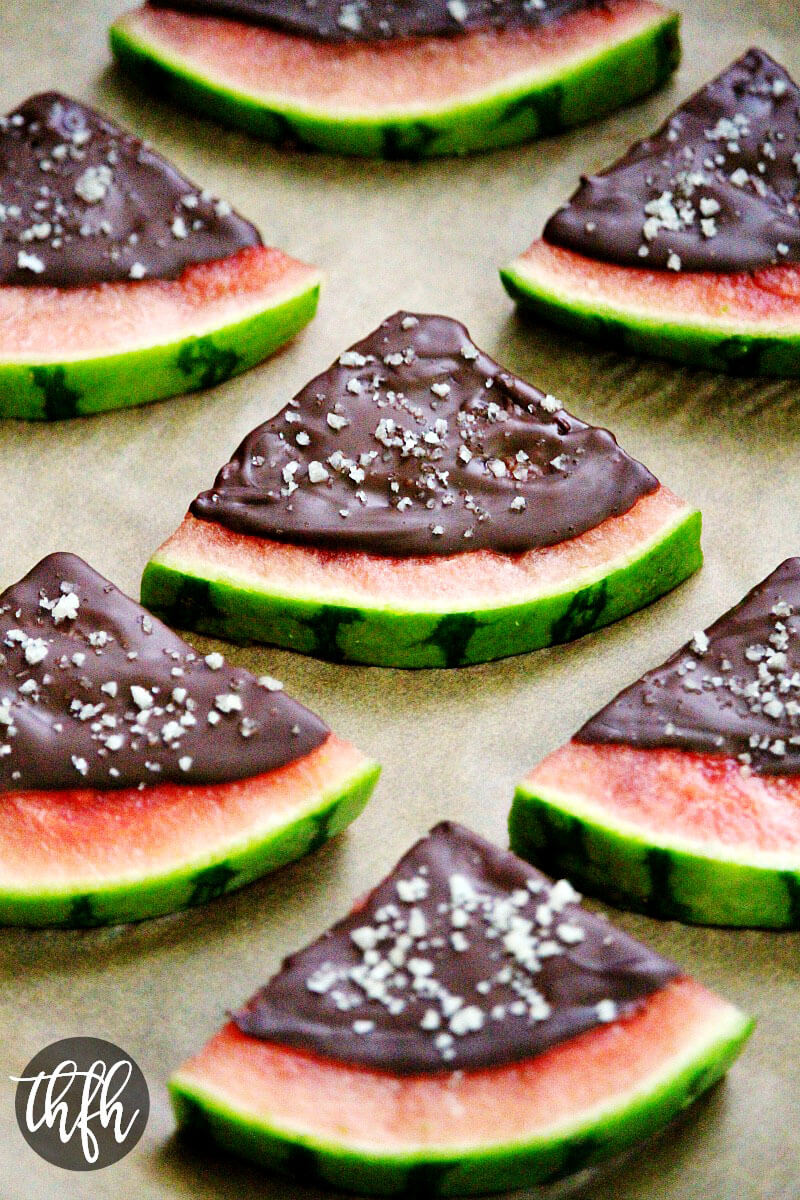 Print
Chocolate Covered Watermelon Slices with Sea Salt
Yield 6 - 8 slices
Vegan / Gluten-Free / Dairy-Free / Nut-Free / Paleo-Friendly / No Refined Sugar
Instructions
Slice the watermelon in half, and then into slices about 1 inch thick.  Cut those slices into 1/4 pieces, similar to cutting a pizza.  Place each slice on a baking pan lined with parchment paper. Set aside.
Add the chocolate chips and coconut oil to a small saucepan and heat on lowest heat until it's completely melted and smooth, stirring the entire time so it doesn't burn.  Allow the chocolate to cool.
Take a spoonful at a time and slowly pour the chocolate over the bottom 1/3 of each watermelon slice, then use the back of the spoon to spread it evenly across.
Sprinkle sea salt over the top of each piece.
Serve immediately or place in the refrigerator for about 5-10 minutes to allow the chocolate to harden and then serve.
Best if served the same day, does not do well overnight.
Enjoy!
Notes
Get all your organic ingredients delivered straight to your door at up to 25 - 50% off retail by cutting out the middleman and retail markups with a Thrive Market Membership and save 15% off on your first order.
  The recipe and photographs for "Chocolate Covered Watermelon Slices with Sea Salt" by Karielyn Tillman of The Healthy Family and Home website are licensed under a Creative Commons Attribution Non-Commercial No Derivatives 4.0 International License and cannot be used without my written permission.
Affiliate Disclosure: This post contains affiliate links. This means that if you were to make a purchase through one of these links, "The Healthy Family and Home" website would receive a small commission.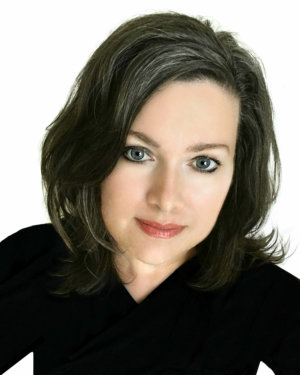 Hi, I'm Karielyn! I'm the published cookbook author of CLEAN DESSERTS and content creator of The Healthy Family and Home™ website since 2012. I specialize in creating easy, healthy plant-based and Medical Medium® compliant recipes that are gluten-free + vegan and made with clean, real food ingredients that you can feel good about eating.