This kid-friendly Gluten-Free Vegan Chocolate Banana Sushi with Pistachios recipe is so easy to make and is ready in less than 10 minutes.
Banana sushi is a favorite snack in our house and it all started with my original banana sushi recipe back in 2013, Raw Vegan Banana Hemp Seed Sushi Slices.
It then evolved to Banana Sushi with Sweet Tahini and Matcha Spread (so good!), to these Cashew Butter Banana Sushi (also good!) and now my most recent I'm sharing with you today, Chocolate Banana Sushi with Pistachios (delish!).
Either variety is great to make whenever you have an abundance of bananas or need a quick snack.
You simply take a banana, drizzle it with melted chocolate chips, sprinkle crushed pistachios over the top and then slice and serve it like sushi to make it fun.
It's a healthy, kid-friendly snack that's vegan, gluten-free, dairy-free, soy-free, paleo-friendly and contain no refined sugar.
Want more healthy dessert recipes?  Check out Chocolate Almond Butter Cups, Clean Eating Chocolate Crunch Bars, Healthy Peanut Butter Cups or my Clean Eating Cookbook with an entire chapter of 20 healthy, clean eating recipes just like this one that you will love!
5 Fast Facts About Bananas:*
high levels of trytophan to help combat depression
aids in weight loss
strengthens the immune system
high in fiber and potassium
helps to lower blood pressure
5 Fast Facts About Pistachios:*
contains 90% healthy unsaturated fat
super high in anti-oxidants
supports cardiovascular health
excellent source of fiber, protein, manganese and copper
high in thiamine, vitamin B-6 and potassium
*These statements have not been evaluated by the Food and Drug Administration.  This information is not intended to diagnose, treat, cure or prevent any disease.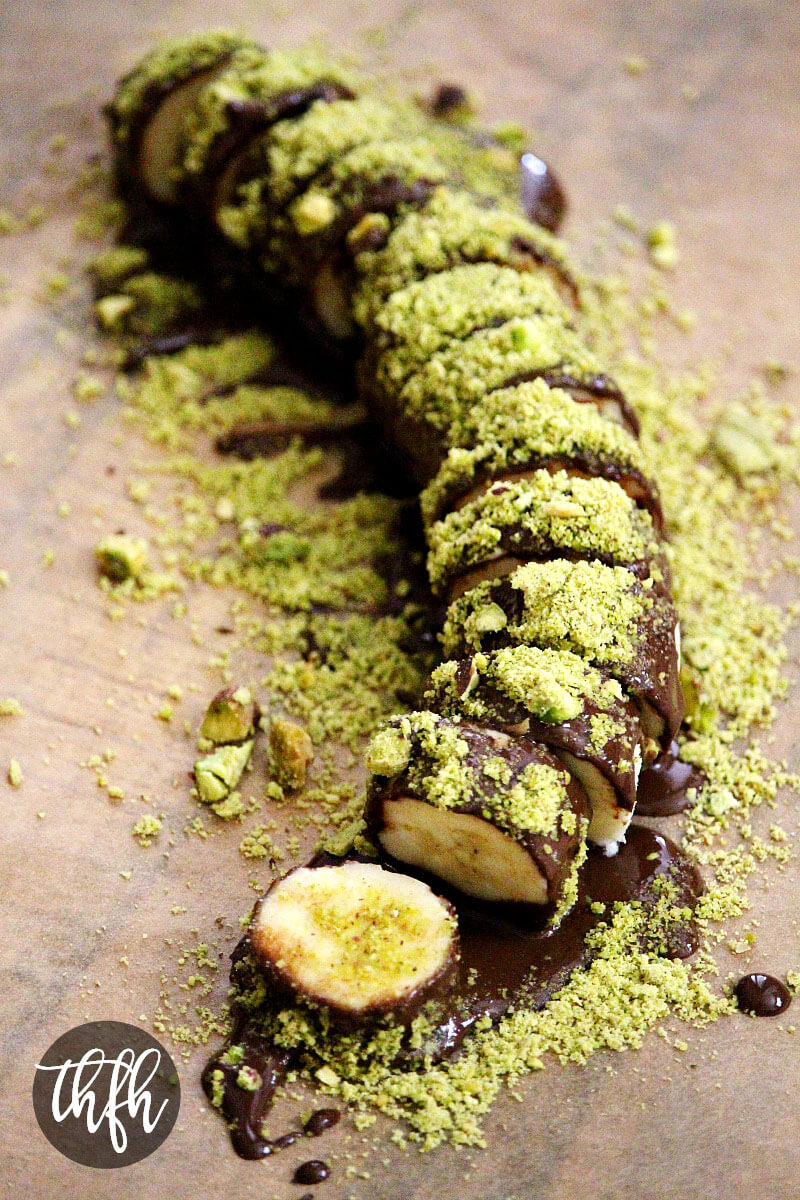 Gluten-Free Vegan Chocolate Banana Sushi with Pistachios (Vegan, Gluten-Free, Dairy-Free, Soy-Free, Paleo-Friendly, No Refined Sugar)
Print recipe
Ingredients
1 organic banana
1 - 2 tablespoon organic pistachios (chopped or grinded)
1/4 cup Enjoy Life mini chocolate chips
1 teaspoon organic coconut oil
Directions
Prepare the pistachio garnish
Step 1
Chop the pistachios into small pieces or add the pistachios to a coffee grinder and grind them to a fine powder. Set aside.
Prepare the chocolate coating
Step 2
Add the chocolate chips and coconut oil to a small saucepan and melt on lowest heat, stirring to make sure it doesn't burn.
Step 3
Peel the banana and place it on your serving dish.

Slowly pour the melted chocolate over the banana, making sure it is completely covered on the top and both sides.

Sprinkle the chopped or ground pistachios over the top of the banana.

Option 1: Slice and serve.
Option 2: Place your serving dish in the freezer for 10 - 15 minutes to harden the chocolate, then remove, slice and serve.

Enjoy!
Note
This recipe will make approximately 1-2 servings.

The recipe and photographs for "Gluten-Free Vegan Chocolate Banana Sushi with Pistachios" by Karielyn Tillman of The Healthy Family and Home website are licensed under a Creative Commons Attribution Non-Commercial No-Derivatives 4.0 International License and cannot be used without my written permission.