This Clean Eating Vegan Chimichurri Sauce is a simple but flavorful sauce made with clean ingredients that can be used for so many vegan dishes.
You can make this recipe in less than 5 minutes with a Vitamix and after picking up some fresh herbs like organic parsley and organic cilantro. I particularly love it because of the tangy flavor the apple cider vinegar gives it.
While chimichurri is typically used as a marinade or topping on a meat dish, I like to use it as a dressing on a salad, as a dip (especially with these grain-free chips!), roasted veggies and even tossed with shirataki noodles.
The recipe is enough for a single serving, which I usually make just for myself, but if you need it for more than one person, just double or triple the recipe.
And, you can easily make it lectin-free by omitting the organic red pepper flakes and you'll still get a little "pepper" flavor from the organic ground black pepper.
This healthy recipe is made with real, whole food ingredients and is raw, vegan, gluten-free, dairy-free, lectin-free, soy-free, nut-free and paleo-friendly.
Want more healthy dip and dressing recipes? Check out Tomatillo and Jalapeno Dip, Raw Spinach and Avocado Dip, Lectin-Free Vegan Basil Pesto and Cauliflower Rice Dip or my Clean Eating Cookbook with an entire chapter of 20 healthy, clean eating dip and dressing recipes just like this one that you will love!

5 Fast Facts About Parsley:*
good source of potassium
rich in antioxidants
1/2 cup provides 554% dv of vitamin K
1/2 cup provides 10% dv of iron
1/2 cup provides 54% vitamin C
5 Fast Facts About Cilantro:*
contains powerful anti-oxidants
anti-inflammatory
helps to remove toxins and heavy metals
promotes healthy liver function
helps to control blood sugar
5 Fast Facts About Extra-Virgin Olive Oil:*
lowers blood cholesterol levels
rich in anti-oxidants
improves bone mineralization and calcification
excellent protection from heart attack and stroke
contains anti-inflammatory benefits
5 Fast Facts About Apple Cider Vinegar:*
anti-viral, anti-bacterial, anti-fungal
maintains proper pH balance in the body
regulates blood pressure
helps to reduce bad cholesterol
loaded with potassium
5 Fast Facts About Garlic:*
regulates blood sugar levels
lowers high blood pressure
contains anti-bacterial and analgesic properties
anti-viral
helps to lower cholesterol levels
5 Fast Facts About Himalayan Pink Salt:*
contains 84 minerals
unrefined, unprocessed, raw
promotes stable pH balance in cells
controls water levels in the body
aids digestion and facilitates better nutrient absorption
*These statements have not been evaluated by the Food and Drug Administration. This information is not intended to diagnose, treat, cure or prevent any disease.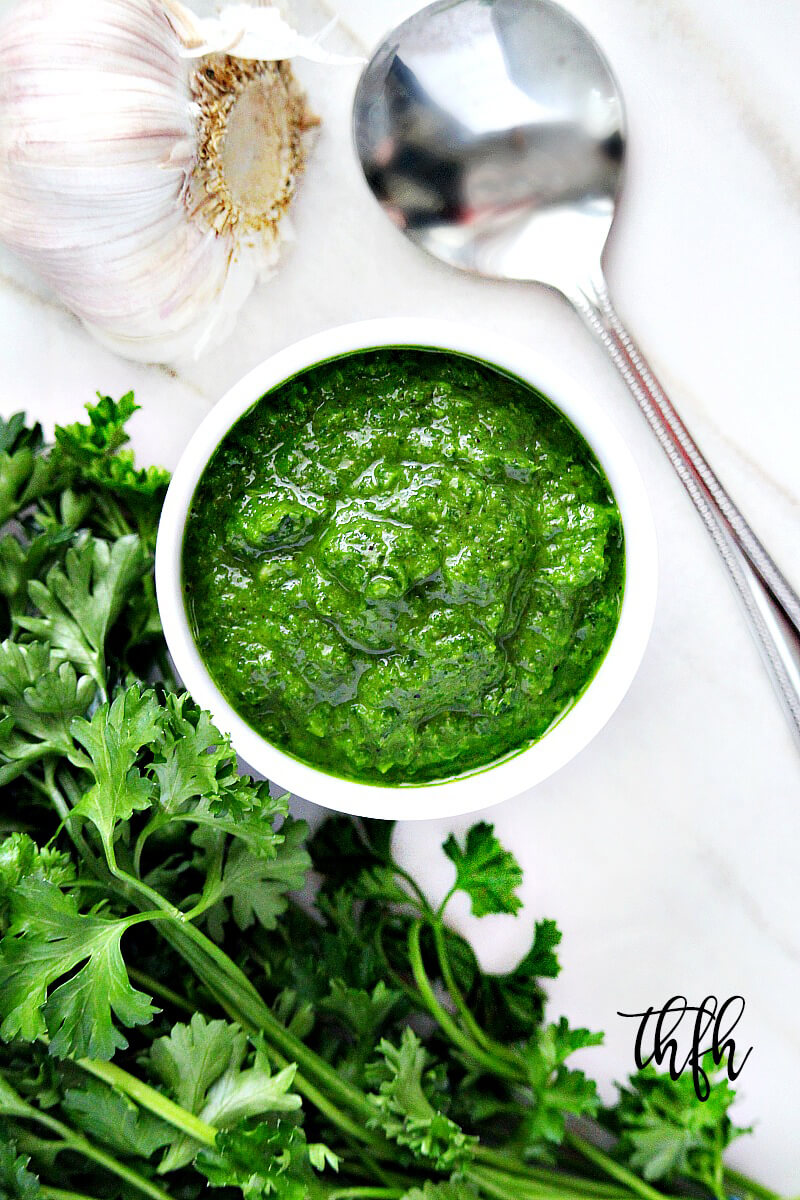 Print
Clean Eating Vegan Chimichurri Sauce
Yield 1/2 cup
Raw / Vegan / Gluten-Free / Dairy-Free / Lectin-Free / Nut-Free / Paleo-Friendly
Instructions
Add all ingredients to a Vitamix and blend until well blended and smooth, using the tamper if necessary.
Adjust seasonings to your preference.
Store in an air-tight BPA-free container in the refrigerator.
Enjoy!
Notes
Get all your organic ingredients delivered straight to your door at up to 25 - 50% off retail by cutting out the middleman and retail markups with a Thrive Market Membership and save 15% off on your first order.
  The recipe and photographs for "Clean Eating Vegan Chimichurri Sauce" by Karielyn Tillman of The Healthy Family and Home website are licensed under a Creative Commons Attribution Non-Commercial No Derivatives 4.0 International License and cannot be used without my written permission.
Recipe Roundups: Food Bloggers are always welcome to use a photo and a link back to my original post to share on recipe roundups without requesting permission.
Affiliate Disclosure: This post contains affiliate links. This means that if you were to make a purchase through one of these links, "The Healthy Family and Home" website would receive a small commission at no additional cost to you.
Amazon Disclosure: "The Healthy Family and Home" website is a participant in the Amazon Services, LLC Associates Program, an affiliate advertising program designed to provide a means for sites to earn advertising fees by advertising and linking to Amazon.com.
Thank you for your support of this website!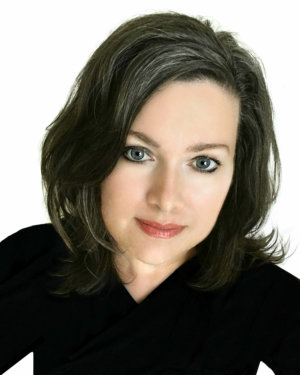 Hi, I'm Karielyn! I'm the published cookbook author of CLEAN DESSERTS and content creator of The Healthy Family and Home™ website since 2012. I specialize in creating easy, healthy plant-based and Medical Medium® compliant recipes that are gluten-free + vegan and made with clean, real food ingredients that you can feel good about eating.