This Raw Spinach and Avocado Dip is bright green and oh so fresh!
There's just nothing else like eating live food and the way it makes your body feel afterwards.
It's such a clean, pure way of eating.
When I finished making this recipe (and ate the entire bowl by myself in one sitting), I couldn't believe that I had just eaten 5 cups of spinach!  And an entire avocado!
The first thing that strikes me when I look at it is how vibrant and green it is!
Is it really ok to call a dip "beautiful"?  For this one, I think so.
This is an excellent dip for dehydrated crackers, Raw Corn Chips or even some fresh vegetables.
It's fast and easy to make and only requires a few basic ingredients that you probably already have on hand!
Want more healthy dip recipes?  Check out Healthy Party Dip Roundup, Tomatillo and Jalapeno Dip, Cilantro and Lime Salsa or my Clean Eating eCookbook with an entire chapter of 20 healthy, clean eating dip and dressing recipes just like this one that you will love!
5 Fast Facts About Spinach:*
contains anti-inflammatory properties
high in anti-oxidants
super-high in vitamin K (1,110.6% dv) and vitamin A (377.3% dv)
phyto-nutrients provide anti-cancer benefits
can help improve cardiovascular health
5 Fast Facts About Avocados:*
excellent source of vitamin E
contains 25 essential nutrients
contains 2 – 3 times potassium as one banana
has anti-inflammatory properties
can help lower cholesterol levels
5 Fast Facts About Onions:*
rich source of healthy sulphur compounds
excellent for cardiovascular health
inhibits bone loss in women
reduces blood pressure
lowers blood cholesterol levels
5 Fast Facts About Garlic:*
regulates blood sugar levels
lowers high blood pressure
anti-bacterial and analgesic properties
contains anti-viral properties
can help lower cholesterol levels
5 Fast Facts About Lemons:*
is extremely alkaline to the body
blood purifier
excellent for detoxification
balances blood sugar levels
contains powerful anti-bacterial properties
5 Fast Facts About Himalayan Pink Salt:*
contains 84 minerals
unrefined, unprocessed, raw
promotes stable pH balance in cells
controls water levels in the body
aids digestion and better facilitates nutrient absorption
*These statements have not been evaluated by Food and Drug Administration.  This information is not intended to diagnose, treat, cure or prevent any disease.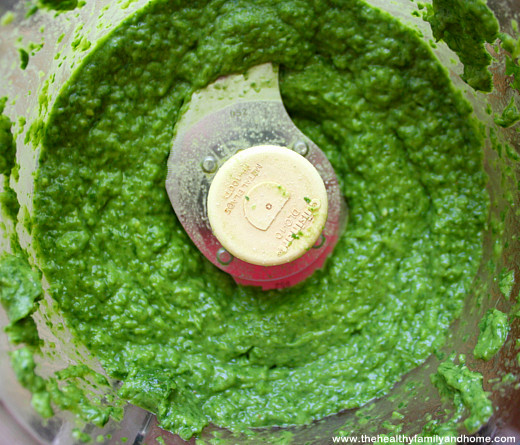 Tip #1:   This recipe will make enough for 1 – 2 servings.  If you need more, you will need to double the recipe.
Tip #2:  Every time I make it, I use slightly different amounts in different combinations of Himalayan pin salt, garlic, lemon and onions, so it always tastes a little different each time (ex.  sometimes I use 2 lemons instead of 1 and it's a little tangier, sometimes I add a little extra salt, same with the garlic and onion.  Sometimes I even add a pinch or two of cayenne pepper).  Feel free to make adjustments to your preference.
Spinach and Avocado Dip (Raw, Vegan, Gluten-Free, Dairy-Free, Paleo-Friendly)
Print recipe
Ingredients
5 cups organic spinach
1 organic avocado
1/4 - 1/2 organic onion
1 - 2 clove organic garlic (freshly crushed)
1/2 teaspoon Himalayan pink salt
1 organic lemon (freshly squeezed)
Directions
Step 1
Put all ingredients into a food processor and process until well combined and creamy.

Adjust seasonings to your preference.

Enjoy!
Note
This recipe will make 1 - 2 servings.

The recipe and photographs for "Spinach and Avocado Dip" by Karielyn Tillman of The Healthy Family and Home are licensed under a Creative Commons Attribution-NonCommercial 4.0 International License and cannot be used without my written permission.

Affiliate Disclosure: This post contains affiliate links. This means that if you were to make a purchase through one of these links, "The Healthy Family and Home" website would receive a small commission.
Amazon Disclosure: "The Healthy Family and Home" website is a participant in the Amazon Services, LLC Associates Program, an affiliate advertising program designed to provide a means for sites to earn advertising fees by advertising and linking to Amazon.com.