This Creamy Mushroom Sauce is so simple to make and it's raw, vegan, gluten-free, dairy-free and paleo-friendly too!
Just put everything into a Vitamix and it's ready to go!
I've used this sauce over pasta with added veggies (Pasta with Asparagus and Creamy Mushroom Sauce), over quinoa and even mashed cauliflower (mashed potato replacement) and cauliflower rice.
Traditional Creamy Mushroom Sauces usually have butter, heavy cream and cheese, but this one is raw, vegan, gluten-free, dairy-free and paleo-friendly too!
5 Fast Facts About Mushrooms:
excellent source of potassium
rich source of riboflavin, niacin and selenium
supports a healthy immune system
provides anti-inflammatory benefits
natural source of vitamin D
5 Fast Facts About Cashews:
packed with dietary fiber
rich in "heart friendly" mono-saturated fatty acids
rich source of minerals
high in magnesium and copper
excellent source of antioxidants
5 Fast Facts About Extra-Virgin Olive Oil:
lowers blood cholesterol levels
rich in anti-oxidants
improves bone mineralization and calcification
excellent protection from heart attack and stroke
contains anti-inflammatory benefits
5 Fast Facts About Garlic:
regulates blood sugar levels
lowers high blood pressure
contains anti-bacterial and analgesic properties
anti-viral
helps to lower cholesterol levels
5 Fast Facts About Shallots:
1 cup contains 24% DV of iron
good source of fiber
1 cup contains 11% potassium
contains more antioxidants than onions
contains 10% DV of folate
5 Fast Facts About Rosemary:
can help improve memory
contains anti-microbial properties to help fight infections
good source of dietary fiber
rich in B vitamins
excellent source of vitamin A
5 Fast Facts About Himalayan Pink Salt:
contains 84 minerals
unrefined, unprocessed, raw
promotes stable pH balance in cells
controls water levels in the body
aids digestion and facilitates better nutrient absorption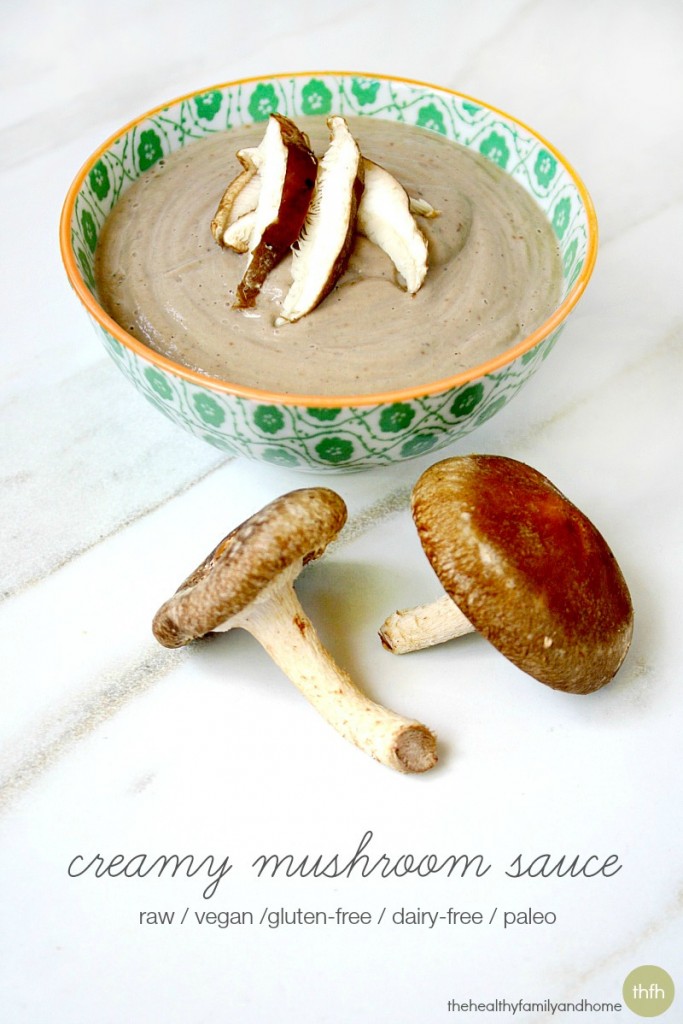 Tip #1:  I've used baby bella mushrooms, cremini and even white button mushrooms to make this.
Tip #2:  If you set the Vitamix on the "high" setting, it will warm it up slightly.
Tip #3:  This recipe will make approximately (3) cups.
Creamy Mushroom Gravy (Raw, Vegan, Gluten-Free, Dairy-Free, Paleo-Friendly)
Print recipe
Ingredients
4 cups mushrooms (baby bella, etc)
1 1/2 cup organic cashews
1 1/2 cup distilled/purified water
4 cloves organic garlic (freshly crushed)
2 tablespoons organic shallots (diced)
1 1/2 teaspoon organic rosemary
1 tablespoon organic extra-virgin olive oil
1 teaspoon Himalayan pink salt
Directions
Step 1
Put all ingredients in a Vitamix and blend until creamy and smooth.

Serve over pasta, mashed potatoes, quinoa, etc.

Enjoy!