This Creamy Mushroom Sauce is so simple to make and it's raw, vegan, gluten-free, dairy-free and paleo-friendly too!
Just put everything into a Vitamix and it's ready to go!
I've used this sauce over pasta with added veggies (Pasta with Asparagus and Creamy Mushroom Sauce), over quinoa and even mashed cauliflower (mashed potato replacement) and cauliflower rice.
Traditional Creamy Mushroom Sauces usually have butter, heavy cream and cheese, but this one is raw, vegan, gluten-free, dairy-free and paleo-friendly too!
How To Make The BEST Vegan Creamy Mushroom Sauce | Step-By-Step Instructions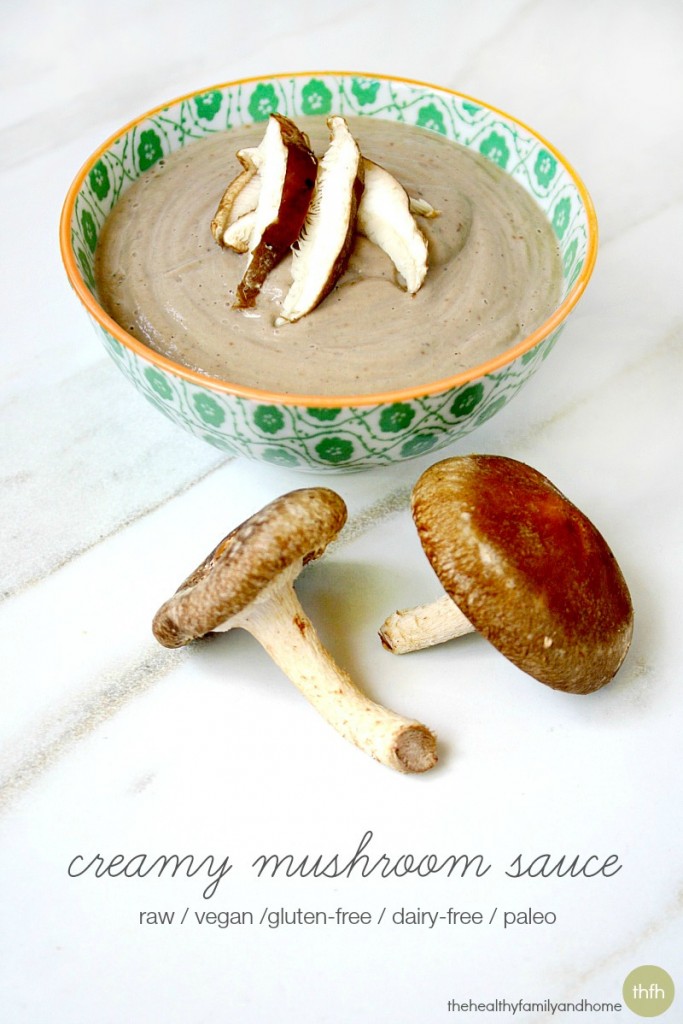 Tip #1: I've used baby bella mushrooms, cremini and even white button mushrooms to make this.
Tip #2: If you set the Vitamix on the "high" setting, it will warm it up slightly.
Tip #3: This recipe will make approximately (3) cups.
Creamy Mushroom Gravy (Raw, Vegan, Gluten-Free, Dairy-Free, Paleo-Friendly)
Print recipe
Ingredients
4 cups mushrooms (baby bella, etc)
1 1/2 cup organic cashews
1 1/2 cup distilled/purified water
4 cloves organic garlic (freshly crushed)
2 tablespoons organic shallots (diced)
1 1/2 teaspoon organic rosemary
1 tablespoon organic extra-virgin olive oil
1 teaspoon Himalayan pink salt
Directions
Step 1
Put all ingredients in a Vitamix and blend until creamy and smooth.

Serve over pasta, mashed potatoes, quinoa, etc.

Enjoy!