This Healthy Gluten-Free Vegan Flourless Snickerdoodle Cookies recipe is an easy and healthy recipe made with only 5 clean, real food ingredients. They're ready in under 20 minutes and are a dessert treat you can feel good about eating!
Nothing could be easier than making a batch of these Gluten-Free Vegan Flourless Snickerdoodle Cookies that need only 5 clean ingredients and 15 minutes to make.
I just love making flourless cookies and some of my favorites are:
Are Snickerdoodle Cookies Vegan?
Yes…they can be!
I've created this recipe without using typical non-vegan ingredients like eggs, butter or milk.
And, my Gluten-Free Vegan Flourless Snickerdoodle recipe is not only vegan, but it's a healthy vegan recipe.
Why?
Because there's no white flour or processed vegan butter which are often used to make vegan cookies.
Are These Gluten-Free Vegan Flourless Snickerdoodle Cookies Healthy?
In my opinion, yes!
Store-bought Snickerdoodle Cookies are made with a long list of unhealthy ingredients:
S.A.D. (Standard American Diet) Mrs. Field's Snickerdoodle Cookie Ingredients:
Ingredients: Enriched Bleached Wheat Flour (Wheat Flour, Niacin, Reduced Iron, Thiamine Mononitrate, Riboflavin, Folate), Sugar, Fructose, Unbleached Wheat Flour, Butter, Margarine (Palm Oil, Water, Salt, Whey, Monoglycerides, Soy Lecithin, Sodium Benzoate and Citric Acid [Preservatives], Artificial Flavor, Beta Carotene [Color], Vitamin A Palmitate), Whole Eggs, Canola Oil, Water, Cinnamon Sugar (Sugar, Cinnamon, Extractives of Cinnamon), Contains 2% Or Less Of: Mono and Diglycerides, Baking Soda, Food Starch, Salt, Datem, Lemon Juice Powder, Natural Flavors, Sodium Stearoyl Lactylate, Xanthan Gum.
And, homemade versions aren't any better with ingredients like white flour, refined white sugar, butter, and eggs.
This healthier version is made with clean, whole food ingredients and is organic, vegan, gluten-free, dairy-free, egg-free, paleo-friendly, contains no refined sugar and are made with Medical Medium approved ingredients.
Want More Healthy Dessert Recipes?
Check out these:
What Ingredients Are Needed To Make Gluten-Free Vegan Flourless Snickerdoodle Cookies?
5 Fast Facts About Cashews:*
packed with dietary fiber
rich in "heart friendly" mono-saturated fatty acids
rich source of minerals
high in magnesium and copper
excellent source of antioxidants
5 Fast Facts About Coconut Oil:*
super high in lauric acid
rich in antioxidants
contains natural microbial and anti-bacterial agents
helps to improve metabolism
improves cholesterol levels
5 Fast Facts About Cinnamon:*
contains anti-inflammatory properties
helps to control blood sugar
excellent source of manganese and iron
can help to lower bad cholesterol
aids in eliminating migraine headaches
5 Fast Facts About Coconut Flour:*
highest dietary fiber found in any flour at 58% RDA
14% coconut oil
19% vegan protein
gluten-free
helps to promote blood sugar health
*These statements have not been evaluated by the Food and Drug Administration. This information is not intended to diagnose, treat, cure or prevent any disease.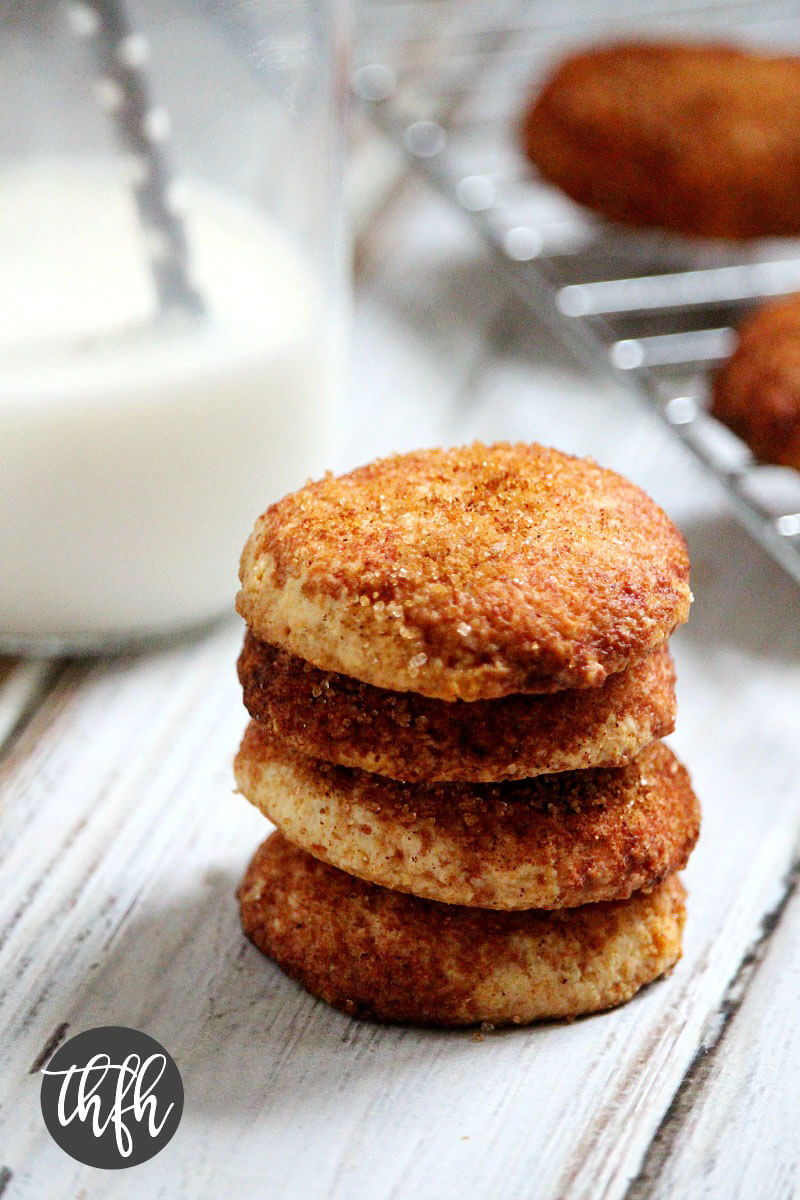 How Do You Make Gluten-Free Vegan Flourless Snickerdoodle Cookies?
Make the cinnamon sugar topping. Just add the ingredients for the topping to a small bowl and stir until everything is well combined. Set aside until the cookies are ready to be dipped.
Make the cashew butter. This is an important step that will only take a few extra minutes. Using store-bought cashew butter will not work with the recipe because the consistency is much thinner than making it homemade in a food processor and the mixture will not be thick enough to form the shape of a cookie. It only takes a few minutes to make it from scratch and it's really easy to do! All you need to do is add the raw cashews to a food processor and process for about 3-5 minutes, or until the cashews turn into a thick nut butter. It will go through a couple of different stages – cashews to cashew flour, and then cashew flour to cashew nut butter. You may have to stop every minute or so to scrape down the sides and help it along.
Make the cookies. After your homemade cashew butter is ready, you will transfer it to a medium-sized bowl and stir in the rest of the ingredients for the cookies until everything is well combined.
Assemble the cookies. Here is where you will form the cookies by taking out a spoonful at a time of the cookie mixture and rolling it into a ball shape. Then flatten it into a small round cookie shape about 2-inches in diameter.
Dip the cookies and bake. Take each cookie and dip the top of each cookie into the cinnamon sugar topping mixture, then place the cookies on a cookie sheet lined with parchment paper. Bake at 350 degrees for about 12 minutes or until the edges are golden.
Did You Make My Gluten-Free Vegan Flourless Snickerdoodle Cookies Recipe?
I'd love to hear about it! Please give it a rating and leave a comment below…it would make my day! 🙂