This easy Gluten-Free Vegan Broccoli Alfredo with Creamy Cauliflower Sauce recipe is a healthy make-over of a classic pasta dish that is typically heavy on the dairy. Enjoy it with gluten-free pasta for a quick meal that everyone will love!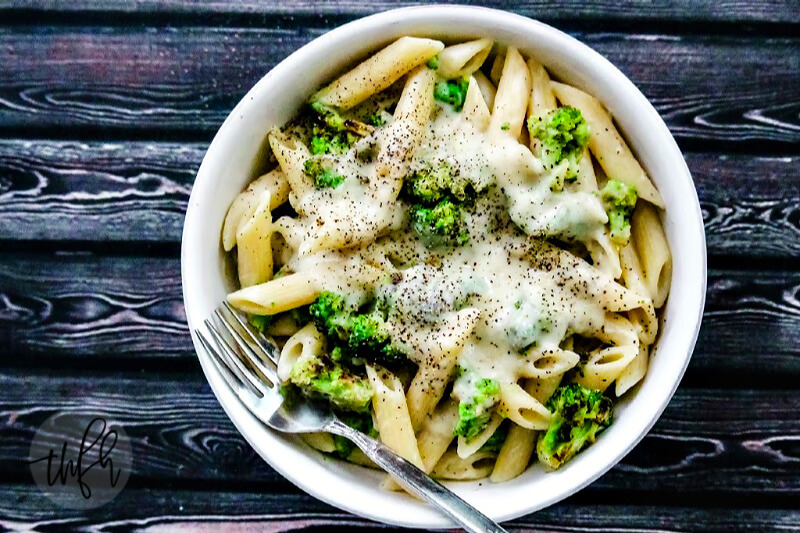 It starts with organic, gluten-free pasta (any type will work and you can also use fettuccine), then mixed with lightly sauteed and seasoned broccoli, and then tossed in a generous amount of garlic cauliflower alfredo sauce which is vegan and dairy-free.
It can be a time-saver if you prepare my Creamy Cauliflower Alfredo Sauce in advance...it only takes about 15 minutes to make and is freezer-friendly so you could prepare it in advance and take it out the freezer to thaw while the pasta and broccoli are cooking.
Your healthy plant-based dinner will be ready in about 15 minutes!
Is This Vegan Broccoli Alfredo with Creamy Cauliflower Sauce Recipe Healthy?
In my opinion, yes!
Traditional store-bought and homemade alfredo pasta sauces have typical ingredients like these:
S.A.D. (Standard American Diet) Alfredo Pasta Sauce Ingredients:
Ingredients: Butter, Cream Cheese, Heavy Cream, Parmesan Cheese
This healthier version is made with plant-based ingredients and is vegan, gluten-free, dairy-free, soy-free and can be lectin-free and Medical Medium compliant with substitutions.
What Ingredients Do I Need To Make Vegan Broccoli Alfredo with Creamy Cauliflower Sauce?
This recipe is made with clean, real food ingredients that are nutrient-dense.
Try to buy organic ingredients whenever possible.
Broccoli
Avocado Oil
Cauliflower
Almond Milk
Vegetable Broth
Garlic
Himalayan Sea Salt
Ground Black Pepper
Gluten-Free Pasta
Nutritional Yeast*
*Omit to be Medical Medium compliant
Make sure you visit my "5 Fast Facts of Nutrient-Dense Foods" page to see the nutritional benefits of the ingredients I used in this recipe!
How To Make Vegan Broccoli Alfredo with Creamy Cauliflower Sauce
I'm going to show you how to make this healthy vegan pasta dish, step-by-step!
Step 1: Prepare the Pasta
Simply decide on the type of pasta you want to use (penne, fettuccine and angel hair pasta all work well) and prepare it according to the package directions.
Make sure you use gluten-free pasta if you need the recipe to be gluten-free. I like to use this brand and this brand.
Once the pasta is ready, drain it and set aside.
Step 2: Prepare the Cauliflower:
You will need to prep the cauliflower before using it to make the Creamy Cauliflower Sauce.
Cut the cauliflower into bite-sized floret pieces and add to a medium-size pot and boil for approximately 10-15 minutes, or until they're soft.
Drain the cauliflower and then set aside.
Step 3: Prepare the Sauce:
Here, we are going to lightly saute' the garlic, salt and ground black pepper in avocado oil.
Just add the ingredients to a skillet and lightly saute' on low-medium heat until everything is blended together well with a thick paste-type texture.
Once it's finished, you should have about a tablespoon of the sauteed mixture.
Next, you'll add the sauteed mixture and remaining ingredients for the sauce (almond milk, veggie broth, nutritional yeast) to a Vitamix.
Then add the steamed cauliflower to the Vitamix and blend until everything is creamy and smooth.
Adjust the seasonings to your preference.
Step 4: Prepare the Broccoli:
Using the same skillet you used to saute' the seasonings for the sauce, add all the ingredients for the broccoli and lightly saute' for about 2-4 minutes, or until the broccoli is soft and slightly crispy on the outside.
Step 5: Assemble the Dish:
Here you have two options.
You can either toss everything together and serve or plate the pasta and add the sauce and broccoli on top.
Either way tastes great!
Want More Healthy Vegan Pasta Recipes?
Check out these:
Did You Make This Healthy Recipe?
If so, please leave a rating and comment below to let me know...it would make my day! 🙂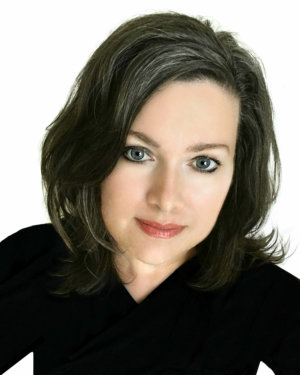 Hi, I'm Karielyn! I'm the published cookbook author of CLEAN DESSERTS and content creator of The Healthy Family and Home™ website since 2012. I specialize in creating easy, healthy plant-based and Medical Medium® compliant recipes that are gluten-free + vegan and made with clean, real food ingredients that you can feel good about eating.