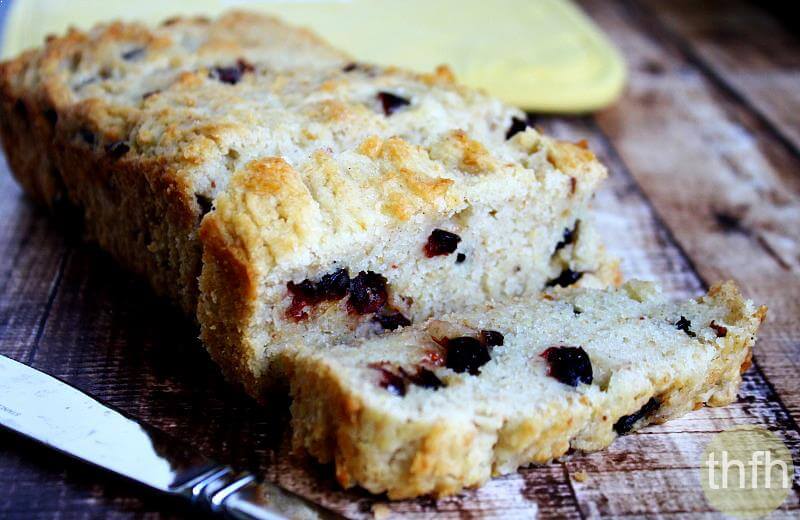 This Gluten-Free Vegan Cranberry Orange Bread recipe is my submission for this month's Recipe ReDux theme which is:
"Creative Quick Breads: The holiday baking season is upon us. And this month we're going way beyond grandma's banana bread. From sweet to savory and whole-grain to gluten-free, show us your new quick bread creation fresh from the oven. And if you have a tip for wrapping and giving your lovely loaf, please share that too!"
I rarely make gluten-free desserts with anything other than almond flour (and occasionally coconut flour, cashew flour or oat flour) because I don't like mixing all the various gluten-free flours and gums and other ingredients.
So when I do make something using a flour other than those listed above, I will usually use Bob's All-Purpose Gluten-Free flour.
I find it a little tricky though because it contains garbanzo bean flour which has a very strong flavor which I don't think does well in sweet recipes.
The last few times I've made something, I used Bob's 1-to-1 Baking Flour which has all the various gluten-free flours and gums already mixed together. I don't use it that often, so using it works best for me.
However, if you make a lot of desserts using gluten-free flour, you would probably do better making your own blend from scratch.
For this recipe, I basically cleaned up the traditional cranberry orange recipe by swapping regular white all-purpose flour with the Bob's 1-to-1 Baking Flour, replacing eggs with flax eggs, replacing refined white sugar with organic unrefined sugar, orange peel/orange juice with pure Wild Orange Essential Oil, and butter with coconut oil.
Make sure you use organic cranberries because non-traditional cranberries can contain up to 13 different pesticides.
Most bread recipes have unhealthy ingredients like this popular store-bought boxed version:
S.A.D. (Standard American Diet) Betty Crocker Cranberry Orange Quick Bread Mix
Ingredients: Flour Enriched Bleached (Wheat Flour, Barley Malted Flour, Niacin Vitamin B3, Iron, Thiamine Mononitrate Vitamin B1, Riboflavin Vitamin B2, Folic Acid Vitamin B9), Sugar, Soybeans Oil Partially Hydrogenated, and/or, Cottonseed Oil Partially Hydrogenated, Corn Starch Modified, Corn Syrup Dried, Cranberries, Leavening (Baking Soda, Sodium Aluminum Phosphate ), Oranges Peel, Wheat Starch, Salt, Citric Acid, Flavors Natural & Artificial, Dextrin, Corn Starch, Cellulose Gum, Monoglyceride, Datem, Sodium Stearoyl Lactylate, Xanthan Gum, Sodium Caseinate, Colors (Red 40 Lake, Blue 2 Lake, Color Added), Eggs, Soy Flour
It's full of GMO ingredients (soybeans oil partially hydrogenated, corn starch-modified, corn syrup dried, corn starch, soy flour), GMO dairy (eggs), artificial flavors and food coloring.
And the homemade versions aren't much better with typical ingredients like these:
S.A.D. (Standard American Diet) Homemade Cranberry Orange Bread Ingredients:
Typical Ingredients: 2 cups all-purpose white flour, 1 egg, 1/2 cup dark brown sugar, 1/2 cup white granulated sugar, 1 cup buttermilk, 1/3 cup canola oil or 1/4 cup margarine
Again, white flour, white sugar, milk, and eggs.
This healthier version is vegan, gluten-free, dairy-free, egg-free and contains no refined sugar.
5 Fast Facts About Cranberries:*
1/2 cup contains 10% vitamin C
1 cup contains 18% DV of manganese
1 cup contains 18% DV of fiber
provides anti-inflammatory benefits
ORAC score of 9584 per 100 g
5 Fast Facts About Coconut Oil:*
super high in lauric acid
rich in antioxidants
contains natural microbial and anti-bacterial agents
helps to improve metabolism
improves cholesterol levels
5 Fast Facts About Flax Seeds:*
high in omega-3 essential fatty acids
contains soluble and insoluble fiber
super high in lignans
provides anti-oxidant and anti-inflammatory benefits
provides cardiovascular benefits
5 Fast Facts About Almonds (Almond Milk):*
helps to regulate cholesterol and blood pressure
energy booster
loaded with calcium and fiber
1/4 cup contains 8 grams of vegan protein
high in anti-oxidants
5 Fast Facts About Wild Orange Essential Oil:*
powerful cleaner and purifying agent
protects against seasonal threats
immune-enhancing benefits
energizing and revitalizing to the mind and body
can be used aromatically, topically and internally
5 Fast Facts About Himalayan Pink Salt:*
contains 84 minerals
unrefined, unprocessed, raw
promotes stable pH balance in cells
controls water levels in the body
aids digestion and facilitates better nutrient absorption
*These statements have not been evaluated by the Food and Drug Administration. This information is not intended to diagnose, treat, cure or prevent any disease.
What to Expect in a Gluten-Free Vegan Cranberry Orange Bread:
Because this is a gluten-free AND vegan bread, it will not be exactly like a traditional bread recipe, especially one that calls for eggs.
It is somewhat dense (not light and fluffy), holds together well and, for me, is a good substitute for the traditional version. I hope you will enjoy it as well!
Gluten-Free Vegan Cranberry Orange Bread (Vegan, Gluten-Free, Dairy-Free, Egg-Free, Nut-Free, No Refined Sugar)
Print recipe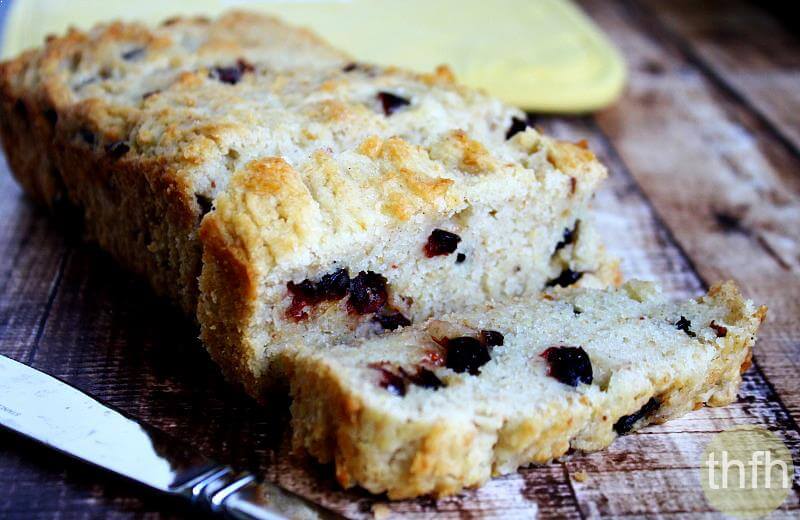 Ingredients
Dry Ingredients
2 cups Bob's 1-to-1 Baking Flour
3/4 cups organic unrefined granular sweetener
4 teaspoons baking powder
1/2 teaspoon Himalayan pink salt
Wet Ingredients
1/4 cup organic coconut oil (melted/liquid)
2 flax eggs (2 tablespoons ground flax seeds + 6 tablespoons water)
3/4 cups homemade almond milk
Add-Ins
1 cup organic dried cranberries
7 - 8 drops Wild Orange Essential Oil (100% pure)
Directions
Step 1
Preheat oven at 375 degrees (important).

Prepare the flax eggs: Add the ground flax seeds and water to a small bowl and whisk together. Put in the refrigerator while you gather and prepare the rest of the ingredients.

Add all the dry ingredients to a medium sized bowl and stir together.

Add the all the wet ingredient to the bowl of dry ingredients, including the flax eggs (remove from refrigerator and whisk again before adding to the mixture).

Add the cranberries and Wild Orange Essential Oil and gently stir into the batter.

Transfer the batter to a bread size loaf pan and spread evenly.

Optional: Sprinkle extra organic unrefined sugar on top before baking.

Bake at 375 degrees for approximately 25 - 30 minutes, or until the top becomes golden and the inside is cooked.

Enjoy!




Note
This recipe will make approximately 6 - 8 thick slices.

The recipe and photographs for "Gluten-Free Vegan Cranberry Orange Bread" by The Healthy Family and Home are licensed under a Creative Commons Attribution-NonCommercial 4.0 International License and cannot be used without my written permission.