These little bite-sized Gluten-Free Vegan Flourless Caramel Thumbprint cookies are are amazing!
There are 3 simple steps to making them, but if you already have a batch of my Vegan Caramel Sauce made in advance (like I did when I made this recipe), then all you have to do is make the cookies which takes less than 5 minutes to prepare and another few minutes to make the chocolate drizzle.
I always make and keep a batch of my Vegan Caramel Sauce on hand for times just like this.  It's great to drizzle over ice cream, to dip apples in or to just eat by the spoonful, which I do sometimes too!
If you are making a new batch for this recipe, just store it in an air-tight container, like a glass mason jar, which is what I use. I promise you will find another use for it... like in this Gluten-Free Vegan Apple Crumble with Caramel Sauce recipe.
When you buy store-bought cookies, they contain a long list of unhealthy ingredients like these:
 S.A.D. (Standard American Diet) Store-Bought Thumbprint Cookie Ingredients:
Ingredients:  Sugar, Enriched Unbleached Wheat Flour (Flour, Niacin, Reduced Iron, Thiamine Mononitrate, Riboflavin, Folic Acid), Margarine (Palm Oil, Water, Soybean Oil, Salt, Mono and Diglycerides, Soy Lecithin, To Preserve Freshness (Potassium Sorbate), Vitamin A Palimate) Invert Sugar, Cocoa Alkali Processed, Palm and Soybean Oils, Contains 2% or Less of The Following: Modified Corn Starch, Leavening (Sodium Acid Pyrophosphate, Baking Soda, Monosodium Phosphate), Butter Cream (from Milk), Salt, Eggs, Natural Flavor, Soy Lecithin, Corn Syrup Solids, Polysorbate 60, Calcium Phosphate, Salt, Egg Whites
There are several GMO ingredients (soybean oil, soy lecithin, modified corn starch, corn syrup solids), refined salt and white sugar and dairy.
This healthier version is made with clean, real food ingredients and is vegan, gluten-free, dairy-free, grain-free, egg-free, flourless, paleo-friendly and contains no refined sugar.
Want more healthy dessert recipes?  Check out Gluten-Free Vegan Gingerbread Cookies, Flourless Vegan Snickerdoodle Cookies, Gluten-Free Vegan Flourless Fudgy Chocolate Avocado Cookies or my Clean Eating Cookbook with 3 entire chapters of healthy, clean eating dessert recipes just like this one that you will love!

5 Fast Facts About Almonds:*
helps to regulate cholesterol and blood pressure
energy booster
loaded with calcium and fiber
1/4 cup contains 8 grams of vegan protein
high in anti-oxidants
5 Fast Facts About Maple Syrup:*
contains manganese and zinc
super high in anti-oxidants
helps with inflammation
1/4 cup contains more calcium than the same amount of milk
1/4 cup contains more potassium than a banana
5 Fast Facts About Coconut Oil:*
super high in lauric acid
rich in antioxidants
contains natural microbial and anti-bacterial agents
helps to improve metabolism
improves cholesterol levels
5 Fast Facts About Vanilla Bean Powder:*
anti-microbial
high in anti-oxidants
can help reduce inflammation
contains small traces of minerals
1 tablespoon contains 2 g of fiber
5 Fast Facts About Himalayan Pink Salt:*
contains 84 minerals
unrefined, unprocessed, raw
promotes stable pH balance in cells
controls water levels in the body
aids digestion and facilitates better nutrient absorption
*These statements have not been evaluated by the Food and Drug Administration. This information is not intended to diagnose, treat, cure or prevent any disease.
Print
Gluten-Free Vegan Flourless Caramel Thumbprint Cookies
Yield 14 - 16 cookies
Vegan / Gluten-Free / Dairy-Free / Grain-Free / Egg-Free / Flourless / Paleo-Friendly / No Refined Sugar
Ingredients
For the cookies:
For the caramel:
For the chocolate drizzle:
Instructions
Preheat oven to 350 degrees.
Prepare the cookies:
Add all ingredients for the cookies to a medium size bowl and stir until well combined.
Take out a spoonful at a time, squeeze tightly in the palm of your hand, then flatten into a small, round disk shape.
Place cookies on a baking pan lined with parchment paper.
Using your thumb, make a "thumbprint" in the center of each cookie.
Bake at 18-20 minutes, or until the cookies are golden around the edges, taking care not to over bake.
Remove from oven and allow to cool completely before removing them from the pan and adding the caramel topping.
You may need to re-do the "thumbprint", so if it's not as prominent as when you put them in the oven, do another "thumbprint" while the cookies are still warm.  You will need an indention in the cookie to hold the caramel.
Prepare the caramel:
While the cookies are baking, add all ingredients for the caramel to a small bowl and whisk together until it's creamy and smooth.  Set aside.
Prepare the chocolate drizzle:
While the cookies are baking, add all the ingredients for the chocolate drizzle to a small saucepan and melt on low heat until it is smooth, stirring the entire time to make sure it doesn't burn.  Set aside.
Assembly:
Once the cookies are completely cooled, add a spoonful of the caramel in the center of each cookie, then drizzle the chocolate over the top.
Place in the refrigerator for about 15-20 minutes so the caramel and chocolate will harden.
Store in the refrigerator until ready to serve because they will get soft and lose their shape if left out at room temperature.
Store extra caramel in an air-tight container.
Enjoy!
Notes
Get all your organic ingredients delivered straight to your door at up to 25 - 50% off retail by cutting out the middleman and retail markups with a Thrive Market Membership and save 15% off on your first order.
  The recipe and photographs for "Gluten-Free Vegan Flourless Caramel Thumbprint Cookies" by Karielyn Tillman of The Healthy Family and Home website are licensed under a Creative Commons Attribution Non-Commercial No Derivatives 4.0 International License and cannot be used without my written permission.
Affiliate Disclosure: This post contains affiliate links. This means that if you were to make a purchase through one of these links, "The Healthy Family and Home" website would receive a small commission at no additional cost to you.
Thank you for your support of this website!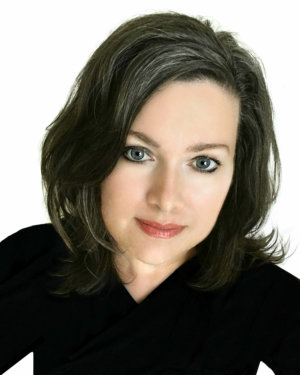 Hi, I'm Karielyn! I'm the published cookbook author of CLEAN DESSERTS and content creator of The Healthy Family and Home website since 2012. I specialize in creating easy, healthy plant-based recipes that are gluten-free + vegan and made with clean, real food ingredients that you can feel good about eating.