This easy plant-based Gluten-Free Vegan Healthy Triple Seed Energy Balls recipe is made with only 9 clean, real food ingredients that are nutrient-dense and they're ready to enjoy in less than 10 minutes using just a food processor. This is a no-bake kid-friendly energy ball recipe that everyone will love!
Keeping healthy snacks on hand for a quick energy boost is a great way to stay on track.
You can make these healthy energy balls in advance and keep them in the refrigerator for whenever you need a nutritious snack or grab-and-go breakfast.
Healthy Energy Balls
If you are new to my website, making healthy, no-bake vegan energy ball recipes is my expertise!
In fact, I have many, many healthy vegan balls on my website - just see my list at the bottom of this post.
My love for these nutrient-dense balls is so strong, I even have an entire chapter devoted to them in my CLEAN DESSERTS No-Bake Dessert Cookbook!
Two of my most popular energy ball recipes, Crunchy Raw Protein Balls and Vegan Lemon Meltaway Balls go all the way back to 2012 + 2013 - that's how long I've been making no-bake energy balls.
However, just so there's no confusion - there are several different names these healthy snacks go by.
They're sometimes called:
energy balls
bliss balls
truffles
protein balls
protein bites
But they're all the same thing - bite-sized no-bake balls that are loved by both kids and adults!

How To Make Easy Healthy Energy Balls:
This is a really easy recipe made with just a food processor and even your children can help by rolling them into a ball shape!
Step 1: Combine All Ingredients Into Your Food Processor
Gather and measure all your ingredients and make sure you remove the pits from the dates before adding them to your food processor.
Step 2: Add All Ingredients To A Food Processor
Here you will add all the ingredients, with the exception of the pitaya powder, to your food processor.
Process the mixture until it has a sticky, crumbly texture.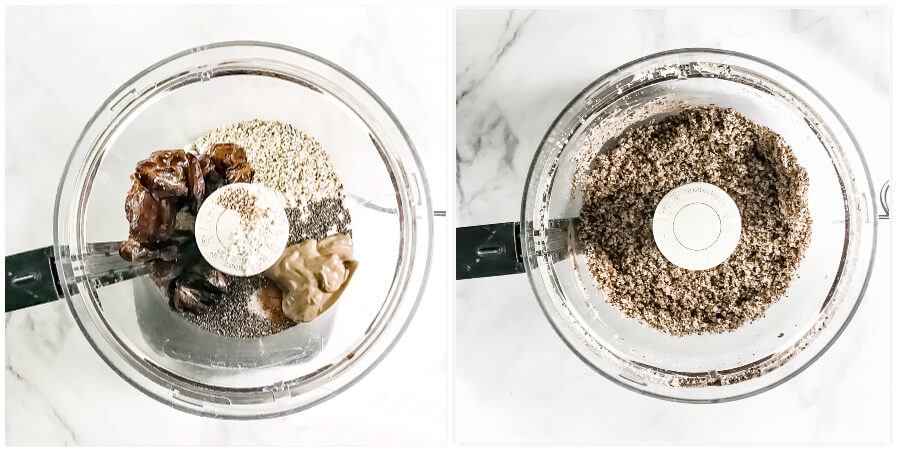 Step 3: Add The Pitaya Powder To The Mixture
Next, you'll want to add the pitaya powder to the mixture and process again just enough to mix it in evenly.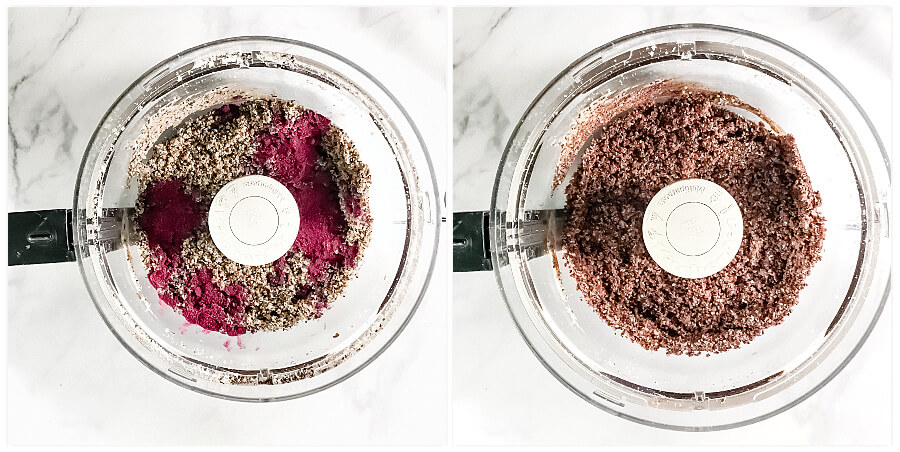 Step 3: Transfer Mixture To Bowl + Roll Into Balls
Once you've finished processing the mixture, transfer it to a medium-sized bowl so it will be easier to remove the mixture to make the balls.
Take out a spoonful at a time, squeeze it tightly in your fist, then gently roll it between your palms to form a ball shape.
Transfer the balls to a cookie sheet or large plate lined with parchment paper and place them in the refrigerator to firm for about 15-30 minutes.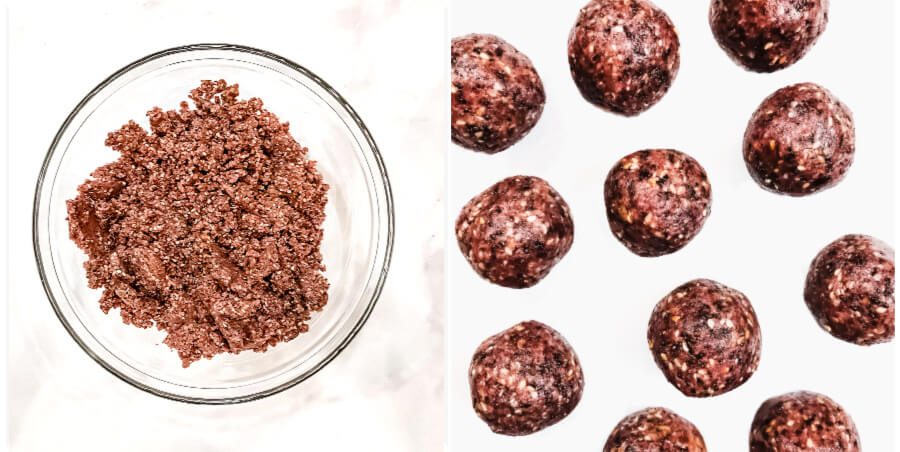 How To Store No-Bake Energy Balls:
You can store your no-bake energy balls in an air-tight BPA-free container in the refrigerator.
These are great to make ahead of time to have handy when you need a quick, healthy snack or energy boost during the day.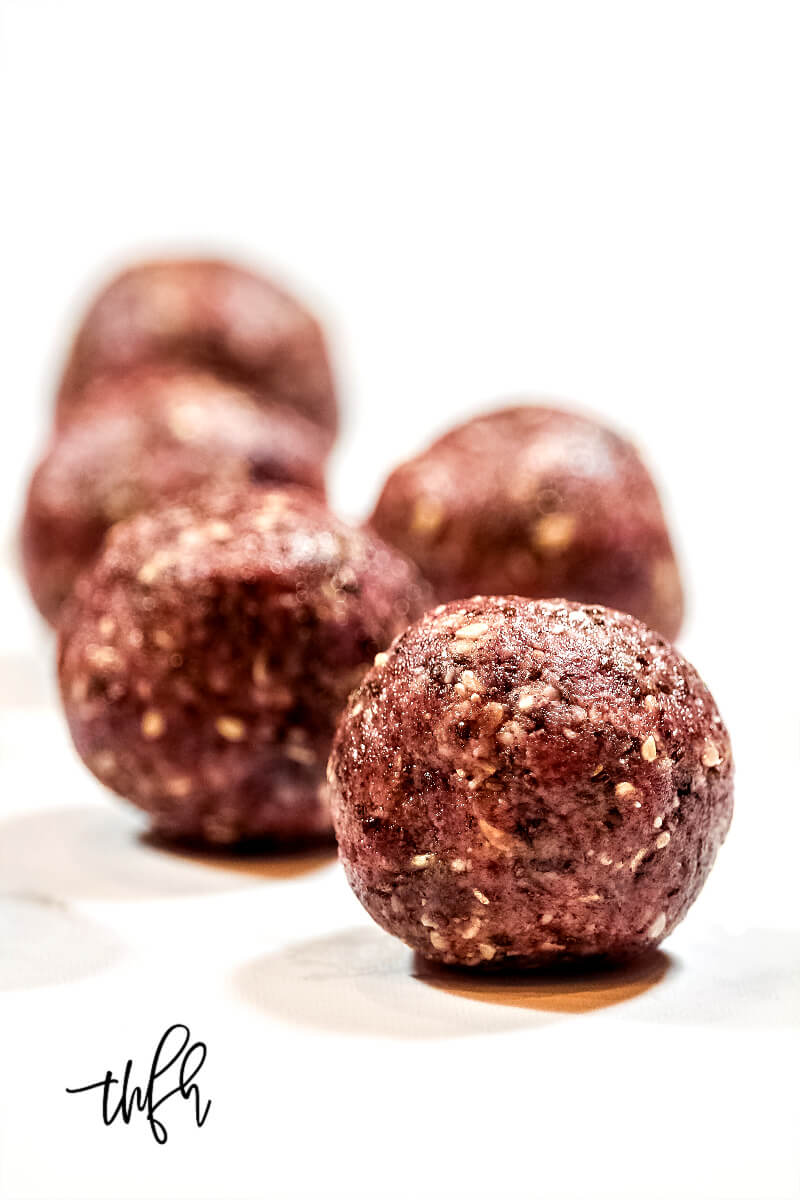 Want More Healthy Vegan Energy Balls Recipes?
Great! Because I have SO many to choose from and they're all vegan + gluten-free!
Check out these:
Energy Balls Made with Organic Medjool Dates:
Healthy Paleo Energy Balls:
Gluten-Free Energy Balls:
Kid-Friendly Energy Balls:
Lectin-Free Energy Balls: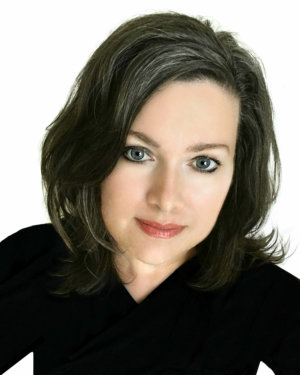 Hi, I'm Karielyn! I'm the published cookbook author of CLEAN DESSERTS and content creator of The Healthy Family and Home website since 2012. I specialize in creating easy, healthy plant-based recipes that are gluten-free + vegan and made with clean, real food ingredients that you can feel good about eating.