This Lectin-Free Vegan Taco "Meat" recipe is made with only 6 clean ingredients you probably already have on hand and is ready in less than 5 minutes!
All you need is a food processor to make it and you will have a flavorful filling or topping with so many possibilities.
You can use it as a filling in a coconut wrap, romaine lettuce with guacamole, a nori wrap or as a topping on nachos, baked sweet potatoes, avocado or even a salad.
Store-bought vegan products are helpful if you are a new vegan or if you are trying to transition away from store-bought vegan products, but they are still processed and some contain ingredient lists that have unhealthy ingredients.
For example, this is the ingredient list for a popular store-bought vegan "meatless" product:
S.A.D. (Standard American Diet) Boca Meatless Ground Crumbles
Ingredients: Water, Soy Protein Concentrate, Wheat Gluten, Contains 2% or less of Malt Extract, Salt, Wheat Starch, Yeast Extract, Sugar, Flavors Natural Non-Meat, Onions Dried, Garlic Powder, Spices
Although the ingredient list itself isn't long or complicated, it does contain GMO ingredients (soy), refined sugar and is not gluten-free.
It's always better to use clean, real food ingredients like in this recipe.  You only need two main ingredients (organic walnuts and organic extra-virgin olive oil) and the remaining three ingredients are clean spices.  That's it!
And it only takes less than 5 minutes to make it which is probably less time than it would take to heat up the Boca Meatless Ground Crumbles, or a similar store-bought product.
This healthier version is raw, vegan, gluten-free, dairy-free, soy-free, no-cook and paleo-friendly.
Want more healthy recipes?  Check out How To Make Homemade Almond Butter, How To Make Tahini, How To Make Homemade Almond Milk or my Clean Eating Cookbook with over 140 healthy, clean eating recipes just like this one that you will love!

5 Fast Facts About Walnuts:*
high quality vegan protein
high in anti-oxidants
rich in omega-3 fatty acids
high in vitamin C
improves blood lipids and other cardiovascular risk factors
5 Fast Facts About Extra-Virgin Olive Oil:*
lowers blood cholesterol levels
rich in anti-oxidants
improves bone mineralization and calcification
excellent protection from heart attack and stroke
contains anti-inflammatory benefits
5 Fast Facts About Himalayan Pink Salt:*
contains 84 minerals
unrefined, unprocessed, raw
promotes stable pH balance in cells
controls water levels in the body
aids digestion and facilitates better nutrient absorption
5 Fast Facts About Chipotle:*
can help reduce cholesterol and triglyceride levels
can help lower the risk of diabetes
a thermogenic food to help energize metabolism
can help improve circulation
rich in vitamin A, vitamin C, iron, magnesium and potassium
5 Fast Facts About Cumin:*
high in anti-oxidants
aids in digestion
1 tablespoon contains 20% dv of iron
1 tablespoon contains 6% RDV of magnesium
can help lower cholesterol and triglycerides
*These statements have not been evaluated by the Food and Drug Administration. This information is not intended to diagnose, treat, cure or prevent any disease.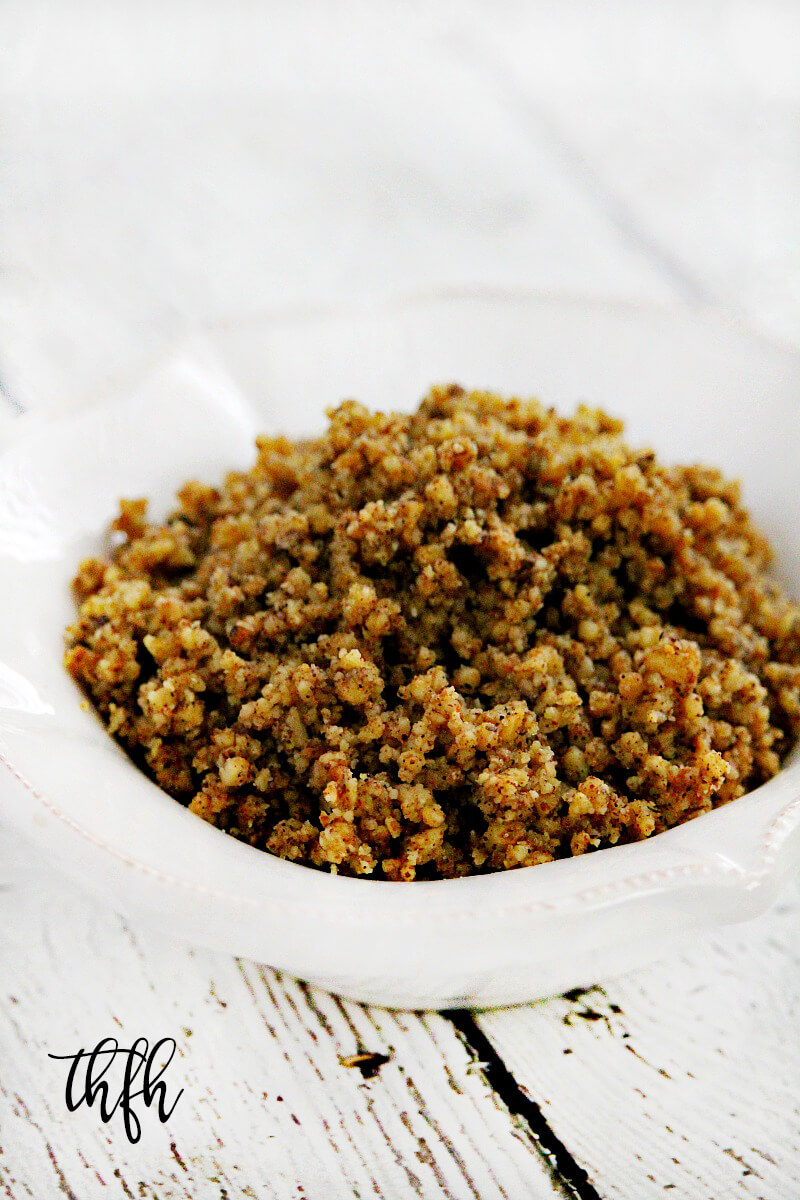 Print
Lectin-Free Vegan Taco "Meat"
Yield 1 1/2 cups
Raw / Vegan / Gluten-Free / Dairy-Free / Lectin-Free / Soy-Free / Grain-Free / Paleo-Friendly
Instructions
Add all ingredients to a food processor and process until the walnuts are broken down into tiny pieces, but taking care not to over process.
Adjust seasonings to your preference.
Use as a filling for a wrap, taco or as a topping on nachos, baked sweet potato, avocado, salad, etc.
Store in an air-tight BPA-free container in the refrigerator.
Enjoy!
Notes
Get all your organic ingredients delivered straight to your door at up to 25 - 50% off retail by cutting out the middleman and retail markups with a Thrive Market Membership and save 15% off on your first order.
  The recipe and photographs for "Lectin-Free Vegan Taco "Meat"" by Karielyn Tillman of The Healthy Family and Home website are licensed under a Creative Commons Attribution Non-Commercial No Derivatives 4.0 International License and cannot be used without my written permission.
Recipe Roundups: Food Bloggers are always welcome to use a photo and a link back to my original post to share on recipe roundups without requesting permission.
Affiliate Disclosure: This post contains affiliate links. This means that if you were to make a purchase through one of these links, "The Healthy Family and Home" website would receive a small commission at no additional cost to you.
Amazon Disclosure: "The Healthy Family and Home" website is a participant in the Amazon Services, LLC Associates Program, an affiliate advertising program designed to provide a means for sites to earn advertising fees by advertising and linking to Amazon.com.
Thank you for your support of this website!