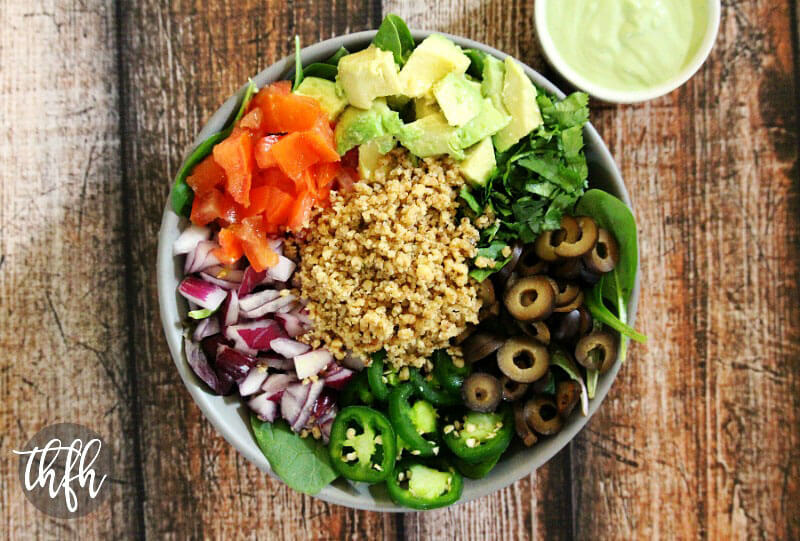 My recipe for today, Vegan Taco Salad with Creamy Cilantro Lime Dressing is my submission for the February theme with The Recipe ReDux.
The February 2017 theme is:  "Taco Tuesday – February 21 is a Tuesday. So show us your healthy, creative take on the taco".
This easily customizable salad is perfect for Taco Tuesday or any day of the week that you want an easy and healthy meal.
It's a bowl full of nutritional goodness and you can customize this recipe with your favorite ingredients.  I used cilantro, jalapenos, black olives, tomatoes, red onions, avocados but you could also add black beans, corn or even use a vegan "cheesy" sauce instead of the Creamy Cilantro Lime Dressing for variety.
The Creamy Cilantro Lime dressing is ready in less than 5 minutes using a Vitamix and the vegan "taco meat" is also ready in under 5 minutes using walnuts and avocado oil and seasoned with cumin, chipotle powder and Himalayan pink salt.  I like to also use it in a wrap with romaine lettuce leaves.
And, the amount of each ingredient is customizable too.  There is no right or wrong amount of each ingredient to use, just add as much or as little as you like.  I used about a 1/2 cup of each ingredient and 2 large handfuls of mixed salad greens.  The salad dressing and "taco meat" was enough to make two generous servings.
Also, I added a handful of broken up veggie tortilla-style chips to the top of my salad.  My favorite brand is "Forager Organic Vegetable Chips", which is made with fresh pressed vegetables, ancient and sprouted grains and a touch of sea salt.  Keep in mind if you add the chips it wouldn't be a 100% "raw" salad, unless you made these Raw Corn Chips in advance to go with it.
While I separated all the ingredients in the bowl to take a pretty photograph, what you will actually need to do is toss all the ingredients together and drizzle with the salad dressing and sprinkle the optional chips on top.
So have fun and enjoy eating a fresh, raw ingredient salad with lots of healthy ingredients that's raw, vegan, gluten-free, dairy-free, soy-free and paleo-friendly.
Want more healthy meal and entrée recipes?   Check out Strawberry and Spinach Quinoa Salad with Balsamic Vinegar, Clean Eating Vegan Greek Salad Bluebarry Mango Salad with Tahini Ginger Dressing or my Clean Eating Cookbook with an entire chapter of 20 healthy, clean eating meal and entrée recipes just like this one that you will love!
5 Fast Facts About Walnuts:*
high quality vegan protein
high in anti-oxidants
rich in omega-3 fatty acids
high in vitamin C
improves blood lipids and other cardiovascular risk factors
5 Fast Facts About Avocado Oil:*
healthier cooking with smoke point of 500 degrees
may help reduce the risk of metabolic syndrome
helps maintain healthy blood sugar levels
provides protection from cardiovascular disease
good source of vitamin E
5 Fast Facts About Tomatoes:*
contains lycopenes which are cancer fighting agents
high in beta-carotene
excellent anti-oxidant
high in vitamin A and K
high in chromium which helps control blood sugar levels
5 Fast Facts About Chipotle:*
can help reduce cholesterol and triglyceride levels
can help lower the risk of diabetes
a thermogenic food to help energize metabolism
can help improve circulation
rich in vitamin A, vitamin C, iron, magnesium and potassium
5 Fast Facts About Avocados:*
excellent source of vitamin E
contains 25 essential nutrients
contains 2 – 3 times the potassium as one banana
has anti-inflammatory properties
can help lower cholesterol levels
5 Fast Facts About Cilantro:*
contains powerful anti-oxidants
anti-inflammatory
helps to remove toxins and heavy metals
promotes healthy liver function
helps to control blood sugar
5 Fast Facts About Jalapenos:*
excellent antioxidant
thermogenic food
anti-inflammatory agent
high in vitamins A and C
contains anti-bacterial properties
5 Fast Facts About Onions:*
rich source of sulfur compounds
excellent for cardiovascular health
inhibits bone loss in women
reduced blood pressure
lowers blood cholesterol levels
5 Fast Facts About Cashews:*
packed with dietary fiber
rich in "heart friendly" mono-saturated fatty acids
rich source of minerals
high in magnesium and copper
excellent source of antioxidants
5 Fast Facts About Limes:*
aids in digestion
fat burner
contains more vitamin C than a lemon
anti-oxidant and anti-biotic effects
extremely alkalizing to the body
5 Fast Facts About Cumin:*
high in anti-oxidants
aids in digestion
1 tablespoon contains 20% dv of iron
1 tablespoon contains 6% RDV of magnesium
can help lower cholesterol and triglycerides
*These statements have not been evaluated by the Food and Drug Administration.  This information is not intended to diagnose, treat, cure or prevent any disease.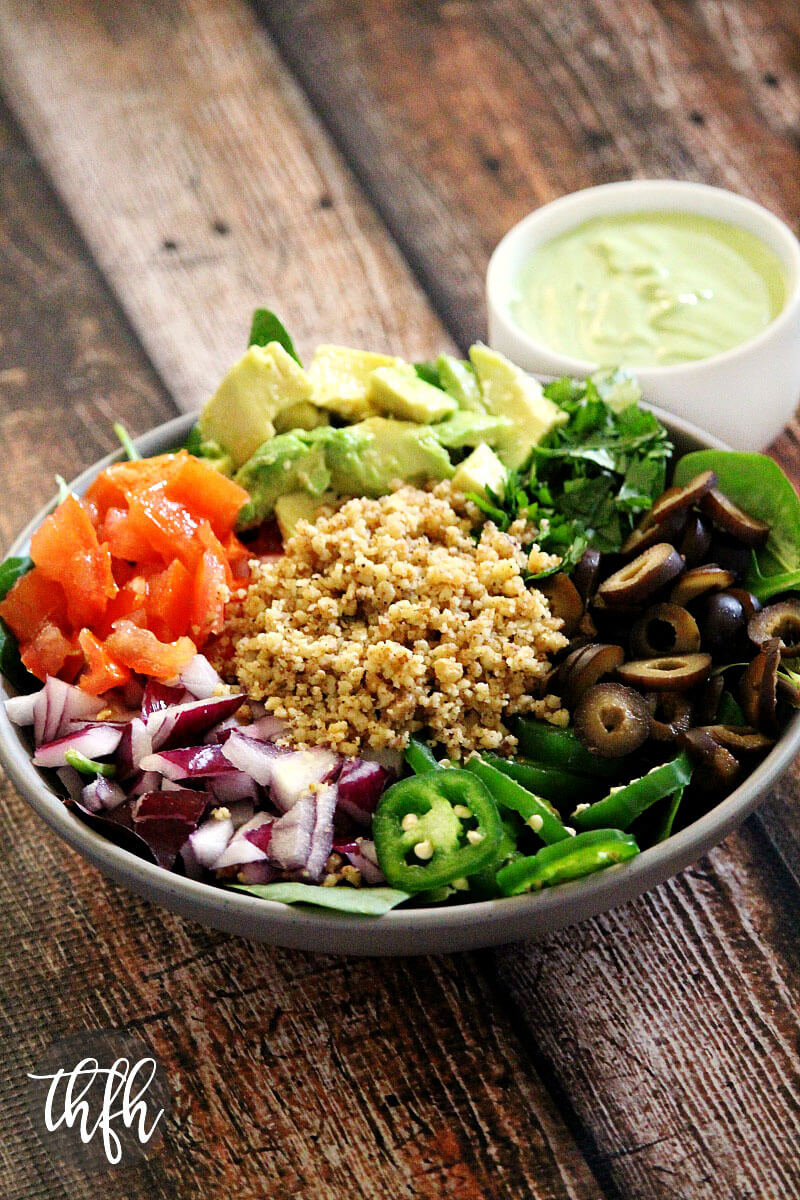 Vegan Taco Salad with Creamy Cilantro Lime Dressing (Raw, Vegan, Gluten-Free, Dairy-Free, Soy-Free, Paleo-Friendly)
Print recipe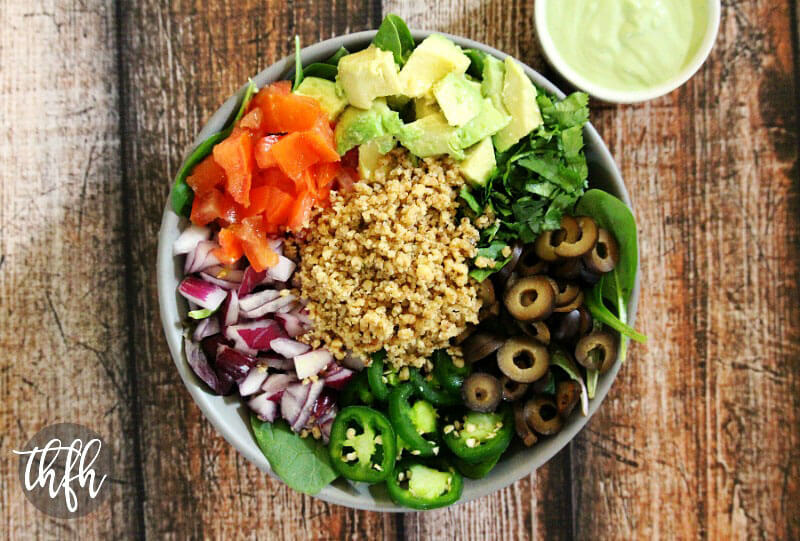 Ingredients
1/2 cup organic tomatoes (diced)
1/2 cup organic fresh cilantro (chopped)
1/2 cup organic black olives (sliced)
1/2 cup organic red onions (diced)
1/2 organic avocado (diced)
1 organic jalapeno (sliced)
1 - 2 handful organic mixed salad greens
For the vegan taco meat
1 cup organic walnuts
4 teaspoons 100% pure avocado oil
1/2 teaspoon Himalayan pink salt
1/2 teaspoon organic ground cumin powder
1/4 - 1/2 teaspoon organic ground chipotle powder
For the dressing
1 cup organic raw cashews
1/2 cup purified / filtered water
1 cup organic fresh cilantro
2 cloves organic garlic
4 tablespoons organic lime juice
1/4 teaspoon Himalayan pink salt
Directions
Prepare the veggies
Step 1
Prepare the veggies you will be adding to the salad (example: cilantro, jalapeno, black olives, tomatoes, avocado, onions, etc) by dicing, slicing and chopping the amount you'd like to use.
Prepare the vegan taco meat
Step 2
Add all ingredients for the "taco meat" to a food processor and process until the walnuts are broken down into tiny pieces, taking care not to over process. Adjust seasonings to your preference.
Prepare the dressing
Step 3
Add all ingredients for the dressing to a Vitamix, or high speed blender, and blend until it is creamy and smooth. Adjust seasonings to your preference.
Assembly
Step 4
Add 1 - 2 handfuls of your favorite salad greens to a large bowl and gently toss with the veggies you've prepared and the "taco meat" and drizzle the dressing over the top.

Optional: add broken pieces of your favorite tortilla-style chips on top.

Enjoy!
Note
This recipe will make approximately (1) large or (2) smaller servings.

The recipe and photographs for "Vegan Taco Salad with Creamy Cilantro Lime Dressing" by Karielyn Tillman of The Healthy Family and Home website are licensed under a Creative Commons Attribution Non-Commercial No-Derivatives 4.0 International License and cannot be used without my written permission.