This healthy plant-based Raw Mock Vegan "Chicken" Salad recipe is so easy to make using a creamy vegan dressing, fresh vegetables, and herbs and is ready to enjoy in less than 15 minutes. It's made without chickpeas, eggs, soy, tofu or processed vegan mayonnaise!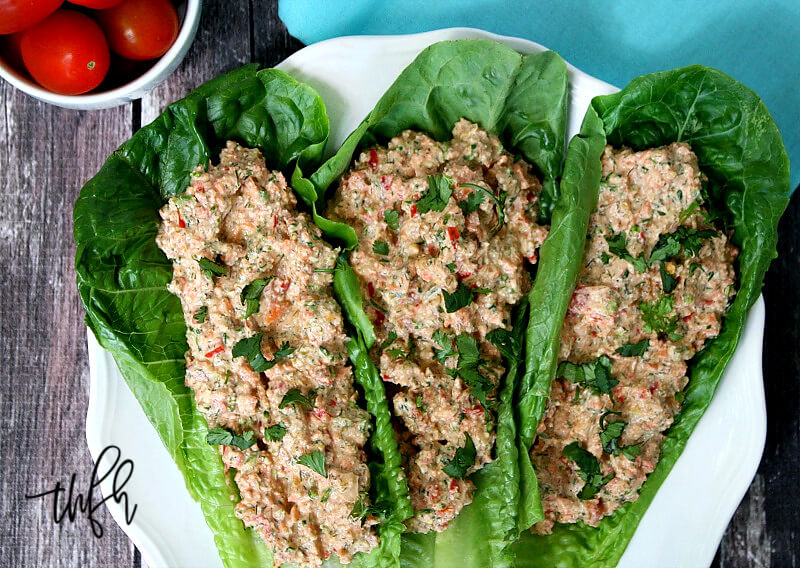 My ORIGINAL Raw Vegan Mock "Chicken" Salad is made with fresh, flavorful ingredients and is ready to enjoy in about 10 minutes.
It's a healthy, clean eating recipe made with real food ingredients that you can feel good about and is plant-based, raw, vegan, gluten-free, dairy-free, egg-free, soy-free, oil-free, paleo-friendly and Medical Medium compliant.
Healthy Vegan "Chicken" Salad
Even though my recipe dates back to 2012, I've seen lots of other vegan "chicken" salad recipes out there lately but most of them contain less than healthy or processed ingredients.
Some of these processed ingredients include: "vegan chicken strips", "vegan mayonnaise", and "vegan tofu".
My clean eating recipe contains real food and doesn't rely on any processed ingredients.
It contains:
No tofu
No chickpeas
No oil
No processed vegan mayonnaise
No processed vegan "chicken"
It has a creamy vegan dressing made with cashews, lemon juice and dill for a tangy flavor that replaces mayonnaise and a colorful vegetable medley made with carrots, broccoli, onions and jalapeno (optional) for intense flavors.
You can enjoy this recipe as a sandwich on gluten-free bread, in a grain-free wrap, gluten-free crackers or in a nori or romaine lettuce wrap for a 100% raw vegan meal.

How To Make The BEST Vegan "Chicken" Salad | Step-By-Step Instructions:
You'll love how easy this healthy plant-based recipe comes together with clean, real food ingredients using a food processor and a Vitamix to have it ready to enjoy in less than 15 minutes.
Step 1: Prepare The Dressing
Add all the ingredients for the dressing to a Vitamix and blend until the mixture is creamy and smooth.
You can adjust the seasonings to your preference. Set it aside while you prepare the veggie mixture.
Step 2: Prepare The Vegetable Mixture
In this step, you'll add the fresh veggies to a food processor and pulse them until they are broken down into small pieces.
You don't want to fully process the mixture or over-process it, but just enough to chop the veggies.
Step 3: Combine Everything Together
Now you will transfer the veggie mixture from the food processor into a medium-sized mixing bowl and then add the dressing mixture from the Vitamix.
Stir everything together until all the ingredients are evenly distributed.
You may want to taste it one more time to see if you need to adjust the seasonings to your preference.
That's it!
Now it's ready to serve as a sandwich, as a dip, in a wrap or even just by itself!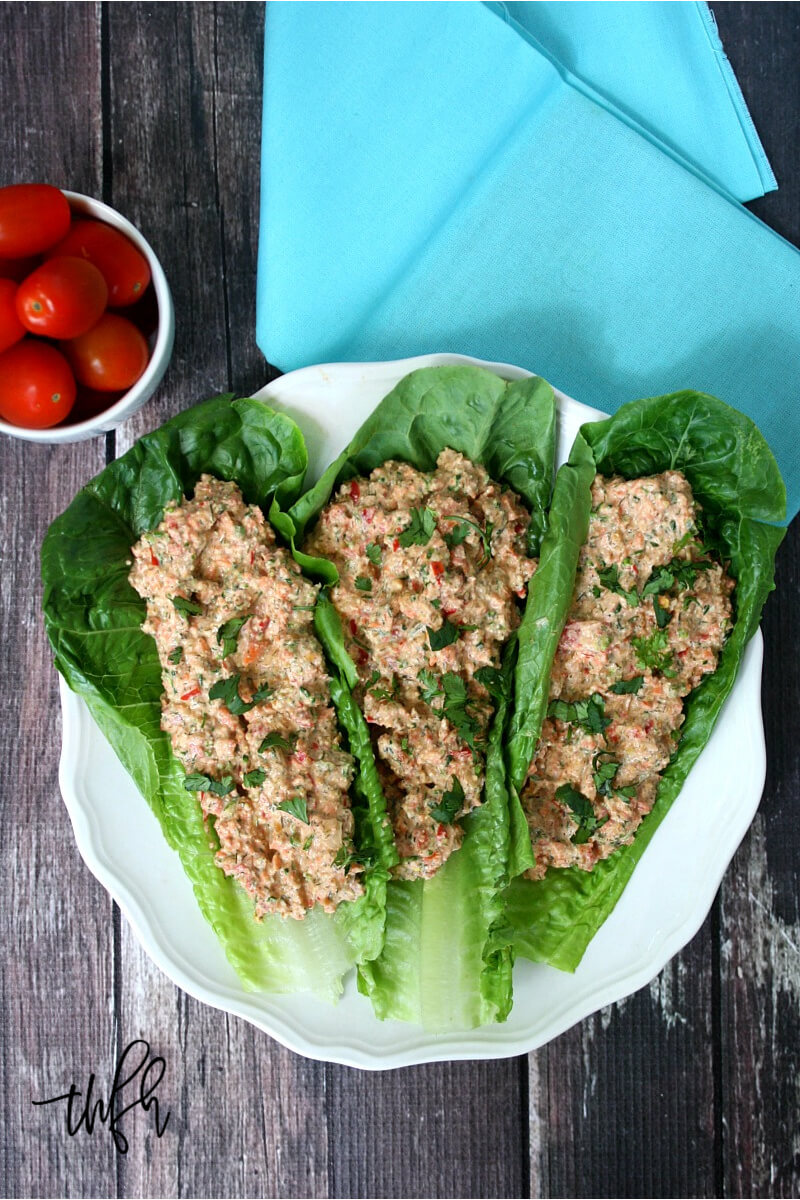 Want More Healthy Plant-Based Vegan Recipes?
Check out these: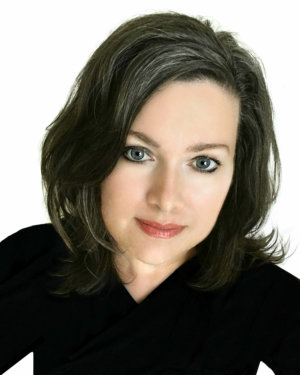 Hi, I'm Karielyn! I'm a cookbook author and creator of The Healthy Family and Home website. I specialize in creating easy, healthy plant-based recipes that are gluten-free + vegan and made with clean, real food ingredients that you can feel good about eating.