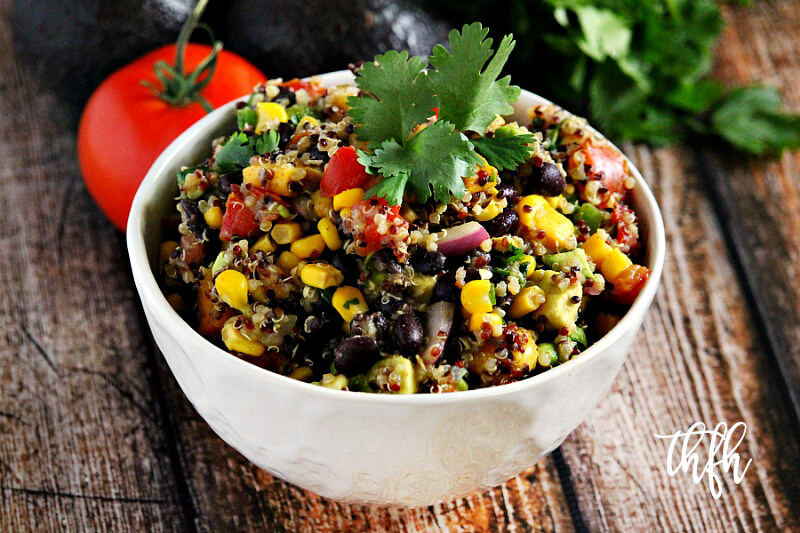 This Gluten-Free Vegan Red Quinoa and Mango Salad with Lime Dressing is a nice combination of sweet, tangy and a little spicy with lots of healthy vegan protein that makes a very satisfying meal.
There is so much goodness going on in this salad I just don't know where to begin…it's like a flavor fiesta in a bowl!
I've got tomatoes, red onions, jalapenos, cilantro, avocados, black beans and corn all tossed in a spicy lime vinaigrette, then all that is tossed with quinoa for a quick and healthy meal.
What I like most about this recipe is it is very versatile and you could add, exclude or change any of the ingredients into your favorite combination of flavors.
You can even save time by pre-cooking your quinoa or even using leftovers. All you have left to do is add everything else into a large bowl, mix up your dressing and toss everything together.
And, you can even make this into a more filling meal by adding it in a tortilla (gluten-free, if needed) or romaine lettuce and making a wrap with it.
This healthy meal is made with clean, real food ingredients and is vegan, gluten-free, dairy-free, soy-free and nut-free.
Want more healthy salad recipes? Check out Vegan Roasted Artichoke Salad with Sesame Seed Vinaigrette, Vegan Roasted Chipotle Sweet Potato Salad with Tahini Lime Dressing, Watermelon Basil Salad with Fresh Basil Vinaigrette or my Clean Eating Cookbook with an entire chapter of 20 healthy, clean eating salad recipes just like this one that you will love!

5 Fast Facts About Quinoa:
high in anti-oxidants
anti-inflammatory
high in magnesium (20.9% DV) and folate (19.5% DV)
gluten-free
complete protein containing 9 essential amino acids
5 Fast Facts About Mangos:
super high in vitamin A at 25% RDA
good source of copper at 12% RDA
excellent anti-oxidant
contains 46% RDA of vitamin C
contains 10% RDA of vitamin B6
5 Fast Facts About Avocados:
excellent source of vitamin E
contains 25 essential nutrients
contains 2 – 3 times the potassium as one banana
has anti-inflammatory properties
can help lower cholesterol levels
5 Fast Facts About Tomatoes:
contains lycopenes which are cancer fighting agents
high in beta-carotene
excellent anti-oxidant
high in vitamin A and K
high in chromium which helps control blood sugar levels
5 Fast Facts About Jalapenos:
excellent antioxidant
thermogenic food
anti-inflammatory agent
high in vitamins A and C
contains anti-bacterial properties
5 Fast Facts About Onions:
rich source of sulfur compounds
excellent for cardiovascular health
inhibits bone loss in women
reduced blood pressure
lowers blood cholesterol levels
5 Fast Facts About Cilantro:
contains powerful anti-oxidants
anti-inflammatory
helps to remove toxins and heavy metals
promotes healthy liver function
helps to control blood sugar
5 Fast Facts About Black Beans:
extremely high in fiber
loaded with anti-oxidants
contains insoluble fiber
high in iron at 20% RDA
regulates blood glucose absorption
5 Fast Facts About Extra-Virgin Olive Oil:
lowers blood cholesterol levels
rich in anti-oxidants
improves bone mineralization and calcification
excellent protection from heart attack and stroke
contains anti-inflammatory benefits
5 Fast Facts About Limes:
aids in digestion
fat burner
contains more vitamin C than a lemon
anti-oxidant and anti-biotic effects
extremely alkalizing to the body
*These statements have not been evaluated by the Food and Drug Administration. This information is not intended to diagnose, treat, cure or prevent any disease.
Tip #1:  You can use any variety of quinoa for this recipe.
Tip #2:  You can add or omit any of the veggies or ingredients to your liking.
Tip #3:  It's best if you can dice the veggies in small pieces so their flavors don't overpower each other.
Tip #4:   Important: Corn is one of the top GMO crops being produced today.  Please make sure the corn you use is organic to avoid GMO's.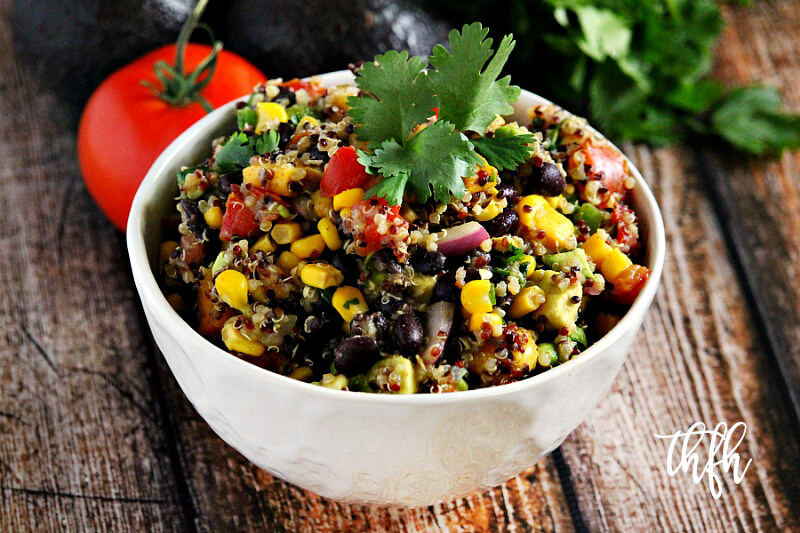 Print
Gluten-Free Vegan Red Quinoa and Mango Salad with Lime Dressing
Yield 4 servings
Vegan / Gluten-Free / Dairy-Free / Soy-Free / Nut-Free 
Ingredients
2 cups cooked organic quinoa
1 can organic black beans (15 ounce can, rinsed + drained)
1 can organic corn (15 ounce can, drained)
For the vegetable mixture:
1 cup organic tomatoes (diced)
1 cup organic mango (diced)
1 organic avocado (diced)
1 cup organic fresh cilantro (chopped)
1/2 cup organic red onions (diced)
1 organic jalapeno (diced)
For the lime dressing:
4 tablespoons organic lime juice
4 tablespoons organic extra virgin olive oil
1 1/2 teaspoons Himalayan salt
2 teaspoon organic ground cumin
2 teaspoon organic chili powder
Instructions
Prepare the quinoa:
Prepare/cook the quinoa according to your preferred method or package instructions. You will need (2) cups of cooked quinoa for this recipe.
Prepare the vegetable mixture:
While the quinoa is cooking, prep the veggies (dice the tomatoes, onions, avocado, jalapeno and mango and chop the cilantro).
Add the prepped veggies to a large mixing bowl. Set aside.
Prepare the lime dressing:
While the quinoa is cooking, add all the ingredients for the lime dressing to a small bowl and mix together until everything is well combined. Adjust seasonings to your preference. Set aside.
Assemble:
When the quinoa is ready, add (2) cups to the large mixing bowl with the vegetable mixture.
Add the entire can of black beans (drained and rinsed) and corn (drained).
Add the lime dressing and gently toss everything together until it's well combined.
Adjust the seasonings to your preference.
Enjoy!
Notes
Get all your organic ingredients delivered straight to your door at up to 25 - 50% off retail by cutting out the middleman and retail markups with a Thrive Market Membership and save 15% off on your first order.
  The recipe and photographs for "Gluten-Free Vegan Red Quinoa and Mango Salad with Lime Dressing" by Karielyn Tillman of The Healthy Family and Home website are licensed under a Creative Commons Attribution Non-Commercial No Derivatives 4.0 International License and cannot be used without my written permission.
Recipe Roundups: Food Bloggers are always welcome to use a photo and a link back to my original post to share on recipe roundups without requesting permission.
Affiliate Disclosure: This post contains affiliate links. This means that if you were to make a purchase through one of these links, "The Healthy Family and Home" website would receive a small commission at no additional cost to you.
Amazon Disclosure: "The Healthy Family and Home" website is a participant in the Amazon Services, LLC Associates Program, an affiliate advertising program designed to provide a means for sites to earn advertising fees by advertising and linking to Amazon.com.
Thank you for your support of this website!