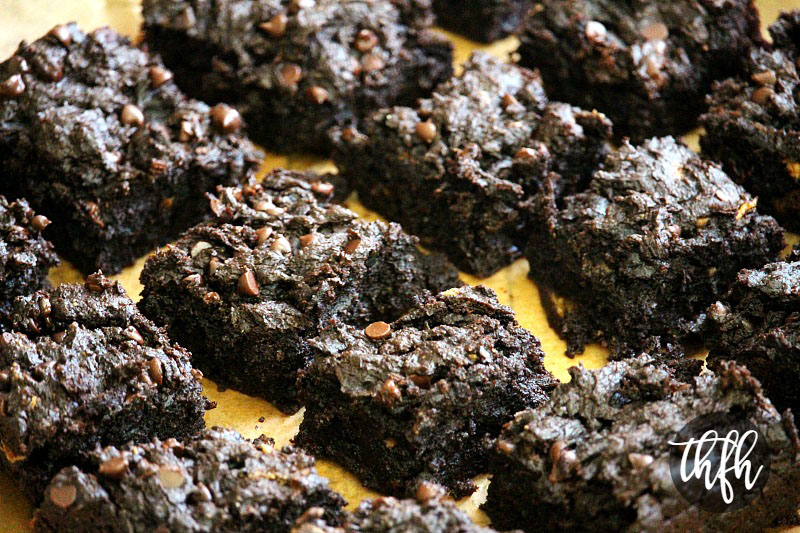 These Vegan Flourless Double Chocolate Avocado Brownies are amazing and just might be your new go-to brownie recipe!
I adapted them from my Vegan Flourless Zucchini Brownies recipe, which are also delicious but use zucchini as an ingredient instead of avocado.
I added the avocado in this recipe and it gives the brownies a creamy, dense and fudgy consistency…they are thick, moist, fudgy and hold well together once they've cooled off.
You may want to check out some of my other clean eating brownie recipes like Fudgy Gluten-Free Vegan Pumpkin Swirl Brownies, Matcha Green Tea Chocolate Chip Brownies, Gluten-Free Vegan Walnut and Oat Brownies or Flourless Peanut Butter Swirl Brownies.
We already know that traditional homemade brownies are made with white flour, white sugar, eggs, butter, etc.  They are also not vegan, gluten-free or paleo.
Here's the ingredient list for a popular mainstream boxed brownie mix:
S.A.D. (Standard American Diet) Pillsbury Brownie Classics Traditional Fudge Brownie Mix Ingredients:
Ingredients:  Sugar, Flour Bleached Enriched (Wheat Flour, Niacin Vitamin B3, Iron, Thiamine Mononitrate Vitamin B1, Riboflavin Vitamin B2, Folic Acid Vitamin B9), Cocoa Processed with Alkali, Cocoa, Soybeans Oil Partially Hydrogenated, Contains 2% or less of the following: (Corn Starch, Salt, Flavors Natural and Artificial, Baking Soda, Soy Lecithin)
The very first ingredient is sugar, which is refined and processed.  It also contains GMO ingredients like soy and corn.
This healthier version is made with clean, real food ingredients and are vegan, gluten-free, dairy-free, grain-free, flourless, egg-free, paleo-friendly and contain no refined sugar.
Want more healthy dessert recipes?  Check out Gluten-Free Vegan Salted Pistachio and Cranberry Chocolate Bark, Gluten-Free Vegan Chewy Nut and Seed Bars, Gluten-Free Vegan No-Bake Brownie Bottom Turtle Cheesecake or my Clean Eating Cookbook with an entire chapter of 20 healthy, clean eating dessert recipes just like this one that you will love!
5 Fast Facts About Avocados:*
excellent source of vitamin E
contains 25 essential nutrients
contains 2 – 3 times the potassium as one banana
has anti-inflammatory properties
can help lower cholesterol levels
5 Fast Facts About Almonds (Almond Butter):*
helps to regulate cholesterol and blood pressure
energy booster
loaded with calcium and fiber
1/4 cup contains 8 grams of vegan protein
high in anti-oxidants
5 Fast Facts About Raw Cacao Powder:*
super high in anti-oxidants
promotes cardiovascular health
contains essential fats
can help to decrease blood pressure
contains over 300 compounds including protein, calcium, copper, zinc and iron
5 Fast Facts About Maple Syrup:*
contains manganese and zinc
super high in anti-oxidants
helps with inflammation
1/4 cup contains more calcium than the same amount of milk
1/4 cup contains more potassium than a banana
5 Fast Facts About Flax Seeds:*
high in omega-3 essential fatty acids
contains soluble and insoluble fiber
super high in lignans
provides anti-oxidant and anti-inflammatory benefits
provides cardiovascular benefits
5 Fast Facts About Vanilla Bean Powder:*
anti-microbial
high in anti-oxidants
can help reduce inflammation
contains small traces of minerals
1 tablespoon contains 2 g of fiber
*These statements have not been evaluated by the Food and Drug Administration.  This information is not intended to diagnose, treat, cure or prevent any disease.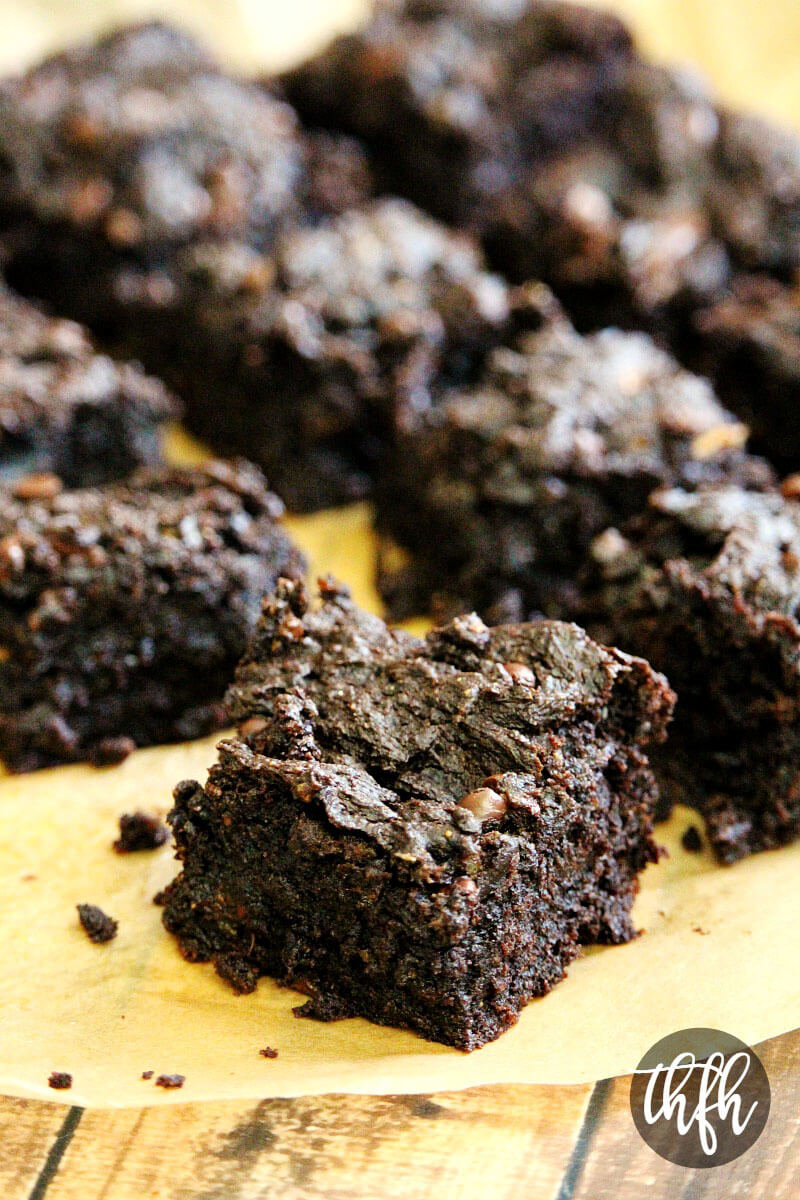 Vegan Flourless Double Chocolate Avocado Brownies (Vegan, Gluten-Free, Dairy-Free, Grain-Free, Flourless, Egg-Free, Paleo-Friendly, No Refined Sugar)
Print recipe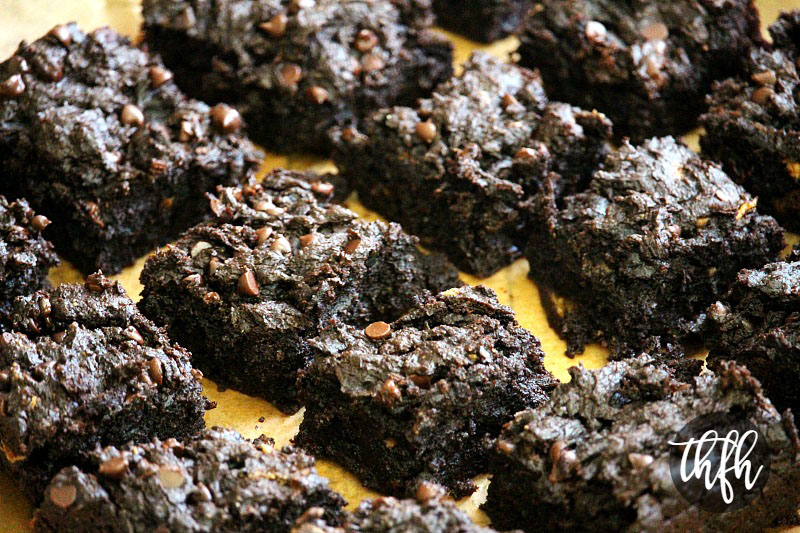 Ingredients
2 organic avocados
1 cup organic almond butter
1/3 cup organic raw cacao powder
1/3 cup organic maple syrup
1 flax egg (1 tablespoon ground flax seeds + 3 tablespoons water)
1 teaspoon organic vanilla bean powder
1 teaspoon baking soda
1 - 2 pinch Himalayan pink salt
1 cup Enjoy Life mini chocolate chips
Directions
Prepare the flax egg
Step 1
Add the ground flax seeds and water to a small bowl and whisk together. Set aside.
Step 2
Cut the two avocados in half, remove the pit and add the avocado flesh to a medium sized bowl. Mash it with a fork until it is creamy and smooth.

Add the remaining ingredients to the bowl of mashed avocado, including the flax egg (re-whisk it before adding it) and stir everything together until it is well combined and all ingredients are evenly distributed.

Transfer the brownie mixture to an 8 x 8 baking pan lined with parchment paper and spread it evenly in the pan.

Bake at 350 degrees for approximately 35 - 45 minutes, or until it is baked all the way through.

Allow the brownies to cool before cutting and serving.

Enjoy!
Note
This recipe will make approximately (16) small brownies.

The recipe and photographs for "Vegan Flourless Avocado Brownies" by Karielyn Tillman of The Healthy Family and Home website are licensed under a Creative Commons Attribution Non-Commercial No Derivatives 4.0 International License and cannot be used without my written permission.
Affiliate Disclosure: This post contains affiliate links. This means that if you were to make a purchase through one of these links, "The Healthy Family and Home" website would receive a small commission.