This fudgy Gluten-Free Vegan Flourless Peanut Butter Swirl Brownies recipe is an easy and healthy recipe to make without traditional ingredients like eggs, butter and white flour that everyone will love!
These Flourless Peanut Butter Swirl Brownies are a perfect clean eating recipe to make if you've never made flourless or grain-free desserts before.
One of the first recipes I knew I had to find a replacement for after adapting to a gluten-free diet was brownies!
I don't know what I would have done if I couldn't continue to eat fudgy brownies ever again.
So if you are in the same situation, don't worry because I've got you covered with this gluten-free + vegan brownie recipe that doesn't need white flour, eggs, butter or vegetable oil.
This is an easy recipe that can be prepared in about 5 minutes and needs about 30 minutes to bake.
Do You Have Any Other Flourless Vegan and Gluten-Free Dessert Recipes?
Yes, I do!
I love to make flourless, grain-free and gluten-free desserts and here are a couple of my favorites that you might enjoy:
And in case you didn't know, I wrote an entire cookbook of no-bake vegan + gluten-free desserts called "CLEAN DESSERTS" to help you enjoy desserts guilt-free!
Are These Gluten-Free Vegan Flourless Peanut Butter Swirl Brownies Healthy?
In my opinion, they are much healthier than store-bought boxed brownies and even traditional homemade brownies.
Let's look at the ingredient list for both below.
Store-bought brownie mixes in a box contain a long list of unhealthy ingredients like this:
S.A.D. (Standard American Diet) Pillsbury Fudge Supreme Peanut Butter Swirl Brownie Mix Ingredients:
Ingredients: Sugar, Flour Bleached Enriched (Wheat Flour, Niacin Vitamin B3, Iron, Thiamine Mononitrate Vitamin B1, Riboflavin Vitamin B2, Folic Acid Vitamin B9), Peanuts Butter (Peanuts, Sugar, Contains 22% or less, Molasses, Vegetables Oil Partially Hydrogenated [Soybeans Oil, Soybeans Oil, and, Cottonseed Oil], Vegetables Oils Fully Hydrogenated [Rapeseed Oil, and, Soybeans Oil], Mono and Diglycerides, Salt), Cocoa, Vegetables Oil Partially Hydrogenated (Soybeans Oil, Soybeans Oil, and, Cottonseed Oil), Corn Starch, Contains 2% or less of the Following: (Salt, Flavors Natural & Artificial, Baking Soda, Milk Non Fat, Soy Lecithin
Notice the very first ingredient is sugar. White, refined sugar. Followed by bleached flour and several GMO ingredients (soybean oil, cottonseed oil, corn starch, soy lecithin).
Traditional homemade peanut butter swirl brownies aren't much better with typical ingredients like white flour, white sugar, eggs, and butter:
S.A.D. (Standard American Diet) Traditional Peanut Butter Swirl Brownie Ingredients:
Typical Ingredients: 1 pound unsalted butter, 1 pound plus 12 ounces semisweet chocolate chips, 6 ounces unsweetened chocolate, 6 extra-large eggs, 3 tablespoons instant coffee granules, 2 tablespoons pure vanilla extract, 2 1/4 cups sugar, 1 1/4 cups all-purpose flour, 1 tablespoon baking powder, 1 teaspoon kosher salt, 3/4 cup smooth peanut butter
This healthier version is made with clean ingredients and is vegan, gluten-free, dairy-free, egg-free, flourless, grain-free, and contains no refined sugar!
What Ingredients Do I Need To Make Gluten-Free Vegan Flourless Peanut Butter Swirl Brownies?
Below is a list of the basic ingredients needed to make this recipe.
Make sure to check out the recipe below for the complete list of ingredients.
5 Fast Facts About Peanuts (Peanut Butter):*
excellent source of vitamin E
high in folate
contains tryptophan which helps fight depression
good source of fiber
excellent source of vegan protein
5 Fast Facts About Maple Syrup:*
contains manganese and zinc
super high in anti-oxidants
helps with inflammation
1/4 cup contains more calcium than the same amount of milk
1/4 cup contains more potassium than a banana
5 Fast Facts About Flax Seeds:*
high in omega-3 essential fatty acids
contains soluble and insoluble fiber
super high in lignans
provides anti-oxidant and anti-inflammatory benefits
provides cardiovascular benefits
5 Fast Facts About Cacao Powder:*
contains over 300 compounds including protein, calcium, copper, zinc, and iron
super high in anti-oxidants
promotes cardiovascular health
contains essential fats
can help to decrease blood pressure
5 Fast Facts About Himalayan Pink:*
contains 84 minerals
unrefined, unprocessed, raw
promotes stable pH balance in cells
controls water levels in the body
aids digestion and facilitates better nutrient absorption
*These statements have not been evaluated by the Food and Drug Administration. This information is not intended to diagnose, treat, cure or prevent any disease.
How To Make Gluten-Free Vegan Flourless Peanut Butter Swirl Brownies:
Make the brownie batter. This is an easy step and it includes making the flax egg. I always make the flax egg first so it can firm while I prepare the rest of the batter and add it in as the last ingredient. After you complete the batter, you'll add the mixture to an 8 x 8 baking dish lined with parchment paper (for easy cleanup!) and then set it aside while you prepare the peanut butter swirl.
Make the peanut butter mixture. This step will only take a couple of minutes and all you need to do is add the two ingredients for the peanut butter swirl to a small bowl and stir until it's smooth and creamy.
Combine the peanut butter mixture with the brownie batter and swirl! This is the fun part where you will add about 8 small dollops of the peanut butter mixture onto the top of the brownie mixture. Using the tip of a sharp knife, gently swirl the peanut butter mixture into the brownie mixture.
That's it!
All you have to do next is bake them in the oven for about 30-35 minutes.
Step 1: Make The Brownie Batter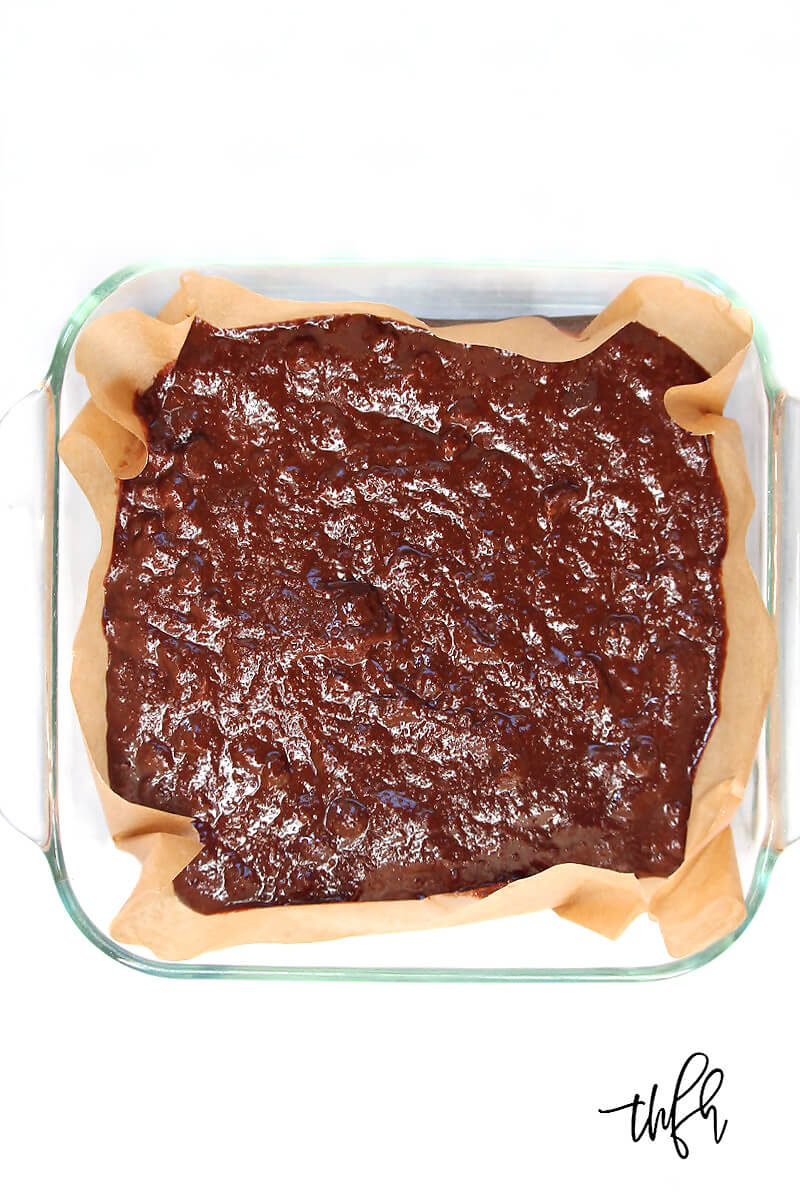 Step 2: Add the Peanut Butter Mixture On Top of the Brownie Mixture
Step 3: Swirl the Peanut Butter Dollops into the Brownie Mixture: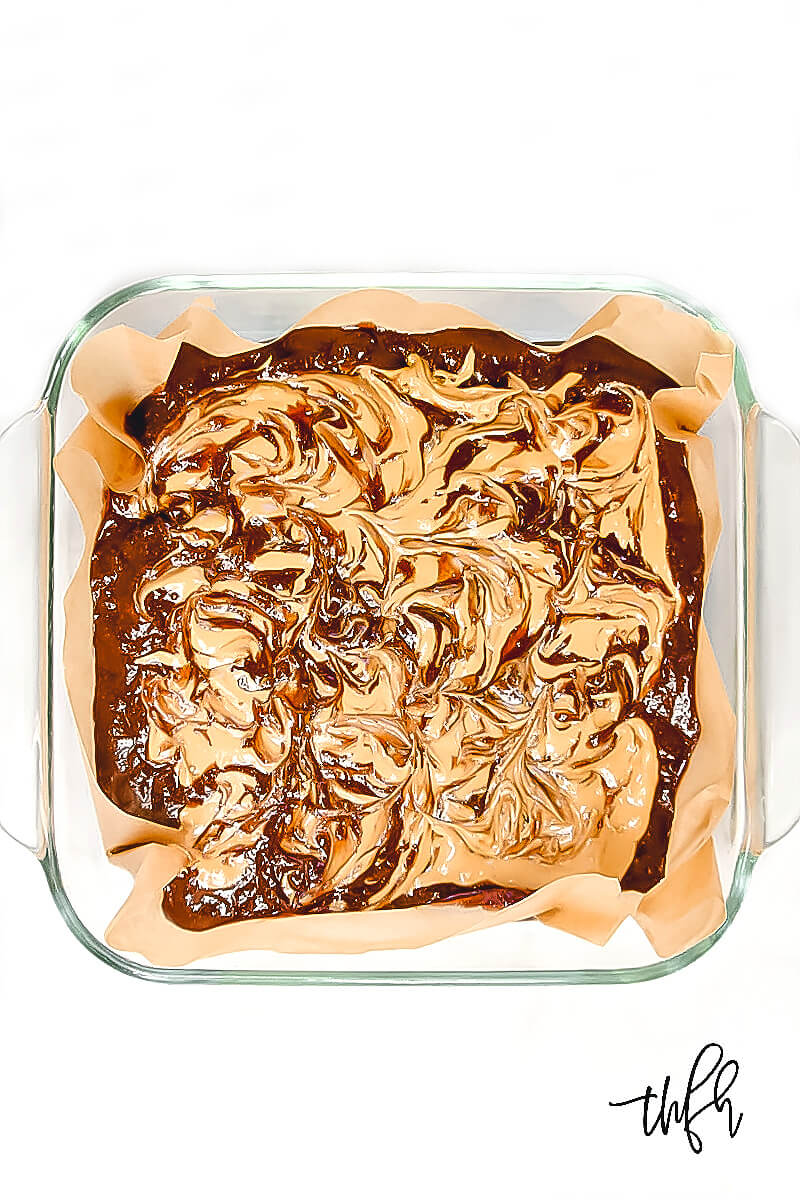 Tips For Making Gluten-Free Vegan Flourless Peanut Butter Swirl Brownies:
Tip #1: It's very important that you allow the brownies to cool completely before cutting them. They will be very soft and somewhat "mushy" if you try to cut them as soon as they come out of the oven. I know it's going to be hard to wait, but it's worth it! To speed it up, you can put them in an air-tight BPA-Free container in the refrigerator and they will firm up quicker. They will still be gooey + fudgy, but more firm.
Tip #2: This recipe can be made with homemade peanut butter using a Vitamix. For more recipes that you can make with a Vitamix, visit my Vitamix Recipe Index page for healthy inspiration!
Tip #3: Make sure the powdered sugar you use is organic + vegan. Most S.A.D. (Standard American Diet) powdered sugar brands are whitened with animal bone char. I don't use powdered sugar often, but I only use this brand because it's organic, vegan and does not use animal bone char.
Tip #4: These are stored best in the refrigerator and not left out at room temperature. Once the coconut oil becomes room temperature, it no longer "holds" the brownies together as well as it does when it's kept cool, like in the refrigerator.
Want More Healthy Vegan + Gluten-Free Dessert Recipes?
Check out these:
Flourless Peanut Butter Swirl Brownies (Vegan, Gluten-Free, Grain-Free, Flourless, Dairy-Free, Egg-Free, No Refined Sugar)
Print recipe
Ingredients
For the brownie
1/2 cup organic peanut butter
2/3 cups organic maple syrup
1/4 cup organic cacao powder
1/4 teaspoon Himalayan pink salt
1/2 teaspoon baking soda
1 flax egg (1 tablespoon ground flax seeds + 3 tablespoons water)
For the swirl topping
1/2 cup organic peanut butter
Directions
Step 1
In a medium sized bowl, mix all the ingredients for the brownie together until well combined.

Spread the brownie mixture in a 5 x 9 glass bread pan. Set aside.

In a small saucepan, gently melt the 1/2 cup peanut butter (for the swirl) on lowest heat.

Drop 4 spoonfuls of the melted peanut butter on top of the brownie mixture in an even row across the top.

Using the tip of a sharp knife, swirl the melted peanut butter into the brownie mixture to create a marbled effect.

Bake at 350 degrees for approximately 20 - 25 minutes or until the center comes out clean with a toothpick.

Cool completely before cutting and serving (very important). They will be very "mushy" when they come out and will need to cool off. After cooling completely, they should be soft and fudgy after cooling, but still hold together well.

Enjoy!
Note
This recipe will make approximately 8 small brownies.
Recipe source:  https://mangiablog.com/2013/08/13/pb-life/ (not an active link)

The photographs for "Flourless Peanut Butter Swirl Brownies" by Karielyn Tillman of The Healthy Family and Home are licensed under a Creative Commons Attribution-NonCommercial 4.0 International License and cannot be used without my written permission.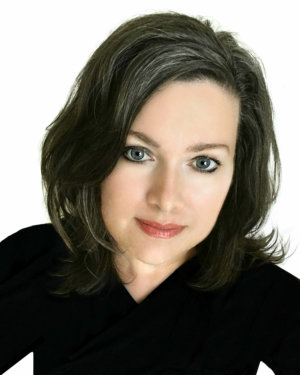 Hi, I'm Karielyn! I'm the published cookbook author of CLEAN DESSERTS and content creator of The Healthy Family and Home website since 2012. I specialize in creating easy, healthy plant-based recipes that are gluten-free + vegan and made with clean, real food ingredients that you can feel good about eating.