This Gluten-Free Vegan No-Bake Chocolate Marbled Pumpkin Cheesecake is my recipe submission for this month's Recipe ReDux theme, which is:
"A Nutty Nut Day - We had to take advantage of the fact that National Nut Day (October 22nd) falls on one of our ReDux monthly theme post days – so we can all go nuts! Share a healthy nut-filled recipe: Think whole nuts, chopped nuts, ground nuts, nut butter and/or nut flour."
If you've never enjoyed a vegan "cheesecake" before, you may not know that raw cashews can be magically transformed into a creamy, dense texture that very, very closely resembles a traditional cheesecake just by using a Vitamix.
Or, that pecans, walnuts, almonds, etc. can be used to make a delicious raw crust by using a food processor.
Traditional cheesecakes are, of course, made with lots of dairy ingredients (butter, cream cheese, eggs) and refined sugar.
Here are some of the ingredients in a traditional pumpkin cheesecake and the graham cracker crust:
S.A.D. (Standard American Diet) Pumpkin Cheesecake Ingredients:
Ingredients:  (crust):  1 3/4 cups graham cracker crumbs, 3 tbs brown sugar, 1 stick melted salted butter  (filling):  3 (8-ounce) packages of cream cheese, 1 can pureed pumpkin, 3 eggs, 1/4 cup sour cream, 1 1/2 cups sugar, 1/2 tsp ground cinnamon, 1/8 tsp fresh ground nutmeg, 1/8 tsp ground cloves, 2 tbs all-purpose flour, 1 tsp vanilla extract
S.A.D. (Standard American Diet) Keebler Honey Graham Crackers
Ingredients:  Flour Enriched (Wheat Flour, Niacin Vitamin B3, Iron Reduced, Thiamine Mononitrate Vitamin B1 [Thiamin Vitamin B1], Riboflavin Vitamin B2 [Riboflavin Vitamin B2],  Folic Acid Vitamin B9), Sugar, Cottonseed Oil Partially Hydrogenated, Soybeans Oil Partially Hydrogenated, TBHQ, To Preserve Freshness, Wheat Flour Whole (Graham Flour), Flour, Molasses, Honey, Corn Syrup, Corn Syrup High Fructose, Contains 2% or less of the Following: (Calcium Carbonate, Salt, Leavening (Baking Soda, Sodium Acid Pyrophosphate, Monocalcium Phosphate), Soy Lecithin, Flavors Artificial
They contain GMO's, high fructose corn syrup, partially hydrogenated oils, preservatives and artificial flavors.
Don't be intimidated by the ingredient list or steps to make the recipe.  You can really make all three steps (crust, filling and topping) in under 10 minutes.  That's it!  The rest of the time is just for it to harden in the freezer.  And, several of the ingredients are repeated in all three steps so the ingredient list looks longer and more complicated than it really is.
This healthier version is made with clean ingredients and is no-bake, vegan, gluten-free, dairy-free, egg-free, paleo-friendly and contains no refined sugar.
Want more healthy dessert recipes?  Check out Vegan Lemon Blueberry Swirl Cheesecake Squares, Vegan No-Bake Peanut Butter Cheesecake, or Strawberry and Raspberry Cheesecake Hearts or my Clean Eating Cookbook with 3 entire chapters of healthy, clean eating recipes just like this one that you will love!

5 Fast Facts About Cashews:*
packed with dietary fiber
rich in "heart friendly" mono-saturated fatty acids
rich source of minerals
high in magnesium and copper
excellent source of antioxidants
5 Fast Facts About Pumpkin:*
high in beta-carotene
full of iron, zinc and vitamin C
rich in anti-oxidants
280% RDA of vitamin A
good source of B complex vitamins
5 Fast Facts About Coconut Oil:*
super high in lauric acid
rich in antioxidants
contains natural microbial and anti-bacterial agents
helps to improve metabolism
improves cholesterol levels
5 Fast Facts About Pecans:*
contains naturally occurring anti-oxidants
helps to lower cholesterol
high quality source of protein
contains more 19 vitamins and minerals
excellent source of vitamin E
5 Fast Facts About Raw Cacao Powder:*
super high in anti-oxidants
promotes cardiovascular health
contains essential fats
can help to decrease blood pressure
contains over 300 compounds including protein, calcium, copper, zinc and iron
5 Fast Facts About Vanilla Bean Powder:*
anti-microbial
high in anti-oxidants
can help reduce inflammation
contains small traces of minerals
1 teaspoon contains 3 g of protein and 3 g of fiber
5 Fast Facts About Cinnamon:*
contains anti-inflammatory properties
helps to control blood sugar
excellent source of manganese and iron
can help to lower bad cholesterol
aids in eliminating migraine headaches
5 Fast Facts About Ginger:*
excellent for gastrointestinal relief
anti-inflammatory benefits
promotes immune boosting
increases blood flow and relaxes peripheral blood vessels
anti-fungal, anti-bacterial, anti-viral
5 Fast Facts About Cloves:*
2 teaspoons contain 126.4% DV of manganese
2 teaspoons contain 5.6% DV of fiber
rich in minerals iron and potassium
contains anti-bacterial, anti-oxidant, anti-inflammatory properties
helps aid in elimination of fungus, bacteria and parasites
5 Fast Facts About Nutmeg:*
helps improve concentration
increases circulation
good source of copper, potassium, iron and zinc
high in B-complex vitamins
contains anti-fungal properties
*These statements have not been evaluated by the Food and Drug Administration.  This information is not intended to diagnose, treat, cure or prevent any disease.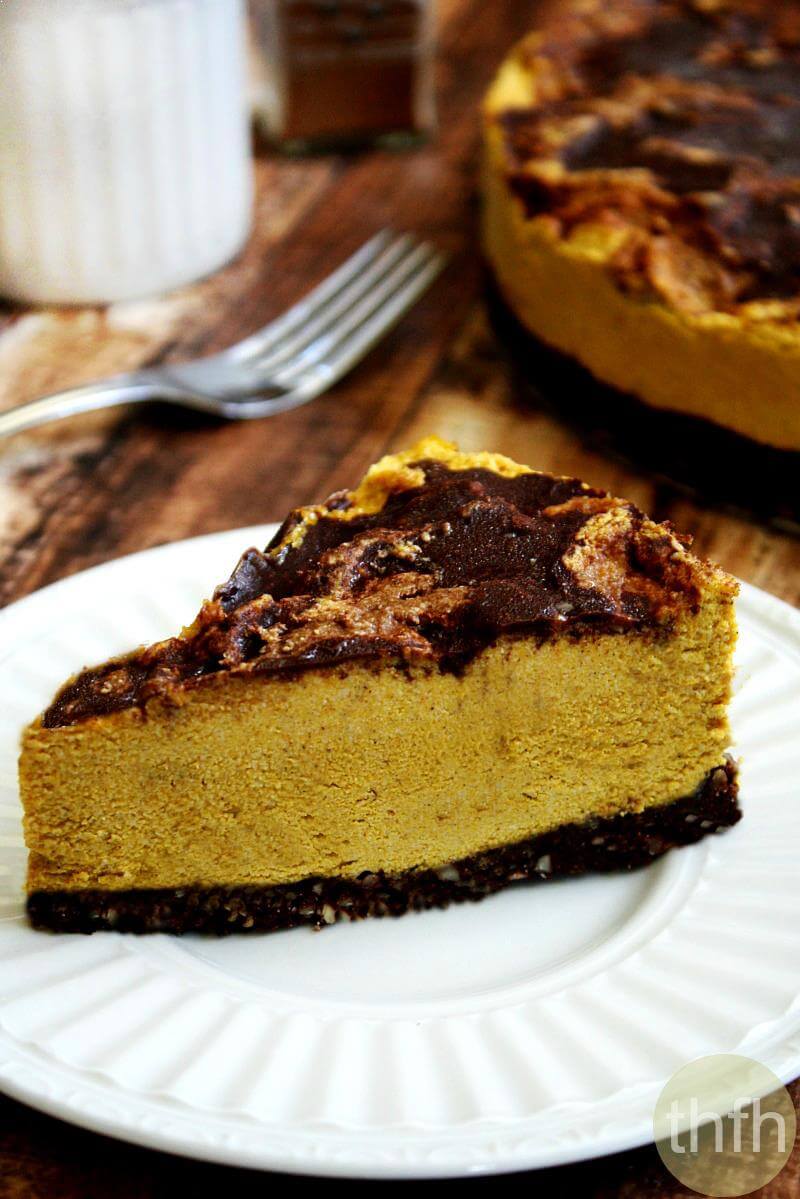 Print
Gluten-Free Vegan No-Bake Chocolate Marbled Pumpkin Cheesecake
Yield 6 - 8 small slices
Vegan / Gluten-Free / Dairy-Free / Egg-Free / Grain-Free / Flourless / No-Bake / Paleo-Friendly / No Refined Sugar
Ingredients
For the filling:
For the crust:
For the topping:
Instructions
Optional Advanced Preparation:  Soak the cashews in filtered/purified water for 30-60 minutes, then rinse and drain. This will make the mixture extra smooth and creamy.
Prepare the crust:
Add all ingredients for the crust to a food processor and process until it becomes a moist, crumbly mixture.
Transfer the mixture to a 6-inch spring form cheesecake pan, spread it evenly on the bottom of the pan, then press it down firmly.  Set aside.
Prepare the topping:
Add all ingredients for the topping to a small saucepan and melt on lowest heat on the stove top, stirring until it's smooth and well combined, taking care not to burn.
Allow to cool before adding to the cheesecake.
Prepare the filling:
Add all ingredients for the filling to a Vitamix and blend until it's creamy and smooth. 
Adjust the spices and/or sweetener to your preference.
Assemble:
Add the filling to the cheesecake pan and spread it evenly over the crust.
After the topping has cooled, take a spoonful at a time and add small dollops to the top of the cheesecake mixture and using the tip of a sharp knife, swirl it around in circles for a marbled effect.
Place the cheesecake pan in the freezer for approximately 1-2 hours, or until it is firm/hardened.
Prior to serving, remove the cheesecake pan from the freezer and leave it on the counter top for 15-20 minutes, or until it's soft enough to cut.
Store in the freezer until ready to serve and do not leave it out for an extended period of time because it will get soft if left out at room temperature for too long.
Enjoy!
Notes
Get all your organic ingredients delivered straight to your door at up to 25 - 50% off retail by cutting out the middleman and retail markups with a Thrive Market Membership and save 15% off on your first order.
  The recipe and photographs for "Gluten-Free Vegan No-Bake Chocolate Marbled Pumpkin Cheesecake" by Karielyn Tillman of The Healthy Family and Home website are licensed under a Creative Commons Attribution Non-Commercial No Derivatives 4.0 International License and cannot be used without my written permission.
Recipe Roundups: Food Bloggers are always welcome to use a photo and a link back to my original post to share on recipe roundups without requesting permission.
Affiliate Disclosure: This post contains affiliate links. This means that if you were to make a purchase through one of these links, "The Healthy Family and Home" website would receive a small commission at no additional cost to you.
Amazon Disclosure: "The Healthy Family and Home" website is a participant in the Amazon Services, LLC Associates Program, an affiliate advertising program designed to provide a means for sites to earn advertising fees by advertising and linking to Amazon.com.
Thank you for your support of this website!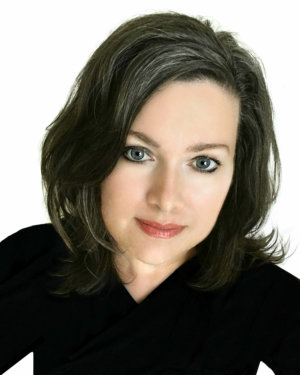 Hi, I'm Karielyn! I'm the published cookbook author of CLEAN DESSERTS and content creator of The Healthy Family and Home™ website since 2012. I specialize in creating easy, healthy plant-based and Medical Medium® compliant recipes that are gluten-free + vegan and made with clean, real food ingredients that you can feel good about eating.