This no-bake Vegan Lemon Blueberry Swirl Cheesecake Squares recipe is a perfect springtime dessert.
Gluten-Free Vegan Lemon Blueberry Swirl Cheesecake Squares
It would be a nice treat to make for Mother's Day or another special occasion and it can be prepared in about 10 minutes using a Vitamix and food processor.
I based it off my Lemon and Goji Berry Cheesecake, but added the blueberries instead of topping it with goji berries.
It's made with only 7 clean ingredients and, if possible, try to use organic blueberries because non-organic blueberries can contain up to 52 different pesticides.
But the pesticides in the blueberries aren't the only thing you'd have to worry about if you were eating a typical S.A.D. (Standard American Diet) cheesecake.
Here's the ingredient list for a similar store-bought blueberry cheesecake and a homemade version, which isn't much better:
S.A.D. (Standard American Diet) Lemon Blueberry Cheesecake: Ingredients: 2 cups graham crackers, 1 stick of butter, 1 pound cream cheese, 3 eggs, 1 cup sugar, 1 pint sour cream, lemon, blueberries and vanilla extract
S.A.D (Standard American Diet) President's Choice Wild Blueberry Topped New York Style Cheesecake: Ingredient List: Cream Cheese (Milk Ingredients, Bacterial Culture, Salt, Carob Bean Gum, and/or, Xanthan Gum, and/or Guar Gum), Blueberries Wild, Sugar, Wheat Flour Enriched, Eggs Whole Liquid, Sour Cream (Milk Ingredients, Corn Starch Modified, Sodium Phosphate, Carob Bean Gum, Carrageenan, Microbial Enzymes), Butter, Soybeans, and/or Palm Oil, Water, Corn Syrup, Canola Oil, Flavors Natural, Corn Starch Modified, Salt, Lemons Puree (Water, Lemons Pulp, Lemons Peel, Lemons Oil), Propylene Glycol Alginate, Xanthan Gum, Citric Acid, Carob Bean Gum, Carrageenan, Palm Oil Modified, Soy Lecithin, Monosodium Salts of Phosphorylated Mono and Diglycerides, Monoglyceride, May Contain: Tree Nuts
The store-bought version contains GMO ingredients: dairy (cream cheese, milk, sour cream, butter), soybean oil, corn syrup, canola oil, soy lecithin, corn starch-modified, refined white sugar and salt, preservatives and the questionable ingredient carrageenan.
My healthier version is made with real food, clean ingredients and it's raw, vegan, gluten-free, dairy-free, egg-free, paleo-friendly, no-bake and contains no refined sugar!

Want More Healthy Plant-Based Vegan No-Bake Dessert Recipes?
Check out these:
Print
Vegan Lemon Blueberry Swirl Cheesecake Squares
Yield 16 large squares
Raw / Vegan / Gluten-Free / Dairy-Free / Egg-Free / Soy-Free / No-Bake / Paleo-Friendly / No Refined Sugar
Ingredients
For the crust:
For the cheesecake:
For the swirl topping:
Instructions
Prepare the crust:
Add all the ingredients for the crust to a food processor and process until it becomes a sticky, crumbly texture.
Line a 9 x 12 baking dish with parchment paper and transfer the crust mixture into the dish.
Spread the crust mixture evenly in the bottom of the dish and using your hands, press it down firmly.
Set aside.
Prepare the cheesecake:
Add all the ingredients for the cheesecake to a Vitamix and blend until it's creamy and smooth.
Pour the mixture into the baking dish and spread it evenly on top of the crust.
Prepare the swirl topping:
Add all the ingredients for the swirl topping to a food processor and process until it has a puree' type texture.
Drizzle the swirl topping on top of the cheesecake filling.
Using the tip of a sharp knife, swirl the topping into the cheesecake filling.
Other:
Put the baking dish in the freezer for approximately 2-3 hours, or until it firms and hardens.
When ready to serve, remove from the freezer and leave it out on the counter top for about 10 minutes or so to soften slightly because it will be completely frozen and difficult to cut.
Store the cheesecake in an air-tight BPA-free container in the freezer until ready to serve because it will get soft if left out at room temperature.
Enjoy!
Notes
Get all your organic ingredients delivered straight to your door at up to 25 - 50% off retail by cutting out the middleman and retail markups with a Thrive Market Membership and save 15% off on your first order.
  The recipe and photographs for "Raw Vegan Lemon Blueberry Swirl Cheesecake Squares" by Karielyn Tillman of The Healthy Family and Home website are licensed under a Creative Commons Attribution Non-Commercial No Derivatives 4.0 International License and cannot be used without my written permission.
Recipe Roundups: Food Bloggers are always welcome to use a photo and a link back to my original post to share on recipe roundups without requesting permission.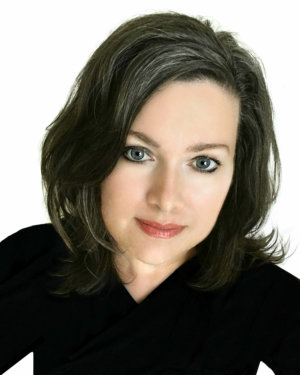 Hi, I'm Karielyn! I'm the published cookbook author of CLEAN DESSERTS and content creator of The Healthy Family and Home™ website since 2012. I specialize in creating easy, healthy plant-based and Medical Medium® compliant recipes that are gluten-free + vegan and made with clean, real food ingredients that you can feel good about eating.