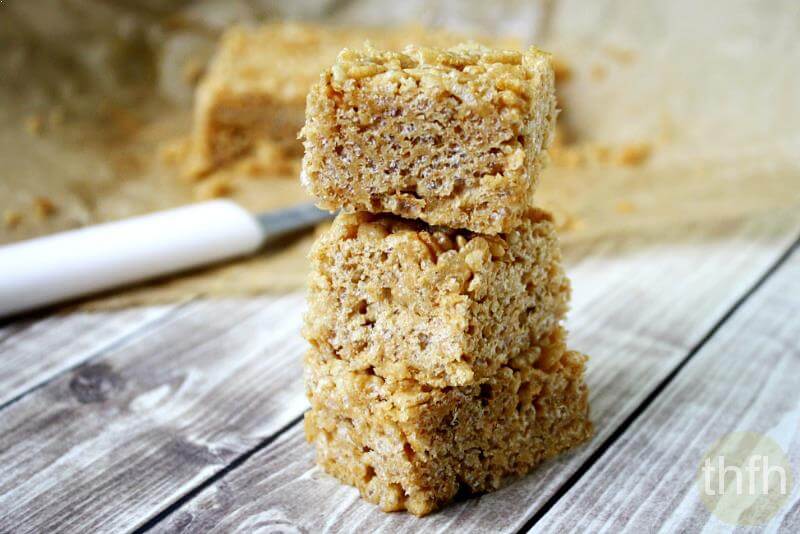 How does a Clean Eating Vegan Peanut Butter Rice Crispy Treat recipe with only 4 real food, clean ingredients sound to all the mom's out there?
It sounds good to me!
During a recent grocery trip, my oldest son was eyeing a box of organic peanut butter rice crispy treats, but I just couldn't bring myself to pay $4.50+ for a box.
So I told him I would make him some and started my search for a healthy recipe.
These are a great afternoon school snack or an anytime adult snack with only 4 real food ingredients to replace the traditional store-bought brand:
S.A.D. (Standard American Diet) Kellogg's Rice Krispy Treats:
Ingredients: TOASTED RICE CEREAL (RICE, SUGAR, SALT, MALT FLAVORING, NIACINAMIDE, REDUCED IRON, RIBOFLAVIN [VITAMIN B2], FOLIC ACID), MARSHMALLOW (CORN SYRUP, SUGAR, GELATIN, NATURAL AND ARTIFICIAL FLAVOR), FRUCTOSE, MARGARINE (VEGETABLE OIL [SOYBEAN AND PALM OIL WITH TBHQ FOR FRESHNESS], WATER, NATURAL AND ARTIFICIAL BUTTER FLAVOR [CONTAINS MILK], DATEM, ACETYLATED MONOGLYCERIDES, BHT FOR FRESHNESS, VITAMIN A PALMITATE, VITAMIN D), CORN SYRUP SOLIDS, CONTAINS TWO PERCENT OR LESS OF DEXTROSE, GLYCERIN, SALT, NIACINAMIDE, PYRIDOXINE HYDROCHLORIDE (VITAMIN B6), THIAMIN HYDROCHLORIDE (VITAMIN B1), RIBOFLAVIN (VITAMIN B2), SOY LECITHIN
The soybean oil, soy lecithin, corn syrup solids, and corn syrup are on the top of the list for GMO foods and unless they are organic they are most likely GMO. The sugar and salt are both highly refined and harmful to the body. They are not even made with real butter, but probably one of the most processed, man-made foods of all…margarine.
And the homemade versions aren't any better especially if you were to buy the highly processed ingredients needed to make them like Kellogg's Boxed Rice Krispies and a bag Kraft Jet-Puffed Marshmallows.
S.A.D. (Standard American Diet) Kellogg's Rice Krispie Cereal:
Ingredients: RICE, SUGAR, CONTAINS 2% OR LESS OF SALT, MALT FLAVOR. BHT ADDED TO PACKAGING FOR FRESHNESS. VITAMINS AND MINERALS: IRON, VITAMIN C (ASCORBIC ACID), VITAMIN E (ALPHA TOCOPHEROL ACETATE), NIACINAMIDE, VITAMIN A PALMITATE, VITAMIN B6 (PYRIDOXINE HYDROCHLORIDE), VITAMIN B2 (RIBOFLAVIN), VITAMIN B1 (THIAMIN HYDROCHLORIDE), FOLIC ACID, VITAMIN B12, VITAMIN D
S.A.D. (Standard American Diet) Kraft Jet-Puffed Marshmallows:
Ingredients: CORN SYRUP, SUGAR, CORN STARCH-MODIFIED, WATER, GELATIN, TETRASODIUM PYROPHOSPHATE, FLAVOR(S) ARTIFICIAL, COLOR(S) ARTIFICIAL (BLUE1)
The cereal contains highly refined salt and sugar, the BHT preservative, and questionable Vitamin A Palimate. The marshmallows are basically a bag of GMO's. There is nothing at all in them that is of any benefit to the body: GMO corn syrup, sugar, corn starch, food coloring, and artificial flavors.
And what exactly is "terrasodium pyrophosphate" in those fluffy marshmallows used to make homemade rice krispie treats?
Tetrasodium pyrophosphate, also called sodium pyrophosphate or tetrasodium phosphate, is a slightly toxic and mildly irritating colorless transparent crystalline chemical compound with the formula Na4P2O7. It contains the pyrophosphate ion. Toxicity is approximately twice that of table salt when ingested orally.
When you make your own treats and snacks at home, not only do you have control over the ingredients that are used but also the quality of the ingredients:
The ingredient list for the Erewhon Crispy Brown Rice Cereal (gluten-free) is…organic brown rice, organic brown rice syrup, sea salt.
The ingredient list for organic, fresh ground peanut butter is…100% organic peanuts.
The ingredient list for organic raw coconut nectar is…100% organic coconut sap nectar.
The ingredient list for organic coconut oil is…100% coconut oil.
These are clean, real food ingredients with no hidden surprises!
And, they're no-bake, vegan, gluten-free, dairy-free and contain no refined sugar.
Want more healthy, clean eating dessert recipes? Check out Clean Eating Chocolate Crunch Bars, Healthy Peanut Butter Cups, Chocolate Peanut Butter Swirl Bark or my Clean Eating Cookbook with an entire chapter of 20 healthy, clean eating recipes you will love!

5 Fast Facts About Peanuts (Peanut Butter):*
excellent source of vitamin E

high in folate
contains tryptophan which can help fight depression
good source of fiber
excellent source of protein
5 Fast Facts About Raw Coconut Nectar:*
organic, raw, vegan, gluten-free
low-glycemic
good source of 17 amino acids
nearly neutral pH
high in B vitamins
5 Fast Facts About Coconut Oil:*
super high in lauric acid

rich in anti-oxidants
contains natural microbial and anti-bacterial agents
improves metabolism and prevents fatigue
helps to improve cholesterol
5 Fast Facts About Brown Rice:*
gluten-free

high in fiber
can help to lower the risk of diabetes
excellent source of manganese and selenium
rich in antioxidants
*These statements have not been evaluated by the Food and Drug Administration. This information is not intended to diagnose, treat, cure or prevent any disease.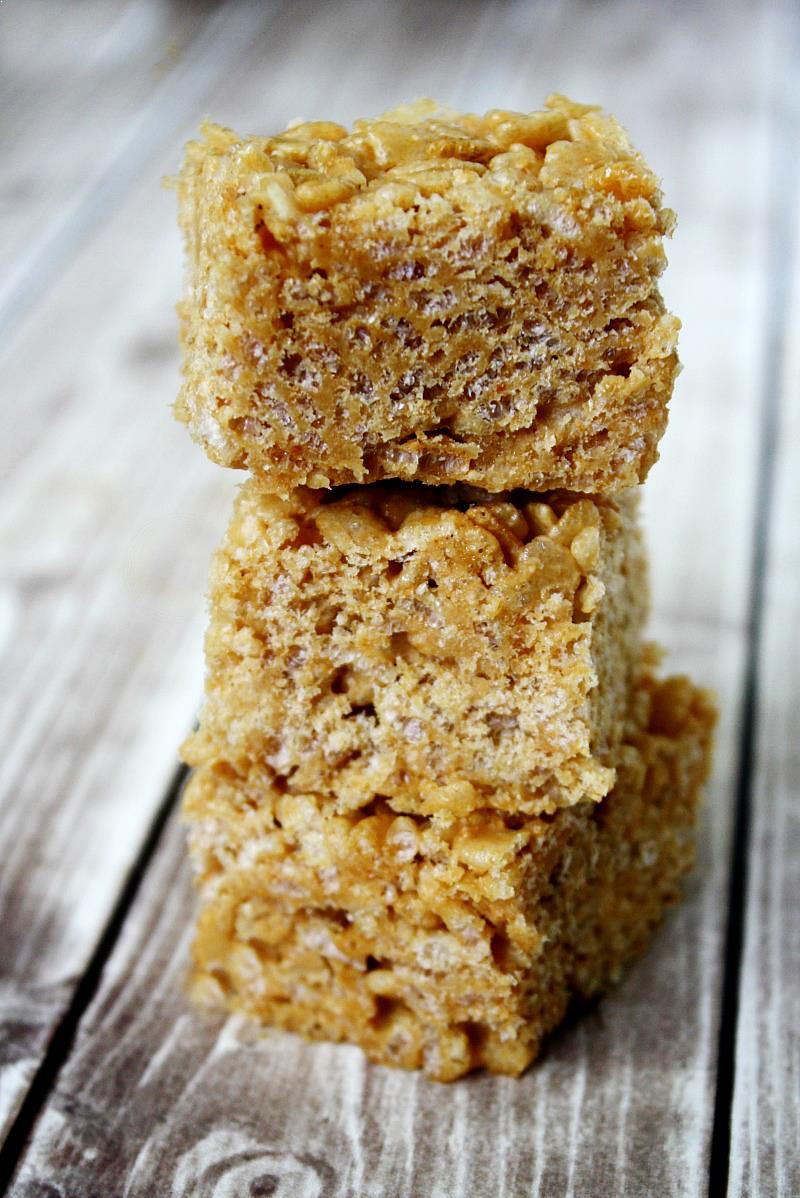 Tip #1: I used organic raw coconut nectar as the sweetener because it's thicker, but you could also try organic brown rice syrup, organic maple syrup or even organic raw honey (not vegan). I also added coconut oil as a binder to cut back on the sweetener. The only drawback is these will need to be kept refrigerated or they will get soft and lose their shape. If you'd rather not use coconut oil and want them sweeter, just follow the original recipe directions.
Tip #2: The very first time I made these, I added the salt, per the original recipe, but have been omitting it ever since and think they are fine without it. If you are using unsalted peanut butter, you may want to add a pinch of Himalayan pink salt. Taste it before you add it and see if you think it needs it.
Tip #3: I've tried making these with brown rice cereal and the brown rice puffs and the brown rice cereal definitely comes out better.
Tip #4: Want to make your own peanut butter? Let me show you how here!
Tip #5: Sometimes when I make these, I add a raw, organic plant-based vanilla protein powder like this one or this one to give them a little extra nutrition.
Tip #6: You could also make them more exciting by adding some vegan chocolate chips, all-natural vegetable colored sprinkles, goji berries, cacao nibs or even shredded coconut.
Vegan Peanut Butter Rice Crispy Treats (Vegan, Gluten-Free, Dairy-Free, No Refined Sugar)
Print recipe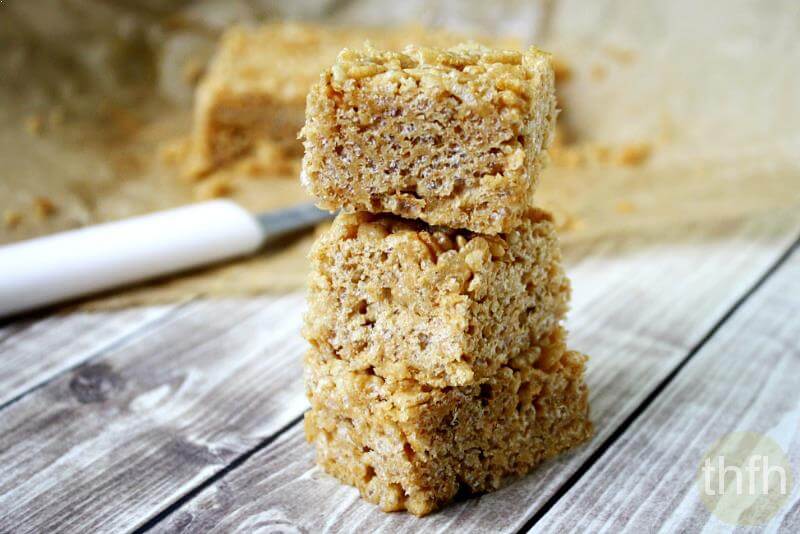 Ingredients
4 cups organic brown rice crispy cereal (Erewhon brand)
1/2 cup organic peanut butter
1/2 cup organic coconut oil (melted/liquid)
3 tablespoons organic raw coconut nectar (or brown rice syrup or raw maple syrup)
Cacao Drizzle (Optional)
2 tablespoons organic raw cacao powder
2 tablespoons organic coconut oil (melted/liquid)
2 tablespoons organic raw coconut nectar (or brown rice syrup or raw maple syrup)
Directions
Step 1
In a small saucepan, melt together the peanut butter and coconut oil on low heat and stir until it is well combined.

Remove from heat and add raw coconut nectar and stir until well combined.

In a large mixing bowl, add the brown rice cereal and peanut butter mixture together and stir until it is well combined, making sure it's evenly distributed..

Transfer the mixture to an 8 x 8 baking dish lined with parchment paper (optional), spread it evenly and press it down firmly (very important or they will not stick together good).

Put in the freezer for about 60 minutes, or until they firm up.

Keep them in the refrigerator or freezer until they are ready to be served because they will become soft and lose their shape if left out at room temperature.

Enjoy!
Optional Cacao Drizzle
Step 2
In a small bowl, add the cacao powder, melted coconut oil and raw coconut nectar (or maple syrup). Stir until it is creamy and smooth.

After you remove the crispy treats from the freezer, drizzle the cacao mixture over the top (it will get hard as soon as it comes into contact with the frozen crispy treats) and then slice to serve.

Enjoy!
Note
This recipe will make approximately (14) thick squares.
Recipe inspired by and lightly altered from:  https://chocolatecoveredkatie.com/2011/08/18/5-ingredient-rice-crispy-treats/

The photographs for "Vegan Peanut Butter Rice Crispy Treats" by Karielyn Tillman of The Healthy Family and Home are licensed under a Creative Commons Attribution-NonCommercial 4.0 International License and cannot be used without my written permission.

Affiliate Disclosure:
This post contains affiliate links. This means that if you were to make a purchase through one of these links, "The Healthy Family and Home" website would receive a small commission.