This healthy, plant-based Gluten-Free Vegan Raw Carrot Pulp and Flax Seed Crackers dehydrator recipe is the perfect solution to use leftover carrot juice pulp in an easy snack made with only 7 clean, real food ingredients and they're vegan, gluten-free, dairy-free, egg-free, nut-free, oil-free, paleo-friendly and Medical Medium compliant.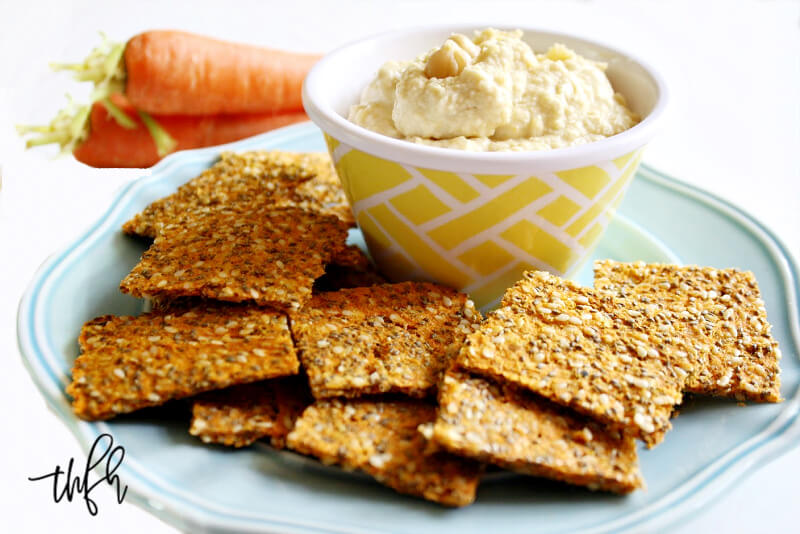 If you like to juice, you know the dilemma about what to do with the juice pulp...especially beautiful, bright orange carrot pulp.
Well, I'm going to show you how easy it is to make a juicer pulp recipe with that leftover carrot pulp with these easy Raw Vegan Carrot Pulp and Flax Seed Crackers that are grain-free, gluten-free and flourless!
I've been guilty on more than one occasion of either being in a hurry or just too lazy to do anything with my juice pulp other than throwing it away.
One of my favorite juice recipes to use carrot pulp from, other than 100% carrot juice, is my Carrot Apple and Celery Juice recipe.
Dehydrated Carrot Pulp and Flax Seed Crackers
These plant-based crackers are a healthy snack alternative to store-bought chips and they take about 5 minutes to prepare with a Vitamix and then they go into a dehydrator to get a crispy, cracker texture.
I like to make them before I go to bed in the evening and let them dehydrate overnight so they'll be ready to snack on the next day.
They are perfect with any type of dip like one of these:
Classic Hummus (my favorite!)
With this juicer pulp recipe, you'll have no more wasted carrot pulp and a nutrient-dense snack as a bonus that's plant-based, raw, vegan, gluten-free, dairy-free, egg-free, soy-free, nut-free, oil-free, paleo-friendly and Medical Medium compliant!

How To Make This Recipe: Step-by-Step Instructions
Here is how to make this recipe and I'll show you how easy it is with step-by-step instructions below.
You can make these healthy Raw Carrot and Flax Seed Crackers a matter of minutes and the hardest part is waiting for them to dehydrate!
Step 1: Collect The Carrot Pulp
Firstly, this recipe is perfect if you are juicing and have leftover carrot pulp - normally it would just get thrown away.
So after you've juiced your carrots, save the pulp for this recipe.
You'll need (3) cups so set it aside while you gather the rest of your ingredients.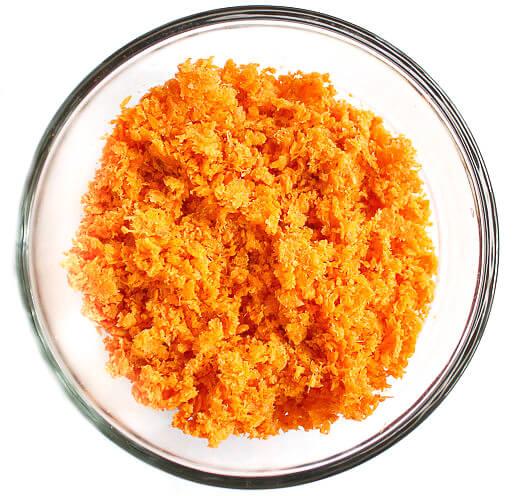 Step 2: Blend The Ingredients For The Cracker Mixture
Secondly, you'll add all the ingredients for the cracker mixture, including the carrot pulp to a Vitamix and blend until everything is well combined.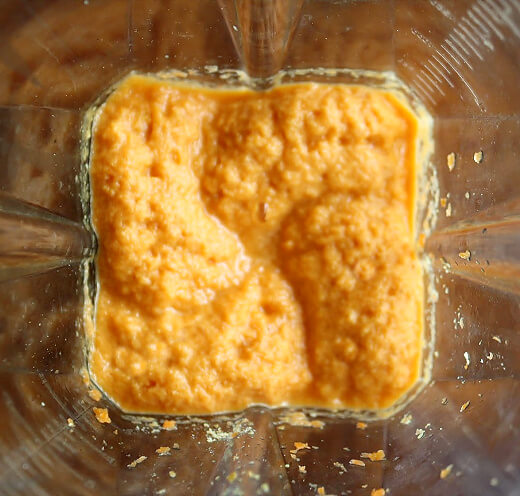 Step 3: Add The Chia Seeds + Sesame Seeds
Thirdly, after you've made the cracker mixture, transfer it to a medium-sized mixing bowl then add the chia seeds and sesame seeds.
Stir everything together until it's well combined.
Step 4: Transfer To A Dehydrator Tray
Fourthly, you will be using both types of dehydrator trays for this recipe - a tray with Paraflexx lining and a mesh tray - and separated into two steps.
Spread the cracker mixture evenly onto a tray with Paraflexx lining. Try to make sure the mixture is not spread too thick or too thin. You'll dehydrate the crackers for approximately 10-12 hours at the 105-degree setting.
Remove the crackers from the dehydrator and transfer them onto a mesh tray and dehydrate for an additional 2-4 hours, or until they are hard and crisp.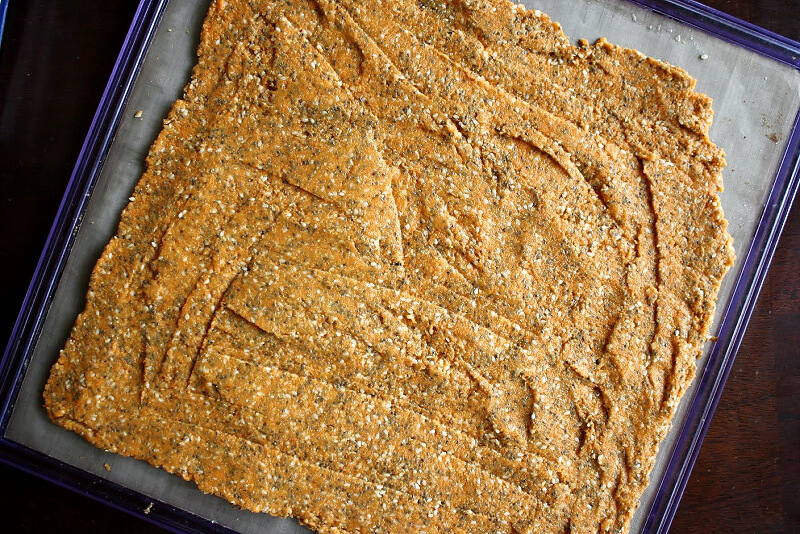 How To Store The Raw Carrot Pulp and Flax Seed Crackers
Lastly, because the dehydrator will remove all the moisture from the crackers, it's very important that you properly store the crackers to keep them crisp.
Make sure you store them in an air-tight BPA-free container until ready to serve. Even the air has moisture in it so leaving them out in the open will cause them to get soft.
I like to use these glass storage containers for my dehydrated items, as well as for other food storage.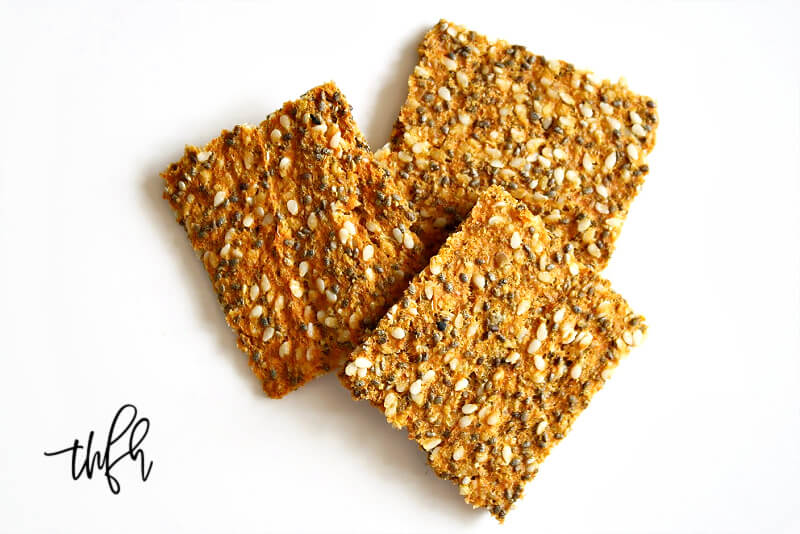 Want More Healthy Plant-Based Cracker Recipes?
Check out these:
Did You Make This Recipe?
I'd love to hear about it! Please give it a rating and leave a comment below...it would make my day! : )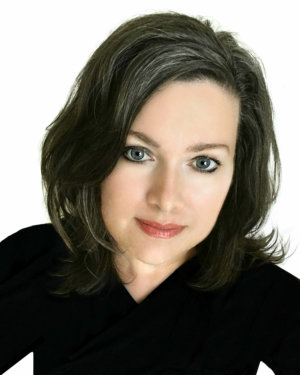 Hi, I'm Karielyn! I'm the published cookbook author of CLEAN DESSERTS and content creator of The Healthy Family and Home™ website since 2012. I specialize in creating easy, healthy plant-based and Medical Medium® compliant recipes that are gluten-free + vegan and made with clean, real food ingredients that you can feel good about eating.