Clean Eating Vegan Greek Salad…made with clean ingredients, is ready in about 5 minutes and it's vegan, gluten-free, dairy-free, paleo-friendly and contains no refined sugar.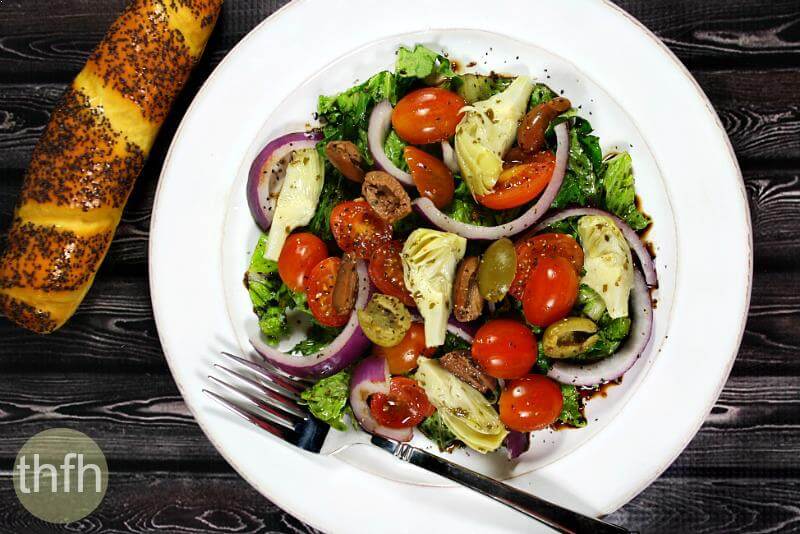 This Clean Eating Vegan Greek Salad is a quick and simple salad for an individual serving, but you can easily double or triple the recipe if you need more.
It's made with fresh ingredients, many you may already have on hand.
I received a generous supply of beautiful organic cherry tomatoes in my recent Farmbox Direct delivery (they deliver organic fruits and veggies straight to your door) and instead of eating them plain, like I normally do, I decided to make a salad with them.
And although traditional Greek Salad recipes call for feta cheese, you won't miss it in this recipe with the tangy olives and balsamic vinegar dressing.
This is a quick and healthy salad made with whole food ingredients and is vegan, gluten-free, dairy-free and paleo-friendly.
Want more healthy meal and entree recipes?  Check out Blueberry Mango Salad with Tahini Ginger Dressing, Watermelon Salad with Clean Eating Watermelon Vinaigrette, Wilted Kale Salad with Creamy Chipotle Dressing or my Clean Eating eCookbook with an entire chapter of 20 healthy, clean eating meal and entree recipes just like this one that you will love!
5 Fast Facts About Tomatoes:*
contains lycopenes which are cancer fighting agents
high in beta-carotene
excellent anti-oxidant
high in vitamin A and K
high in chromium which helps control blood sugar level
5 Fast Facts About Onions:*
rich source of sulfur compounds
excellent for cardiovascular health
inhibits bone loss in women
reduced blood pressure
lowers blood cholesterol levels
5 Fast Facts About Artichokes:*
super high levels of anti-oxidants
one medium artichoke contains 10 g of fiber
excellent anti-inflammatory food
good source of magnesium, potassium and phosphate
contains high levels of folic acid (17% RDA)
5 Fast Facts About Extra Virgin Olive Oil:*
lowers blood cholesterol levels
rich in anti-oxidants
improves bone mineralization and calcification
excellent protection from heart attack and stroke
contains anti-inflammatory benefits
*These statements have not been evaluated by the Food and Drug Administration.  This information is not intended to diagnose, treat, cure or prevent any disease.
Where to Buy:  If you have trouble finding any of the ingredients to make this recipe, you can order online from Amazon and have them delivered straight to your door:
Tip #1:  This recipe is for an individual salad and the measurements are for how I like to make mine…but the ingredient amounts are loose and completely adjustable.  Just adjust everything to your preference and a little more or little less of something to make it perfect for you!
Clean Eating Vegan Greek Salad (Vegan, Gluten-Free, Dairy-Free, Paleo-Friendly)
Print recipe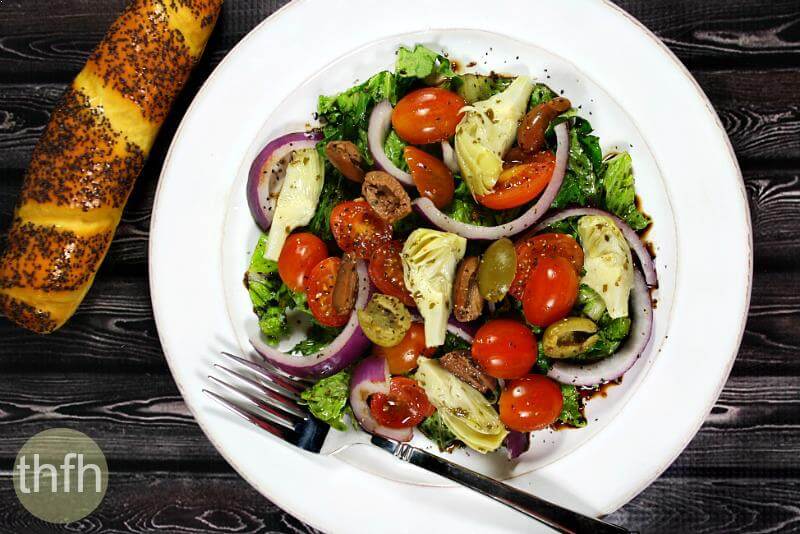 Ingredients
2 - 3 cups organic romaine lettuce
1/4 - 1/2 cup organic kalamata olives (halved)
1/4 - 1/2 cup organic artichokes (quartered)
1/4 - 1/2 cup organic cherry tomatoes (halved)
1 - 2 medium slice organic red onion (halved)
1 tablespoon organic balsamic vinegar
1 - 2 teaspoon organic extra-virgin olive oil
1 - 2 pinch organic ground black pepper
1 pinch Himalayan pink salt
Directions
Step 1
Prepare the veggies: cut the cherry tomatoes, onion slice, olives in half and the artichokes in quarter pieces.

Break the romaine lettuce into bite sized pieces.

Add the veggies to a medium sized bowl with the olive oil, balsamic vinegar, Himalayan pink salt and black pepper and gently toss until it's evenly distributed.

Transfer to your serving plate(s) and garnish with additional black pepper.

Enjoy!


Note
This recipe will make (1) regular serving or (2) smaller servings.

The recipe and photographs for "Clean Eating Vegan Greek Salad" by Karielyn Tillman of The Healthy Family and Home are licensed under a Creative Commons Attribution-NonCommercial 4.0 International License and cannot be used without my written permission.
Affiliate Disclosure: This post contains affiliate links. This means that if you were to make a purchase through one of these links, "The Healthy Family and Home" website would receive a small commission.
Amazon Disclosure: "The Healthy Family and Home" website is a participant in the Amazon Services, LLC Associates Program, an affiliate advertising program designed to provide a means for sites to earn advertising fees by advertising and linking to Amazon.com