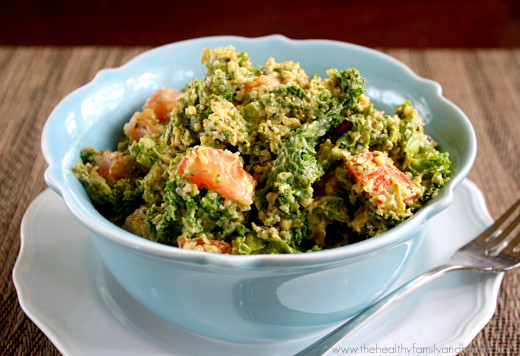 Just when I thought I had eaten every version of kale known to man, I find this raw vegan Wilted Kale Salad with Creamy Chipotle Dressing from Russell James, The Raw Chef.
I've seen "wilted" or "massaged" kale in recipes before, but have never thought twice about it.
All I can say is "wow"!
I practically eat a kale salad every day but this was such a pleasant change.
The kale was softer and I guess you would say "wilted".
If you look at the pictures of the kale below, you can see how much the kale "shrunk" or "wilted" in the second photo compared to the first.
I thought that was really neat!
And because the Creamy Chipotle Dressing is avocado based, it was much thicker and creamier than the usual cashew dressings I make.
I usually sprinkle hemp seeds on top of my salad, but never really mix them into the salad so I liked that part too.
It only took a couple of minutes to make by putting the dressing ingredients in a Vitamix and "massaging" the kale. I really, really like this salad!
5 Fast Facts About Kale:
high in iron

excellent for detoxification
powerful anti-oxidants
high in calcium
contains anti-inflammatory benefits
5 Fast Facts About Avocados:
excellent source of vitamin E

contains 25 essential nutrients
contains 2 – 3 times the potassium as one banana
has anti-inflammatory benefits
can help lower cholesterol levels
5 Fast Facts About Tomatoes:
contains lycopenes (cancer fighting agents)

high in beta-carotene
excellent anti-oxidant
high in vitamin A and K
high in chromium which helps to keep blood sugar in control
5 Fast Facts About Hemp Seeds:
healthy inflammatory 3:1 ratio of omega-6 to omega-3 fats

contains 10 essential amino acids
11 g of raw vegan protein
helps to reduce blood cholesterol
natural appetite suppressant
5 Fast Facts About Olive Oil:
helps to lower blood cholesterol levels

rich in antioxidants
improves bone mineralization and calcification
excellent protection from heart attack and stroke
contains anti-inflammatory benefits
5 Fast Facts About Lemons:
extremely alkaline

blood purifier
excellent for detoxification
balances blood sugar levels
contains powerful anti-bacterial properties
5 Fast Facts About Pink Himalayan Salt:
contains 84 minerals

unrefined, unprocessed, raw
promotes stable pH balance in cells
controls water levels in the body
aids digestion and facilitates better nutrient absorption
Tip #1:  I made a few minor adjustments from the original recipe – I didn't have chipolte peppers so I used the following:  1/2 tsp organic chipolte powder, 1 garlic clove, 1 tbs organic onion, 1/2 tsp cumin, 1/2 tsp chili powder, 1/4 tsp pink himalayan salt.  And, I didn't have baby tomatoes so I used (1) diced roma tomato.
Tip #2:  This recipe makes enough for 2 servings.
Tip #3:  If you are a fan of Russell's raw, vegan recipes like I am, you can order his complete ebook series called:  The Raw Chef's Recipe Series – The Complete Series  and it includes "Christmas", "Thai", "No Dehydrator Needed", "Mexican", "Chocolate" and "Cheese" and all the recipes are raw and vegan. I have all six of his ebooks and there are so many good recipes to choose from!
Wilted Kale Salad with Creamy Chipotle Dressing (Raw, Vegan, Gluten-Free, Dairy-Free, Nut-Free, Paleo-Friendly)
Print recipe
Ingredients
For the salad
2 cups organic kale (de-stemmed)
1 cup organic tomatoes (diced)
1/2 cup organic hemp seeds
1/2 teaspoon Himalayan pink salt
For the dressing
2 organic avocados
1/2 cup organic extra virgin olive oil
2 tablespoons organic lemon (freshly squeezed)
1/2 - 1 teaspoon organic ground chipotle powder
Directions
Step 1
De-stem the kale and break into bite-sized pieces.

Put the kale pieces into a medium sized bowl with the pink himalayan salt and "massage" the kale for a few minutes until it becomes soft and wilted.

Add the tomatoes and hemp seeds to the wilted kale.

Put all the ingredients for the dressing into a Vitamix and blend until well combined and creamy.

Add the dressing to the salad mixture and mix together until all pieces of the kale are covered with the dressing.

Sprinkle with additional hemp seeds on top of the salad, if desired.

Enjoy!
Note
This recipe will make approximately 2 servings.
Recipe source:  www.therawchef.com

The photographs for "Wilted Kale Salad with Creamy Chiptole Dressing" by Karielyn Tillman of The Healthy Family and Home is licensed under a Creative Commons Attribution-NonCommercial 4.0 International License cannot be used without my written permission.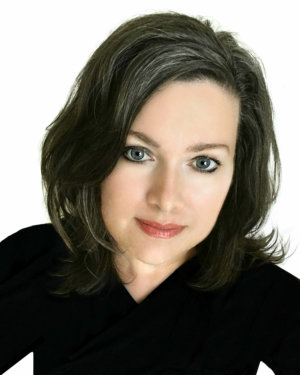 Hi, I'm Karielyn! I'm a cookbook author and creator of The Healthy Family and Home website. I specialize in creating easy, healthy plant-based recipes that are gluten-free + vegan and made with clean, real food ingredients that you can feel good about eating.