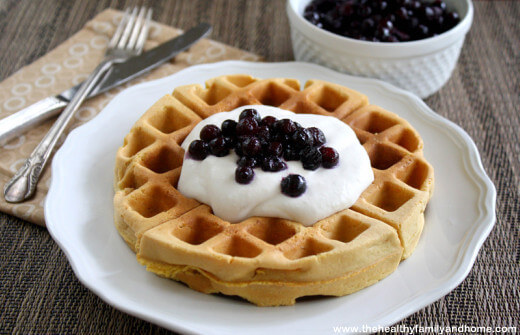 Homemade waffles are one of the foods on my list that I make for my family but am unable to enjoy myself, because they aren't gluten-free.
But I found this recipe for not only a gluten-free waffle, but grain-free, dairy-free and vegan as well.
The ingredient list is very simple, not using a complicated list of gluten-free flours and ingredients but primarily chickpea flour.
While the original recipe describes them as a "savory" waffle as opposed to a sweeter-type waffle, they were perfect for me and I added a touch of extra sweetness to mine with some homemade coconut cream and wild blueberries.
Homemade is always best, but you'd never want to forgo homemade for boxed waffles.  Here is the ingredient list for a popular storebought brand:
S.A.D. (Standard American Diet) Kellogg's Buttermilk Waffles Ingredients:
Ingredients: ENRICHED FLOUR (WHEAT FLOUR, NIACIN, REDUCED IRON, VITAMIN B1 [THIAMIN MONONITRATE], VITAMIN B2 [RIBOFLAVIN], FOLIC ACID), WATER, VEGETABLE OIL (SOYBEAN, PALM, AND/OR CANOLA OIL), EGGS, BUTTERMILK, LEAVENING (BAKING SODA, SODIUM ALUMINUM PHOSPHATE, MONOCALCIUM PHOSPHATE), SUGAR, CONTAINS 2% OR LESS OF SALT, SOY LECHITHIN. 
Vitamins and Minerals: CALCIUM CARBONATE, VITAMIN A PALMITATE, REDUCED IRON, NIACINAMIDE, VITAMIN B12, VITAMIN B6 (PYRIDOXINE HYDROCHLORIDE), VITAMIN B1 (THIAMIN HYDROCHLORIDE), VITAMIN B2 (RIBOFLAVIN).  
Soybean Oil/Soy Lecithin – soy is a well known and documented GMO ingredient.  Unless it is labeled "organic" or is labeled "Non-GMO Project Verified", we can only assume it's made from GMO soy.
Canola Oil – canolia oil is a well known and documented GMO ingredient.  Unless it is labeled "organic" or is labeled "Non-GMO Project Verified", we can only assume it's made from GMO canola.
Salt – processed, highly refined iodized salt
Sugar – processed, highly refined, bleached sugar
Eggs – if they aren't organic or pasture eggs, it's highly likely they are coming from farms that use antibiotics, hormones, fed GMO grains, etc.
Buttermilk – if it's not organic or the milk you are consuming is not coming from a local, family farm, it's highly likely the milk is coming from factory-farmed cows that have been given antibiotics, hormones, fed GMO grains, etc.
Baking Soda/Sodium Aluminum Phosphate – highly likely that it's not aluminum-free
Vitamins/Minerals – synthetic and made in a laboratory
5 Fast Facts About Chickpeas (Chickpea Flour):*
excellent source of fiber
good source of protein
can help lower cholesterol
provides better regulation of blood sugar
can help decrease cardiovascular risks
5 Fast Facts About Almonds (Almond Milk):*
helps to regulate cholesterol and blood pressure
energy booster
loaded with calcium and fiber
1/4 cup contains 8 grams of vegan protein
high in anti-oxidants
5 Fast Facts About Apple Cider Vinegar:*
anti-viral, anti-bacterial, anti-fungal
maintains proper pH balance in the body
regulates blood pressure
helps to reduce bad cholesterol
loaded with potassium
5 Fast Facts About Himalayan Pink Salt:*
contains 84 minerals
unrefined, unprocessed, raw
promotes stable pH balance in cells
controls water levels in the body
aids digestion and facilitates better nutrient absorption
5 Fast Facts About Tahini (Sesame Seeds):*
high in calcium at 35% RDA
excellent anti-oxidant
lowers cholesterol
reduces inflammation
high in phytosterol
5 Fast Facts About Extra Virgin Olive Oil:* 
lowers blood cholesterol levels
rich in anti-oxidants
improves bone mineralization and calcification
excellent protection from heart attack and stroke
contains anti-inflammatory benefits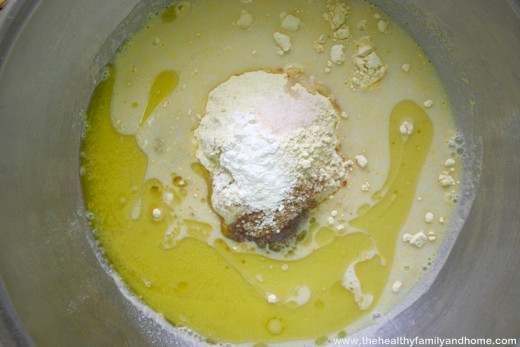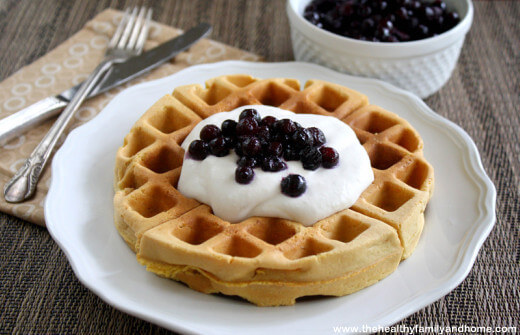 Here's another option for toppings:  bananas, crushed goji berries, crushed pistachios and drizzled with maple syrup:
Where to Buy:  If you have trouble finding any of the ingredients to make this recipe, you can order online from Amazon and have them delivered straight to your door:
Tip #1:  These are not sweet waffles.  If you prefer a sweeter waffle, increase the amount of sweetener in the recipe and/or add maple syrup as a topping.
Tip #2:  Since the primary ingredient in this recipe is "chickpea flour", they have a very strong, distinctive chickpea flour flavor which may not appeal to you.  If you don't like the taste of chickpea flour, this would not be a good recipe to try.
Tip #3:  These can be a little tricky coming off the waffle iron and need to be handled with care.  You may want to spray the iron with a non-GMO cooking spray to help with this.  Make sure you leave them on the iron long enough to get crispy on the outside, as well as cook all the way through on the inside.  If you are using the same brand of waffle iron I have, I have found the best results with the setting in the middle of  "2" and "3".
Tip #4:  You can use the sweetener of choice.  I used raw coconut crystals and increased the amount of sweetener from the original recipe (and they still weren't overly sweet).
Gluten-Free Vegan Belgian Waffles (Vegan, Gluten-Free, Grain-Free, Dairy-Free, No Refined Sugar)
Print recipe
Ingredients
2 cups chickpea flour
2 cups homemade almond milk
1 tablespoon apple cider vinegar
1 teaspoon baking powder (aluminum-free)
1/2 teaspoon pink himalayan salt
1/4 cup sweetener of your choice
1 tablespoon organic tahini
3 tablespoons organic extra virgin olive oil
Directions
Step 1
Heat your waffle iron.

Add the almond milk and apple cider vinegar in a small bowl and let it sit for few minutes.

Add all the rest ingredients and mix until well combined.

Pour batter into your waffle iron and cook according to waffle maker directions.

Repeat with the rest of the batter.

Serve with homemade coconut cream, your favorite fruit or maple syrup.

Enjoy!
Note
Recipe inspired by and slightly adapted from:  https://veglite.com/breakfast/savory-chickpea-waffles
How To Make Whipped Coconut Cream Topping (Vegan, Gluten-Free, Dairy-Free, Paleo-Friendly, No Refined Sugar)
Print recipe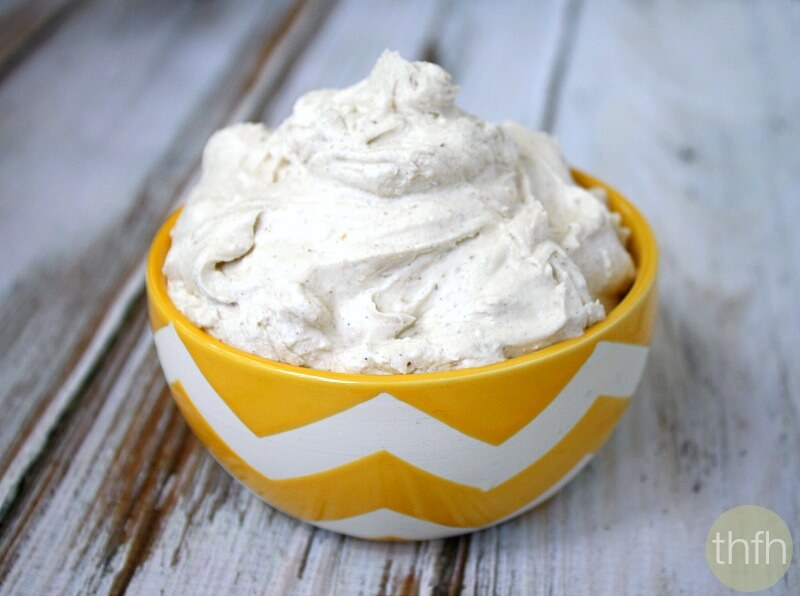 Ingredients
1 can organic full-fat coconut milk (13.5 ounce, unsweetened)
2 - 4 tablespoons organic unrefined granular sweetener
1 teaspoon organic vanilla bean powder (or organic vanilla extract)
Directions
Step 1
Put a can of full-fat coconut milk in the refrigerator overnight.

When you open the can, there will be a layer of thick cream on the top and coconut water on the bottom.

Scoop out the thick cream and put it in an electric mixer bowl (save the coconut water to make a smoothie).

Add the granular sweetener and vanilla of your choice (Note: vanilla bean powder will give it a slightly darker color and/or black specks. If you prefer a pure white color, omit the vanilla bean powder or use vanilla extract).

Mix on high setting with the "whisk" attachment until it becomes thick.

Use as a topping on fruit, granola, pancakes, desserts, parfaits, etc.

Enjoy!
Note

The recipe and photographs for "How To Make Whipped Coconut Cream Topping" by Karielyn Tillman of The Healthy Family and Home are licensed under a Creative Commons Attribution-NonCommercial 4.0 International License and cannot be used without my written permission.
Affiliate Disclosure: This post contains affiliate links. This means that if you were to make a purchase through one of these links, "The Healthy Family and Home" website would receive a small commission.
Amazon Disclosure: "The Healthy Family and Home" website is a participant in the Amazon Services, LLC Associates Program, an affiliate advertising program designed to provide a means for sites to earn advertising fees by advertising and linking to Amazon.com.