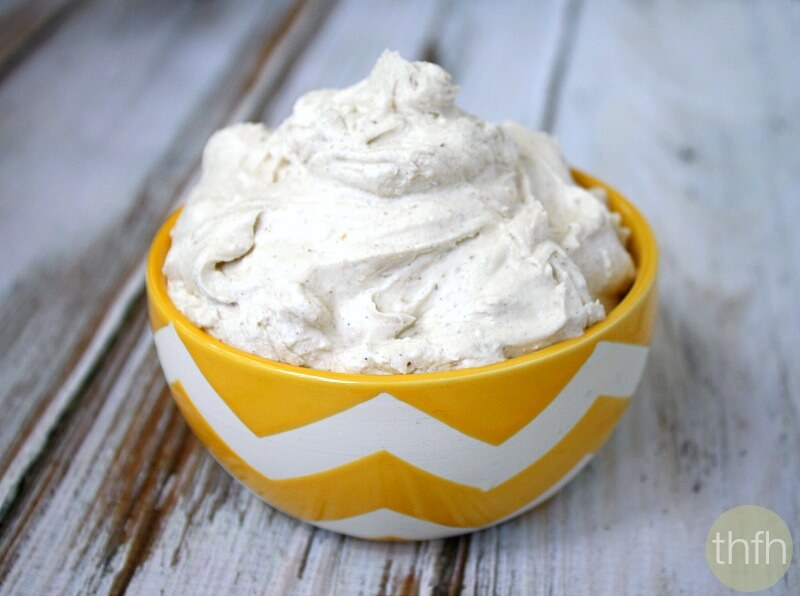 If you have never experienced homemade Whipped Coconut Cream Topping, you have to try it at least once and I promise…you will never use store-bought whipped topping ever again!
It really, really does taste like the unhealthy traditional store-bought version, actually even better.
It took me several times before I experienced the whipped topping magic.
The secret is the can of coconut milk has to be cold enough for the full-fat part to solidify.
The more solid the full-fat, the thicker the topping will be.
First you need to refrigerate the can overnight and after you open the can of coconut milk, it should be half coconut water and half solid coconut milk fat.
The fat part is what you want to use to make the whipped topping but don't throw out the coconut water…use it to make a smoothie!
When I first started making this, I've had to re-purpose more than one can of coconut milk because the full-fat part wasn't hard enough so make sure it is really cold.
Now I always keep a can or two in the back of my refrigerator ready to use at a moments notice.
And I prefer this brand because it comes in a BPA-free can and doesn't have added stabilizers like guar gum.
Basically you just add the full-fat part of the coconut milk, a couple of tablespoons of your favorite granular sweetener and a touch of vanilla, if you prefer to an electric mixer.
I like to use organic raw coconut crystals for my sweetener and organic vanilla bean powder but it gives it a slightly darker color and dark flecks from the vanilla bean.
This usually isn't a problem, but if you need a pure white topping for presentation purposes, just use an organic, unrefined white granular sweetener and vanilla extract instead.
It is so much healthier than store-bought cool-whip which has GMO's, high fructose corn syrup, dairy and preservatives:
Kraft Cool-Whip

Ingredients:  WATER, HYDROGENATED VEGETABLE OIL (COCONUT AND PALM KERNEL OILS), HIGH FRUCTOSE CORN SYRUP, CORN SYRUP, SKIM MILK, CONTAINS LESS THAN 2% OF LIGHT CREAM, SODIUM CASEINATE, NATURAL AND ARTIFICIAL FLAVOR, XANTHAN AND GUAR GUMS, POLYSORBATE 60, SORBITRAN MONOSTERATE, SODIUM POLYPHOSPHATE, BETA CAROTENE (COLOR) (source)

FoodFacts.com Rating:  "F"
And here's some recipes you can try using this healthier version:
Gluten-Free Vegan Belgian Waffles
Raw Vegan Pumpkin Mini Cheesecakes
Raw Vegan Key Lime Cheesecakes
Quinoa and Fruit Breakfast Porridge
Want more healthy staple recipes like this one?  Check out How To Make Almond Butter, How To Make Tahini, How To Make Gluten-Free Bread Crumbs or my Clean Eating eCookbook with an entire chapter of 20 healthy, clean eating staple recipes you will love!
5 Fast Facts About Coconut (Coconut Flakes):*
2 tablespoons contain 4.6 g RDA of dietary fiber
healthy source of medium-chain fatty acids
can help to decrease cholesterol
high in lauric acid
excellent source of manganese at 60% RDA and iron at 11% RDA
5 Fast Facts About Vanilla Bean Powder:*
anti-microbial
high in anti-oxidants
can help reduce inflammation
contains small traces of minerals
1 teaspoon contains 3 g of protein and 3 g of fiber
*These statements have not been evaluated by Food and Drug Administration.  This information is not intended to diagnose, treat, cure or prevent any disease.
Where To Buy:  If you have trouble finding any of the ingredients to make this recipe, you can order from Amazon and have them delivered straight to your door!
How To Make Whipped Coconut Cream Topping (Vegan, Gluten-Free, Dairy-Free, Paleo-Friendly, No Refined Sugar)
Print recipe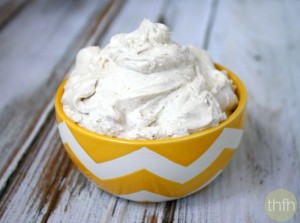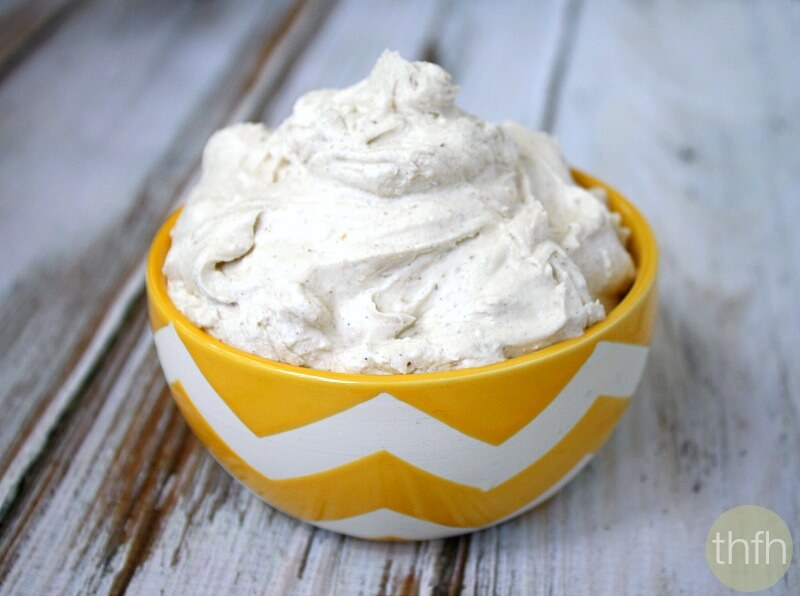 Ingredients
1 can organic full-fat coconut milk (13.5 ounce, unsweetened)
2 - 4 tablespoons organic unrefined granular sweetener
1 teaspoon organic vanilla bean powder (or organic vanilla extract)
Directions
Step 1
Put a can of full-fat coconut milk in the refrigerator overnight.

When you open the can, there will be a layer of thick cream on the top and coconut water on the bottom.

Scoop out the thick cream and put it in an electric mixer bowl (save the coconut water to make a smoothie).

Add the granular sweetener and vanilla of your choice (Note: vanilla bean powder will give it a slightly darker color and/or black specks. If you prefer a pure white color, omit the vanilla bean powder or use vanilla extract).

Mix on high setting with the "whisk" attachment until it becomes thick.

Use as a topping on fruit, granola, pancakes, desserts, parfaits, etc.

Enjoy!
Note

The recipe and photographs for "How To Make Whipped Coconut Cream Topping" by Karielyn Tillman of The Healthy Family and Home are licensed under a Creative Commons Attribution-NonCommercial 4.0 International License and cannot be used without my written permission.

Affiliate Disclosure: This post contains affiliate links. This means that if you were to make a purchase through one of these links, "The Healthy Family and Home" website would receive a small commission.
Amazon Disclosure: "The Healthy Family and Home" website is a participant in the Amazon Services, LLC Associates Program, an affiliate advertising program designed to provide a means for sites to earn advertising fees by advertising and linking to Amazon.com.