This Gluten-Free Vegan Blueberry and Chia Seed Cobbler is a healthy make-over to the classic comfort food dessert.
It's a thick layer of naturally sweetened wild blueberries and chia seeds topped with a soft, naturally sweetened flourless and vegan crumbly crust.
And, it's perfect piping hot right out of the oven topped with some Homemade Whipped Coconut Cream Topping or even homemade vegan ice cream.
Here are some typical ingredients found in traditional homemade blueberry cobbler:
S.A.D. (Standard American Diet) Traditional Blueberry Cobbler Ingredients:
Typical ingredients: white bleached flour, white refined sugar, butter, milk and eggs.
This healthier version is vegan, gluten-free, grain-free, flourless, dairy-free, egg-free, paleo-friendly and contains no refined sugar.
Want more healthy dessert recipes? Check out Mamma Chia Wild Blueberry Clusters Energy Bites, Flourless Vegan Lemon Blueberry Blender Muffins, Wild Blueberry and Mango Protein Smoothie or my Clean Eating Cookbook with an entire chapter of 20 healthy, clean eating desserts just like this one that you will love!
5 Fast Facts About Almonds (Almond Flour):
helps to regulate cholesterol and blood pressure
energy booster
loaded with calcium and fiber
1/4 cup contains 8 grams of vegan protein
high in anti-oxidants
5 Fast Facts About Oats (Oat Flour):
provides significant fiber
helps control blood sugar levels
can reduce hypertension and high blood pressure
increases appetite control hormones
lowers bad cholesterol
5 Fast Facts About Blueberries:*
packed with vitamin C at 25% RDA
excellent source of dietary fiber
high in anti-oxidants
help to boost immunity
can enhance brain health and improve memory
5 Fast Facts About Chia Seeds:*
excellent source of healthy omega fatty acids
contains 700% more calcium than salmon
contains more anti-oxidants than flaxseeds or blueberries
contains 500% more calcium than milk
contains 20% easily digestible vegan protein
5 Fast Facts About Coconut Oil:*
super high in lauric acid
rich in antioxidants
contains natural microbial and anti-bacterial agents
helps to improve metabolism
improves cholesterol levels
*These statements have not been evaluated by the Food and Drug Administration. This information is not intended to diagnose, treat, cure or prevent any disease.
Gluten-Free Vegan Blueberry and Chia Seed Cobbler (Vegan, Gluten-Free, Grain-Free, Flourless, Dairy-Free, Egg-Free, Paleo-Friendly, No Refined Sugar)
Print recipe
Ingredients
For the topping
1 cup almond flour
1 cup organic oat flour
8 tablespoons homemade almond milk
4 tablespoons organic unrefined granular sweetener
4 tablespoons organic coconut oil (melted / liquid)
3 teaspoons baking powder
1 teaspoon organic vanilla bean powder
1/2 teaspoon Himalayan pink salt
For the filling
4 cups organic wild blueberries
4 tablespoons organic chia seeds
4 tablespoons organic unrefined granular sweetener
Directions
Prepare the filling
Step 1
Add all ingredients to a medium sized bowl and stir together until everything is well combined.

Divide the mixture evenly between (2) 9-inch oval baking dishes. Set aside.
Prepare the topping
Step 2
Add all ingredients for the topping to a medium sized bowl and stir together until everything is well combined.

Divide the topping mixture evenly between the (2) baking dishes, taking a handful out at a time and crumbling it over the top of the blueberries in each baking dish. Gently pat the topping mixture down, but not firmly.

Bake at 350 degrees for approximately 45 minutes, or until the tops become golden.

Enjoy!
Note
This recipe will make approximately (4) large or (8) smaller servings.


The recipe and photographs for "Gluten-Free Vegan Blueberry and Chia Seed Cobbler" by Karielyn Tillman of The Healthy Family and Home website are licensed under a Creative Commons Attribution Non-Commercial No-Derivatives 4.0 International License and cannot be used without my written permission.
Affiliate Disclosure: This post contains affiliate links. This means that if you were to make a purchase through one of these links, "The Healthy Family and Home" website would receive a small commission.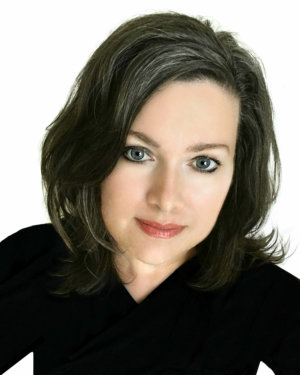 Hi, I'm Karielyn! I'm the published cookbook author of CLEAN DESSERTS and content creator of The Healthy Family and Home website since 2012. I specialize in creating easy, healthy plant-based recipes that are gluten-free + vegan and made with clean, real food ingredients that you can feel good about eating.