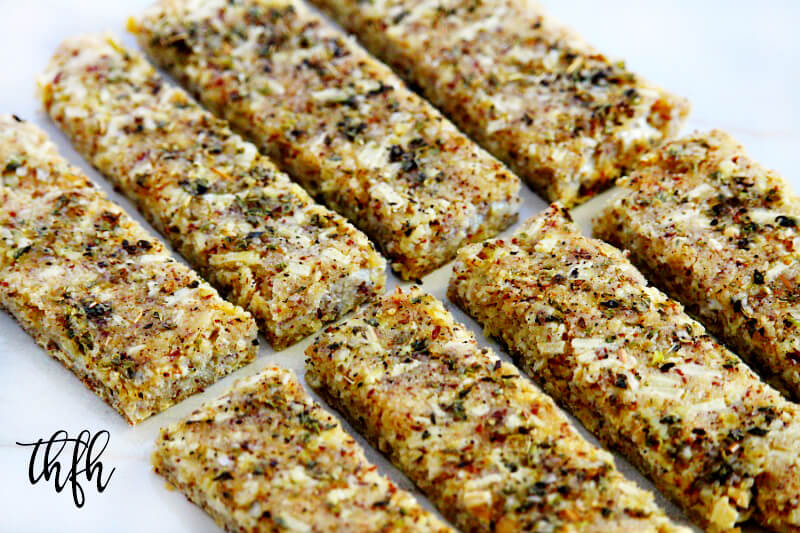 These Gluten-Free Vegan Flourless "Cheesy" Garlic Breadsticks are made with a short ingredient list and are perfect to enjoy by themselves, or with a soup or even a dip.
Here's what's going on – I've got a gluten-free, vegan and flourless "bread" that has vegan Daiya Mozzarella Cheese added in for the "cheesy" part.
Then it's topped with a coating of freshly crushed garlic, extra-virgin olive oil, dried oregano, Himalayan salt and ground black pepper for the "garlic" part.
I very rarely use the Daiya cheese because although it's vegan and has a pretty clean ingredient list, it is processed and I try not to buy processed food if I don't need to.  But I needed to for this recipe and it was definitely worth it for this special treat!
The only reason this recipe wouldn't officially qualify as a "lectin-free" recipe, is because the Daiya cheese has "pea protein" in the ingredient list.  I don't know if it's a large enough amount to make a difference, but if you have a little flexibility, you can use the Daiya cheese and the rest of the recipe would be lectin-free.  If you need it to be 100% lectin-free, you could try Parmigiano-Reggiano (real Parmesan cheese), although I haven't tested the recipe using it. Or, if you didn't need it to be vegan, you could try shredded organic mozzarella cheese (also not tested).
Either way, these breadsticks are a great substitute if you can't have gluten or dairy or don't want the ingredients found in a typical store-bought version like these:
S.A.D. (Standard American Diet) Cheesy Garlic Breadsticks Ingredients:
Ingredients: Breadstick (Wheat Flour with Malted Barley Flour, Water, Breadstick Base (Fermented Wheat Flour, Wheat Flour, Salt, Gums (Arabic, Guar), Dextrose, Mono & Dyglycerides, Cultured Corn Syrup Solids, Soybean Oil, Enzymes, L-Cysteine, Ascorbic Acid), Yeast, High Fructose Corn Syrup, Dehydrated Garlic, Soybean Oil, Mono and Diglycerides, Parsley, Datem, Guar Gum, Sorbic Acid (Preservative), Natural Flavors, Enzymes, Dough Conditioner (L-Cysteine Monohydrochloride), Soy Flour (Soy Flour, Soybean Oil, Soy Lecithin), Garlic Cheese Sauce (Water, Corn Oil, Parmesan and Romano Cheese Blend (Pasteurized Cow's Milk, Enzyme, Salt), Cider Vinegar, Dehydrated Garlic, Modified Corn Starch, Salt, Parsley, Xantham Gum, Sauce (Tomato Puree [Water, Tomato Paste], Seasoning (Salt, Spices, Sugar, Dehydrated Garlic), Parmesan and Romano Cheese Blend (Pasteurized Cow's Milk, Enzyme, Salt), Green Bell Peppers, Flavor Blend, (Maltodextrin, Dextrose, Natural Spice Oleoresins), Modified Corn Starch, Corn Oil, Xantham Gum), Imitation Mozzarella Cheese (Water, Soybean Oil, Casein (Milk), Modified Corn Starch, Sodium Aluminum Phosphate, Salt, Lactic Acid, Sodium Citrate, Mono and Diglycerides, Natural and Artificial Flavor, Sodium Phosphates, Sorbic Acid (To Preserve Freshness), Artificial Color).
This ingredient list is definitely too long and has too many processed, modified and GMO ingredients.
My healthier recipe is vegan, gluten-free, dairy-free, flourless, grain-free, egg-free, lectin-free (with substitutions, see above).
Want more healthy snack ideas? Check out Vegan Cheesy Baked Kale Chips, Raw Corn Chips, Gluten-Free Vegan Thyme and Garlic Crackers or my Clean Eating Cookbook with an entire chapter of 20 healthy, clean eating snack and side dishes just like this one that you will love!

5 Fast Facts About Almonds (Almond Flour):*
helps to regulate cholesterol and blood pressure
energy booster
loaded with calcium and fiber
1/4 cup contains 8 grams of vegan protein
high in anti-oxidants
5 Fast Facts About Flax Seeds:*
high in omega-3 essential fatty acids
contains soluble and insoluble fiber
super high in lignans
provides anti-oxidant and anti-inflammatory benefits
provides cardiovascular benefits
5 Fast Facts About Extra-Virgin Olive Oil:*
lowers blood cholesterol levels
rich in anti-oxidants
improves bone mineralization and calcification
excellent protection from heart attack and stroke
contains anti-inflammatory benefits
5 Fast Facts About Garlic:*
regulates blood sugar levels
lowers high blood pressure
contains anti-bacterial and analgesic properties
anti-viral
helps to lower cholesterol levels
5 Fast Facts About Himalayan Pink Salt:*
contains 84 minerals
unrefined, unprocessed, raw
promotes stable pH balance in cells
controls water levels in the body
aids digestion and facilitates better nutrient absorption
*These statements have not been evaluated by the Food and Drug Administration. This information is not intended to diagnose, treat, cure or prevent any disease.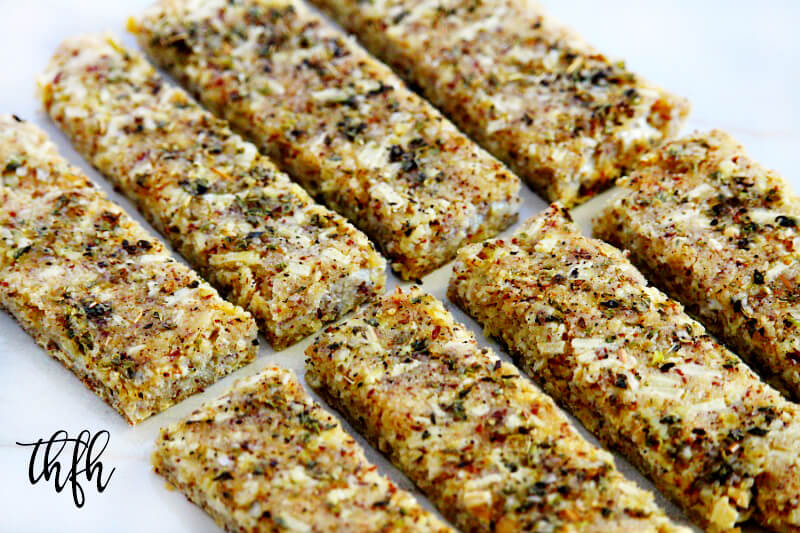 Print
Gluten-Free Vegan Flourless "Cheesy" Garlic Breadsticks
Yield 10 - 12 breadsticks
Vegan / Gluten-Free / Dairy-Free / Lectin-Free / Egg-Free / Grain-Free / Flourless 
Ingredients
For the breadsticks:
For the garlic topping:
Instructions
Preheat oven to 350 degrees.
Prepare the breadsticks:
Add all the ingredients for the breadsticks to a medium sized bowl and stir until well combined.
Transfer the mixture to a baking pan lined with parchment paper.
Form the mixture into a ball shape, then using your hands, flatten it out into a square shape approximately 1/2 inch thick and approximately an 8 x 8 square.
Bake at 350 degrees for approximately 15-20 minutes, or until it's golden on the top and edges.
Remove the oven to add the garlic topping.
Prepare the garlic topping:
Add all ingredients for the garlic topping to a small bowl and stir together until well combined. Adjust seasonings to your preference.
Pour the topping on top of the bread sticks and spread a thin layer evenly across the top.
Use a knife or pizza cutter to cut into breadstick shapes or bite-sized pieces.
Best when served warm straight from the oven.
Enjoy!
Notes
Get all your organic ingredients delivered straight to your door at up to 25 - 50% off retail by cutting out the middleman and retail markups with a Thrive Market Membership and save 15% off on your first order.
The recipe and photographs for "Gluten-Free Vegan Flourless Cheesy Garlic Breadsticks" by Karielyn Tillman of The Healthy Family and Home website are licensed under a Creative Commons Attribution Non-Commercial No Derivatives 4.0 International License and cannot be used without my written permission.
Recipe Roundups: Food Bloggers are always welcome to use a photo and a link back to my original post to share on recipe roundups without requesting permission.
Affiliate Disclosure: This post contains affiliate links. This means that if you were to make a purchase through one of these links, "The Healthy Family and Home" website would receive a small commission at no additional cost to you.
Amazon Disclosure: "The Healthy Family and Home" website is a participant in the Amazon Services, LLC Associates Program, an affiliate advertising program designed to provide a means for sites to earn advertising fees by advertising and linking to Amazon.com.
Thank you for your support of this website!