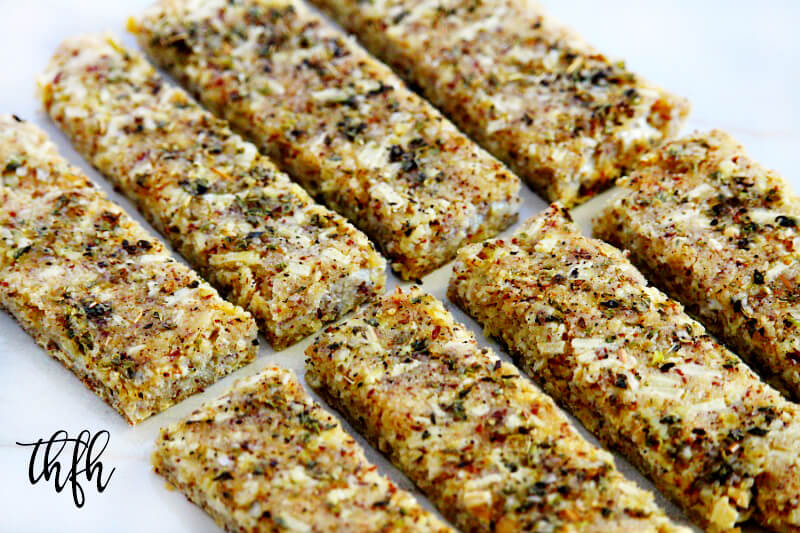 These Gluten-Free Vegan Flourless "Cheesy" Garlic Breadsticks are made with a short ingredient list and are perfect to enjoy by themselves, or with a soup or even a dip.
Here's what's going on - I've got a gluten-free, vegan and flourless "bread" that has vegan Daiya Mozzarella Cheese added in for the "cheesy" part.
Then it's topped with a coating of freshly crushed garlic, extra-virgin olive oil, dried oregano, Himalayan salt, and ground black pepper for the "garlic" part.
I very rarely use the Daiya cheese because although it's vegan and has a pretty clean ingredient list, it is processed and I try not to buy processed food if I don't need to.
But I needed to for this recipe and it was definitely worth it for this special treat!
The only reason this recipe wouldn't officially qualify as a "lectin-free" recipe, is because the Daiya cheese has "pea protein" in the ingredient list. I don't know if it's a large enough amount to make a difference, but if you have a little flexibility, you can use the Daiya cheese and the rest of the recipe would be lectin-free. If you need it to be 100% lectin-free, you could try Parmigiano-Reggiano (real Parmesan cheese), although I haven't tested the recipe using it. Or, if you didn't need it to be vegan, you could try shredded organic mozzarella cheese (also not tested).
Either way, these breadsticks are a great substitute if you can't have gluten or dairy or don't want the ingredients found in a typical store-bought version like these:
S.A.D. (Standard American Diet) Cheesy Garlic Breadsticks Ingredients: Breadstick (Wheat Flour with Malted Barley Flour, Water, Breadstick Base (Fermented Wheat Flour, Wheat Flour, Salt, Gums (Arabic, Guar), Dextrose, Mono & Dyglycerides, Cultured Corn Syrup Solids, Soybean Oil, Enzymes, L-Cysteine, Ascorbic Acid), Yeast, High Fructose Corn Syrup, Dehydrated Garlic, Soybean Oil, Mono and Diglycerides, Parsley, Datem, Guar Gum, Sorbic Acid (Preservative), Natural Flavors, Enzymes, Dough Conditioner (L-Cysteine Monohydrochloride), Soy Flour (Soy Flour, Soybean Oil, Soy Lecithin), Garlic Cheese Sauce (Water, Corn Oil, Parmesan and Romano Cheese Blend (Pasteurized Cow's Milk, Enzyme, Salt), Cider Vinegar, Dehydrated Garlic, Modified Corn Starch, Salt, Parsley, Xantham Gum, Sauce (Tomato Puree [Water, Tomato Paste], Seasoning (Salt, Spices, Sugar, Dehydrated Garlic), Parmesan and Romano Cheese Blend (Pasteurized Cow's Milk, Enzyme, Salt), Green Bell Peppers, Flavor Blend, (Maltodextrin, Dextrose, Natural Spice Oleoresins), Modified Corn Starch, Corn Oil, Xantham Gum), Imitation Mozzarella Cheese (Water, Soybean Oil, Casein (Milk), Modified Corn Starch, Sodium Aluminum Phosphate, Salt, Lactic Acid, Sodium Citrate, Mono and Diglycerides, Natural and Artificial Flavor, Sodium Phosphates, Sorbic Acid (To Preserve Freshness), Artificial Color).
This ingredient list is definitely too long and has too many processed, modified and GMO ingredients.
My healthier recipe is vegan, gluten-free, dairy-free, flourless, grain-free, egg-free, lectin-free (with substitutions, see above).

Want More Healthy Plant-Based Snack Recipes?
Check out these: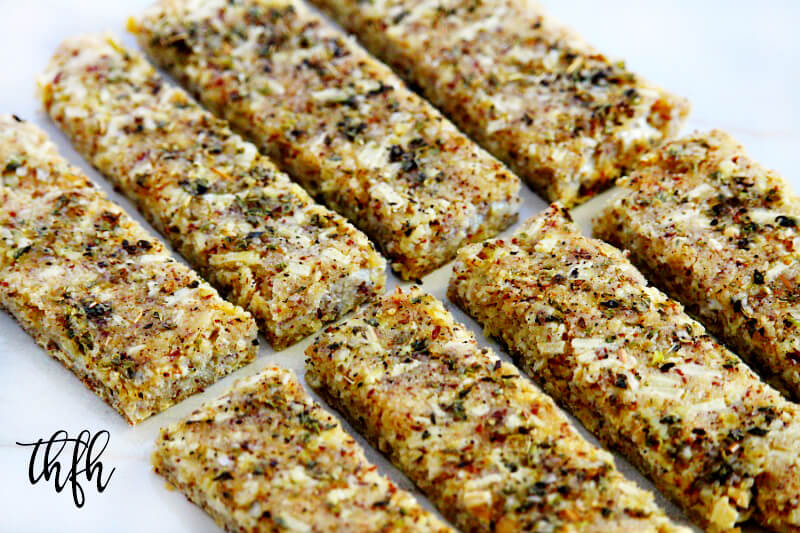 Print
Gluten-Free Vegan Flourless "Cheesy" Garlic Breadsticks
Yield 10 - 12 breadsticks
Vegan / Gluten-Free / Dairy-Free / Lectin-Free / Egg-Free / Grain-Free / Flourless 
Ingredients
For the breadsticks:
2 cups almond flour
2 cups Daiya Mozzarella Cheese
1 teaspoon organic extra-virgin olive oil
1 teaspoon organic ground garlic powder
1/2 teaspoon Himalayan pink salt
3 flax eggs (3 tablespoons ground flax seeds + 9 tablespoons filtered/purified water)
For the garlic topping:
4 cloves organic garlic (freshly crushed)
1 tablespoon organic extra-virgin olive oil
1 tablespoon organic dried oregano
1/8 teaspoon Himalayan pink salt
1/8 teaspoon organic ground black pepper
Instructions
Preheat oven to 350 degrees.
Prepare the breadsticks:
Add all the ingredients for the breadsticks to a medium sized bowl and stir until well combined.
Transfer the mixture to a baking pan lined with parchment paper.
Form the mixture into a ball shape, then using your hands, flatten it out into a square shape approximately 1/2 inch thick and approximately an 8 x 8 square.
Bake at 350 degrees for approximately 15-20 minutes, or until it's golden on the top and edges.
Remove the oven to add the garlic topping.
Prepare the garlic topping:
Add all ingredients for the garlic topping to a small bowl and stir together until well combined. Adjust seasonings to your preference.
Pour the topping on top of the bread sticks and spread a thin layer evenly across the top.
Use a knife or pizza cutter to cut into breadstick shapes or bite-sized pieces.
Best when served warm straight from the oven.
Enjoy!
Courses Snack
Cuisine American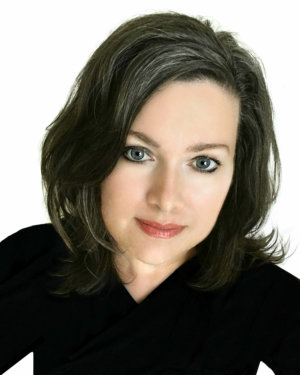 Hi, I'm Karielyn! I'm the published cookbook author of CLEAN DESSERTS and content creator of The Healthy Family and Home™ website since 2012. I specialize in creating easy, healthy plant-based and Medical Medium® compliant recipes that are gluten-free + vegan and made with clean, real food ingredients that you can feel good about eating.