Gluten-Free Vegan Thyme and Garlic Crackers
These Gluten-Free Vegan Thyme and Garlic Crackers are made with almond flour are so delicious and really easy to make!
They're made without white flour, eggs or butter and all you have to do to make them is add the simple ingredients to a bowl, stir them together, then roll the mixture out and cut them into small squares.
The only thing better than eating these rustic, bite-size crackers is the amazing aroma of thyme that will fill your kitchen while they are baking.
Traditional homemade crackers can contain flour, butter, and eggs and store-bought crackers can have a long list of ingredients like these:
S.A.D. (Standard American Diet) Keebler Crackers Townhouse Garlic and Herb Ingredients: Enriched Flour (Wheat Flour, Niacin, Reduced Iron, Vitamin B1 [Thiamin Mononitrate], Vitamin B2 [Riboflavin], Folic Acid), Vegetable Oil (Soybean and/or Canola Oil, with TBHQ for Freshness), Sugar, Cornstarch, Contains Two Percent or Less of Salt, Corn Syrup, Natural Flavor, Leavening (Baking Soda, Sodium Acid Pyrophosphate, Monocalcium Phosphate), High Fructose Corn Syrup, Parsley, Garlic, Soy Lecithin
I'm not surprised that they have GMO soy and canola oil, GMO cornstarch and GMO soy lecithin, but can't understand why crackers would need refined white sugar and GMO high fructose corn syrup added in?
This healthier version has a clean, simple ingredient list and is vegan, gluten-free, flourless, dairy-free, egg-free, grain-free, lectin-free, paleo-friendly and contains no refined sugar.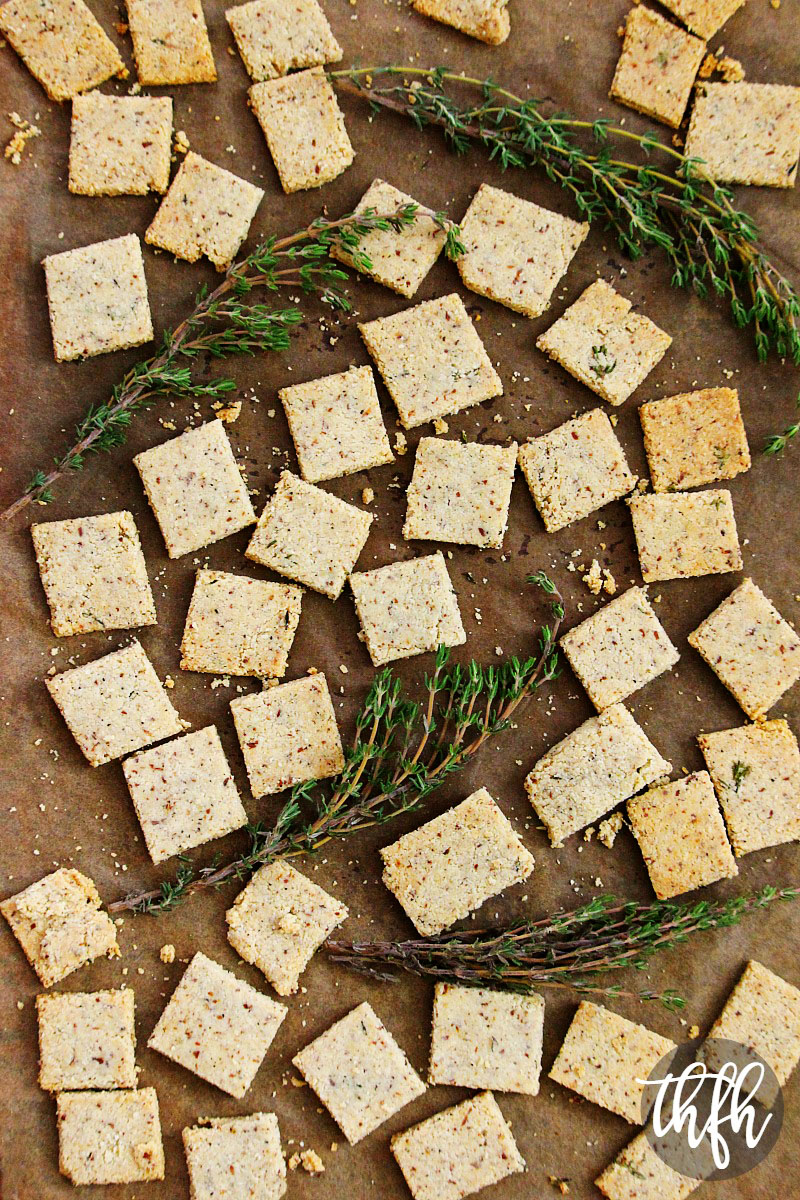 Want More Healthy Plant-Based Snack Recipes?
Check out these:
Print
Gluten-Free Vegan Thyme and Garlic Crackers
Yield 60 small crackers
Vegan / Gluten-Free / Dairy-Free / Flourless / Grain-Free / Egg-Free / Lectin-Free / Paleo-Friendly / Medical Medium
Ingredients
2 cups almond flour
1 tablespoon organic fresh thyme (chopped)
1 tablespoon 100% organic pure avocado oil
1/2 teaspoon organic ground garlic powder
1/2 teaspoon organic ground black pepper
1/2 teaspoon Himalayan pink salt
1 flax egg (1 tablespoon organic ground flax + 3 tablespoons filtered/purified water)
Instructions
Preheat the oven to 350 degrees Fahrenheit.
Prepare the flax egg:
Add all the ingredients for the flax egg to a small bowl and whisk until it's well combined.  Set aside.
Prepare the crackers:
Add all the ingredients for the crackers to a medium-sized bowl and stir until well combined.
Re-whisk the flax egg than add it to the bowl with the cracker mixture and stir until well combined. Use a fork to mash the flax egg and avocado oil into the almond flour to make sure the almond flour is moist.  The mixture should be crumbly but moist.
Transfer the mixture to a baking pan lined with parchment paper.
Using your hands, form the mixture into a compact ball shape, squeezing it together tightly until it holds together well.
Once you have a ball shape, place a second piece of parchment paper on top of the dough ball and roll it out flat with a rolling pin into a 1/4 inch thickness.
Use a pizza cutter or knife to cut the dough into small 1 1/2 x 1 1/2 inch squares.  Don't cut them any bigger because they will not hold together well.  Remove the scraps and any crumbs from the bottom piece of the parchment paper before baking.
Bake at 350 degrees for approximately 12-14 minutes, or until the edges and tops are slightly golden. Flip the crackers over and bake an additional 1-2 minutes, taking care not to burn them.
Store in an air-tight BPA-free container.
Enjoy!
Courses Snacks
Cuisine American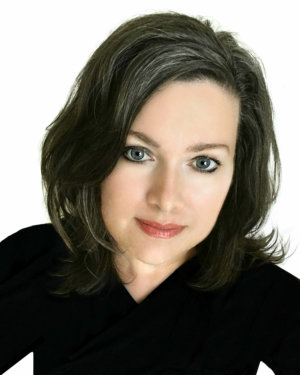 Hi, I'm Karielyn! I'm the published cookbook author of CLEAN DESSERTS and content creator of The Healthy Family and Home website since 2012. I specialize in creating easy, healthy plant-based recipes that are gluten-free + vegan and made with clean, real food ingredients that you can feel good about eating.