Just because I'm posting this Vegan Baked Cheesy Kale Chips recipe today doesn't mean I just discovered kale chips, or just got on the "kale chip" wagon.
No, no, no! 🙂 I'm a big fan of kale chips and have been making them on a regular basis for a long time – over 5 years!
In fact, "Cheezy Raw Kale Chips" was one of the first recipes I posted on my website way back in 2012.
Since then, I've created some unique and interesting varieties of raw kale chips like these:
Although they are delicious, they are all "raw" and made with my dehydrator (which I l.o.v.e. by the way!)
But as I was about to make a batch of kale chips to snack on, it just dawned on me that not everyone has a dehydrator ~or~ might not want to pay $5.00 – $6.00 for a small bag of kale chips at Whole Foods.
So I decided to share a baked version for my readers that do not own a dehydrator – yet! 😉
They aren't considered "raw" since they are baked over 115 degrees, but are just as good as the dehydrator version and take much less time to make.
Store-bought chip snacks are highly processed and have long ingredient lists with horrible ingredients like these:
S.A.D. (Standard American Diet) Dorito Tortilla Chips: Ingredients: Whole Corn, Vegetable Oil (Contains One or More of the Following: Corn Oil, Soybean Oil and/or Sunflower Oil), Salt, Cheddar Cheese (Milk, Cheese Cultures, Salt, Enzymes), Maltodextrin, Wheat Flour, Whey, Monosodium Glutamate, Buttermilk Solids, Romano Cheese From Cow's Milk (Part-Skim Cow's Milk, Cheese Cultures, Salt, Enzymes), Whey Protein Concentrate, Onion Powder, Partially Hydrogenated Soybean Oil and Partially Hydrogenated Cottonseed Oil, Corn Flour, Disodium Phosphate Lactose, Natural and Artificial Flavor, Dextrose, Tomato Powder, Spices, Lactic Acid, Artificial Color (Including Yellow 6, Yellow 5, Red 40), Citric Acid, Sugar, Garlic Powder, Red Bell Peppers and Green Bell Pepper Powder, Sodium Caseinate, Disodium Guanylate, Nonfat Milk Solids, Whey Protein Isolate and Corn Syrup Solids.
Even though they aren't an "apple to apple" comparison to kale chips (especially in taste), they are still basically a bag of GMO's, food coloring with MSG (monosodium glutamate) and artificial flavorings added in. And they're not vegan or gluten-free.
Kale chips are a healthy alternative to store-bought, S.A.D. chips and can replace an unhealthy chip when you want a salty, crispy snack.
And, this recipe is vegan, gluten-free, dairy-free, nut-free and paleo-friendly.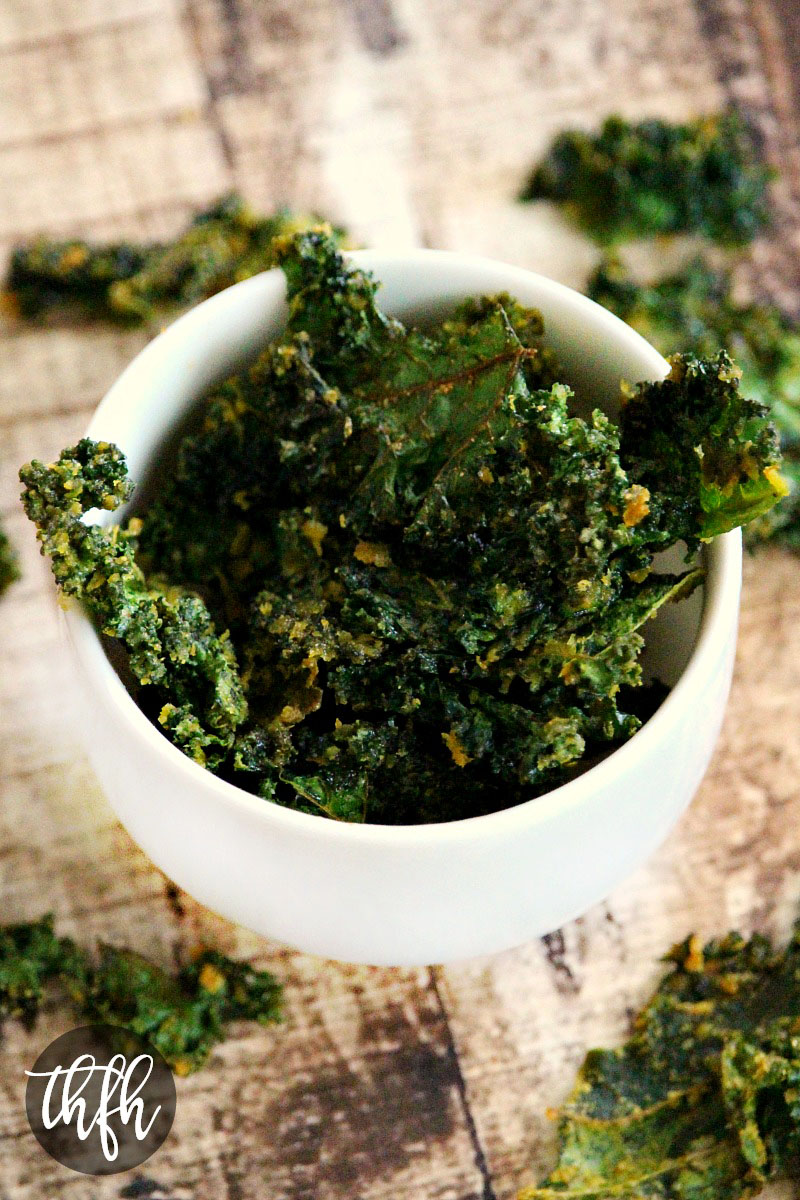 Expert Tips + Ingredient Substitutions To Make Vegan Cheesy Baked Kale Chips
Here are some expert tips to make this recipe perfectly:
Tip #1: I like to use "curly kale" to make my kale chips, but feel free to use your favorite variety. Just make sure to "de-stem" them and remove the thick middle stem and break the kale into bite-sized pieces.
Tip #2: I like to use 100% pure avocado oil when baking anything in the oven, but feel free to use organic extra virgin olive oil if you don't have any avocado oil. Either will work fine. I buy both of mine from Thrive Market and have them delivered straight to my door.
Want More Healthy Plant-Based Vegan Snack Recipes?
Check out these:
Print
Vegan Cheesy Baked Kale Chips
Yield 2 - 4 servings
Vegan / Gluten-Free / Dairy-Free / Nut-Free / Paleo-Friendly / Lectin-Free
Instructions
Preheat the oven to 350 degrees.
Prepare the kale:  De-stem the kale, break/tear into bite sized pieces and add to a large mixing bowl.
Drizzle the avocado oil over the top of the kale pieces and toss them until the avocado oil is evenly distributed, using your hands if necessary.
Sprinkle the nutritional yeast and Himalayan salt over the top of the kale pieces and toss again until all is evenly distributed, using your hands if necessary.  Adjust seasonings to your preference.
Spread the seasoned kale pieces on a baking sheet lined withe parchment paper and bake at 350 degrees for 6 - 8 minutes. 
Remove from oven (they will have shrunk in size) and flip the kale pieces over and bake for an additional 6 - 8 minutes, taking care not to over cook or burn them.
Store in an air-tight container.
Enjoy!
Notes
Get all your organic ingredients delivered straight to your door at up to 25 - 50% off retail by cutting out the middleman and retail markups with a Thrive Market membership and save 15% off on your first order.
  The recipe and photographs for "Vegan Cheesy Baked Kale Chips" by Karielyn Tillman of The Healthy Family and Home website are licensed under a Creative Commons Attribution Non-Commercial No Derivatives 4.0 International License and cannot be used without my written permission.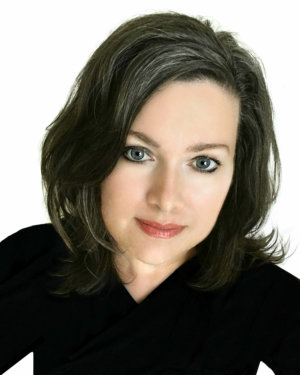 Hi, I'm Karielyn! I'm a cookbook author and creator of The Healthy Family and Home website. I specialize in creating easy, healthy plant-based recipes that are gluten-free + vegan and made with clean, real food ingredients that you can feel good about eating.