This Gluten-Free Vegan Flourless Chickpea Brownie Fudge recipe is actually a recipe fail that ended up with a life of its own.
It started out as an attempt (like a 5th attempt!) to make flourless brownies using chickpeas, but I never could get them to hold together without falling apart, which is hard to do in a flourless recipe without eggs.
So after my latest attempt, I put the baking pan in the refrigerator to re-group and try again another day. But when I took them out of the refrigerator the next day, they had firmed up nicely and were very close to having a soft fudge consistency.
Except they tasted like a brownie.
My youngest son loves them and was the one who helped me eat all the failed attempts, and he was also the one who helped me come up with a name for them.
We decided to call them "brownie fudge". But keep in mind, it's not exactly a brownie and it's not exactly fudge. It's just good!
And it takes about 5 minutes to prepare and all you have to do is mix all the dry ingredients together in one bowl, mix the wet ingredients together in a Vitamix, then merge the two together.
This healthy recipe is vegan, gluten-free, dairy-free, lectin-free (with substitutions), egg-free, soy-free, grain-free and contains no refined sugar.

Want More Healthy Plant-Based Dessert Recipes?
Check out these:
Print
Gluten-Free Vegan Flourless Chickpea Brownie Fudge
Yield 9 squares
Vegan / Gluten-Free / Dairy-Free / Lectin-Free / Egg-Free / Grain-Free / Flourless / No Refined Sugar
Ingredients
Dry Ingredients:
1/2 cup almond flour
2 tablespoon organic coconut flour
1/2 cup Enjoy Life mini-chocolate chips*
1/3 cup organic cacao powder
1/2 teaspoon baking soda
1/2 teaspoon baking powder
1/8 teaspoon Himalayan pink salt
Wet Ingredients:
1 can Eden organic chickpeas (15 ounce can, drained)
1/4 cup organic maple syrup*
3/4 cup organic applesauce
2 tablespoons organic coconut oil
1 teaspoon organic vanilla bean powder
For the topping:
1/4 cup Enjoy Life mini-chocolate chips*
*Lectin-Free: substitute organic date nectar for maple syrup and substitute stevia dark chocolate chips for semi-sweet mini-chocolate chips
Instructions
Preheat oven to 350 degrees.
Prepare the dry ingredients:
Add all the dry ingredients to a medium-size bowl and stir together well.  Set aside.
Prepare the wet ingredients:
Add all the wet ingredients to a Vitamix and blend together until it is smooth and well combined.
Transfer the contents of the Vitamix to the bowl with the dry ingredients and stir until well combined.
Transfer the mixture to an 8 x 8 baking dish lined with parchment paper.
Sprinkle the mini-chocolate chips topping evenly over the top and gently pat them into the mixture.
Bake at 350 degrees for approximately 30-35 minutes.
Remove from oven and allow to completely cool.
Transfer the baking pan to the refrigerator so the fudge can firm up and it will hold together well went cut.
Store in an air-tight BPA-free container in the refrigerator.
Enjoy!
Courses Dessert
Cuisine American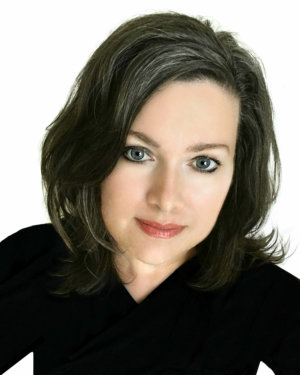 Hi, I'm Karielyn! I'm the published cookbook author of CLEAN DESSERTS and content creator of The Healthy Family and Home™ website since 2012. I specialize in creating easy, healthy plant-based and Medical Medium® compliant recipes that are gluten-free + vegan and made with clean, real food ingredients that you can feel good about eating.