What do you do when you have just a 1/2 cup of pumpkin puree leftover looking at you sadly?
Why you use it to make a healthy Pumpkin Protein Smoothie!
It's a great way to get the comforting flavors of fall into a morning smoothie, and it's also nice change from the green smoothies.
But you don't have to wait until fall to add pumpkin in your daily smoothies because pumpkin is super high in vitamin A.
And to make sure this smoothie as healthy as can be, it has 17 grams of organic plant-based protein (a complete protein with 7 g of sprouted grains, seeds and legumes) and also provides 20% dv of fiber.
Add even more extra nutrition by sprinkling some raw pumpkin seeds and hemp seeds on top.
Want more healthy smoothie recipes?  Check out Chocolate Peanut Butter Protein Smoothie, Banana Mango Superfood Smoothie, Strawberry Banana Maca Smoothie or my Clean Eating eCookbook with and entire chapter of 20 healthy, clean eating smoothie recipes just like this one that you will love!
high in beta-carotene
full of iron, zinc and vitamin C
rich in anti-oxidants
280% RDA of vitamin A
good source of B complex vitamins
5 Fast Facts About Almonds (Almond Milk/Almond Butter):*
helps to regulate cholesterol and blood pressure
energy booster
loaded with calcium and fiber
1/4 cup contains 8 grams of vegan protein
high in anti-oxidants
5 Fast Facts About "Raw Meal-Vanilla":*
contains 34 g of raw vegan protein
contains 13 raw organic sprouts
contains 4 organic cereal grass juices
contains 5 raw organic fruits
contains spirulina and chlorella
5 Fast Facts About Pumpkin Seeds:*
a natural anti-inflammatory
excellent source of magnesium
helps to lower cholesterol
alkaline forming
high in essential fatty acids
5 Fast Facts About Hemp Seeds:*
healthy inflammatory 3:1 ratio of omega-6 to omega-3 fats
contains 10 essential amino acids
contains 11 g of raw vegan protein
helps to reduce blood cholesterol
natural appetite suppressant
*These statements have not been evaluated by Food and Drug Administration.  This information is not intended to diagnose, treat, cure or prevent any disease.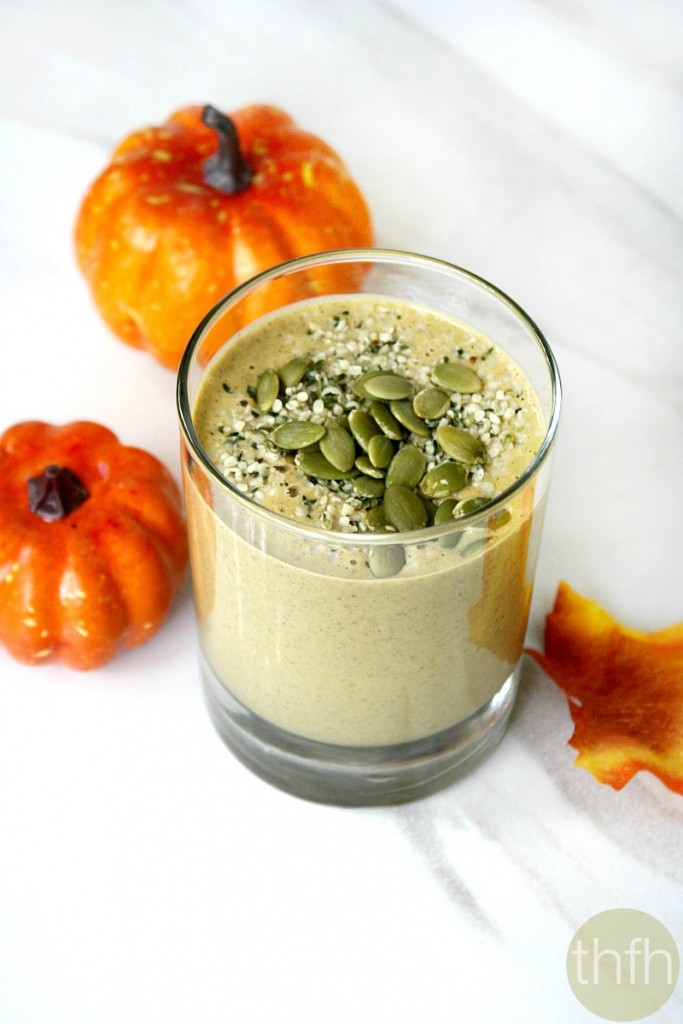 Where to Buy:  If you have trouble finding any of the ingredients to make this smoothie, you can order from Amazon and have them delivered straight to your door!
Tip #1:  I used "Raw Meal – Vanilla" protein powder in this recipe and the "vanilla" flavor gives it a sweeter flavor than the plain "Raw Meal" so I didn't have to add any extra sweetener.  If you use the plain flavored "Raw Meal" or a different protein powder, you may want to add a little sweetener to it.
Pumpkin Protein Smoothie (Vegan, Gluten-Free, Dairy-Free, No Refined Sugar)
Print recipe
Ingredients
1 1/2 cup homemade almond milk
1/2 cup organic pumpkin puree
1 tablespoon organic almond butter
1 scoop Raw Meal - Vanilla (Garden of Life brand)
1/2 teaspoon organic ground cinnamon powder
1/4 teaspoon organic ground nutmeg powder
1/4 teaspoon organic ground ginger powder
For topping (Optional)
organic pumpkin seeds
organic hemp seeds
Directions
Step 1
Add all ingredients in a Vitamix and blend until smooth and creamy.

Garnish with hemp seeds or pumpkin seeds, if desired.

Enjoy!
Note
This recipe will make approximately 1 -2 servings.

The recipe and photographs for "Pumpkin Protein Smoothie" by Karielyn Tillman of The Healthy Family and Home are licensed under a Creative Commons Attribution-NonCommercial 4.0 International License and cannot be used without my written permission.

Affiliate Disclosure: This post contains affiliate links. This means that if you were to make a purchase through one of these links, "The Healthy Family and Home" website would receive a small commission.
Amazon Disclosure: "The Healthy Family and Home" website is a participant in the Amazon Services, LLC Associates Program, an affiliate advertising program designed to provide a means for sites to earn advertising fees by advertising and linking to Amazon.com.