This Clean Eating Acai Berry and Banana Immunity Smoothie is a nice change of pace from the many different varieties of green smoothies.
It's loaded with antioxidants from blueberries and the organic superfood "acai berry" that contains plenty of healthy omega-3, omega-6 and omega-9 fats.
And, it's super easy to make with a Vitamix and you can even use homemade almond milk made with your Vitamix!
This fruity smoothie would be a nice boost if you were feeling under the weather or felt like you needed some extra immunity…even the soft blueish-purple color is soothing.
The unsweetened acai berry frozen smoothie pack doesn't contain any added sugar, the banana and blueberries in the recipe will make it somewhat sweet, but if you find you need a little more, you can add a touch of your favorite sweetener.
Want more recipes using the acai berry superfood?  Check out:  Blueberry and Acai Protein Smoothie Bowl, Classic Acai Bowl and Acai Berry and Banana Mini Cheesecakes or my Clean Eating Cookbook with an entire chapter of 20 healthy, clean eating smoothie recipes just like this one that you will love!
5 Fast Facts About Almonds (Almond Milk):*
helps to regulate cholesterol and blood pressure
energy booster
loaded with calcium and fiber
1/4 cup contains 8 grams of vegan protein
high in anti-oxidants
5 Fast Facts About Bananas:*
high levels of trytophan to help combat depression
aids in weight loss
strengthens the immune system
high in fiber and potassium
helps to lower blood pressure
5 Fast Facts About Hemp Protein + Fiber:*
provides 11 g of raw, organic protein
contains all 8 essential amino acids
contains 10% beneficial fats
high in magnesium (35% RDA), iron (25% RDA) and zinc (15% RDA)
contains 43% fiber (90% soluble and 10% insoluble)
5 Fast Facts About Acai Berry Unsweetened Smoothie Packs:*
contains 10% dv of vitamin A
good source of omegas:  omega-3 (50 mg), omega-6 (625 mg) and omega-9 (3,060 mg)
organic, vegan, non-GMO, gluten-free
contains 4% dv of vegan calcium
contains powerful anti-oxidants
*These statements have not been evaluated by the Food and Drug Administration.  This information is not intended to diagnose, treat, cure or prevent any disease.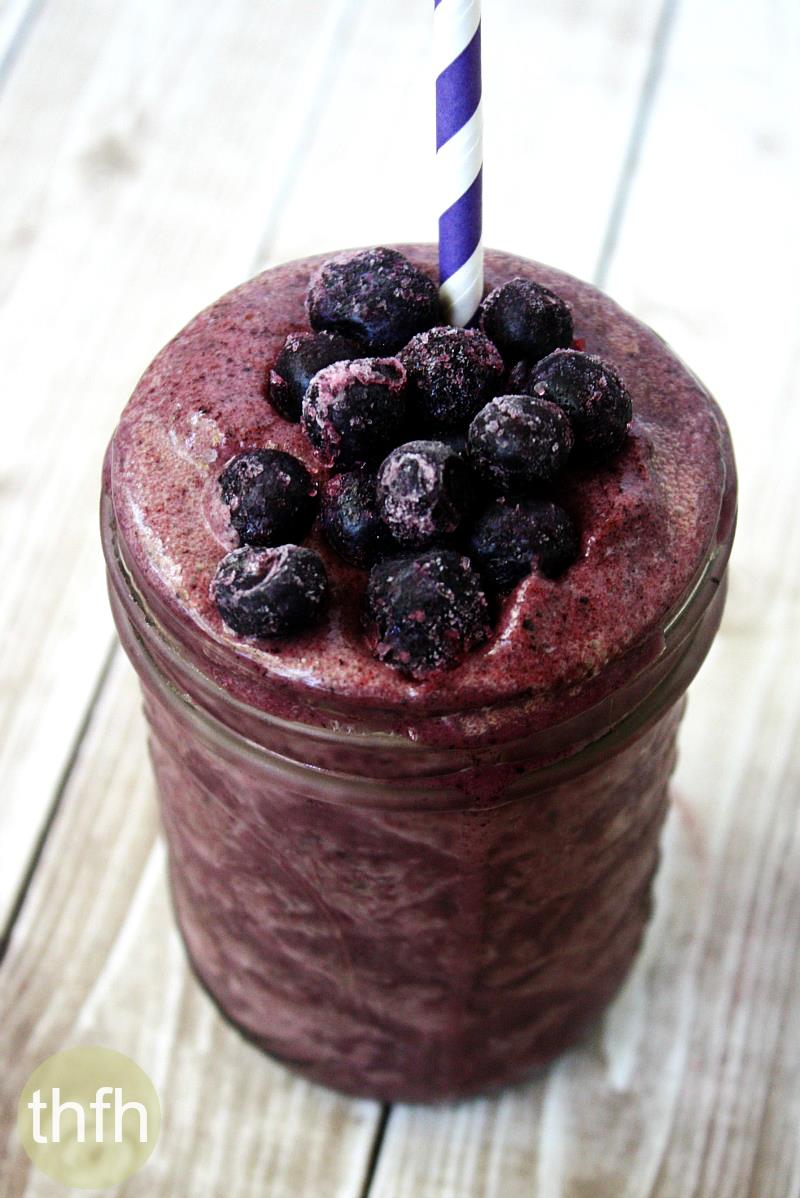 Tip #1:  This recipe can be made with homemade almond milk using a Vitamix.  For more recipes you can make with a Vitamix, visit my Vitamix Recipe Index page for more inspiration!  I like to make my own homemade almond milk for my smoothies, because I have control over the quality of almonds that are used (raw, unpasteurized) and there are no added ingredients found in boxed almond milk.
Tip #2:  I used the frozen Sambazon Acai Berry Unsweetened Smoothie Packs that I purchased from the frozen section at Whole Foods, but if you don't have access to a Whole Foods, you can also order organic acai powder to get some of the benefits of the acai berry.
Tip #3:  I used the Nutiva Hemp Seed + Hi Fiber protein powder which added 11 grams of vegan protein and 12 gram of fiber, but feel free to use your favorite protein powder.
Clean Eating Acai Berry and Banana Immunity Smoothie (Vegan, Gluten-Free, Dairy-Free, Paleo-Friendly, No Refined Sugar)
Print recipe
Ingredients
1 1/2 cup homemade almond milk
1 Sambazon Frozen Acai Berry Smoothie Pack
1 organic banana
1/2 cup organic blueberries
1 tablespoon organic hemp protein powder (Nutiva (Hemp Protein & High Fiber))
4 ice cubes
Directions
Step 1
Put all ingredients into a Vitamix blender and blend until well combined and creamy.

Enjoy!
Note
This recipe will make approximately (1) large or (2) small smoothies.

The recipe and photographs for "Clean Eating Acai Berry and Banana Immunity Smoothie" by Karielyn Tillman of The Healthy Family and Home are licensed under a Creative Commons Attribution Non-Commercial 4.0 International License and cannot be used without my written permission.
Affiliate Disclosure: This post contains affiliate links. This means that if you were to make a purchase through one of these links, "The Healthy Family and Home" website would receive a small commission.