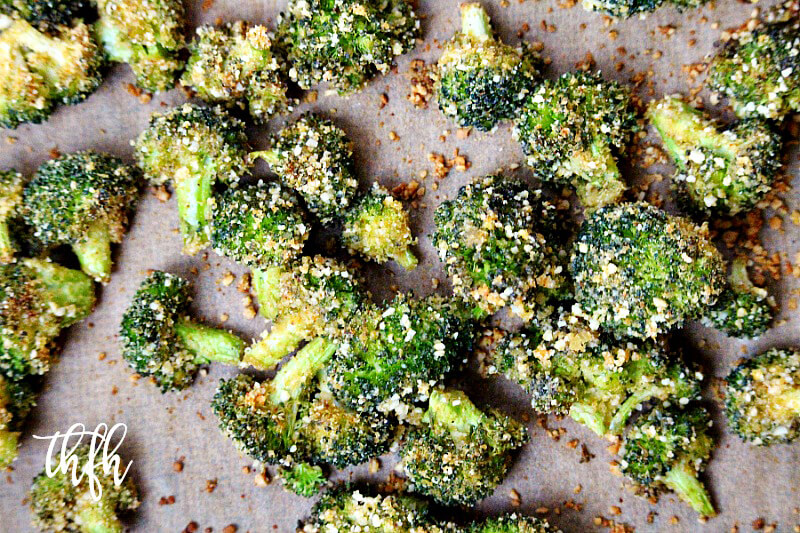 This Lectin-Free Vegan "Cheesy" Broccoli Bites recipe is perfect when you want a healthy and savory snack and you can make it with ingredients you probably already have on hand.
Gluten-Free Vegan "Cheesy" Broccoli Bites
I think this is one of my most favorite snacks to make. Sometimes I'll make a batch and eat it all as a meal. Sometimes I'll add the crispy broccoli pieces on top of a salad with my Healthy Honey Mustard Dressing.
I use my Gluten-Free Vegan Bread Crumb recipe which takes less than 5 minutes to make and is great to keep on hand to make some of my healthy oven-baked recipes shown below.
You can make it with either fresh or frozen broccoli (I use both depending on what I have on hand) and either one will work. You may have to leave them in the oven 5-10 minutes longer if you use frozen broccoli.
And although I love my olive oil (especially this brand), when baking something in the oven at high heat, like 400 degrees in this recipe, I always use avocado oil instead of extra-virgin olive oil.
This healthy recipe is made with clean, real food ingredients and is vegan, gluten-free, dairy-free, lectin-free and paleo-friendly.

Want More Healthy Vegan and Gluten-Free Snack and Side Dish Recipes?
Check out these: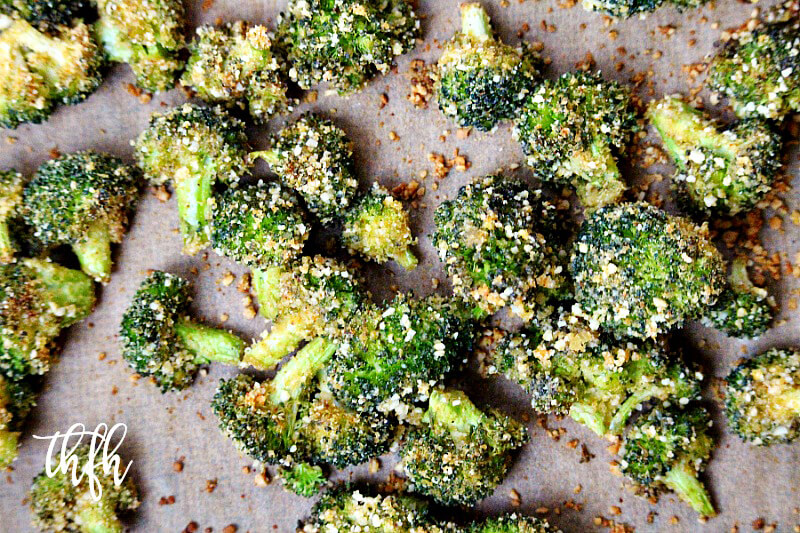 Print
Lectin-Free Vegan "Cheesy" Broccoli Bites
Yield 3 cups
Vegan / Gluten-Free / Dairy-Free / Lectin-Free / Paleo-Friendly
Ingredients
For the broccoli:
For the seasoning:
Instructions
Preheat the oven to 400 degrees.
Prepare the seasoning:
Add all the ingredients for the seasoning to a small bowl and stir until well combined. Adjust seasonings to your preference.  Set aside.
Prepare the broccoli:
Add the broccoli florets to a large bowl, then drizzle the avocado oil over the top.
Toss the broccoli until the avocado oil is evenly distributed and all pieces are covered.
Sprinkle 1/2 the seasoning mixture on top of the broccoli pieces and gently toss until it's evenly distributed and all pieces are covered.
Place the seasoned broccoli pieces on a baking pan lined with parchment paper and bake at 400 degrees for approximately 10 minutes.
Remove the pan from the oven and transfer the broccoli pieces back into the large bowl.
Sprinkle the remaining 1/2 of the seasoning mixture on top and gently re-toss until it's evenly distributed and all pieces are covered.
Return the baking pan to the oven and bake for an additional 20-25 minutes, or until crispy.
Enjoy!
Notes
Get all your organic ingredients delivered straight to your door at up to 25 - 50% off retail by cutting out the middleman and retail markups with a Thrive Market Membership and save 15% off on your first order.
  The recipe and photographs for "Lectin-Free Vegan "Cheesy" Broccoli Bites" by Karielyn Tillman of The Healthy Family and Home website are licensed under a Creative Commons Attribution Non-Commercial No Derivatives 4.0 International License and cannot be used without my written permission.
Recipe Roundups: Food Bloggers are always welcome to use a photo and a link back to my original post to share on recipe roundups without requesting permission.