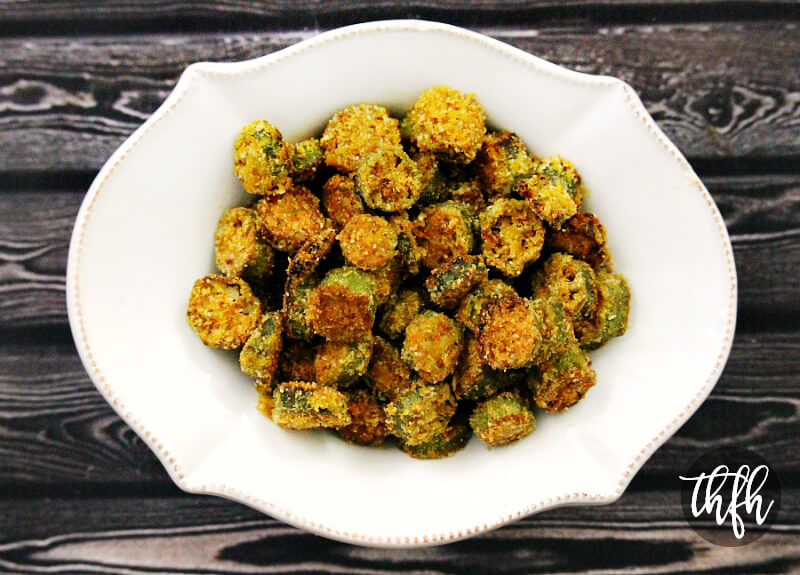 These Gluten-Free Vegan Oven-Baked Okra Bites are a fun little snack that is a healthy way to use summer okra other than in a stew.
Okra is a classic southern veggie, especially here in Louisiana.  And if it's not added to a gumbo, it's made into "fried okra", which is far from healthy.  If you've ever had them before, you know they're good, but not good for you.
Besides being fried in oil, they're made with these typical ingredients which are neither vegan or gluten-free:
S.A.D. (Standard American Diet) Fried Okra Ingredients:
Typical Ingredients:  White Flour, Buttermilk, Cornmeal, Eggs, Bacon Drippings, etc.
Since getting on the gluten-free "oven-baked" wagon several years ago, I've created several different healthier veggie snacks using my Gluten-Free Vegan Bread Crumbs recipe like these:
Gluten-Free Vegan Oven-Baked Onion Rings…in my Clean Eating Cookbook!
Gluten-Free Vegan Oven-Baked Jalapeno Slices…coming soon!
Not only are they healthier because they are oven-baked instead of being fried, but the coating is gluten-free.
And, you can make them as spicy as you like by adjusting the amount of cayenne pepper.
This easy, healthy snack is vegan, gluten-free, dairy-free, soy-free, lectin-free and paleo-friendly.
Want more healthy snack recipes?  Check out Roasted Potatoes with Habanero and Basil Pesto, Vegan Cauliflower Potato Salad, Vegan Oven-Baked Chipotle Jicama Fries with Creamy Cilantro Lime Sauce or my Clean Eating Cookbook with an entire chapter of 20 healthy, clean eating snack and side dish recipes just like this one that you will love!

5 Fast Facts About Okra:*
1 cup contains 66% dv of vitamin K
1 cup contains 35% dv of vitamin C
excellent source of dietary fiber 16% dv
plant-based calcium of 10% dv
naturally helps to reduce cholesterol
5 Fast Facts About Almonds (Almond Flour):*
helps to regulate cholesterol and blood pressure
energy booster
loaded with calcium and fiber
1/4 cup contains 8 grams of vegan protein
high in anti-oxidants
5 Fast Facts About Nutritional Yeast:*
vegan source of vitamin B12
contains 18 amino acids and is a complete protein
boosts immune system
excellent anti-oxidant
contains 15 minerals
5 Fast Facts About Cayenne Pepper:*
increases metabolism
improves high blood pressure
has anti-fungal properties
anti-inflammatory
circulatory stimulant which aids in detoxification
5 Fast Facts About Himalayan Pink Salt:*
contains 84 minerals
unrefined, unprocessed, raw
promotes stable pH balance in cells
controls water levels in the body
aids digestion and facilitates better nutrient absorption
*These statements have not been evaluated by the Food and Drug Administration. This information is not intended to diagnose, treat, cure or prevent any disease.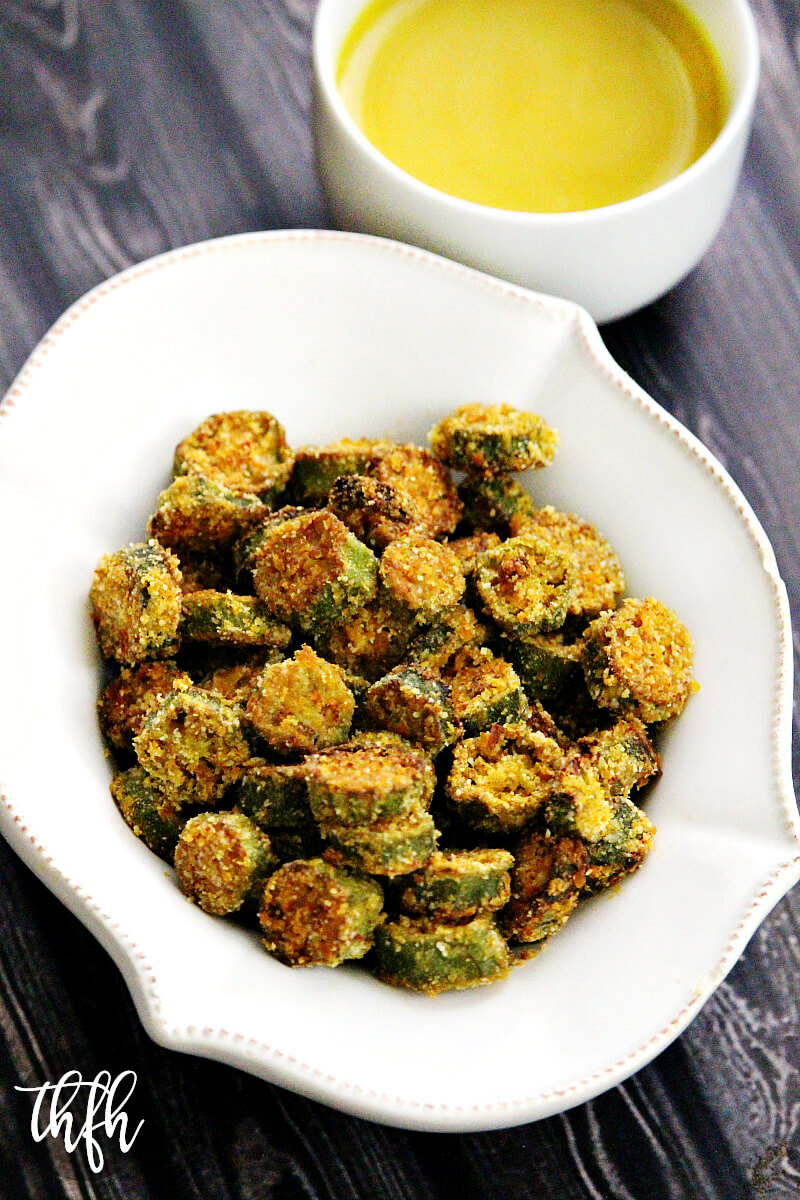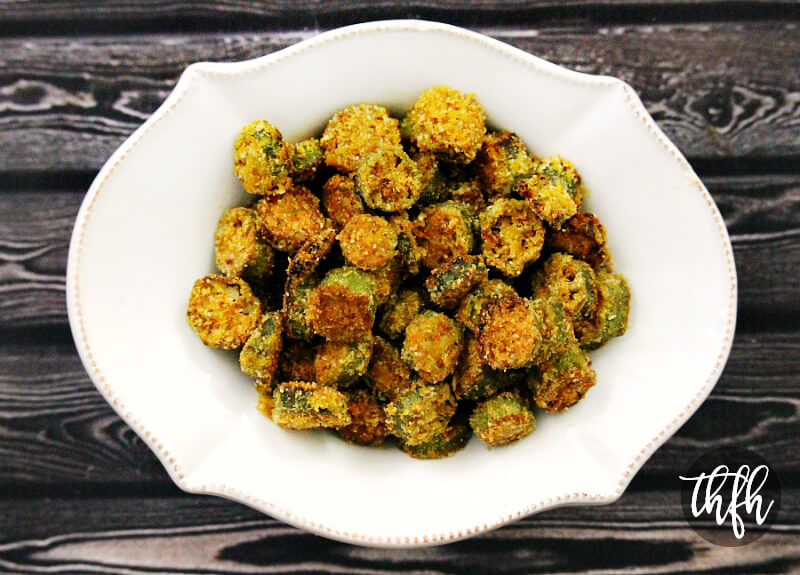 Print
Gluten-Free Vegan Oven-Baked Okra Bites
Yield 2 - 4 servings
Vegan / Gluten-Free / Dairy-Free / Egg-Free / Soy-Free / Flourless / Lectin-Free / Paleo-Friendly
Ingredients
For the okra:
For the bread crumbs:
Instructions
Preheat oven to 425 degrees.
Prepare the bread crumbs:
Add all ingredients for the bread crumbs to a small bowl and stir until well combined.  Adjust seasonings to your preference.  Set aside.
Prepare the okra:
 Cut both ends off each piece of okra and discard.  Slice the okra pods into 1/4 inch slices.
Transfer the okra slices to a medium sized bowl.
Add 1 tablespoon avocado oil and toss with the okra slices until it's evenly distributed.
Add 1/2 of the bread crumb mixture to the bowl of okra slices and gently toss until it's evenly distributed and all pieces are covered.
Add the remaining 1 tablespoon of avocado oil onto the breaded okra and gently toss again, taking care to not shake off the existing bread crumb coating.
Add the remaining 1/2 of the bread crumb mixture and gently toss again, taking care not to shake off the existing bread crumb coating.
Gently transfer the coated okra sliced to a baking pan lined with parchment paper and bake at 425 degrees for 10 minutes.  
Remove the baking pan from the oven, flip over each piece and continue to bake for an additional 10 minutes, or until they're golden brown.
Best when served warm from the oven.
Enjoy!
Notes
Get all your organic ingredients delivered straight to your door at up to 25 - 50% off retail by cutting out the middleman and retail markups with a Thrive Market Membership and save 15% off on your first order.
  The recipe and photographs for "Gluten-Free Vegan Oven-Baked Okra Bites" by Karielyn Tillman of The Healthy Family and Home website are licensed under a Creative Commons Attribution Non-Commercial No Derivatives 4.0 International License and cannot be used without my written permission.
Affiliate Disclosure: This post contains affiliate links. This means that if you were to make a purchase through one of these links, "The Healthy Family and Home" website would receive a small commission.