If you want a healthy, raw snack that packs some heat, these Raw Vegan Habanero Pepper Crackers will do the job.
They are great to eat with a salad, a healthy dip or just plain.
I topped half of them with sesame seeds and the other half with a sesame seed and chia seed combo.
Even though you need to allow extra time for them to dehydrate, the preparation couldn't be any easier.
Just put all the ingredients into a Vitamix, then spread the mixture on the dehydrator tray and wait in anticipation for this healthy gluten-free and grain-free snack!
Want more healthy snack ides?  Check out Lemon Dill Kale Chips, Roasted Chickpeas with Cilantro and Lime, Healthy Oven Baked Green Tomatoes or my Clean Eating Cookbook with an entire chapter of healthy, clean eating snack and side recipes that you will love!
5 Fast Facts About Habanero Peppers:*
provides anti-inflammatory benefits

helps decrease cancer risk
contains capsaicin to help prevent obesity
helps to lower cholesterol and blood pressure
excellent anti-oxidant
5 Fast Facts About Red Bell Peppers:*
high in anti-oxidants

1 cup contains 195.8% dv of vitamin C
excellent source of carotenoids
potential anti-cancer benefits
helps reduce inflammation
5 Fast Facts About Tomatoes:*
contains cancer fighting agent lycopene

high in beta-carotene
excellent anti-oxidant
high in vitamin K and vitamin A
high in chromium which helps control blood sugar levels
5 Fast Facts About Sunflower Seeds:*
rich source of vitamin E

finest source of B-complex group vitamins
incredible source of folic acid
rich in magnesium
provides anti-inflammatory benefits
5 Fast Facts About Cashews:*
packed with dietary fiber

rich in "heart-friendly" mono-saturated fatty acids
rich source of minerals
high in magnesium and copper
excellent anti-oxidant
5 Fast Facts About Almonds:*
helps to regular cholesterol and blood pressure

energy booster

loaded with calcium and fiber

1/4 cup contains 8 grams of vegan protein

high in anti-oxidants
5 Fast Fasts About Sesame Seeds:*
high in calcium at 35% dv

excellent anti-oxidant
lowers cholesterol
help reduce inflammation
high in phytosterol
5 Fast Facts About Chia Seeds:*
excellent source of healthy omega fatty acids
contains 700% more calcium than salmon
contains more anti-oxidants than flaxseeds or blueberries
contains 500% more calcium than milk
contains 20% easily digestible vegan protein
5 Fast Facts About Himalayan Pink Salt:*
contains 84 minerals
unrefined, unprocessed, raw
promotes stable pH balance in cells
controls water levels in the body
aids digestion and facilitates better nutrient absorption
*These statements have not been evaluated by Food and Drug Administration.  This information is not intended to diagnose, treat, cure or prevent any disease.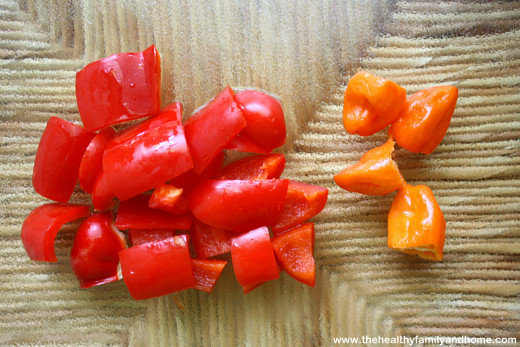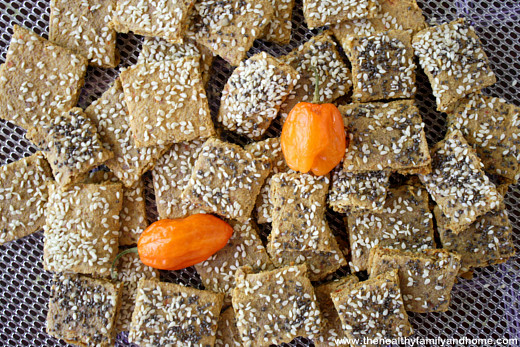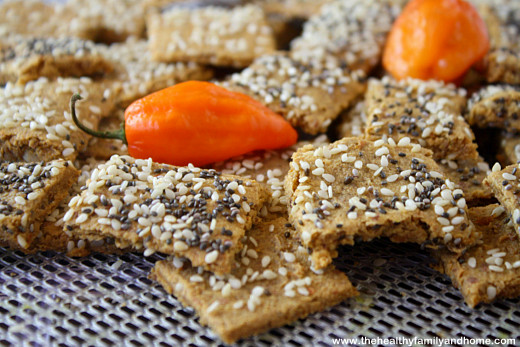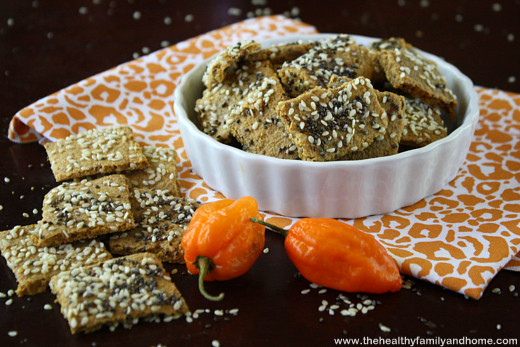 Tip #1:  I used 2 habanero peppers and it was definitely hot.  If you don't want too much heat, just use one or if you want more, add another pepper.
Tip #2:  I added organic sesame seeds and organic chia seeds on top to add some extra nutrition and I really liked the extra crunch it gave the crackers.  You can omit the toppings or use something else if you prefer.
Tip #3:  You don't have to soak the nuts/seeds overnight, but it makes them healthier by releasing the phylic acid and enzyme inhibitors.  I normally soaks my nuts/seeds right after I buy them and then dehydrate them so they are ready to go when I need them.  In this case, since they didn't need to be dry for the recipe, I just soaked them overnight, rinsed them, then put them in the Vitamix.
Raw Vegan Habanero Pepper Crackers (Raw, Vegan, Gluten-Free, Grain-Free, Flourless, Dairy-Free, Egg-Free, Flourless)
Print recipe
Ingredients
1 cup organic raw sunflower seeds (soaked overnight)
1 cup organic cashews (soaked overnight)
1 cup organic raw unpasteurized almonds (soaked overnight)
1 organic tomato (cut into 1/4 pieces)
1 organic red bell pepper (cut into 1/4 pieces)
1/4 cup organic ground flax seeds
2 habanero peppers (cut into 1/4 pieces)
1 pinch organic ground cumin
1 teaspoon Himalayan pink salt (or to taste)
Directions
Step 1
Add all ingredients into a Vitamix and process until smooth and well blended (using tamper, if necessary).

Spread mixture evenly in a thin layer onto a Paraflexx sheet.

Sprinkle chia seeds or sesame seeds on top, if desired.

Dehydrate for 6 - 10 hours at 115 degrees and then cut them into the size and shape you want.

Transfer the crackers to a mesh sheet (flipping them over) and continue dehydrating for an additional 6 - 8 hours or until dry and crispy.

Store in an air-tight glass container.

Enjoy!
Note
Recipe will make approximate 2 - 4 servings.

The recipe adaptations and photographs for "Raw Vegan Habanero Pepper Crackers" by Karielyn Tillman of The Healthy Family and Home are licensed under a Creative Commons Attribution-NonCommercial 4.0 International License and cannot be used without my written permission.
Affiliate Disclosure: This post contains affiliate links. This means that if you were to make a purchase through one of these links, "The Healthy Family and Home" website would receive a small commission.
Amazon Disclosure: "The Healthy Family and Home" website is a participant in the Amazon Services, LLC Associates Program, an affiliate advertising program designed to provide a means for sites to earn advertising fees by advertising and linking to Amazon.com.