This Gluten-Free Vegan Healthy Oven-Baked "Fried" Green Tomato recipe is a cleaned-up version of the classic southern dish "Fried Green Tomatoes".
I came across some green tomatoes at the grocery store and wondered what could I do with them, until I remembered fried "green tomatoes" (duh).
So I decided to make a healthier version of the classic Fried Green Tomatoes recipe.  And now, we have Gluten-Free Vegan Healthy Oven-Baked "Fried" Green Tomatoes to the rescue!
I used my go-to Gluten-Free Vegan Bread Crumb coating that I also used in this Vegan Oven Baked Zucchini Chips recipe, and with these Gluten-Free Vegan Oven Baked Fried Pickles, Gluten-Free Vegan Oven-Baked Zucchini Fries, Gluten-Free Vegan Oven-Baked "Fried" Artichokes and Gluten-Free Vegan Oven-Baked Avocado Fries.
I wanted a tangy and tart dip to go with them so I paired it with this Raw Vegan Roma Tomato and Tahini Dressing and it was a match made in heaven!
Not only are Fried Green Tomatoes unhealthy because they are "fried" in oil, but they are made with white flour and eggs and are not vegan or gluten-free.
Here are some ingredients found in a traditional fried green tomato recipe:
S.A.D. (Standard American Diet) Fried Green Tomato Ingredients:
Ingredients:  white flour, eggs, milk, cornmeal, breadcrumbs, vegetable oil (for frying)
This healthier version is baked and is vegan, gluten-free, dairy-free, egg-free, oil-free and paleo-friendly too!
Want more healthy snack and side dish recipes?  Check out Roasted Smashed Potatoes with Smoked Paprika Habanero Sauce, Clean Eating Zucchini Boats with Creamy Garlic Sauce, Acorn Squash Rings with Walnuts and Dried Apricots or my Clean Eating Cookbook with an entire chapter of 20 healthy, clean eating snack and side dish recipes just like this one that you will love!

5 Fast Facts About Green Tomatoes:*
contains 38.1% dv of vitamin C
contains 29.9% dv of vitamin A
supports bone health
contains 2 g protein and 2 g fiber
provides anti-cancer benefits
5 Fast Facts About Almonds (Almond Milk):*
helps to regulate cholesterol and blood pressure
energy booster
loaded with calcium and fiber
1/4 cup contains 8 grams of vegan protein
high in anti-oxidants
5 Fast Facts About Nutritional Yeast:*
vegan source of vitamin B12
contains 18 amino acids and is a complete protein
boosts immune system
excellent anti-oxidant
contains 15 minerals
5 Fast Facts About Cayenne Pepper:*
increases metabolism
improves high blood pressure
has anti-fungal properties
anti-inflammatory
circulatory stimulant which aids in detoxification
5 Fast Facts About Himalayan Pink Salt:*
contains 84 minerals
unrefined, unprocessed, raw
promotes stable pH balance in cells
controls water levels in the body
aids digestion and facilitates better nutrient absorption
5 Fast Facts About Tomatoes:*
contains lycopenes which are cancer fighting agents
high in beta-carotene
excellent anti-oxidant
high in vitamin A and K
high in chromium which helps control blood sugar levels
*These statements have not been evaluated by the Food and Drug Administration.  This information is not intended to diagnose, treat, cure or prevent any disease.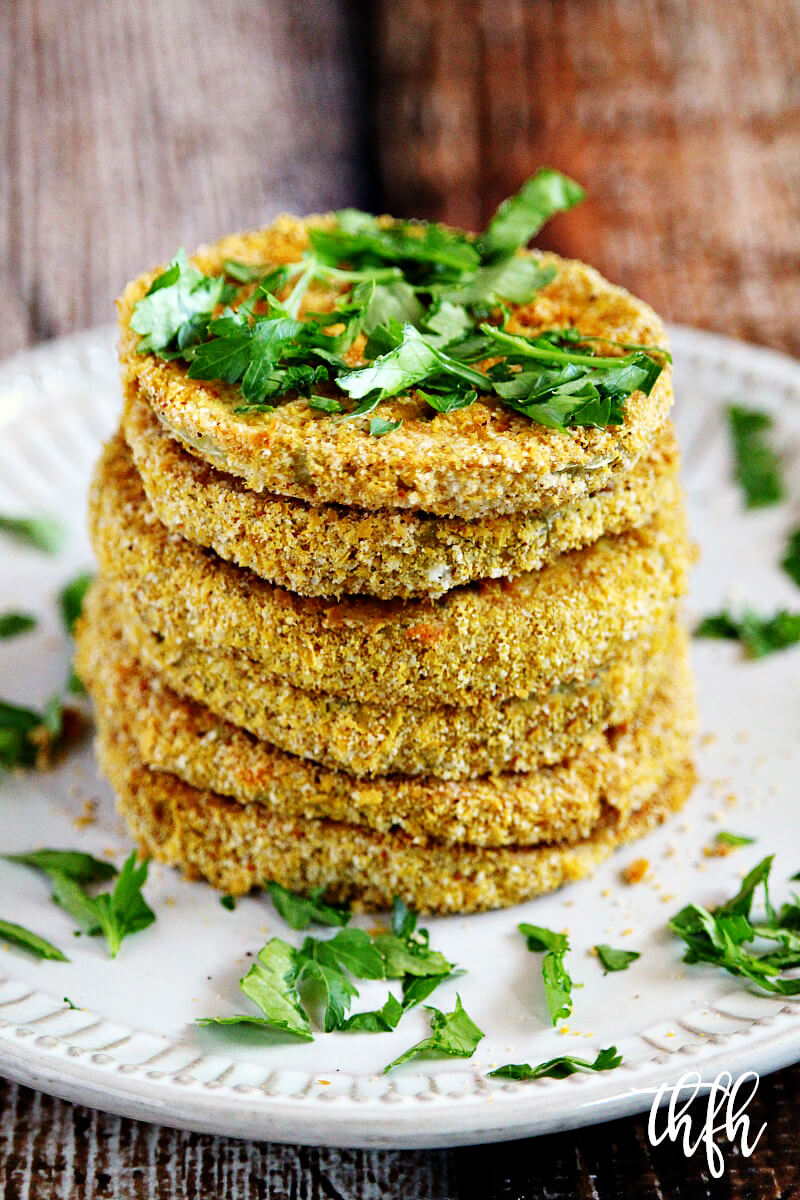 Print
Gluten-Free Vegan Healthy Oven-Baked "Fried" Green Tomatoes
Yield 16 slices
Vegan / Gluten-Free / Dairy-Free / Egg-Free / Oil-Free / Paleo-Friendly
Ingredients
For the seasoning:
Instructions
Preheat oven 425 degrees.
Prepare the seasoning:
Add all ingredients for the seasoning to a small bowl and stir until well combined. Adjust seasonings to your preference. Set aside.
Prepare the tomatoes:
Slice the tomatoes in medium thickness (not too thin, not too thick). You should be able to get 4 slices per each small tomato.  Set aside.
Prepare an assembly line:
Prepare a baking pan lined with parchment paper.
Add the milk to a small bowl.
Line up an assembly line: plate with sliced tomatoes, bowl with milk, bowl with seasoning, baking pan lined with parchment paper.
Dip each tomato slice into the bowl of milk, then place it in the bowl with the seasoning. 
Toss the sliced tomato in the bowl of seasoning until it's completely covered on both sides, top and bottom. 
Place the seasoned tomato slice on the baking pan and repeat until all are covered.
Bake at 425 degrees for approximately 15 minutes, or until the tops turn golden brown.
Remove the pan from the oven, flip the tomato slices over and place the pan back in the oven for another 5 minutes, or until the back side is golden brown.
Optional: Garnish with chopped parsley and/or serve with your favorite gluten-free vegan dip or dressing.
Enjoy!
Notes
Get all your organic ingredients delivered straight to your door at up to 25 - 50% off retail by cutting out the middleman and retail markups with a Thrive Market Membership and save 15% off on your first order.
  The recipe and photographs for "Gluten-Free Vegan Healthy Oven-Baked "Fried" Green Tomatoes" by Karielyn Tillman of The Healthy Family and Home website are licensed under a Creative Commons Attribution Non-Commercial No Derivatives 4.0 International License and cannot be used without my written permission.
Recipe Roundups: Food Bloggers are always welcome to use a photo and a link back to my original post to share on recipe roundups without requesting permission.

Affiliate Disclosure: This post contains affiliate links. This means that if you were to make a purchase through one of these links, "The Healthy Family and Home" website would receive a small commission at no additional cost to you.
Amazon Disclosure: "The Healthy Family and Home" website is a participant in the Amazon Services, LLC Associates Program, an affiliate advertising program designed to provide a means for sites to earn advertising fees by advertising and linking to Amazon.com.
Thank you for your support of this website!