This easy plant-based Vegan Chocolate Chip Chia Seed Pudding is a healthy, clean eating recipe made with only 5 ingredients and it's vegan, gluten-free, dairy-free, soy-free, egg-free, no-cook, paleo-friendly and contains no refined sugar.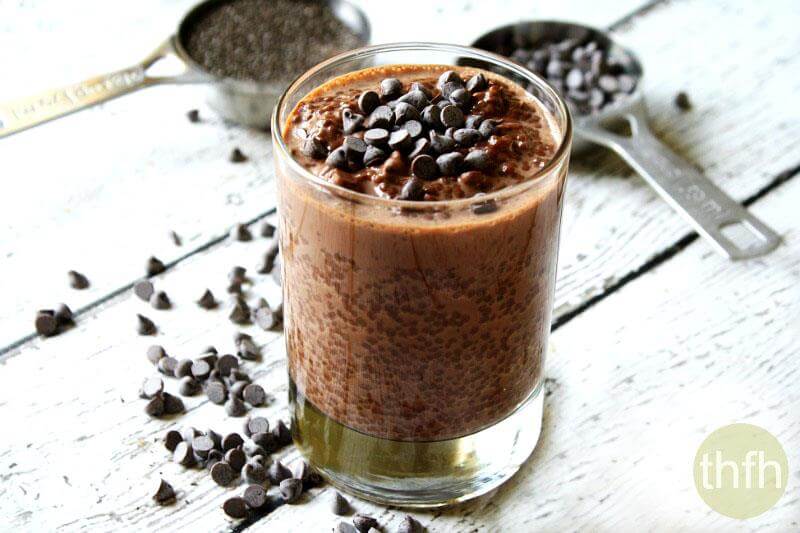 Today's recipe for Vegan Chocolate Chip Chia Seed Pudding is my submission for this month's theme for The Recipe ReDux which is:
"7-Ingredient (Or Less) Recipes: It's income tax season, so our brains could use some easy arithmetic; as in seven-ingredient-or-less recipes. Show us the healthy, no-brainer dish you fix for breakfast, lunch or dinner. Think beyond smoothies or drinks, please. (And for those of you living in countries where it's not tax season – we're pretty sure you and your readers would still love doing the math for seven-ingredient-recipes!)"
Well, my recipe today is about as easy as it gets and definitely fits the bill: 4 ingredients, healthy and a no-brainer!
Chia seed pudding is something I make very frequently and enjoy because it literally takes less than 2 minutes to prepare.
Some of the favorites I've made have been Pumpkin Spice and Pecan Chia Pudding, Vanilla Bean and Blueberry Chia Pudding, Pineapple Protein Chia Seed Pudding and Raspberry and Banana Chia Pudding.
And although the chocolate version is probably the one I make the most, I've never posted it because…well, it's really so un-original.
So I decided to dress it up a little and added mini chocolate chips to make it a little different.
It does make it a little sweeter with the chocolate chips so if you don't want a really sweet dessert, you can always leave them out.
I like to make mine either at night and leave it in the refrigerator overnight to have for breakfast in the morning, or make it in the morning and it's ready for a mid-morning or afternoon snack.
This recipe is organic, "almost raw", vegan, gluten-free, dairy-free, soy-free, egg-free, no-cook, paleo-friendly and contains no refined sugar.
5 Fast Facts About Almonds (Almond Milk):*
helps to regulate cholesterol and blood pressure
energy booster
loaded with calcium and fiber
1/4 cup contains 8 grams of vegan protein
high in anti-oxidants
5 Fast Facts About Chia Seeds:*
excellent source of healthy omega fatty acids
contains 700% more calcium than salmon
contains more anti-oxidants than flaxseeds or blueberries
contains 500% more calcium than milk
contains 20% easily digestible vegan protein
5 Fast Facts About Raw Cacao Powder:*
super high in anti-oxidants
promotes cardiovascular health
contains essential fats
can help to decrease blood pressure
contains over 300 compounds including protein, calcium, copper, zinc and iron
*These statements have not been evaluated by the Food and Drug Administration. This information is not intended to diagnose, treat, cure or prevent any disease.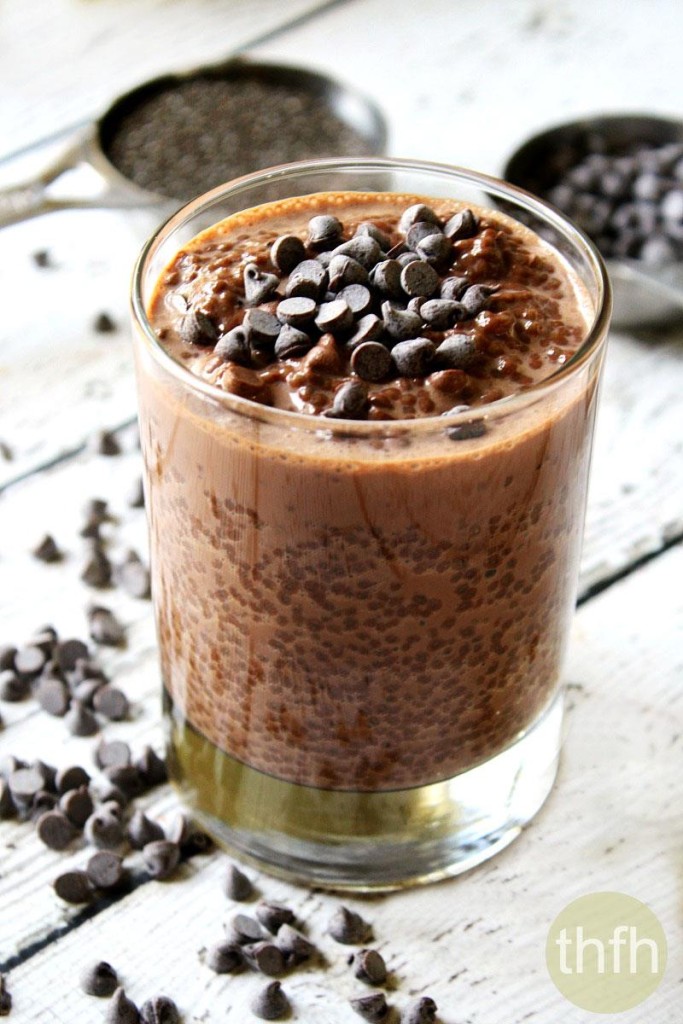 Vegan Chocolate Chip Chia Seed Pudding ("Almost Raw", Vegan, Gluten-Free, Dairy-Free, Soy-Free, Egg-Free, Paleo-Friendly, No Refined Sugar)
Print recipe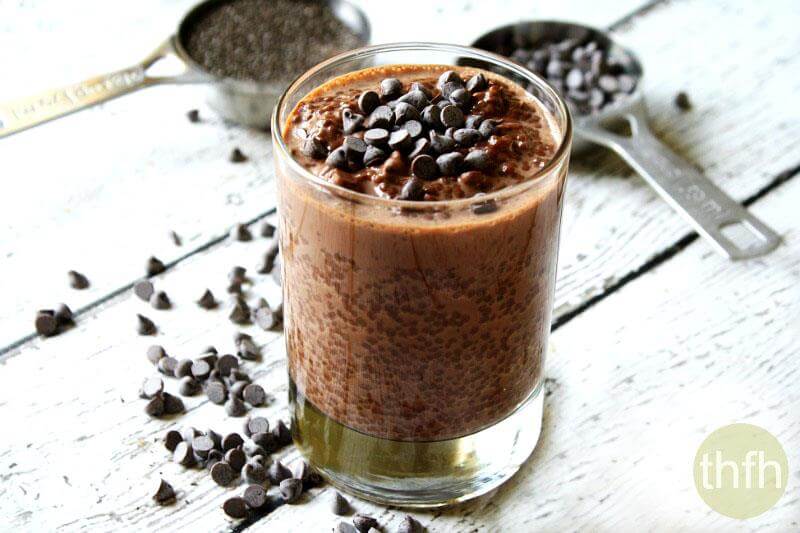 Ingredients
1 cup homemade almond milk
1/2 cup Enjoy Life mini chocolate chips
2 tablespoons organic chia seeds
2 tablespoons organic cacao powder
Directions
Step 1
Add all ingredients to a mason jar, seal the lid tightly, and shake vigorously until all ingredients are combined well.

Put in the refrigerator overnight or for a couple of hours to give it time to thicken.

Remove from the refrigerator and stir everything together before serving.

Enjoy!
Note
This recipe will make approximately (1) serving.

The recipe and photographs for "Vegan Chocolate Chip Chia Pudding" by Karielyn Tillman of The Healthy Family and Home website are licensed under a Creative Commons Attribution Non-Commercial 4.0 International License and cannot be used without my written permission.