Gluten-Free Vegan Chipotle Black Bean and Sweet Potato Quinoa Chili
This Chipotle Black Bean and Sweet Potato Quinoa Chili is a hearty, warm meal that is perfect to serve on a cold, winter evening.
And the best part about it…no soaking beans overnight, no crock pot and no waiting all day to enjoy it.
Just dice your veggies and about 30 minutes later, you have a warm, healthy vegan meal ready to enjoy.
It's a one-pot meal loaded with lots of vegan protein and fiber from the black beans and quinoa and has sweet potatoes to make it even more filling.
I've made several versions of this vegan chili/stew and after trying out different ones, this is the one I've enjoyed the most so I'm updating an older post that used a similar recipe.
There are many different varieties out there using pretty much the same combinations of ingredients: black beans, sweet potatoes, quinoa and chipotle.
I even found one that used butternut squash instead of the sweet potatoes which sounded really good too.
But this one is the most flavorful and easiest to make, so it's a keeper!
It would also go great with either my Vegan Cornbread recipe or my Gluten-Free and Dairy-Free Cornbread recipe.
To make this a powerhouse of a meal, just dice an avocado to add to the top for some healthy fats and the coolness of the avocado offsets the heat from the chipotle perfectly.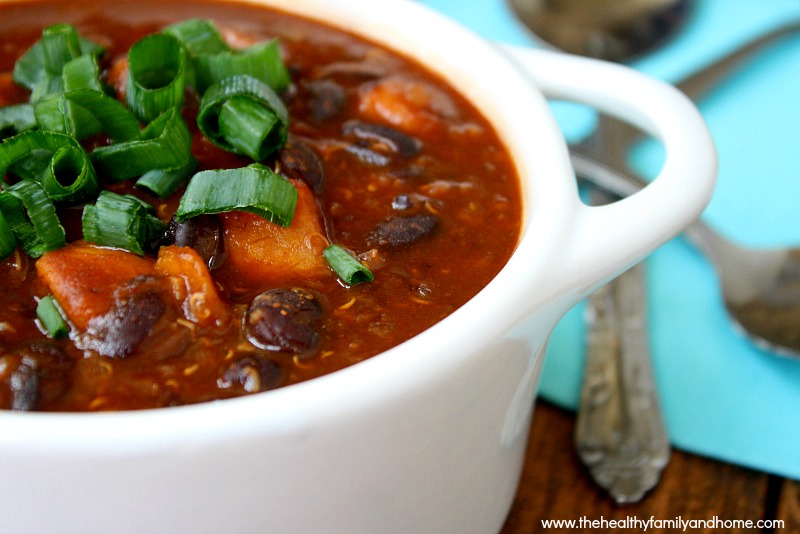 Expert Tips + Ingredients Substitutions For Chipotle Black Bean and Sweet Potato Quinoa Chili
Here are some expert tips to make this recipe perfectly:
Tip #1: I used red quinoa in mine but you could also use regular/plain quinoa.
Tip #2: I also used diced Roma tomatoes but you substitute that with (1) medium/large regular tomato.
Tip #3: I like to use organic tomato sauce in a glass jar to avoid canned tomatoes (due to the BPA lined cans), but feel free to use your favorite tomato sauce.
Tip #4: I don't drain or rinse my canned black beans, I pour in the entire can.
Tip #5: Some toppings you can add are fresh-squeezed lime juice, green onions, diced avocado or chopped cilantro.
Want More Healthy Plant-Based Soup Recipes?
Check out these:
Chipotle Black Bean, Sweet Potato and Quinoa Chili (Vegan, Gluten-Free, Dairy-Free)
Print recipe
Ingredients
2 Small organic roma tomatoes (diced)
1/2 Large organic onion (diced)
3 cloves organic garlic (freshly crushed)
1 tablespoon extra virgin olive oil
5 cups water (purified or filtered)
2 cans organic black beans
2 Small organic sweet potatoes (peeled and diced)
1 cup organic tomato sauce
1/2 cup organic quinoa (uncooked)
1 tablespoon organic chipotle powder
2 teaspoons organic cumin powder
1 1/2 teaspoon organic chili powder
1 - 2 teaspoon Himalayan pink salt
Directions
Step 1
Prepare the veggies: dice the tomatoes, onions and peel and dice the sweet potatoes.

In a large sized pot, saute the onions and garlic in the olive oil on low heat for approximately 3 - 5 minutes, or until the onions are translucent.

Add all remaining ingredients to the pot and bring to a boil.

Reduce heat to medium, cover and simmer for approximately 30 minutes or until the sweet potatoes are tender and the quinoa is cooked, stirring every 10 minutes or so.

Best when served hot.

Enjoy!

Note
This recipe will make approximately (4) servings.

The photographs for "Chipotle Black Bean, Sweet Potato and Quinoa Chili" by Karielyn Tillman of The Healthy Family and Home are licensed under a Creative Commons Attribution-NonCommercial 4.0 International License and cannot be used without my written permission.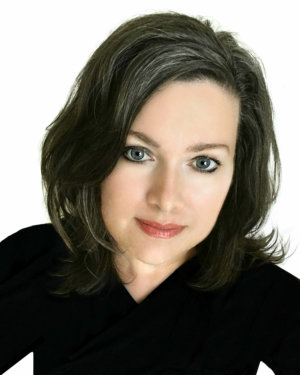 Hi, I'm Karielyn! I'm the published cookbook author of CLEAN DESSERTS and content creator of The Healthy Family and Home website since 2012. I specialize in creating easy, healthy plant-based recipes that are gluten-free + vegan and made with clean, real food ingredients that you can feel good about eating.