This Chipotle Black Bean and Sweet Potato Quinoa Chili is a hearty, warm meal that is perfect to serve on a cold, winter evening.
And the best part about it…no soaking beans overnight, no crock pot and no waiting all day to enjoy it.
Just dice your veggies and about 30 minutes later, you have a warm, healthy vegan meal ready to enjoy.
It's a one-pot meal loaded with lots of vegan protein and fiber from the black beans and quinoa and has sweet potatoes to make it even more filling.
I've made several versions of this vegan chili/stew and after trying out different ones, this is the one I've enjoyed the most so I'm updating an older post that used a similar recipe.
There are many different varieties out there using pretty much the same combinations of ingredients:  black beans, sweet potatoes, quinoa and chipotle.
I even found one that used butternut squash instead of the sweet potatoes which sounded really good too.
But this one is the most flavorful and easiest to make, so it's a keeper!
It would also go great with either my Vegan Cornbread recipe or my Gluten-Free and Dairy-Free Cornbread recipe.
To make this a powerhouse of a meal, just dice an avocado to add to the top for some healthy fats and the coolness of the avocado offsets the heat from the chipotle perfectly.
Want more healthy meal and entree recipes?  Check out Vegan Black Bean Soup, Creamy Red Lentil and Kale Soup, Spicy Chickpea and Tomato Soup or my Clean Eating eCookbook that has an entire chapter of 20 healthy, clean eating meal and entree recipes that you will love!
5 Fast Facts About Black Beans:*
extremely high in fiber
loaded with anti-oxidants
contains insoluble fiber
high in iron at 20% RDA
regulates blood glucose absorption
5 Fast Facts About Sweet Potatoes:*
contains anti-inflammatory properties
contains 2 g of vegan protein
contains 4 g of fiber
high in vitamin A, vitamin C, vitamin B5 and vitamin B6
excellent source of potassium, copper and manganese
5 Fast Facts About Quinoa:*
high in anti-oxidants
anti-inflammatory
high in magnesium (20.9% DV) and folate (19.5% DV)
gluten-free
complete protein containing 9 essential amino acids
5 Fast Facts About Tomatoes:*
contains lycopenes which are cancer fighting agents
high in beta-carotene
excellent anti-oxidant
high in vitamin A and K
high in chromium which helps control blood sugar levels
5 Fast Facts About Onions:*
rich source of sulfur compounds
excellent for cardiovascular health
inhibits bone loss in women
reduced blood pressure
lowers blood cholesterol levels
5 Fast Facts About Garlic:*
regulates blood sugar levels
lowers high blood pressure
contains anti-bacterial and analgesic properties
anti-viral
helps to lower cholesterol levels
5 Fast Facts About Chipotle:*
can help reduce cholesterol and triglyceride levels
can help lower the risk of diabetes
a thermogenic food to help energize metabolism
can help improve circulation
rich in vitamin A, vitamin C, iron, magnesium and potassium
5 Fast Facts About Himalayan Pink Salt:*
contains 84 minerals
unrefined, unprocessed, raw
promotes stable pH balance in cells
controls water levels in the body
aids digestion and facilitates better nutrient absorption
*These statements have not been evaluated by Food and Drug Administration.  This information is not intended to diagnose, treat, cure or prevent any disease.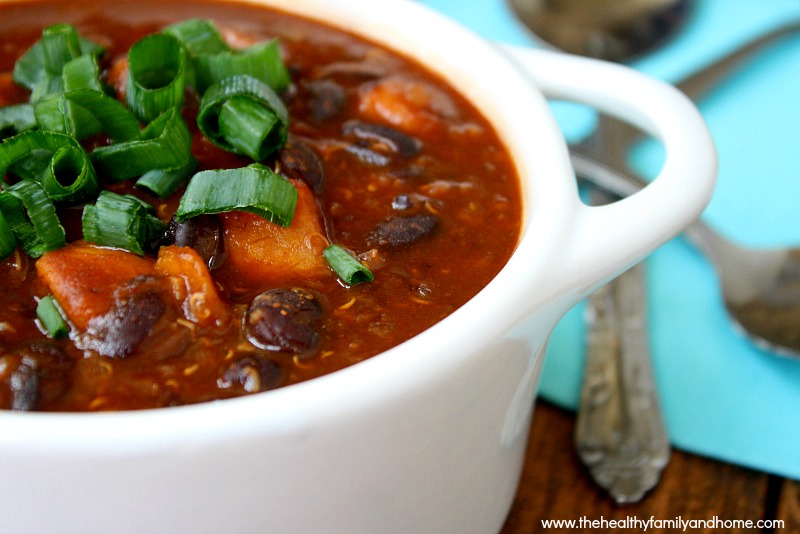 Tip #1:  I used red quinoa in mine but you could also use regular/plain quinoa.
Tip #2:  I also used diced roma tomatoes but you substitute that with 1 med/large regular tomato.
Tip #3:  I like to use organic tomato sauce in a glass jar to avoid canned tomatoes (due to the BPA lined cans), but feel free to use your favorite tomato sauce.
Tip #4:  I don't drain or rinse my canned black beans, I pour in the entire can.
Tip #5:  Some toppings you can add are fresh squeezed lime juice, green onions, diced avocado or chopped cilantro.
Chipotle Black Bean, Sweet Potato and Quinoa Chili (Vegan, Gluten-Free, Dairy-Free)
Print recipe
Ingredients
2 Small organic roma tomatoes (diced)
1/2 Large organic onion (diced)
3 cloves organic garlic (freshly crushed)
1 tablespoon extra virgin olive oil
5 cups water (purified or filtered)
2 cans organic black beans
2 Small organic sweet potatoes (peeled and diced)
1 cup organic tomato sauce
1/2 cup organic quinoa (uncooked)
1 tablespoon organic chipotle powder
2 teaspoons organic cumin powder
1 1/2 teaspoon organic chili powder
1 - 2 teaspoon Himalayan pink salt
Directions
Step 1
Prepare the veggies: dice the tomatoes, onions and peel and dice the sweet potatoes.

In a large sized pot, saute the onions and garlic in the olive oil on low heat for approximately 3 - 5 minutes, or until the onions are translucent.

Add all remaining ingredients to the pot and bring to a boil.

Reduce heat to medium, cover and simmer for approximately 30 minutes or until the sweet potatoes are tender and the quinoa is cooked, stirring every 10 minutes or so.

Best when served hot.

Enjoy!

Note
This recipe will make approximately (4) servings.

The photographs for "Chipotle Black Bean, Sweet Potato and Quinoa Chili" by Karielyn Tillman of The Healthy Family and Home are licensed under a Creative Commons Attribution-NonCommercial 4.0 International License and cannot be used without my written permission.
Affiliate Disclosure: This post contains affiliate links. This means that if you were to make a purchase through one of these links, "The Healthy Family and Home" website would receive a small commission.
Amazon Disclosure: "The Healthy Family and Home" website is a participant in the Amazon Services, LLC Associates Program, an affiliate advertising program designed to provide a means for sites to earn advertising fees by advertising and linking to Amazon.com.