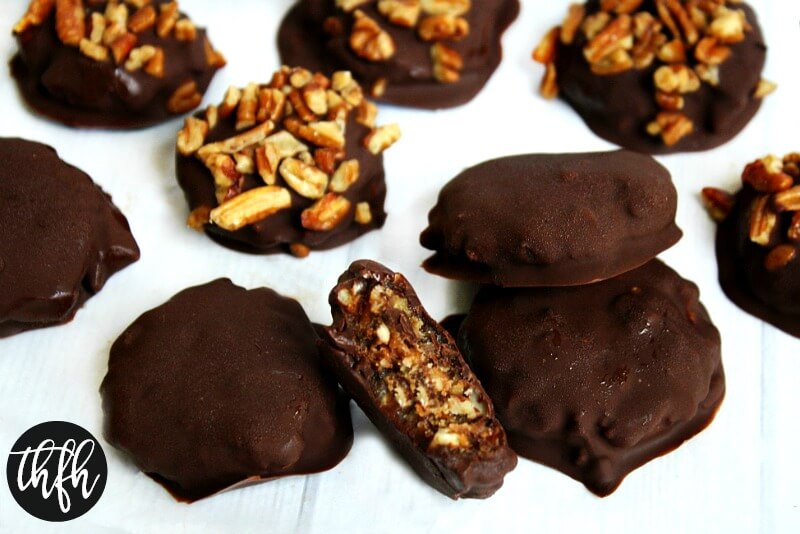 Gluten-Free Vegan No-Bake Chocolate Covered Turtles
These Clean Eating Vegan Chocolate Covered Turtles are special not only because they don't contain a lot of refined sugar and dairy, but for another reason.
Instead of making them the traditional way, with solid pecan halves, I used chopped pecans. And a lot of them!
So you have a crunchy, caramel pecan mixture with pecans in every single bite.
I like them better this way because you get a true pecan flavor.
These are really simple to make and takes less than 15 minutes to prepare using only 6 clean ingredients.
Traditional turtles (either store-bought or homemade) are made with lots of refined sugar and dairy.
S.A.D. (Standard American Diet) Homemade Chocolate Covered Turtle: Typical Ingredients: 7 1/2 cups pecan halves, 8 tbs butter, 2 cups corn syrup, 1/2 cup milk, 2 cups sugar, 1 twelve-ounce can evaporated milk, 1 pound semisweet chocolate
S.A.D. (Standard American Diet) Demet's Original Turtles: Ingredients: Sugar, Pecans, Corn Syrup, Nonfat Milk, Cocoa Butter, Chocolate, Palm Oil, Invert Sugar Syrup, Milk Fat, and, Less Than 1.5% of Lactose, Sodium Caseinate, Soy Lecithin, Salt, Artificial Flavors, Caramel Color
The homemade version contains butter, dairy and a LOT of sugar (both white and corn syrup). Store-bought also contains refined sugar and GMO's (corn syrup, soy lecithin), dairy and artificial flavors.
This healthier version is made with clean, real food ingredients and is plant-based, vegan, gluten-free, dairy-free, no-bake, paleo-friendly and contain no refined sugar.
And you can even make them lectin-free by substituting the semi-sweet chocolate chips with dark chocolate morsels (containing 69% cacao)!

Expert Tips + Ingredient Substitutions For Vegan Chocolate Covered Turtles
Here are some expert tips to make this recipe perfectly:
Tip #1: This recipe can be made with homemade almond butter using your Vitamix. For more recipes that you can make with a Vitamix, visit my Vitamix Recipe Index page for more inspiration! I like to make my own homemade almond butter because I have control over the quality of almonds that are used (raw, unpasteurized) and there are no unnecessary ingredients added.
Tip#2: These are best right out of the freezer and will need to be kept cold or they will get soft and lose their shape at room temperature.
Want More Healthy Plant-Based No-Bake Dessert Recipes?
Check out these: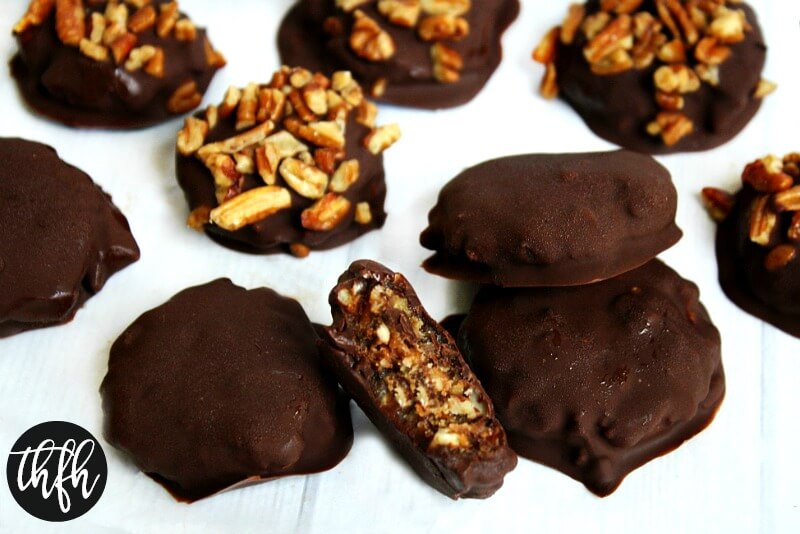 Print
Gluten-Free Vegan No-Bake Chocolate Covered Turtles
Yield 14 - 16 pieces
Plant-Based / Vegan / Gluten-Free / Dairy-Free / Lectin-Free / No-Bake / Paleo-Friendly / No Refined Sugar
Ingredients
For the caramel mixture:
1  1/2 cups organic medjool dates (pitted)
2 tablespoons organic almond butter
2 tablespoons water (filtered/purified)
1 tablespoon organic coconut oil
1 pinch Himalayan pink salt
For the mix-in:
1 cup organic pecans (chopped)
For the chocolate coating:
1 cup Enjoy Life mini-chocolate chips*
1 tablespoons organic coconut oil
*Lectin-Free: substitute with Enjoy Life dark chocolate morsels
Instructions
Prepare the caramel mixture:
Add all ingredients for the caramel mixture to a Vitamix and blend on "high" speed until it becomes a thick, pasty-type consistency.  You may need to stop and scrape the sides a couple of times.
Transfer the caramel mixture to a medium sized bowl and add the chopped pecans.  Gently stir in until they are evenly distributed.
Take out a spoonful at a time, gently roll them into the palms of your hands into a ball shape and then gently press them down into a flat disk shape.  Set aside.
Prepare the chocolate coating:
Add the ingredients for the chocolate topping to a small saucepan and melt on the lowest heat setting, stirring until it is melted and smooth and taking care not to burn it.
Assembly:
Take each turtle and gently place it in the saucepan with the melted chocolate and use a fork to gently flip it over to coat the other side.
Lift each turtle out of the chocolate mixture with a fork underneath it, letting the excess chocolate drip off before moving it to the baking sheet.
Transfer the chocolate covered turtles to a baking sheet lined with parchment paper.
Put them in the freezer for approximately 30 - 60 minutes, or until they become hardened.
Store in the freezer in an air-tight BPA-free container until you are ready to serve because they will get soft and lose their shape at room temperature.
Enjoy! 
Courses Desserts
Cuisine American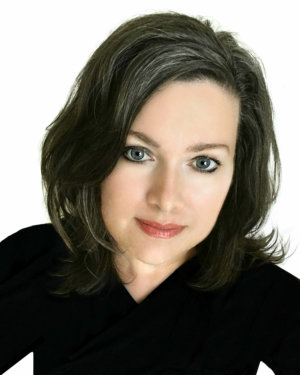 Hi, I'm Karielyn! I'm the published cookbook author of CLEAN DESSERTS and content creator of The Healthy Family and Home™ website since 2012. I specialize in creating easy, healthy plant-based and Medical Medium® compliant recipes that are gluten-free + vegan and made with clean, real food ingredients that you can feel good about eating.