These Garlic and Shallot Fingerling Potatoes are a nice side dish that's really easy to make and they are vegan, gluten-free and paleo-friendly* too!
They take only a few minutes of preparation and are ready in about 30 minutes or so.
But you may be wondering…what are "fingerling" potatoes?
They are cute little miniature potatoes and can be described as small, narrow and about the size of a quarter when sliced.
Basically, they taste just like regular potatoes but are in a fun shape!
*Here's a really nice article from Primal Palate that describes why they include potatoes in their paleo-friendly guidelines.
Want more healthy side dish recipes?  Check out Roasted Smashed Potatoes with Smoked Paprika Habanero Sauce, Spicy Turmeric Twice Baked Potatoes, Rosemary and Garlic Maple Glazed Carrots or my Clean Eating Cookbook with an entire chapter of 20 healthy, clean eating snack and side dish recipes just like this one that you will love!
5 Fast Facts About Potatoes:*
one potato contains 16% dv of fiber
one potato contains 39% of vitamin B6
good source of zinc, copper and magnesium
contains more potassium than a banana
20% of a potatoes nutrients are in it's skin
5 Fast Facts About Avocado Oil:*
healthier cooking with smoke point of 500 degrees
may help reduce the risk of metabolic syndrome
helps maintain healthy blood sugar levels
provides protection from cardiovascular disease
good source of vitamin E
5 Fast Facts About Garlic:*
regulates blood sugar levels
lowers high blood pressure
contains anti-bacterial and analgesic properties
anti-viral
helps to lower cholesterol levels
5 Fast Facts About Shallots:*
1 cup contains 24% dv of iron
good source of fiber
1 cup contains 11% potassium
contains more antioxidants than onions
contains 10% dv of folate
5 Fast Facts About Himalayan Pink Salt:*
contains 84 minerals
unrefined, unprocessed, raw
promotes stable pH balance in cells
controls water levels in the body
aids digestion and facilitates better nutrient absorption
*These statements have not been evaluated by the Food and Drug Administration.  This information is not intended to diagnose, treat, cure or prevent any disease.
Tip #1:  You can substitute the fingerling potatoes with regular potatoes…just peel and cube/slice approximately 4 cups.
Tip #2:  You can substitute the shallots with diced onions.
Tip #3:  This recipe will make 1 – 2 servings so if you need more, just double/triple the recipe.
Garlic and Shallot Fingerling Potatoes (Vegan, Gluten-Free, Dairy-Free, Nut-Free, Paleo-Friendly*)
Print recipe
Ingredients
18 organic fingerling potatoes (sliced thin, approximately 4 cups)
2 tablespoons 100% pure avocado oil
6 cloves organic garlic (freshly crushed)
2 tablespoons organic shallot (diced)
1 teaspoon Himalayan Pink Salt
Directions
Step 1
Prepare the potatoes: slice the potatoes into thin slices, leaving the skins on. Set aside.

Add the avocado oil, diced shallots, freshly crushed garlic and Himalayan salt to a small bowl and stir until well combined.

Add the sliced potatoes and seasoning mixture to a large mixing bowl and toss until all pieces are coated.

Transfer the potatoes to a baking sheet lined with parchment paper and bake at 425 degrees for 30 - 40 minutes, or until they are soft and tender, tossing them halfway through.

Best when served hot from the oven.

Optional: garnish with chopped parsley.

Enjoy!
Note
This recipe will make approximately 1 - 2 servings.
*This recipe follows the paleo-friendly guidelines from PrimalPalate.com

The recipe and photographs for "Garlic and Shallot Fingerling Potatoes" by Karielyn Tillman of The Healthy Family and Home are licensed under a Creative Commons Attribution Non-Commercial 4.0 International License and cannot be used without my written permission.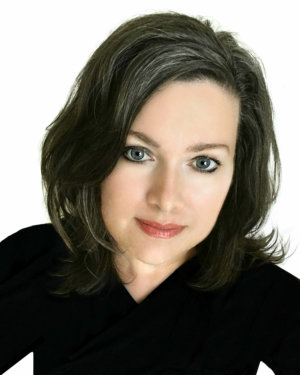 Hi, I'm Karielyn! I'm a cookbook author and creator of The Healthy Family and Home website. I specialize in creating easy, healthy plant-based recipes that are gluten-free + vegan and made with clean, real food ingredients that you can feel good about eating.