I had some fresh zucchini from my Farmer's Market box last week that I needed to use so I went searching online and found this super easy raw food recipe for Lemon Dill Zucchini Chips.
I used some of my fresh zucchini to make some yummy Raw Zucchini Walnut Crackers and used the rest to make these Lemon Dill Zucchini Chips.
This was the first time I used my hand-held mandolin slicer and I sliced the zucchini very, very thin (on setting #1).
Every other time I've dehydrated vegetable chips that were cut by hand, they were either too thick or took too long to dehydrate.
So these are almost paper thin as opposed to the ones a little thicker in the original recipe.
The dill taste is very subtle, but there is a strong lemon taste that makes them very tart…and I like that.
You can use either fresh dill or dried dill weed.  I've used both and it was good either way.
And, they are not very salty at all and are actually a nice change from regular salty vegetable chips.
Now…the reason there's only a tiny bowl of chips in the top photo?
It would be because my youngest son ate 90% of them straight off the dehydrator tray and I had to shoo him away or I wouldn't have had any left to take a picture of!
I love my dehydrator because it's a great way to get your children to eat healthy, raw snacks that are full of live nutrients.
Want more healthy snack recipes?  Check out Habanero Kale Chips, Roasted Chickpeas with Chipotle and Lime, Healthy Oven Baked Green Tomatoes or my Clean Eating eCookbook with an entire chapter of 20 healthy, clean eating snack and side dish recipes that you will love!
5 Fast Facts About Zucchini:*
low calorie – about 94% water

high in manganese
helps lower blood pressure
anti-inflammatory
helps lower cholesterol
5 Fast Facts About Dill:*
anti-oxidant

anti-bacterial
aids in digestion
acts as a diuretic to flush out toxins
good source of calcium, manganese and iron
5 Fast Facts About Lemons:*
extremely alkaline

blood purifier
excellent for detoxification
balances blood sugar levels
contains powerful anti-bacterial properties
5 Fast Facts About Himalayan Pink Salt:*
contains 84 minerals

unrefined, unprocessed, raw
promotes stable pH balance in cells
controls water levels in the body
aids digestion and facilitates better nutrient absorption
*These statements have not been evaluated by Food and Drug Administration.  This information is not intended to diagnose, treat, cure or prevent any disease.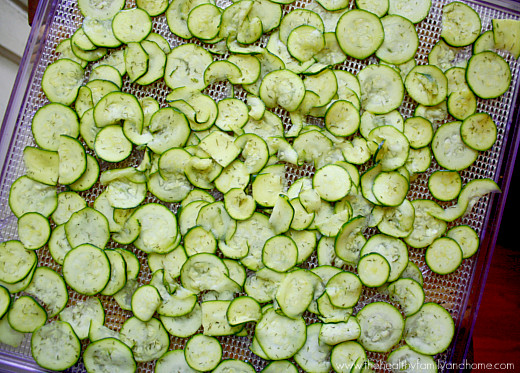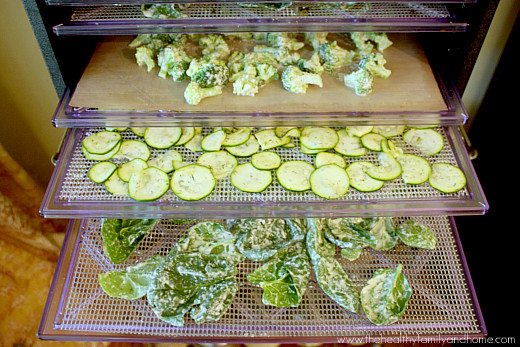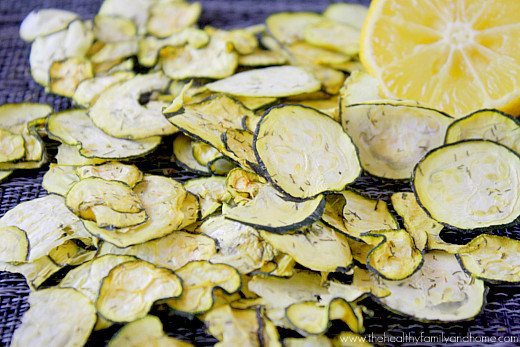 Tip #1:  If you don't have a dehydrator to make these, you can use your oven at the very lowest setting for approximately 2 hours, or until they become crispy.  Line a baking sheet with parchment paper and spread them evenly.  Since a dehydrator will easily remove all the moisture from the zucchini, you may want to help speed up this process using the oven baked method by pressing the zucchini between paper towels to remove some of the moisture.
Lemon Dill Zucchini Chips (Raw, Vegan, Gluten-Free, Nut-Free, Paleo-Friendly)
Print recipe
Ingredients
3-4 organic zucchini
1/2 - 1 tablespoon organic fresh dill
2 organic lemons (fresh juiced)
1/4 teaspoon Himalayan pink salt (or to taste)
Directions
Step 1
Slice zucchini very thin by hand or with a mandolin slicer.

Put the sliced zucchini into a bowl and add dill, lemon juice and Himalayan pink salt.

Toss until all zucchini are covered with the lemon juice mixture.

Spread the zucchini out evenly on a mesh tray in a dehydrator.

Dehydrate at 115 degrees for 10 - 12 hours or until crispy.

Enjoy!
Note
This recipe will make approximately (2) servings.
Recipe source:  https://www.youngandraw.com/crispy-dill-zucchini-chips/

The photographs for "Raw Vegan Lemon Dill Zucchini Chips" by Karielyn Tillman of The Healthy Family and Home are licensed under a Creative Commons Attribution-NonCommercial 4.0 International License and cannot be used without my written permission.
Affiliate Disclosure: This post contains affiliate links. This means that if you were to make a purchase through one of these links, "The Healthy Family and Home" website would receive a small commission.