Raw Vegan Cinnamon Sugar Pear Chips…a healthy, clean eating recipe made with a dehydrator and whole food ingredients and they're organic, raw, vegan, gluten-free, dairy-free, nut-free, paleo-friendly and contain no refined sugar.
Move over dehydrated apple chips, because there's a new dried fruit chip in town…Raw Vegan Cinnamon Sugar Pear Chips and they are just as good, if not better.
I had just received a beautiful bunch of organic pears from my Farmbox Direct delivery (they deliver organic fruits and veggies straight to your door) and had already made a couple of things with some of the pears like this Cacao and Pear Protein Smoothie and this Pear and Ginger Soup (coming soon!).
But I couldn't think of anything else exciting to make with these and they kept staring at me from the fruit bowl I have on my counter top, so I decided to dehydrate them and make chips.
Instead of making them plain (which would have also been good!) I used one of my organic Primal Palate spices, "Cinnamon Sugar Cookie". The only ingredients in it are organic maple sugar and organic Saigon cinnamon. Organic maple sugar is a natural alternative to cane sugar and you can use less too because you only need 1/2 cup to replace 1 cup of cane sugar.
While I would have ~never~ convinced my oldest son to eat a plain pear, he was the one who ate most of the pear chips when they were ready. Like 95% of them!
These are a healthy snack for your little ones and you can also make Clean Eating Cinnamon Vanilla Apple Chips too.
Want more healthy dessert recipes? Check out Kale Chips with Spicy Peanut Sauce, Raw Corn Chips, Raw Vegan Carrot and Flax Crackers or my Clean Eating eCookbook with an entire chapter of 20 healthy, clean eating dessert recipes just like this one that you will love!
5 Fast Facts About Pears:*
one pear contains 22% DV of fiber
one pear contains 10% DV of vitamin C
helpful in lowering cholesterol levels
a low-glycemic fruit
excellent anti-oxidant
5 Fast Facts About Cinnamon:*
contains anti-inflammatory properties
helps to control blood sugar
excellent source of manganese and iron
can help to lower bad cholesterol
aids in eliminating migraine headaches
*These statements have not been evaluated by the Food and Drug Administration. This information is not intended to diagnose, treat, cure or prevent any disease.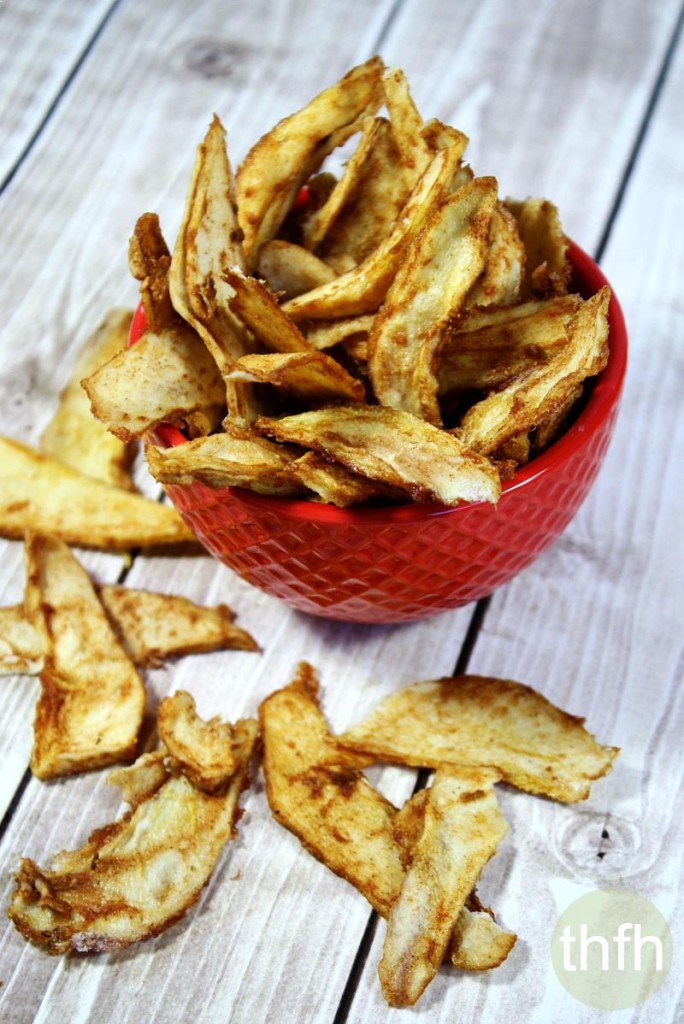 Where to Buy: You can purchase the organic Primal Palate "Cinnamon Sugar Cookie" spice I used in this recipe here.
Tip #1: You don't have to use the Primal Palate spices to make this recipe…just make a mixture of 2:1 organic sugar to the organic cinnamon mixture.
Tip #2: I've never tried to make these in an oven, but you could try to put them on the very lowest heat an keep a close eye on them to make sure they don't burn. Also, they wouldn't be considered "100% raw".
Tip #3: The pears will be somewhat sweet and will get "sweeter" when dehydrated. If you don't want an overly sweet snack, I would just add 1 tablespoon of the cinnamon sugar mixture instead of 2.
Tip #4: I used an Excalibur dehydrator to make these and have owned mine for over 9 years. It's perfect to make these kinds of healthy, raw snacks!
Raw Vegan Cinnamon Sugar Pear Chips (Raw, Vegan, Gluten-Free, Dairy-Free, Nut-Free, Paleo-Friendly, No Refined Sugar)
Print recipe
Ingredients
5 organic pears
1 - 2 tablespoon Primal Palate Organic Cinnamon Sugar Cookie Spice
Directions
Step 1
Peel and slice the pears into thin strips.

Add them to a medium sized bowl and add 1 - 2 tablespoons of cinnamon/sugar mixture.

Gently toss them until all the pears are covered with the cinnamon/sugar mixture.

Spread evenly over the mesh lining of a dehydrator tray.

Dehydrate at 110 degrees for at least 12 hours (or overnight) or until they are completely dry and slightly crispy.

Store in an air-tight container or they will get soft if left out and exposed to air.

Enjoy!
Note
This recipe will make approximately 2 - 4 small servings.

The recipes and photographs for "Raw Vegan Cinnamon Sugar Pear Chips" by Karielyn Tillman of The Healthy Family and Home are licensed under a Creative Commons Attribution Non-Commercial 4.0 International License and cannot be used without my written permission.
Affiliate Disclosure: This post contains affiliate links. This means that if you were to make a purchase through one of these links, "The Healthy Family and Home" website would receive a small commission.
Amazon Disclosure: "The Healthy Family and Home" website is a participant in the Amazon Services, LLC Associates Program, an affiliate advertising program designed to provide a means for sites to earn advertising fees by advertising and linking to Amazon.com.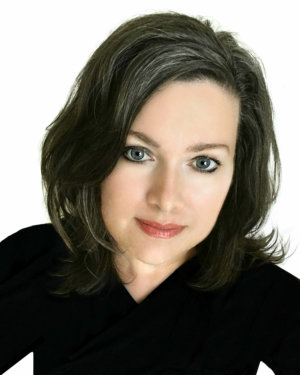 Hi, I'm Karielyn! I'm a cookbook author and creator of The Healthy Family and Home website. I specialize in creating easy, healthy plant-based recipes that are gluten-free + vegan and made with clean, real food ingredients that you can feel good about eating.