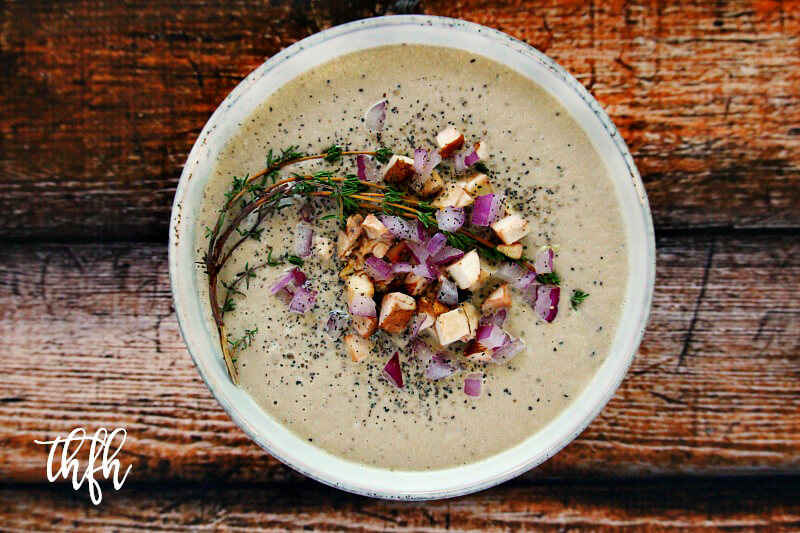 This Raw Lectin-Free Vegan Cream of Mushroom Soup just doesn't get any easier than this!
It can literally be ready in about 5 minutes using a Vitamix and is full of fresh flavor from the mushrooms and thyme.  The creaminess from this recipe comes from the healthy fats from an avocado and pine nuts.
I guess one reason that people would use canned soup is for the convenience, but when it's just a matter of putting all the ingredients into your Vitamix and turning it on until it's mixed, there just isn't any excuse 🙂
And, the trade off for that convenience in the form of processed ingredients just isn't worth it.
Here are the ingredients from a can of a popular highly processed store-bought cream of mushroom soup:
S.A.D. (Standard American Diet) Campbell's Cream of Mushroom Soup:
Ingredients:  Water, Mushrooms, Vegetable Oil (Corn, Cottonseed, Canola, and/or Soybean), Modified Food Starch, Wheat Flour, Contains Less Than 2% of:  Salt, Monosodium Glutamate, Soy Protein Concentrate, Dehydrated Cream (Cream [Milk], Soy Lecithin), Yeast Extract, Flavoring, Dehydrated Garlic
It contains GMO ingredients (corn, cottonseed, soybean, milk), monosodium glutamate and isn't vegan or gluten-free.  It's a processed product with basically no real food ingredients except maybe the mushrooms.
In this recipe, I used a combination of organic portobello and organic shitake mushrooms, but feel free to use any variety or combination that you prefer.  I also used organic pine nuts to keep it lectin-free, but you could also use organic raw cashews instead if you didn't need the recipe to be lectin-free.  Just soak the cashews in filtered/purified water for about 30-60 minutes before making your soup so the mixture will be creamy and smooth.
This healthier version is made with clean, real food ingredients and it's raw, vegan, gluten-free, dairy-free, lectin-free, soy-free, oil-free, no-cook and paleo-friendly.
Want some more healthy soup recipes?  Check out Creamy Red Lentil and Kale Soup, Spicy Chickpea and Tomato Soup, Creamy Vegan Tomato Basil Soup or my Clean Eating Cookbook with an entire chapter of 20 healthy, clean eating meal and entree recipes that you will love!

5 Fast Facts About Mushrooms:*
excellent source of potassium

rich source of riboflavin, niacin and selenium
supports a healthy immune system
provides anti-inflammatory benefits
good source of antioxidants
5 Fast Facts About Onions:*
rich source of healthy sulfur compounds

excellent for cardiovascular health
inhibits bone loss in women
can help reduce blood pressure
can help lower blood cholesterol levels
5 Fast Facts About Pine Nuts:*
great source of iron
contains protein and magnesium
high in anti-oxidants
good as an appetite suppressant
good source of fiber
5 Fast Facts About Avocados:*
excellent source of vitamin E

contains 25 essential nutrients
contains 2 - 3 times the potassium as 1 banana
has anti-inflammatory properties
can help lower cholesterol levels
5 Fast Facts About Garlic:*
regulates blood sugar levels

lowers high blood pressure
anti-bacterial and analgesic properties
anti-viral
can help lower cholesterol levels
5 Fast Facts About Himalayan Pink Salt:*
contains 84 minerals

unrefined, unprocessed, raw
promotes stable pH balance in cells
controls water levels in the body
aids digestion and facilitates better nutrient absorption
*These statements have not been evaluated by the Food and Drug Administration.  This information is not intended to diagnose, treat, cure or prevent any disease.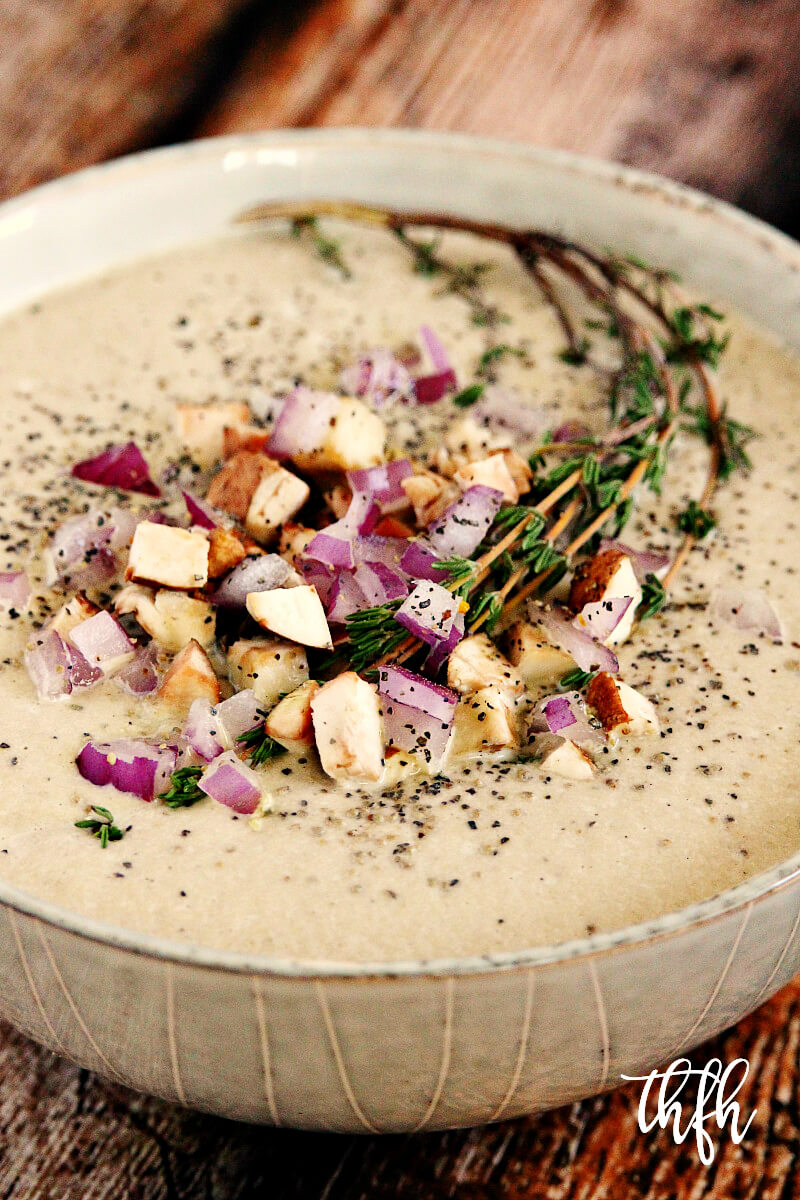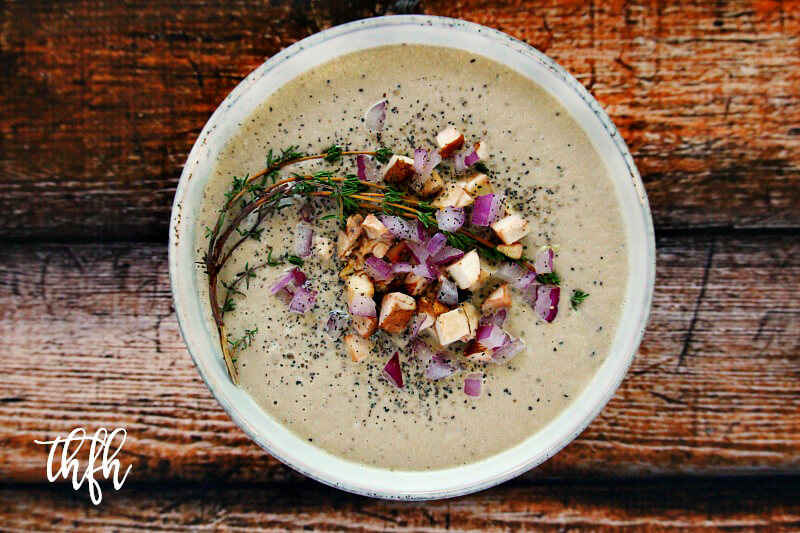 Print
Raw Lectin-Free Vegan Cream of Mushroom Soup
Yield 4 cups
Raw / Vegan / Gluten-Free / Dairy-Free / Lectin-Free / Soy-Free / Oil-Free / No-Cook / Paleo-Friendly
Instructions
Add all ingredients to a Vitamix and blend until everything is well combined.
Adjust seasonings to your preference.
Depending on the Vitamix model you have, you may be able to use the "soup" or "warm" setting and blend the mixture for an additional 2-3 minutes to "warm" up the soup and still keep it "raw".
Optional: Garnish with extra sliced mushrooms, fresh chopped red onions or organic ground black pepper.
Store in an air-tight BPA-free container in the refrigerator.
Enjoy!
Notes
Recipe lightly adapted from: https://www.youtube.com/watch?v=sONkyOJaTxg
Get all your organic ingredients delivered straight to your door at up to 25 - 50% off retail by cutting out the middleman and retail markups with a Thrive Market Membership and save 15% off on your first order.
  The recipe adaptations and photographs for "Raw Lectin-Free Vegan Cream of Mushroom Soup" by Karielyn Tillman of The Healthy Family and Home website are licensed under a Creative Commons Attribution Non-Commercial No Derivatives 4.0 International License and cannot be used without my written permission.
Recipe Roundups: Food Bloggers are always welcome to use a photo and a link back to my original post to share on recipe roundups without requesting permission.
Affiliate Disclosure: This post contains affiliate links. This means that if you were to make a purchase through one of these links, "The Healthy Family and Home" website would receive a small commission at no additional cost to you.
Amazon Disclosure: "The Healthy Family and Home" website is a participant in the Amazon Services, LLC Associates Program, an affiliate advertising program designed to provide a means for sites to earn advertising fees by advertising and linking to Amazon.com.
Thank you for your support of this website!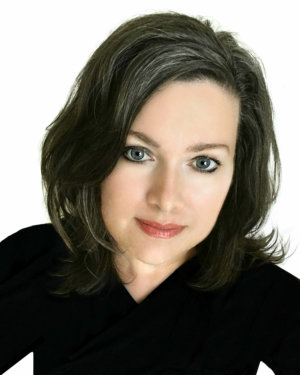 Hi, I'm Karielyn! I'm the published cookbook author of CLEAN DESSERTS and content creator of The Healthy Family and Home website since 2012. I specialize in creating easy, healthy plant-based recipes that are gluten-free + vegan and made with clean, real food ingredients that you can feel good about eating.